Youth Perspectives is a publishing platform for Arctic students to voice their opinions, share their experiences, and influence the debate about their homeland. The forum features articles, videos, illustrations, poems, and multimedia projects created by youth living in the Arctic on the issues that matter to them most.
Hosted by The Arctic Institute, Youth Perspectives is founded on a strong network of partnerships across the circumpolar region.
Students on Ice
Students on Ice seeks to educate the world's youth about the importance of the Polar Regions, support their continued growth, and inspire and catalyze initiatives that contribute to global sustainability. Through unique educational expeditions to the Antarctic and the Arctic each year, Students on Ice gives students the chance to experience the poles first hand, and build lasting relationships with youth from the North.
Through our partnership, we help give Students on Ice participants a forum to tell their stories of of living, exploring, and learning about the North. Working with our Research Associates as review mentors, young contributors have the chance to better develop their writing skills.
Arctic Youth Ambassadors
Arctic Youth Ambassadors was established by the US Fish and Wildlife Service and the US Department of State in partnership with Alaska Geographic to coincide with the US Chairmanship of the Arctic Council. The Arctic Youth Ambassadors program brings together diverse youth from across Alaska to serve as ambassadors for their communities in building awareness at home and abroad about life in the Arctic.
The Arctic Institute's partnership with the Arctic Youth Ambassadors seeks to add their voices and solutions to a global conversation about how to sustain communities, cultures, and the environment in a changing Arctic. In addition to their multimedia posts on our website, you can follow their stories by tracking #ThisArcticLife and #USArcticYouth.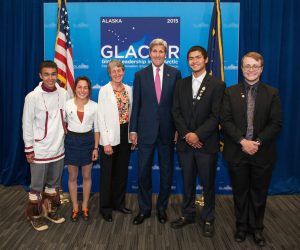 Initiated by the Arctic Council's Sustainable Development Working Group, the Arctic Adaptation Exchange is an online forum where individuals and organizations can explore how others in the Arctic region have responded to the challenges and opportunities presented by climate change; share experiences and information on climate change impacts and adaptation initiatives and tools; and connect with others who have experience and knowledge.
In 2016, The Arctic Institute is working with the Exchange to add a youth dimension to its information portal. The Arctic Adaptation Exchange will be reposting climate-related youth posts and recorded video-webinars to facilitate youth friendly knowledge exchange. Together, we will teach youth how to use the tools on the Exchange to foster peer-to-peer learning on climate adaptation.
Today's Youth, Tomorrow's Leaders
As the Arctic faces rapid social, environmental, and economic changes, its adolescents will inherit a dramatically different homeland than that of past generations. The future of the North will be determined by the choices, aspirations, and priorities of its youth.