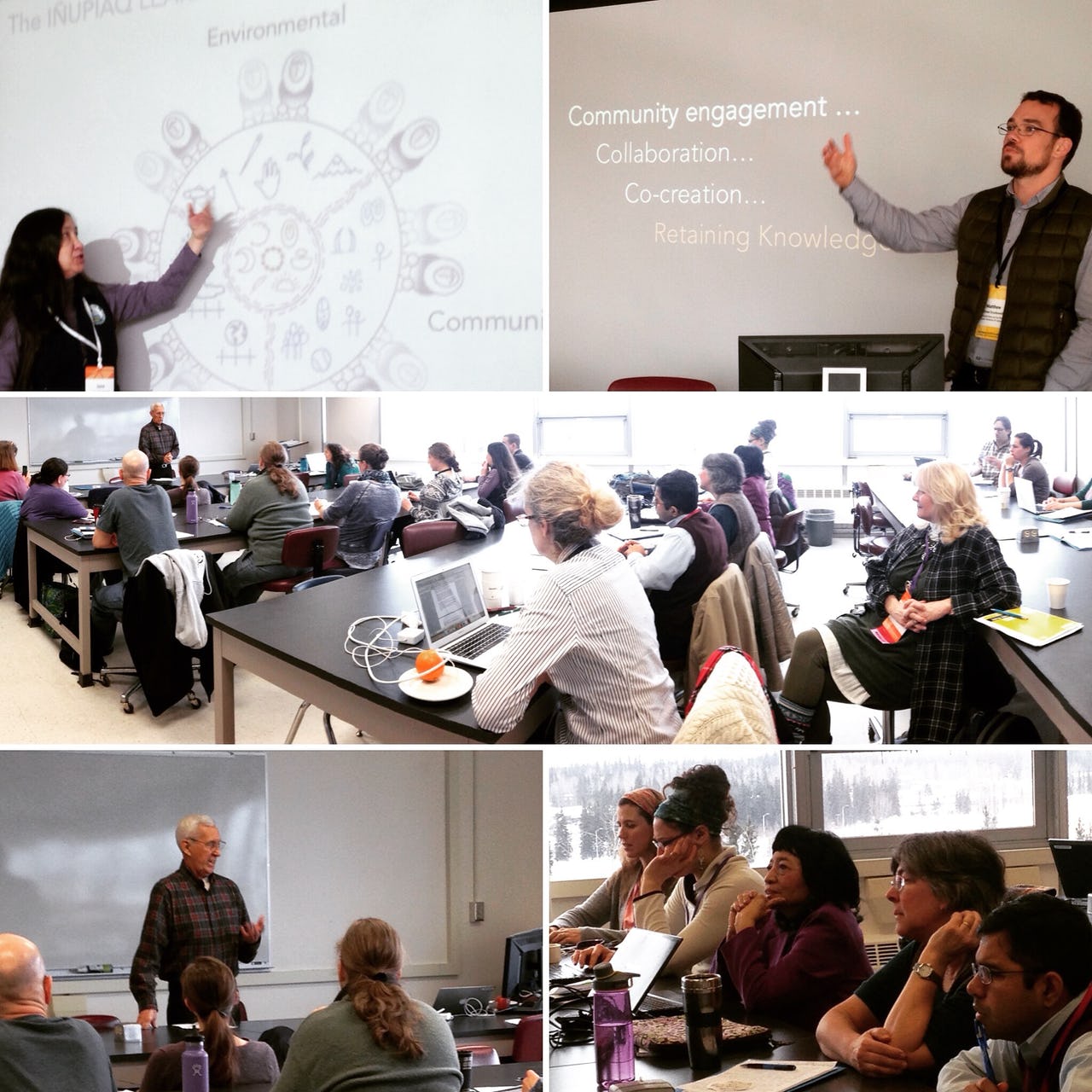 Participants at the Make an Impact Workshop. Photo: ARCUS Staff
As introductions wrapped up, a wave of excitement spread through the classroom: It was snowing! Yes, this was Fairbanks, Alaska, in March, but snow has been such a rarity this year—only three measurable accumulations since September—that this room full of adults took on the feel of an elementary class before Christmas. "Please accumulate. Please," said the woman next to me, her attention focused on the light, fluffy flakes out the window. I had just learned that she is a graduate student who studies seabirds, as well as an avid skier, and like many of us, had been on edge all winter about the meager snow. Across the city, under the low cloud ceiling, the base of the Alaska Range reflected the morning sun.
It struck me as an appropriate moment for winter to make an appearance. This group was gathered on the University of Alaska Fairbanks campus for a workshop hosted by the Arctic Research Consortium of the United States (ARCUS), which brought Alaskan teachers and researchers together to brainstorm ways to get science—and scientists—into classrooms. The group would seek to address questions about how to make those collaborations meaningful, and how to overcome the challenges posed by representing two fields—teaching and science—which in Arctic communities are often performed by transient outsiders without lasting connections to the places they work. As one teacher put it, scientists might visit a classroom once, and on return trips only "visit their equipment." This group wanted to change that dynamic, and to ensure continuity of information even as individual teachers or researchers moved on.
The workshop, called Make an Impact, took place during this year's Arctic Science Summit Week (ASSW2016), the international conference that brought researchers, policymakers, educators, and artists to Fairbanks to discuss the current state and fate of the Arctic. Northern cities around the world have hosted ASSW, and I'd noted the multi-accented chatter as I'd wandered the ground floor of the Bunnell Building that morning. The attendees had the air of people who are accustomed to being heard; they knew that this was the driest winter on record in Fairbanks, and they understood as well as anyone the reasons and the implications for this record-setting year.
I was prepared to feel like an outsider, infiltrating from the humanities, but once I settled into my role as Writer-in-Residence at the Make an Impact workshop, it was clear that no such boundaries were drawn in this group. These were enthusiastic interdisciplinary thinkers whose presence here proved their commitment to nurturing connections across professional fields. These were scientists who said, by way of introducing their work, that "kindergarteners collect awesome data," or acknowledged the dilemma they face of not knowing how to meaningfully share the extensive data they've collected.
Jennifer Watts, a researcher for the NASA Arctic Boreal Vulnerability Experiment (ABoVE), said, "We'll be flying planes all over Alaska, looking at what's changing. We need a lot of help with outreach." Santosh Panda of UAF's permafrost laboratory seconded this, saying, "We need a lot of help from communities because they're the ones who are seeing change." Differences in spiritual or cultural tradition, academic fields, or life experience were not perceived as barriers to be overcome, but as assets in the quest to better understand our world, and to share that understanding with others.
I thought immediately of a favorite essay by Alison Deming, "Poetry and Science: A View From the Divide", in which the author illustrates the parallels between the two as methods of inquiry. She writes, "For both science and poetry the challenges lie in taking on the complexity of the most interesting questions (formal, technical, theoretical and moral) within our fields without losing connection with people outside of our fields." The goal here was the same.
This workshop, held on March 13th and 14th of this year, was the kickoff event for ARCUS' the Arctic in the Classroom program, a grant-funded effort to, as program director Sarah Bartholow explained, "facilitate citizen science and community-based monitoring with an Arctic focus." Specifically, they will work to match Arctic-based teachers with researchers who will help them develop a curriculum, make classroom visits, and form relationships with students and their communities. ARCUS has long recognized the value of pairing teachers and researchers; their PolarTREC program places K-12 teachers on Arctic and Antarctic research expeditions and field sites. Teachers write about what they're doing and learning, and bring that first-hand experience back to their classroom. Arctic in the Classroom will focus on students in the Arctic, meaning their relationship with the subject is already more intimate than students in the Lower 48. Several teachers spoke to the need for that intimacy to be reflected in their curriculum. Debbie Mekiana, a teacher from Anaktuvuk Pass, referred to teaching lessons on chlorophyll that use maple leaves as an example, or how teaching a section on ocean tides "was like pulling teeth."
"They're looking at me like, what is wrong with you," Mekiana said, laughing. Replace maple leaves with dwarf birch, the common tundra shrub whose leaves turn vibrant red in the fall, and her students might have something to latch onto.
For those who have done this work before, the challenges of classroom-based citizen science, especially in rural Alaskan villages, seemed unanimously recognized. Often, student data is not given a meaningful role in research projects. Bartholow described the too-common practice of patting kids on the back for collecting rain or analyzing soil, and then their data sits in a corner indefinitely. "That's not ok with me," she said. "Student time is valuable, and their work is rigorous if we can get it up to that standard." The nodding heads in the room showed that workshop participants were quite familiar with this pattern.
They also face what Bartholow referred to as "the challenges of impermanence": The transience of both researchers and teachers, who are often not established members of the communities in which they work, results in a lack of continuity and institutional knowledge that stays in the community even after individual teachers and researchers move on.
In addition to unevenly distributed financial resources in arctic schools, there are discrepancies in visiting scientists as resources as well. Kevin Neyhard, a middle school teacher from Barrow who has an established working relationship with sea ice researcher Mette Kaufman, who he wants to bring back to his classroom again, said that he could have a different researcher in his class every day if he wanted to. But without long notice and opportunity to meaningfully integrate a researcher's work into his curriculum, as he and Kaufman have been able to do, the visits are little more than interruptions. But teachers in small villages who don't see the steady stream of Arctic scientists that Barrow does would welcome those interruptions, just so their students could meet and interact with a working scientist. "Anyone who steps off that plane is fair game to be dragged into my classroom," said Terri Mynatt, who teaches in the village of Venetie, and after watching her approach scientists at lunch, at bus stops, and in the hallways, I absolutely believed her. "I want all the scientists to work with me," she said, smiling mischievously.
And of course there is the challenge, not limited to k-12 classrooms, of working with scientists who aren't equipped to communicate effectively with audiences outside their fields. This includes knowing how to present grade-appropriate material to students, be culturally responsive to Indigenous communities, and to focus on research questions that will have meaning to the communities who are asked to contribute.
Success also means asking obvious questions; one teacher participant recalled a workshop in Barrow where a researcher interrupted a conversation about science in the classroom with the admission that, "You keep saying 'lesson,' but I don't know what a lesson is." I was struck by the willingness of these professionals to step into "beginner's mind" in another field in order to work towards a common goal. Throughout the workshop, small epiphanies rung out from participants' conversations: "Oh, that's what 'place-based' means?" said a teacher who was surprised to learn she was a practitioner of place-based education without knowing it. "That's called 'phenology'?!" shouted another, who seemed overjoyed that her students' observations of plants leafing out in spring had a name.
The history of citizen science itself demonstrates the interconnectedness that many participants referred to as they outlined their project goals. Katie Spellman of the International Arctic Research Center explained that the practice—and the terminology—of collaborative work between trained scientists and non-scientists popularized during the financial crisis of 2008, as climate change gained public attention and scientists' budgets shrank.
Spellman cited Christmas Bird Counts, which started in 1901, as one of the longest-running and best-known examples of citizen science. Another presenter, Henry Huntington, cautioned that for some, "citizen science" can be a contentious term, as it places the knowledge shared by an elder who has lived on the land and observed the patterns of a place for a lifetime on equal footing as that of a participant in a Christmas Bird Count, a citizen whose attention to birds may not extend beyond the annual event. Each conversation reiterated the point that theirs is a complicated mission; a scientist cannot simply walk into a classroom and call it a success. There are intricacies of language, culture, and continuity to negotiate, in addition to the usual challenges of funding, meeting state and federal education standards, and maintaining the energy to pursue projects like these without institutional support.
On day two, participants broke into small groups based on either geography or subject interest. As I listened to the conversations that came from those meetings, I was struck again by the commitment to inclusivity, and to the interconnected ways of knowing that must be employed for these projects to be successful. Debbie and a snow and ice researcher named Molly Tedesche, who are planning to work together this summer, discussed possible ways of integrating a science textbook that divides science into "bio"—living—and "geo"—nonliving—when, as Molly said about her questions about the possible effects of perennial snowfields on caribou movement, "Obviously things that aren't alive affect things that are alive."
Deming, writing about science and poetry, but extending her description to all fields, writes about the borders that can separate practitioners of one field from another: "A border is both a zone of exclusion and a zone of contact where we can exchange some aspects of our difference." These two women, discussing the difference between how science is taught and how science is practiced, negotiated that border with grace and creativity.
The participants from this workshop will be the only cohort of the Arctic in the Classroom program. As they develop their projects over the coming year, ARCUS will allocate funding, and participants will continue to share what has worked and hasn't worked in their classrooms and communities, creating what ARCUS organizers called "a community of practice." That community will seek to answer concrete logistical questions like, "How can we find a cheap core drill that someone left in a closet or something, and share it with other communities?" but also, where can a PhD candidate seeking funding, a fifth grade curriculum, and a community's long cultural history of close observation find overlap?
Deming writes:
We are animals that create mental habitats, such as poetry and science, national and ethnic identity.  Each of us lives in several places other than our geographic locale, several life communities, at once.  Each of us feels both the abrasion and the enticement of the edges where we meet other habitats and see ourselves in counterpoint to what we have failed to see…I am calling for is an ecology of culture in which we look for and foster our relatedness across disciplinary lines without forgetting our differences.
The Arctic in the Classroom participants are committed to doing what Deming suggests: seeing one's own work through the eyes of those trained or raised in another field of inquiry, and recognizing the places of overlap and abrasion. This means knowing to be excited when it finally starts snowing, and knowing what questions to ask about why it's important, and then honoring the different ways people arrive at an answer. In an unexpected way, I felt like I got a glimpse into that "ecology of culture": creative professionals attempting to build bridges between practices, belief systems, and ways of knowing, and creating tools to share with the next generations.
---
Erica Watson lives and writes on the boundary of Denali National Park, Alaska. She is especially interested in unexpected intersections of nature and culture. To find out more about her writing, visit her website at ericawatson.wordpress.com.