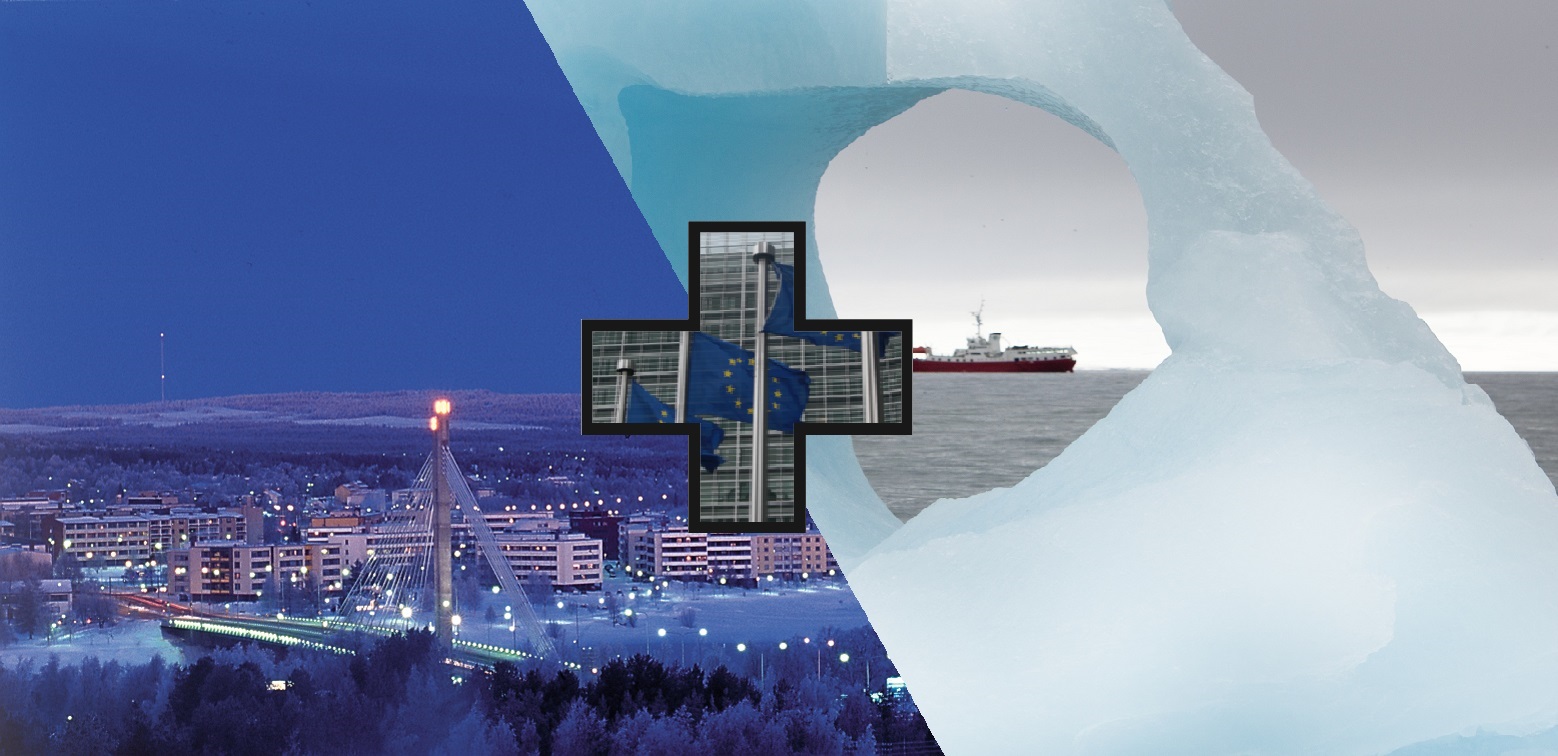 Photo from Arctic Centre; Peter Prokosch (GRID-Arendal, grida.no); Wikipedia Commons
The new EU Arctic communication will probably be published in the first months of 2016. It is expected that there will be a clearer differentiation between the two Arctic policy spaces in which EU operates, namely the European Arctic and the Circumpolar Arctic. These are associated with different sets of issues and are managed by different EU services, but so far they have been confounded in EU policy statements. The EU should go one step further and devise a two-tier policy: on one hand, a general policy referring to the Circumpolar Arctic, on the other, a concretized strategy dealing with specific challenges for the European Arctic. While still brought under the umbrella of one document, these general policy and specific strategy tiers could be drafted through partly separate processes led by different EU services and the European Commission's directorates general, with participation of different stakeholders. This is the only feasible way to accommodate both the EU's circumspection regarding engagement in Arctic Ocean and Circumpolar affairs and the European northernmost regions' expectations towards the EU's Arctic policy. As the drafting of the new communication is at an advanced stage, the upcoming document should at least envisage exploring the need and possibility of formulating a two-tier Arctic "policy + strategy".
Lost between circumpolar and European Arctic dimensions
The EU has been struggling with formulating a focused and coherent Arctic policy for eight years and the results are mixed at best. In a briefing note with TAI's Andreas Raspotnik,1)Stępień, A. and Raspotnik, A. (2015) 'Exploring Reasons & Remedies for the EU's Incapability to Devise an "Arctic Policy": The Quest for Coherence [Briefing Note]', Arctic Yearbook 3, www.arcticyearbook.com/images/Articles_2015/briefing-notes/4.BN_Raspotnik Stepien.pdf. we have discussed constraints for a focused and effective EU Arctic policy. One of these challenges is the inability to balance issues and policy responses that are relevant to the Circumpolar Arctic on the one hand, and to the European Arctic on the other. Conflating problems specific to, for instance, the central Arctic Ocean and Central Lapland is likely to result in confusion and produce objectives that are too broad and vague to make a tangible difference in EU activities and to introduce greater coherence to EU Arctic-relevant policies.
Placing of leadership and coordination of EU Arctic policy in the hands of the European External Action Service (EEAS) and the European Commission's Directorate General for Maritime Affairs and Fisheries (DG MARE) has so far resulted in a predominantly external and maritime focus of the emerging policy framework. Nowadays, EU officials often mention that the EU Arctic policy should bring together foreign or external, cross-border and internal issues. This "bringing together" turns out to be challenging. The 2012 Joint Communication2)European Commission and the High Representative for the Union's Foreign and Security Policy (2012) Developing a European Union Policy towards the Arctic Region: progress since 2008 and next steps (Joint Communication), JOIN(2012) 19 final, eeas.europa.eu/arctic_region/docs/join_2012_19.pdf. was a rather messy collection of various (often already ongoing) actions, ranging from very general to specific activities, including EU research programmes, satellite-based earth observation, bilateral dialogues with Arctic states, specific projects on mining technology, and drafting of an EU oil and gas directive.3)Airoldi, A. (2014) The European Union and the Arctic: Developments and perspectives 2010-2014; Stepien, A. (2015) 'Internal Contradictions and External Anxieties: One "Coherent" Arctic Policy for the European Union', Yearbook of Polar Law 7. A list of EU activities organized under catchy headlines (knowledge, responsibility, engagement) can serve well as a compendium of EU Arctic-relevant activities and was meant to provide a justification for the EU's presence in the Arctic. However, it cannot constitute a viable action plan.
In the 2014 report for the European Commission,4)Stepien, A., Koivurova, T. and Kankaanpää, P. (2014) Strategic Assessment of Development of the Arctic: Assessment Conducted for the European Union, Rovaniemi, Finland, www.arcticinfo.eu/sada. we have recommended that the EU should have a greater focus on the European Arctic without abandoning a circumpolar, global Arctic perspective. This recommendation is still valid. The Circumpolar and European Arctic policy spaces entail different problems, issues, and roles for the EU. Consequently, the EU's presence in each of these spaces calls for engaging different stakeholders and requires involvement of different EU services.
In the Circumpolar Arctic, the EU occupies a back seat, and for many Arctic stakeholders it remains a secondary actor. That of course does not mean that there is no need for an EU Arctic policy. The EU is a major funder of Arctic research. It takes part in developing international norms relevant for the Arctic, including in global climate negotiations, as regards rules for polar shipping or trade in endangered Arctic species. The EU's regulatory framework affects the region via its role in shaping Europe's Arctic environmental and economic footprint. The EU is a source of pollution transported into the Arctic, it is a critical market for Arctic living, mineral and energy resources, and EU member states are among major Arctic shipping and shipbuilding nations.5)Stepien, A., Koivurova, T. and Kankaanpää, P. (2014) Strategic Assessment of Development of the Arctic: Assessment Conducted for the European Union, Rovaniemi, Finland, www.arcticinfo.eu/sada.
In contrast, the EU is a key player in the European Arctic. It acts as a regulator for Finland and Sweden as well as for the European Economic Area. It provides noticeable development funding, for example through the Northern Periphery and Arctic Programme, Northern Dimension partnerships, Kolarctic EPI, cross-border Interreg programmes, and cohesion funding in Finland and Sweden. Legislation and policies shaped in Brussels have a clear influence on environmental protection, transport and energy developments in the region. Key regulatory frameworks include Natura 2000, which provides EU-level protection for natural habitats encompassing large areas of the EU's northernmost regions, legislation regulating mining activities, trans-European transport networks that influence availability of EU funding for different transport corridors, as well as policies supporting renewable energy developments, such as wind power. When talking about issues relevant to indigenous peoples, it is the Sámi who are the partners for dialogue. In addition to the Sámi, among relevant stakeholders in this policy space are Europe's northernmost regions (in Brussels grouped within the Northern Sparsely Populated Areas network), local businesses, mining industry, reindeer herders, and primarily local and national environmental groups.
The policy referring to the European Arctic is likely to have a much greater emphasis on economic developments. This is due to various economic, demographic and social challenges that trouble northern Fennoscandia (e.g. Stępień et al. 2016 and see below). An example of a predominantly economic focus is a recent report produced for the prime ministers of Finland, Norway and Sweden,6)Husebekk, A., Andersson, M. and Penttilä, R. E. J. (2015) Growth from the North. How can Norway, Sweden and Finland achieve sustainable growth in the Scandinavian Arctic? Report of an independent expert group, valtioneuvosto.fi/documents/10616/1095776/J0415_Growth+from+the+North_net.pdf/2613b2d6-96f8-4ca1-813a-658eaad7f858. which focuses on energy (LNG and renewables), greener mining solutions, increased tourism as well as technologies for cold climate and ice conditions. The report proposes to energize the Northern Fennoscandian economy by harmonizing regulatory frameworks, pooling talents and labor, as well as formulating and implementing a long-term transport and infrastructure plan. In addition, the recommendations include joint Nordic awareness raising and lobbying in Brussels. In sum, Nordic countries see a need for EU support for European Arctic-specific objectives, which are largely focused on economic development.
The vision for a two-tier EU Arctic Policy
Given the distinct nature of the Circumpolar and the European Arctic as outlined above, an EU Arctic policy should be constructed as a single but two-tier document titled, for instance, "EU Policy for the Arctic and Strategy for European Arctic Regions".
The first tier – focused on Circumpolar affairs and the Arctic Ocean – would be a continuation of the current line of policy statements initiated with the 2008 Arctic Communication.7)European Commission (2008) The European Union and the Arctic Region, COM(2008) 763 final, eeas.europa.eu/arctic_region/docs/com_08_763_en.pdf. It would likely maintain current general objectives, namely contributing to knowledge-building, supporting pan-Arctic sustainable development, and engaging with Arctic partners, including through participation in Arctic cooperation. This would thus be primarily a part of the EU's foreign or external affairs. The focus would be on maritime issues (Arctic Ocean, fisheries, international shipping, IMO Polar Code, etc.), pan-Arctic research, international cooperation, participation in the Arctic Council, climate change and dialogues with Arctic indigenous peoples. This circumpolar tier would continue to be led by the EEAS and DG Mare. In terms of stakeholder interaction, the pan-Arctic policy tier entails engagement with Arctic states, major European maritime industries, international research networks, and Arctic indigenous organizations. The policy would remain at the level of loose, general statements and advance cautious, diplomatic and low-profile EU engagement, matching the Union's role as a secondary actor in the Arctic.
In contrast, the second tier – for the European Arctic or the EU Arctic regions – requires a strategic approach. Close reading of the European Parliament's 2014 Resolution on an EU strategy for the Arctic8)European Parliament (2014) Joint Motion for a Resolution on the EU strategy for the Arctic, 14 March 2014, www.europarl.europa.eu/sides/getDoc.do?pubRef=-//EP//TEXT+MOTION+P7-RC-2014-0229+0+DOC+XML+V0//EN. reveals that the call for an EU Arctic "strategy" alludes primarily to issues specific to the EU northernmost regions or, more broadly, to the European Arctic. In this policy space it seems justified to use the term "strategy", while if referred to in the Circumpolar Arctic it would be seen as politically risky. It was for this very reason that the word "strategy" was not used in for instance the United Kingdom's Arctic policy statement.
The tier of the future EU Arctic policy concerning the European Arctic could become a strategy in a true sense of the word. It would ideally entail a set of clear goals or even specific targets and very concrete actions to meet these targets, both in the short- and long-term. Formulation of this strategy-tier requires more substantial participation of European Arctic actors, in particular European Arctic regions. As in the case of the EU's macro-regional strategies, a strategy for the European Arctic should be drafted together with states, regions and local stakeholders. It requires an open, structured process rather than only loose consultation workshops (as the 2014-2015 Streamlining EU Funding in the Arctic Consultations) or internal EU procedures such as inter-service consultations, which are carried out before publishing each communication. This is because the goal for all these EU (or EU/EEA) actors would be to agree on a common set of goals or targets. In the European Arctic, such goals could refer to:
climate change adaptation in the area that is the currently warming the fastest in Europe, facing challenges such as increased risk of flooding or impacts on snow cover-dependent activities;9)

Mikkonen, S. et al. (2015) 'Trends in the average temperature in Finland, 1847–2013', Stoch Environ Res Risk Assess 29: 1521–1529.

accessibility and connectivity, e.g. North-to-South or intra-regional transport and digital connections;
streamlining various sources of EU funding for the region, something that the Commission attempted to do through the already mentioned Streamlining EU Arctic Funding consultations; and
addressing specific challenges faced by the Sámi, related for instance to the mining industry, wind power, cross-border cooperation or language loss.
The EU's northernmost regions and municipalities are troubled by economic, social and environmental problems. These are connected with remoteness, sparse population, thinning-out of rural areas, demographic imbalances or the particular dependence of these regions on both extractive industries and support from national budgets.10)Stępień, A. et al. (2016) 'Socioeconomic and Cultural Changes in the European Arctic', in A. Stępień, T. Koivurova, and P. Kankaanpää (eds). The Changing Arctic and the European Union. Leiden – Boston: Brill/Nijhoff. In light of these challenges, the strategy-tier of the Arctic Policy would need to aim at securing the long-term position of Northern Fennoscandia as an innovative and socio-economically viable region; one of the drivers of European growth rather than a laggard requiring increasing structural support. This would provide an added value both for the region itself and for the whole EU, strongly justifying the EU's dedicated policy for this distinct part of Europe.
A focus of the strategy-tier would be on terrestrial issues, in contrast to Arctic Ocean-specific policies. The central role in decision-making should be reserved for the Commission's DGs dealing with transport, regional development, regional cooperation and environment, rather than the EEAS and DG Mare. Instruments for implementation tested in other EU regions could be utilized, including a network of contact points for regional funding and regional development or regional stakeholder forums.
There is no willingness in the EU to initiate additional funding, new dedicated institutions or new regulations towards implementation of region-focused policies.11)European Commission (2013) Report concerning the added value of macro-regional strategies, COM(2014) 284 final, ec.europa.eu/regional_policy/sources/cooperate/macro_region_strategy/pdf/gov_macro_strat_en.pdf. Therefore, the strategy-tier of the Arctic policy has to be based on existing funding mechanisms and not create any additional bureaucracy. Solutions indirectly streamlining European Arctic priorities within already operating programmes should be considered. A good example of such mechanisms is the Seed Money Facility in the EU Strategy for the Baltic Sea Region (EUSBSR). It provides seed grants for work on proposals directed to various EU programmes for projects that match priority areas or horizontal actions of the EUSBSR.
Furthermore, the work on the strategy-tier could, in the long-term, push for legislative changes in cases where the EU regulatory framework has specific, distinct implications for the EU/EEA northernmost regions. It could affect the priorities of existing EU programmes and help to identify the need for increased resources for certain types of actions, for example in response to rising climate adaptation needs in one of the fastest warming parts of Europe. These are functions that none of the existing strategy or policy frameworks – like the Northern Dimension or the Northern Periphery and Arctic Programme – is designed to perform.
Challenges of a European Arctic strategy-tier: scope and interaction with other frameworks
There are numerous EU policy frameworks that are relevant for the European Arctic and the new strategic approach needs to find its place in this policy landscape. Former Finnish prime minister, Paavo Lipponen, in his September 2015 memorandum to European Commission President Jean-Claude Juncker proposed the formulation of the "EU Arctic and Northern Policy", encompassing all policy spaces and frameworks: "The EU should develop a Northern Policy, covering the whole Northern Dimension area from Greenland to North-West Russia to Northern Germany and Poland. Such a policy should cover all Northern European international institutions: Arctic Council, Barents Euro-Arctic Council, Council of Baltic Sea States, Nordic Council and Council of Ministers and Northern Dimension Cooperation."12)Lipponen, P. (2015) For an Ambitious Arctic and Northern Policy: Memorandum to European Commission President Jean-Claude Juncker, www.cosmopolis.fi/wordpress/wp-content/uploads/2015/11/Juncker-Memo-2015.pdf.
This is certainly an interesting approach, but there is a risk of such an overarching policy to be overly vague and general. Moreover, it may be challenging to convince those focused primarily on, for instance, Baltic affairs to subject their region-specific objectives to a broader framework. The same is true for forums such as the Arctic Council, Barents Euro-Arctic Council or the Nordic Council of Ministers. It would be certainly beneficial to avoid duplications between various programmes and funding sources. However, proposals for even weak forms of coordination are likely to encounter resistance, as each of these organizations is determined to keep their autonomy, profile and follow their own priorities. Rather than a very broad overarching policy, both the EU and the European Arctic need a very concrete strategy, responding to the concrete challenges of a fairly narrowly defined region.
Consequently, an EU Strategy for the European Arctic should not be of similar scope and magnitude as macro-regional strategies such as those formulated for the Baltic, Danube or Adriatic-Ionian regions. It should, instead, address the specific Arctic challenges as they are manifested in the northernmost European regions; issues, where the EU has major policy, funding and regulatory influence. These include climate change adaptation, EU transport networks, EU environmental legislation, raw materials, and the dialogue with the Sámi. Such a focused strategy – a distinctive but integral part of a broader Arctic policy – needs to:
have added value in relation to existing programmes and cooperation frameworks,
attempt to streamline resources, and
create spaces for engagement with European Arctic stakeholders.
Another question is the geographical scope of the strategy-tier. Should it apply only to the EU northernmost regions, or include also Norway and Iceland, as EEA/EFTA states, and maybe even Greenland? In the latter case, the strategy would require strong participation and reaching agreement on concrete goals and targets with these non-EU actors, likely leading to a greater difficulty in drafting the strategy. However, it could increase its impact, especially regarding the involvement of North Norwegian regions, which are strongly linked with the EU's northernmost areas. If the strategy-tier was to affect priorities of programmes that encompass Norway and Iceland or affect transport networks that extent, for instance, to the Norwegian coast, a lack of Norwegian and Icelandic participation would jeopardize the attainment of strategic targets. The decision on the geographical scope of the strategy-tier might ultimately depend on the interests of Norway and Iceland in taking part in such a process.
Moreover, a strategy formulated for the Arctic EEA regions needs to align itself with the Northern Dimension (ND), which is a common policy of the EU, Iceland, Norway and Russia. The ND has become more effective over the last years, with more projects being implemented. Any actions that could weaken this policy – for instance by redistributing funds in the long-term – should be avoided. On the other hand, the inclusion of Russia in the Northern Dimension and the current focus on more southerly Baltic regions limits the capacity of the ND to address problems specific to Finnish Lapland or Norrbotten. There is no space in the ND for streamlining EU funding mechanisms or affecting EU regulations that have specific implications for Northern Fennoscandia (like the aforementioned Natura 2000 framework).
One has to acknowledge that the formulation of a proposed two-tier policy + strategy would be more time-consuming and challenging for EU bureaucracy than the current drafting of general documents. This is certainly a problem given the multiple crises hitting the EU, which are adversely affecting the available capacities of the EEAS and the Commission. However, this is an approach that, contrary to the general all-encompassing mixed documents that we have seen so far, could potentially deliver both for the Circumpolar Arctic and the EU's place in it, as well as for the EU/EEA citizens living in Europe's northernmost regions.
Why still aiming for a single policy document?
If the Circumpolar and European Arctic spaces are so different, why is it beneficial to bring the general Arctic policy and European Arctic strategy into one document? The need for a European Arctic strategy originates directly from the changes occurring in the Arctic as a whole and from the crossing of Arctic environmental and economic challenges with the specific situation of Northern Europe. This part of the Arctic is directly subject to EU regulations and policies, which can both enable and constrain various developments as well as local policy choices. Moreover, although emphasis is likely to remain different for the European and Circumpolar Arctic, there are a number of issues that cut across the two policy spaces, including cooperation with Russia, the Barents cooperation, transport networks, and research funding.
Another reason why a completely separate European Arctic policy is not necessary is the mentioned fairly dense patchwork of existing cooperation mechanisms and policies in the European North. The thematically highly focused and geographically limited strategy-tier should not create another autonomous framework. Rather, it could fill in whatever gaps in existing frameworks applicable to the European North are identified. It could also help to streamline resources in order to meet the challenges arising from Arctic environmental and socio-economic changes as they are distinctively manifested in Europe's northernmost regions.
Perhaps too late, but there is a way forward
The new EU Arctic Communication is currently being drafted and it is to be published within a couple of months. That means there is no time to properly develop a European Arctic strategy, as proposed in this article. However, the upcoming Arctic Communication is likely to have a clearer focus on Arctic Ocean-related issues on one hand and European Arctic perspectives on the other. That opens possibilities for future structured and participatory work on a European Arctic strategy. The EEAS and the Commission should include in the upcoming communication a statement that the EU would explore the need and possibility for formulating a strategy-tier of the EU Arctic policy. Such "exploration" should be carried out together with European Arctic partners and stakeholders.
The EU faces similar challenges with combining internal and external issues within one policy approach in other regions, especially in the Black Sea and Mediterranean. The EU Arctic policy + strategy could learn from experiences gathered in these regions but also it could constitute a testing ground.
In order to facilitate the proposed policy development in Brussels, Nordic and Northern Fennoscandian actors and stakeholders should consider advocating for a two-tier policy framework. It may be the only feasible and realistic way to meet the expectations and needs of EU institutions, the EU's northernmost regions, Northern Fennoscandian stakeholders, Arctic states, as well as European researchers, NGOs and businesses.
---
This commentary was written basing on the presentation and the following discussion during the "In the Spirit of Rovaniemi Process" conference, 25-26 November 2015 in Rovaniemi, Finland. The author would like to thank participants to the session "Geopolitics of the Global Arctic by the Thematic Network on Geopolitics and Security" chaired by Professor Lassi Heininen for their comments and ideas. The author further would like to express his gratitude to Professor Timo Koivurova and Małgorzata Śmieszek from the Arctic Centre (University of Lapland), Kathrin Keil and Andreas Raspotnik from The Arctic Institute, as well as Gregor Sharp for their valuable suggestions. The opinions expressed here are those of the author alone. Adam Stępień is one of the editors of the 2014 "Strategic Assessment of Development of the Arctic" report, produced by a network of 19 European research and communication institutions for the European Commission. Many ideas presented above derive from the findings of this report and from the process leading to its completion.
| | | |
| --- | --- | --- |
| 1. | ↑ | Stępień, A. and Raspotnik, A. (2015) 'Exploring Reasons & Remedies for the EU's Incapability to Devise an "Arctic Policy": The Quest for Coherence [Briefing Note]', Arctic Yearbook 3, www.arcticyearbook.com/images/Articles_2015/briefing-notes/4.BN_Raspotnik Stepien.pdf. |
| 2. | ↑ | European Commission and the High Representative for the Union's Foreign and Security Policy (2012) Developing a European Union Policy towards the Arctic Region: progress since 2008 and next steps (Joint Communication), JOIN(2012) 19 final, eeas.europa.eu/arctic_region/docs/join_2012_19.pdf. |
| 3. | ↑ | Airoldi, A. (2014) The European Union and the Arctic: Developments and perspectives 2010-2014; Stepien, A. (2015) 'Internal Contradictions and External Anxieties: One "Coherent" Arctic Policy for the European Union', Yearbook of Polar Law 7. |
| 4, 5. | ↑ | Stepien, A., Koivurova, T. and Kankaanpää, P. (2014) Strategic Assessment of Development of the Arctic: Assessment Conducted for the European Union, Rovaniemi, Finland, www.arcticinfo.eu/sada. |
| 6. | ↑ | Husebekk, A., Andersson, M. and Penttilä, R. E. J. (2015) Growth from the North. How can Norway, Sweden and Finland achieve sustainable growth in the Scandinavian Arctic? Report of an independent expert group, valtioneuvosto.fi/documents/10616/1095776/J0415_Growth+from+the+North_net.pdf/2613b2d6-96f8-4ca1-813a-658eaad7f858. |
| 7. | ↑ | European Commission (2008) The European Union and the Arctic Region, COM(2008) 763 final, eeas.europa.eu/arctic_region/docs/com_08_763_en.pdf. |
| 8. | ↑ | European Parliament (2014) Joint Motion for a Resolution on the EU strategy for the Arctic, 14 March 2014, www.europarl.europa.eu/sides/getDoc.do?pubRef=-//EP//TEXT+MOTION+P7-RC-2014-0229+0+DOC+XML+V0//EN. |
| 9. | ↑ | Mikkonen, S. et al. (2015) 'Trends in the average temperature in Finland, 1847–2013', Stoch Environ Res Risk Assess 29: 1521–1529. |
| 10. | ↑ | Stępień, A. et al. (2016) 'Socioeconomic and Cultural Changes in the European Arctic', in A. Stępień, T. Koivurova, and P. Kankaanpää (eds). The Changing Arctic and the European Union. Leiden – Boston: Brill/Nijhoff. |
| 11. | ↑ | European Commission (2013) Report concerning the added value of macro-regional strategies, COM(2014) 284 final, ec.europa.eu/regional_policy/sources/cooperate/macro_region_strategy/pdf/gov_macro_strat_en.pdf. |
| 12. | ↑ | Lipponen, P. (2015) For an Ambitious Arctic and Northern Policy: Memorandum to European Commission President Jean-Claude Juncker, www.cosmopolis.fi/wordpress/wp-content/uploads/2015/11/Juncker-Memo-2015.pdf. |