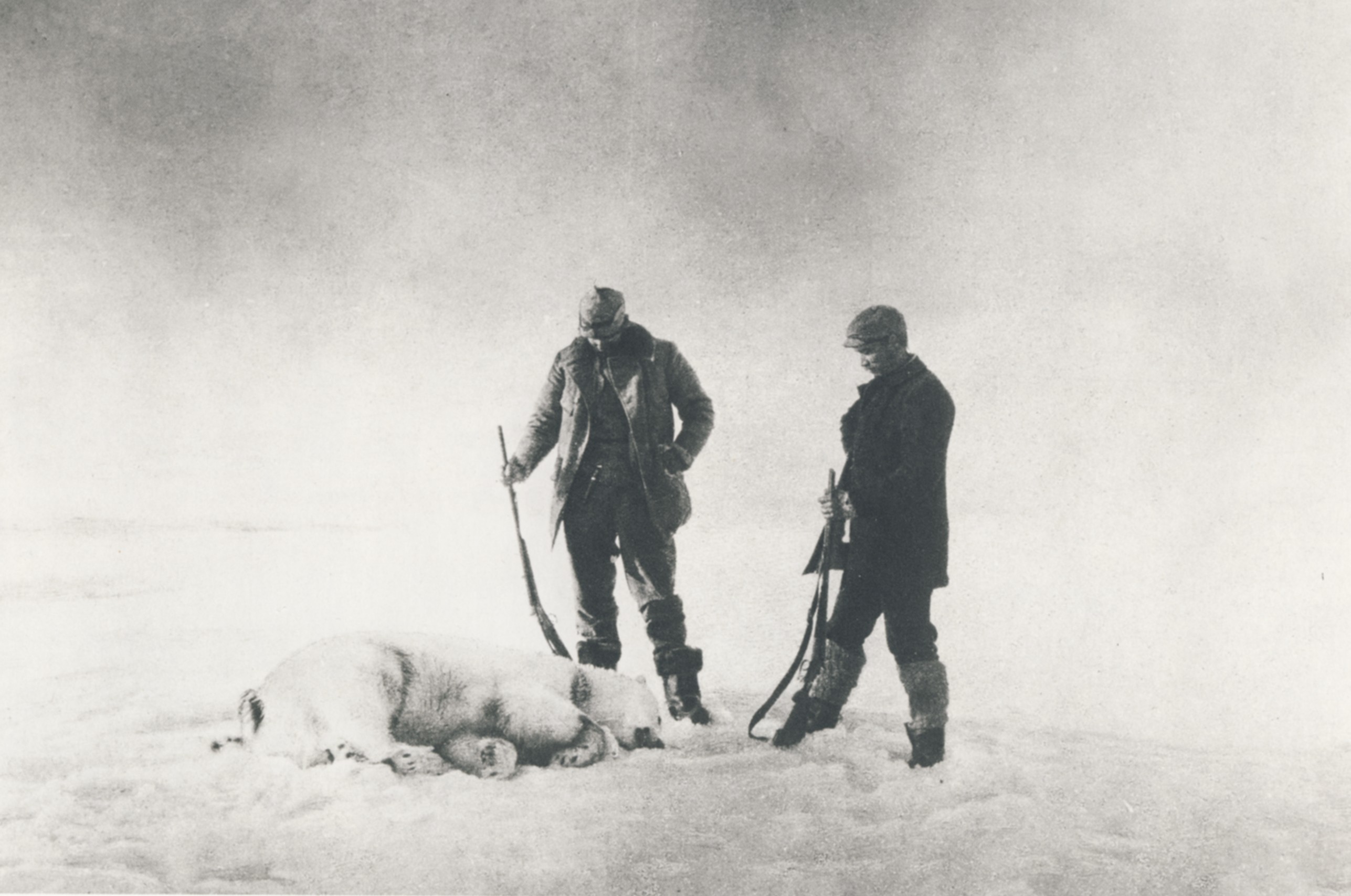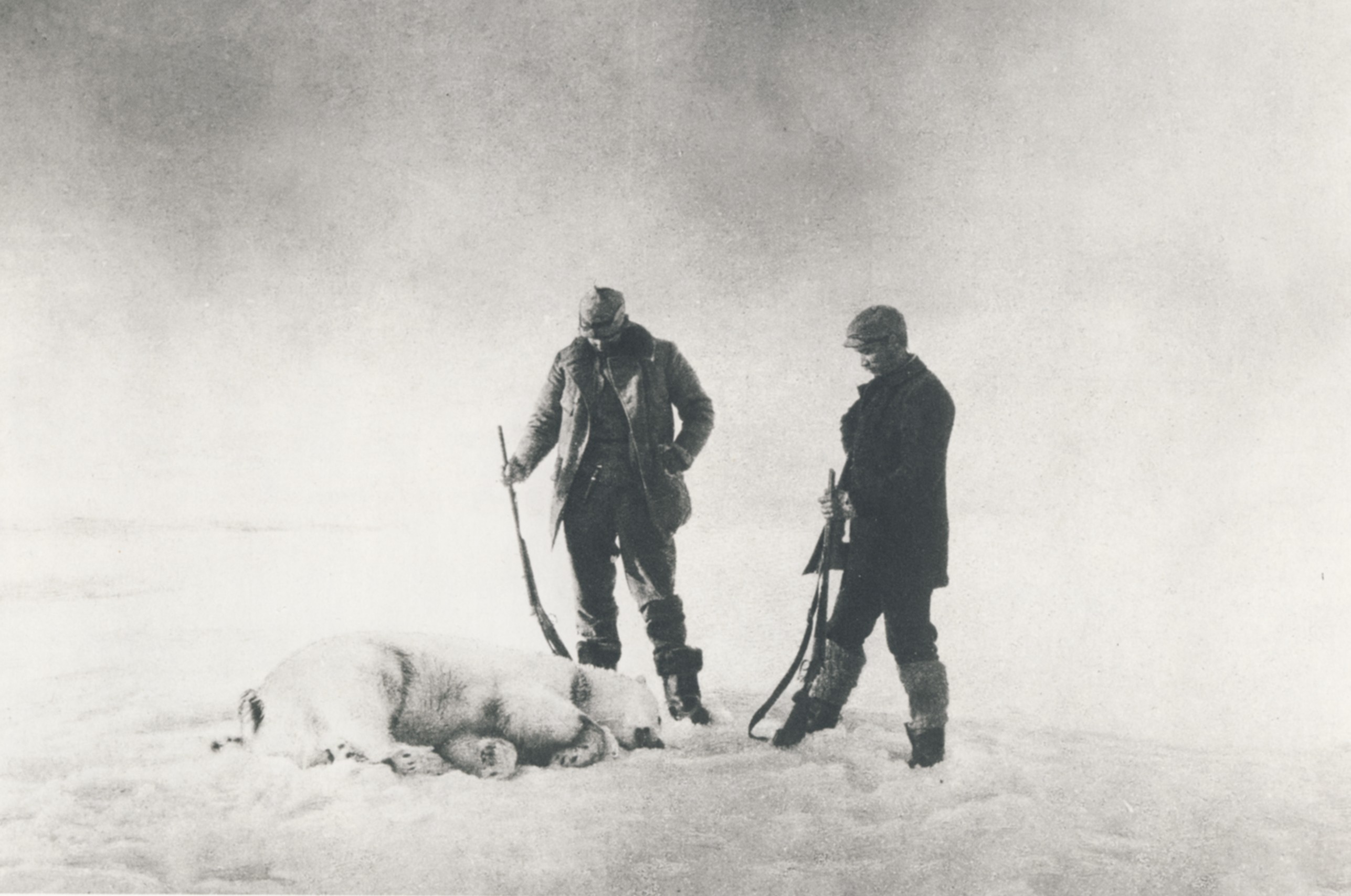 Explorers on the Andrée polar expedition of 1897 stand over a polar bear they killed. Photo: Wikimedia Commons
What can we learn from the death of the first icon of global climate change?
Before I upset anyone, let me assure you that polar bears are not extinct. They just aren't a ubiquitous symbol for atmospheric warming anymore. Sure, the animal will probably keep its home on your can of Coke this winter. And I don't think Greenpeace will give up anytime soon on its mascot for its circumpolar campaigns.
In the world of scientific communication of climate change, though, the polar bear is fading to the background. Michael Mann, a professor of atmospheric science and director of the Penn State Earth System Science Center, says polar bears and other similar icons, like penguins, make climate change seem like "some exotic problem" transpiring in far-away places.
He and other scientists continue to highlight melting Arctic sea ice as one of the most visible indicators of a warming atmosphere. But, they have started characterizing this phenomenon as a problem for the rest of the world and not just a threat to the habitat of a cute species. Picking up on this rhetorical move, media outlets, like Huffington Post, have framed the Arctic as "the world's air conditioner". The metaphor works because, without a consistent cover of ice on the Arctic Ocean during the summer, the rest of the planet experiences higher temperatures and wilder weather patterns, with knock-on effects on agriculture and infrastructure. Very recently, this framing has spread beyond circles of climate researchers and appeared in Bloomberg and Fortune.
As a figure in our stories about global climate change, the polar bear is dead. "The world's air conditioner" is taking its place.
On one hand, this is a paradigm shift. Framing climate change as a challenge to global agriculture and infrastructure is a qualitatively different storyline than wildlife conservation. And, as scholars at the Yale Program on Climate Change Communication point out, it may be more effective in bolstering climate action among the communities burning the most greenhouse gases.
On the other hand, this transition isn't much of a change. Whether we are talking about polar bears or air conditioners, there is something about climate change that we are not talking about, though we should.
Why aren't we talking about human rights?
It's a harsh reality, but Euro-Americans sought to colonize, dispossess, and marginalize Indigenous peoples of the north over the past several centuries. Arctic Indigenous peoples today have concerns with the ways Greenpeace and others represent their lives and homelands. Indigenous communities and organizations have worked for decades to study rapid ecosystem change, shape discussions at the U.N. about it, and adapt to it.
It isn't as if these stories have yet to be told; they exist. They are produced by credible sources: northern policy experts, Arctic scholars, influential members of environmental organizations, and Inuit leaders. Sheila Watt-Cloutier, a nominee for the Nobel Peace Prize and longtime advocate for Inuit affairs, offers an icon that ought to make communicating climate change more personal and effective: the human. Watt-Cloutier points to many of the phenomena climate scientists describe, but she relates them to a different plot that is neither new nor morally right: people in the temperate zones are, once again, dictating the lives of people in the global north.
To be fair, this is not an isolated case. It is a trend that can be found throughout climate change discourse. Just think about how talk about the Great Barrier Reef or glaciers in the Andes rarely includes the Indigenous people who live there.
Euro-American scientists have the responsibility to acknowledge that, at some basic level, they do not like talking about colonialism — at least in the present tense. We have to name and take responsibility for the lasting effects of colonialism, especially those in the atmosphere and on-the-ground around the world. As the Pope and the U.N have done, we  need to invest in Indigenous rights to land and free, prior, and informed consent, and use both as foundations for democratic decision-making. To embed this understanding in our projections of a warming world, we need to tell accurate and appropriate stories about climate change.
There are reasons to believe this shift is on the horizon. For one, the recent history of jettisoning the polar bear suggests that climate scientists can learn and change their ways. In discussions of sea-level rise, some scientists and media outlets are foregrounding land tenure and the relocation of climate refugees in the Pacific. The New York Times, CNN, and Scientific American have recently covered the same events unfolding in coastal Alaska and Chesapeake Bay using a similar storyline.
New obstacles are emerging to prevent this shift. One scientist with the US Department of Interior spoke out about the threats posed by climate change to Alaska Native communities and was reassigned to an unrelated job in an accounting office. Following CNN's coverage of sinking islands in the Chesapeake Bay, President Trump called the mayor of one of the islands, Tangier Island (pop. 500), and told him he "shouldn't worry about rising sea levels".  Perhaps most importantly, President Trump's decision to withdraw from the 2015 Paris accord created momentum for another climate framing, circulated by several world leaders: climate change as an opportunity for a booming renewable energy economy.
What ought we learn from this? A richer way of talking about climate change is possible. There are credible thought leaders linking environmental change and sustainable development with moral and ethical responsibility. And they are met with resistance. Scientists have to amplify the voices trying to steer the conversation in this direction, without fear of retribution, and with the support of the general public.
I suppose there is the rub: until there is a public understanding of climate change as profoundly human, profoundly colonial, and profoundly our own creation, we will unwittingly direct that conversation to charismatic fauna, air conditioners, and economic opportunity. We will avoid confronting some of the hardest facts of the matter.
The polar is dead, long live the polar bear.
---
Andrew Stuhl is an Assistant Professor of Environmental Humanities at Bucknell University and author of Unfreezing the Arctic: Science, Colonialism and the Transformation of Inuit Lands.