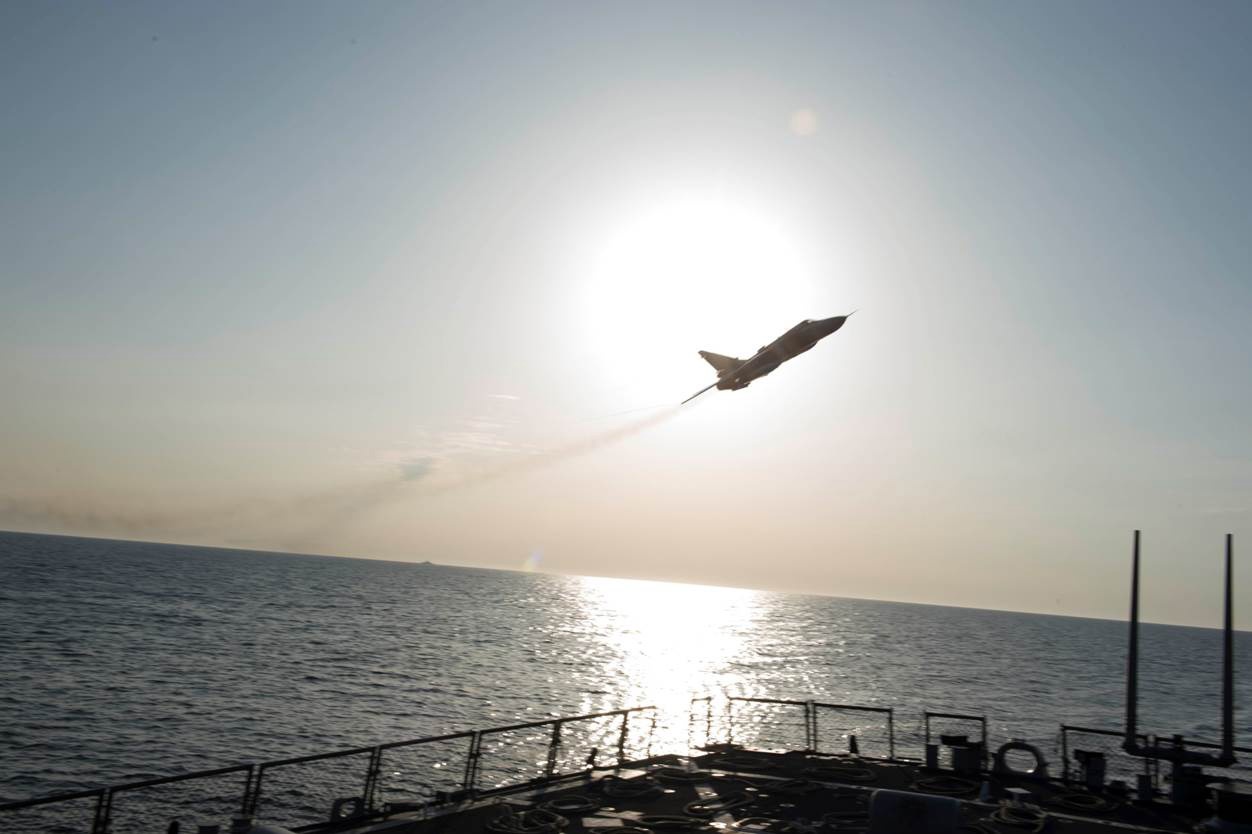 A Russian Sukhoi Su-24 attack aircraft makes a low altitude pass by USS Donald Cook. Photo: U.S. Navy
On June 15, 2016 The Arctic Institute, in partnership with the American Security Project, will host a lunch discussion in Washington, DC on security challenges in the circumpolar region under the American Arctic Council Chairmanship. Over the next four weeks, TAI researchers will explore questions of circumpolar security cooperation today in preparation for our June 15 discussion. This is the fourth installment of four in our Security in Dialogue series.
---
Perhaps more than they have with regard to any other region of the world, pundits, political scientists and foreign ministries have latched on with an astounding vigor to the notion that the Arctic is an entirely peaceful region, ruled by laws and largely immune to geopolitical shocks. The United States' 2013 Arctic Strategy is prefaced with the assertion that "the Arctic region is peaceful, stable, and free of conflict." Indeed, the very possibility of conflict there is so beyond the pale that the Arctic Council—the primary organ of governance in the region—is precluded by its mandate from addressing military security. As such, it was met with considerable surprise – and some dismay –  when a recent government review of Denmark's foreign policy called upon Arctic nations to explore the potential development of a new forum in which such issues could be addressed.
While the United States has performed countless diplomatic genuflections to avoid discussing conflict in the region, credit Denmark for having the alacrity to recognize an issue whose time has come. Now, if the U.S. hopes to show bold leadership in the Arctic, Denmark's recommendation has provided it with the perfect opportunity to do so.
For the reality on the ground is that security issues are already increasingly affecting the region. Experts almost universally agree that the possibility of conflict over the region, in particular its vast mineral resources, is unrealistic and improbable. Nevertheless, the Arctic remains as likely an arena for "strategic spillover" of the increasingly troubled Russia-NATO relationship as any other area where Russia and NATO's borders meet.
Indeed, Russia is currently undertaking a significant remilitarization of its Arctic territories, reopening bases shuttered after the collapse of the Soviet Union and rebuilding regional capabilities that withered following the end of the Cold War. NATO aircraft routinely intercept Russian planes in the Arctic with increasing frequency, suggesting that Moscow is testing and probing the extent to which airspace is monitored and controlled. In economic terms, spillover from Russia's military involvement in Ukraine is already occurring: among Western sanctions imposed in 2015 was one targeting OAO Novatek, threatening to halt the company's development of a liquefied natural gas project in Yamal.