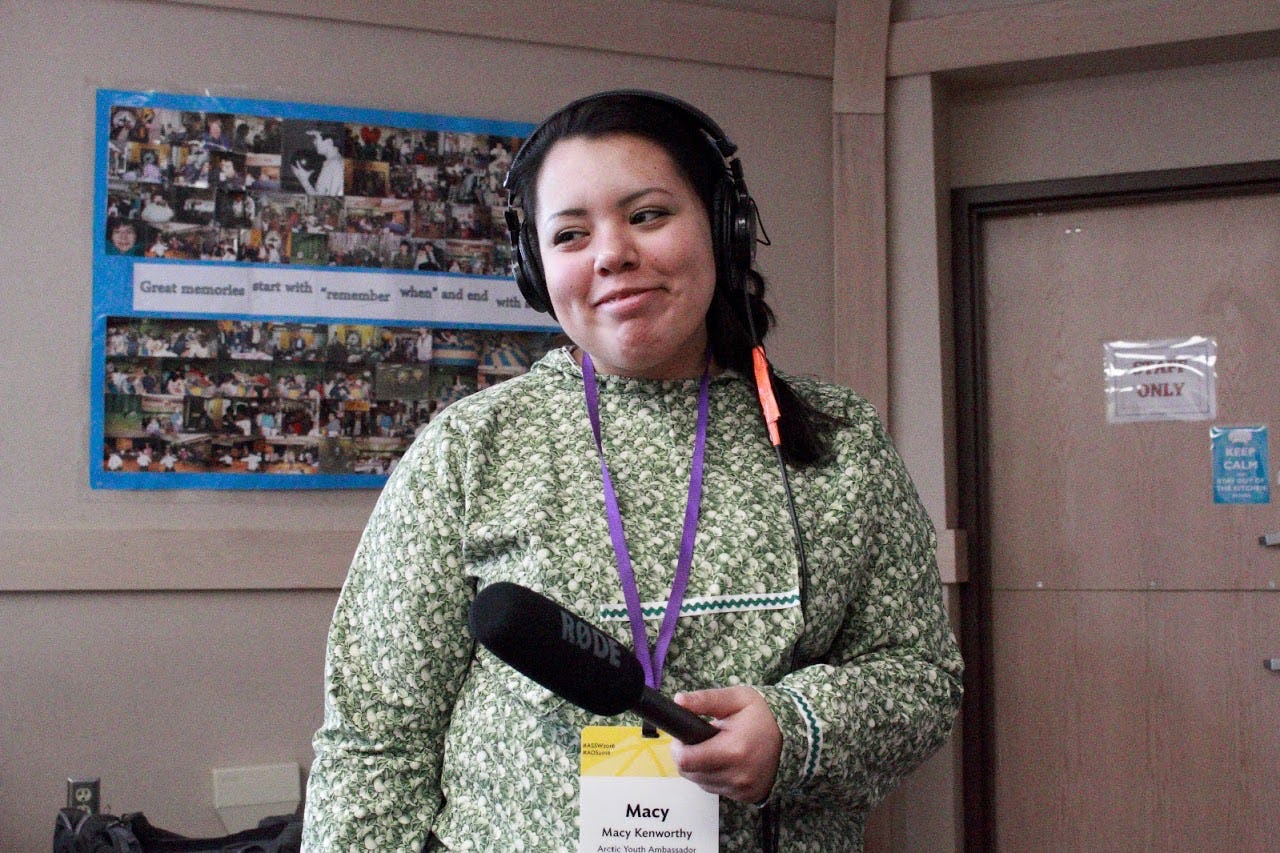 Macy is one of the youth ambassadors participating in Frontier of Change. Photo: Frontier of Change
The future of the North will be determined by the choices, aspirations, and priorities of its youth. The Youth Perspectives Series is a publishing platform for students to voice their opinions, share their experiences, and influence the debate about their homeland. The forum features articles, videos, illustrations, poems, and multimedia projects created by youth living in the Arctic on the issues that matter to them most. Hosted by The Arctic Institute (TAI), Youth Perspectives is produced in partnership with Students on Ice, Arctic Youth Ambassadors, and the Arctic Adaptation Exchange.
If you are a student living in the Arctic and are interested in publishing with us, or if your organization would like to partner with or sponsor Youth Perspectives, please contact our Managing Director at victoria.herrmann@thearcticinstitute.org.
In fall 2014 my wife Josie and I moved from Brooklyn, New York, to Anchorage, Alaska, to produce Frontier of Change, a nine-month project about climate change. We're both multimedia storytellers, and our goal was to bring the experiences of rural Alaska to urban audiences by working with radio station KNBA. This was part of a national initiative called Localore: Finding America, which pairs independent producers with public media stations with the goal of telling stories in new ways, getting new voices on the air, and reaching new audiences. It's headed up by the Association of Independents in Radio (AIR) and funded by the Corporation for Public Broadcasting.
Alaska is the country's largest state and its most sparsely populated. The majority of Alaskans live in Anchorage, Fairbanks, and Juneau, with nearly half of the population concentrated in Anchorage. Yet most of Alaska is rural and off the road system—most remote villages are only reachable by bush plane or snow machine.
"Alaska" comes from the Yupik word "Alyeska," which means "great land" or "that which the sea breaks against." With permafrost thawing and the sea ice that protects the coast from increasingly fierce and unpredictable weather diminishing, the sea is crashing hard against this great land, forcing the relocation of villages and drastic changes to the livelihood and traditional way of life that have, for thousands of years, sustained Alaska Natives—the Inupiaq (northern), Yup'ik (southwest), Athabascans (interior), and Tlingit and Haida (southeast coastal). Rural Alaskans live on the front lines of climate change every day, but most urban Alaskans don't travel to rural Alaska to see the daily impacts firsthand. We wanted to bridge this gap and foster understanding by telling the stories of rural Alaskans with a focus on the experiences of Alaska Natives.
Not being Alaska Natives, Josie and I came into these communities as outsiders. Being from Maine, however, I have seen how often outside journalists seem to get everything wrong when portraying my home state, frequently relying on clichés, churning out purple prose about salty lobstermen and rockbound coasts while somehow missing the true spirit of the place. So we adopted a pretty simple approach—we let people tell their own stories in their own words. We put the microphones in other people's hands and kept our own voices almost entirely off the radio.
Arctic Youth Ambassadors
The Arctic Youth Ambassadors are a group of young Alaskans whose mission is to spread awareness of what life is like in their community. I traveled to Fairbanks to lead a storytelling workshop for them with Frank Chythlook, KNBA's operations manager, who has years of experience leading youth workshops. Drawing on his expertise—as well as my own experience working at the national folk history project StoryCorps, which also aims to elevate voices that are not normally heard in mainstream media—we spent a snowy morning at the university going over everything from how to handle recording equipment to interviewing techniques and story structure. We even turned the ambassadors loose to interview each other and collect field recordings on campus.Frontiers of Change
Later, we mailed recorders to a few of the youth ambassadors, including with them return postage and a "Frontier of Change Field Producer Guide" based on material covered in the workshop. The guide contained basic tips for eliminating background noise; interviewing guidance—"ask simple, open-ended questions"; and a few ideas for identifying and finding stories—"keep in mind what stories and people you might be taking for granted." The guide also featured a simple checklist for our young producers to follow in order to create a compelling radio piece: "introduce yourself," "interview someone," "take some pictures," and so on.
The results were two of our favorite pieces from the project—Keemuel Kenrud interviewing his mother about the major changes she's seen in her lifetime and Kimberly Pikok interviewing her father about hunting for goose eggs and other traditional activities from his youth in Barrow, Alaska. And we, the producers, were hundreds of miles away when these interviews were recorded, not interfering in any way.
Keemuel Kenrud and Sherry Abraham
Kimberly and Lloyd Pikok
This is perhaps the purest form of storytelling—simply providing people with a forum to tell their own stories. Most of the time, of course, we were in the same room with the people we interviewed, holding the other end of the microphone, and every single story was the product of editorial decisions on our part. But by staying true to what people were saying, we hope that we acted as a conduit, using the tools we know to elevate new voices and get new stories on the air.
---
Isaac Kestenbaum is one of the lead producers of the multimedia climate change project Frontier of Change, produced by KNBA as part of Finding America, a national initiative produced by AIR, with financial support from the Corporation for Public Broadcasting. He is also the former production manager for StoryCorps, and the co-creator of the climate change audio project Winters Past.