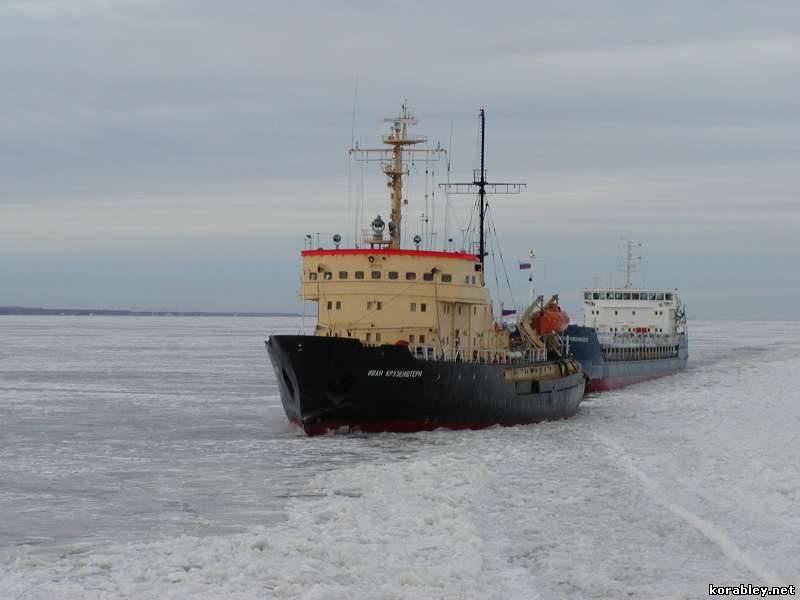 Russian icebreaker escorts a vessel. Photo: Korabley.net
Human activity in the Arctic is increasing in light of the rise in temperatures and the retreat of sea ice. As the region is poised to become more and more important politically, some analysts are fearful that not all countries are prepared for this monumental change and that Russia might be able to leverage its existing Arctic capabilities at the expense of other nations. The question thus arises:  Should we be worried about the future of the region or is the existing regional cooperation here to stay?
Arctic exceptionalism refers to the idea that the Arctic is a special region because it remains outside global geopolitical confrontations. Those who support Arctic exceptionalism point to the fact that the area has not experienced violence for more than 70 years and Arctic countries have been more prone to cooperation than competition when dealing with matters in the region. For example, even during the turbulent, confrontational period of 2015—when relations between Russia and the West were at a post-Cold War low— partnerships in the Arctic were mostly undamaged. Indicative of this are the  several important deals that were signed during this period, such as the agreement on a mandatory Polar Code for shipping in late 2014.
The logic goes that the hostile natural characteristics of the region have caused a lack of conflict since the World Wars. Human interference in the region has been low in comparison to other regions that have experienced "discovery" by colonial powers due to extremely low temperatures and the extent of ice coverage. Further, the resources available in the Arctic have been technically impossible or very expensive to extract, thus rendering them unprofitable for trading.
Those who are skeptical about Arctic exceptionalism see the absence of large-scale conflict in the region rather as a temporary situation. They usually point to Russia as the most likely source of and participant in hostilities in the region since all the other countries are either NATO or EU members and Moscow's military capabilities in the region are seen as more robust than those of other Arctic nations.
One has to look at both military capabilities in the Arctic and the interests of the respective countries in order to be able to assess the probability of open hostilities. Currently, Russia is practically the only country in possession of a size-able icebreaker fleet, indispensable for maneuvering in Arctic  conditions. Russia possesses 52 icebreakers, while the combined fleets of the other four Arctic countries consists of just 19.
This discrepancy has caused several analysts to worry about future conflict in the region. Although Russia's capabilities are incomparable to other Arctic powers right now, it should be noted that icebreakers are used  predominantly as escorts for commercial ships and not for defensive or even offensive maneuvers. Moreover, having the largest territorial waters in the region and the longest Arctic coastline, it is natural that Russia needs a bigger presence than other Arctic states. Moscow's ambitious plans for developing the Northern Sea Route is one of the main reasons for having such a large fleet. Whatever Moscow's intentions may be, it is clear that no other country can hope to match Russia's surface naval capabilities even in the medium term considering that building a modern icebreaker costs about 1 billion dollars and takes 10 years to build.
It is also worth mentioning that according to The Russian Geographical Society, most of the expected resources in the region fall within Russian territorial waters. Most of Russia's existing oil and gas reserves are in the Arctic, too. In fact, according to the country's Arctic policy document, the region is envisioned as a "principal source of natural resources". Drilling for some of these resources may not be profitable or indeed technically possible at this stage but Arctic resources are nevertheless seen as being of strategic importance for Russia.
However, it should not be forgotten that using the potential of Russia's Arctic territories and waters to their fullest extent requires economic development of this huge area. This endeavor will cost a lot and is dependent on cooperation with the West since Russia still relies on Western expertise and technology in terms of  Arctic exploration and exploitation projects. Besides, for a country that is dependent on hydrocarbon exports it makes absolutely no sense to take steps that will destabilize a region abundant with hydrocarbons and in need of foreign investment. Therefore it is clear that Russia has the most to lose from confrontation in the region and it is in their interest to keep a high level of cooperation in place. Several Russian leaders including Putin have stated that the Arctic is no place for geopolitical struggles and there are no issues in the region that cannot be solved through diplomatic and legal means.
In sum, Russia surely holds the key to the continuation of Arctic exceptionalism as a region characterized by peaceful cooperation. While in times of rapid climate change it is less the natural features of the Arctic that shield it from major human interference, we now need to look more to the interests of influential players like Russia and the peculiarities of their situation in order to make sound assessments of the future of cooperation in the region.
---
Luka Jorbenadze is a Master level student of Diplomacy and International Politics at Tbilisi State University.