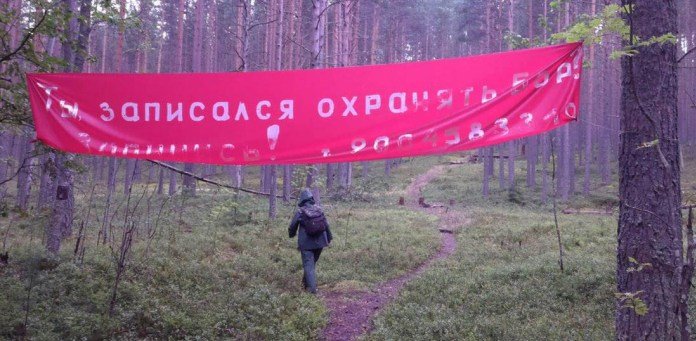 "Have you signed up to protect the forest? Sign up!" Photo: Aleksey Vladimirov
The future of the North will be determined by the choices, aspirations, and priorities of its youth. The Youth Perspectives Series is a publishing platform for students to voice their opinions, share their experiences, and influence the debate about their homeland. The forum features articles, videos, illustrations, poems, and multimedia projects created by youth living in the Arctic on the issues that matter to them most. Hosted by The Arctic Institute (TAI), Youth Perspectives is produced in partnership with Students on Ice, Arctic Youth Ambassadors, and the Arctic Adaptation Exchange. The installment below is the third of many throughout 2016 that will be featured on TAI's new website.
If you are a student living in the Arctic and are interested in publishing with us, or if your organization would like to partner with or sponsor Youth Perspectives, please contact our Managing Director at victoria.herrmann@thearcticinstitute.org.
---
These days the Arctic and Subarctic regions are the focus of much attention. The region has gained significant importance in geopolitical and economic terms as the melting sea ice has made resources more accessible. As Arctic countries continue to actively develop and research the region, new challenges may arise: an increasing military presence, rising pollution levels, and the perceived "race" for hydrocarbons, to name but a few highlighted by Dr. Lassi Heininen.
Arctic and Subarctic regions are acknowledged to be especially vulnerable to economic and social threats. This is exacerbated by their remote position, sparse population, harsh climate conditions, and overall social vulnerability. Natural resources such as land, water, timber, and minerals are all vital sources of income for local communities across the Arctic. Given their importance, it is very possible that the development of these resources has the potential to become a starting point for tensions between authorities, businesses, and local communities in all eight Arctic countries. One of these reasons is the failure to engage with locals on questions of natural resources management.
The importance of natural resources for Arctic communities
According to the United Nations Deputy Secretary-General, Jan Eliasson, in the foreword to Natural Resources and Conflict A Guide for Mediation Practitioners: "Recent years have seen growing recognition of land and resource disputes as drivers of conflict and violence." But when we speak about Arctic regions, it should be highlighted that, fortunately, disputes do not lead to violence, at least according to the Environmental Justice Atlas, which documents and catalogues social conflicts around environmental issues. Even though the number of conflicts in the Circumpolar North is considerably smaller, they seriously affect local communities nonetheless.
When it comes to the dialogue around natural resources, the attitude and vision of security issues differs from country to country. Some of the development policies in Arctic countries have already been criticized because of the adverse impact on northern Indigenous communities. For instance, since 2002 logging in the old-growth forests of Northern Finland were threatening the Indigenous Saami people and their traditional reindeer herding lands. After eight years of campaigning, Finland's indigenous Saami reindeer herders, together with Greenpeace, announced that 80,000 hectares of pine forest in northern Finland have been declared off-limits to industrial logging.
When natural resources are poorly managed they can contribute to tensions or even escalate into conflict. Business operations implemented without due consideration for context and community also have the potential to feed into conflict dynamics (see Natural Resources and Conflict Guide). Moreover, nature in the region is vulnerable to the point that development projects may destroy it beyond the possibility of recovery.
As the Arctic is defined by small, sparsely populated communities in extremely remote areas, such conflicts may slip under the radar as the people affected are too few and their voices are too quiet. For these reasons, it is important to pay special attention to the role of community engagement.
The need for community engagement
The exploration and development of resources is quite often exclusively driven by profit with social interests being left behind. This trend is relevant in Russia, and the Republic of Karelia is no exception. Resources compose a significant percentage of the exports of Karelia and, as a result, the  regional budget is heavily dependent on them.
During recent years, the local government has sought to increase exploration and development of natural resources in the region. There are several major programs aimed at facilitating these changes. For example, according to the Federal Target Program Of Karelia's Development Through To 2020 regional authorities, in cooperation with businesses, plan to establish a molybdenum mine and processing plant, a peat plant, over a dozen crushed stone processing plants, and four small hydroelectric power stations, among others. Even though these documents more or less deal with human security and social development, some of the programs in the region have been criticized for their negative impacts on local communities.
As Vladimir Kvanin, head of the public monitoring group on the problems of ecology and forest protection in Karelia, puts it: "Unfortunately, the authorities do not hear people's opinions, instead often lobbying for business interests." Some communities do not benefit from development projects implemented nearby while others are left alone to deal with the environmental and social damages resulting from such activities.
There is a good example from a small village in Karelia, where locals made a video about a logging area with сut timber that was left abandoned for years. For locals it was an ecological disaster, describing it as the aftermath of a nuclear disaster. While this particular issue only attracted modest public attention, others have been more successful at getting their story heard.
In 2011 a mining company, Saturn Nordstroy, received permission to develop a sand borrow pit near Suna village, a small community near Petrozavodsk, the capital of Karelia. Regional and local authorities strongly support the project and claim that it is essential for the regional economy as the resource is in demand and its quality is high. To implement the project, the company is planning to deforest an area which is valued by the local community to be a vital source of livelihoods.
The forest is important for several economic, environmental, and cultural reasons including recreation, and foraging for mushrooms. The importance of these food sources increased as employment is scarce in the village: "There was a poultry farm, but it closed. People have to survive by means of their own farms and forest."
Even though the company received permission in 2011, they did not start the project until 2015.
At the beginning of 2015, Suna residents held a public hearing at which the villagers voted against the project. It was reported that the community asked for the assistance of local, regional, and federal authorities—but they never received any.
The company's activities are still advocated for by authorities. Even when later it was proved that this particular forest is a home for several threatened species, including the lichen Lobaria pulmonaria, it was not considered by authorities or the company as a strong argument. Locals came together and took part in a number of protests. Later Suna residents received support from Non-Government Organizations and civil movements.
One of these organizations was the All-Russia People's Front. The Front is intended to be a coalition between the ruling party and numerous Russian nongovernmental organizations. It is headed by Vladimir Putin. Due to the involvement of this organization, residents managed to freeze the development of the borrow pit by filing a lawsuit against the company. All-Russia People's Front reported that they have started negotiations on the introduction of amendments to legislation acts, which regulate resource development processes. The Front even made a short cartoon about Victor Chikalyuk, Minister of Natural Resources and Ecology of the Republic of Karelia.
Nevertheless, locals remain vigilant as to any attempts to encroach upon the forest. Even after the warning announced by the public prosecutor's office on 23 June, 2016, that any operations by Saturn Nordstroy are suspended until a special decision of the court, the next night residents of Suna village stopped tree fellers who were going to start clearing the forest.
These are but some of many examples that show that failures in governance can become significant drivers of conflict, which seriously affect the social and economic interests in the long-term. As with issues that involve a wide range of actors, there is a strong need to develop communication channels. As the case of Suna village proves, law and judicial systems require a huge amount of time to deal with the outcomes of poor resource management. They are vital elements of Russian society; yes, but there is room for  other instruments that could relieve tensions before they escalate into conflict. Locals should be engaged in decisions affecting their lives. Public hearings are a powerful instrument that provide a step in this direction, to name but one example.
Currently parties try to defend their interest by any means—instead of elaborating a mutually beneficial decision. In this particular case the most important role in managing the conflict was the All-Russia People's Front, which started a a legislative review process. Conflict management does not necessarily resolve the issue, but instead it can create an institutional framework and momentum which can address such issues at a later time.
Multilevel cooperation and sustainability
Representatives of the All-Russia People's Front suggested, several times, that all actors should establish more sustainable connections. Citizens should be involved and empowered to discuss and decide what projects should be implemented using methods such as public hearings.
In February 2016, experts of the Front and the Karelia Regional Nature Conservancy, SPOK, presented several projects on issues relating to the conservation of natural areas, including interactive maps, a database, and an interactive platform for the publishing and discussion of issues. The proposed systems have potential for conflict resolution and can even prevent conflict in the future.
The Front continuously mentions the idea that authorities should consult with people. But they never explain or deal with the realities of how to consult authorities or how authorities should request public consultation. Learning lessons from the rest of the world and cross cultural exchange is always a good idea, specifically in a region like the Arctic where many countries are dealing with similar issues. In other words, when we try to solve an issue in a particular place, it is worth seeing what our neighbors are doing and take into consideration what they might have already learned.
It is high time to invest in conflict studies, conflict resolution, and preventative action. The problem is becoming more complicated due to the lack of communication between experts and potential ultimate consumers—local authorities, businesses, and people. The Arctic and Subarctic regions are interdependent and have a similar range of challenges. For this reason, special attention should be paid to collaborative approaches to multi-actor actions. One of the actions needed is to empower community engagement, which will facilitate a solution to these challenges.
---
Ilya Drozdov is a double degree master student at Petrozavodsk State University (Russia) and the University of Tampere (Finland) majoring in International Relations. Passionate about the role of local communities in the Arctic, he invests his time and effort in studies that will contribute to the development of his homeland.