Part I: First day of policy section, 19 January 2015
It is early in the year, which means it is time again for Arctic Frontiers (AF), one of the biggest annual conferences on and in the Arctic. This year, 877 registered participants coming from 37 countries gather in the north Norwegian town of Tromsø. As during the last conferences, the week-long AF starts off with a two day policy section with high-level speakers and discussion rounds, followed by a three-day science section with Arctic scientists presenting their latest finding in oral and poster presentations. This year's AF is under the overall headline "Climate and Energy", with the science section divided into three main themes:
Arctic climate change – global implications.
Ecological winners and losers in future Arctic marine ecosystems
The Arctic's role in the global energy supply and security.
There are a few new initiatives at this year's AF, such as a separate business section as well as an "Opening Dialogue" on 18 January, introducing the conference theme in a high-level panel discussion addressing among other things the issue of future energy needs, the tension between continuing fossil fuel utilization and a necessary increase of green energy supplies, and the (non)sense of developing Arctic energy resources. Among others, Prince Albert II of Monaco, Nina Jensen (CEO, WWF Norway) and Fran Ulmer (Chair of the US Arctic Research Commission) participated in the panel.
An interesting statement during the discussion came from Jens Ulltveit-Moe, CEO of Umoe who said in reference to the future of the Barents Sea as an energy frontier for Norway, environmental concerns are not a big issue since the track record of energy operations in the area is too good to have serious concerns here. Rather in focus are economic concerns given that Arctic energy projects are economically risky and unlikely to last for many more decades. This is so because demand for these resources is likely to decline, among other things because the European Union is on the way to adopting more stringent CO2 reduction targets and thus there will be efforts to reduce fossil fuel intensive operations (not immediately but expectedly over the next few decades).
As another argument against long-term Norwegian energy engagement in the Arctic, Mr. Ulltveit-Moe mentioned the high costs that the Norwegian taxpayer has to bear, even for those exploration operations that are not successful, given the strong state-sponsored support energy companies enjoy for looking for energy resources in the Arctic. Nevertheless, no one will probably doubt that Norwegian taxpayers also reap the benefits from successful resource developments, which is not little since it made Norway a very rich country.
Overall, Mr. Ulltveit-Moe's line of argument is interesting since it questions the economic feasibility and thus relevance of Arctic oil and gas generally and Barents Sea developments specifically (at least in the mid- to long-term), also for an energy-focused country like Norway.
Another interesting aspect of the 2-hour discussion round was that it took until the last five minutes that for the first time the "human dimension" or the fact that in all the discussions about the climate change and energy challenge in the Arctic we have to think about the people who live in the Arctic. Also surprisingly, it was the non-Arctic participant of the round that brought the issue up, i.e. HSH Prince Albert II of Monaco.
The policy section of the conference on 19 and 20 January 2015 involved a large number of speakers, ranging from Aili Keskitalo (President of the Samii Parliament), Prince Albert II of Monaco, Erna Solberg (Prime Minister of Norway), Alexander Stubb (Prime Minister of Finland), Sam Tam (Minister of State in the Prime Minister's Office, Singapore), Vincent Rigby (Chair of the Arctic Council's Senior Arctic Officials, Canada), Robert Papp (Special Representative for the Arctic, USA), Tim Dodson (Executive Vice President, Statoil), Artur Nikolaevich Chilingarov (First Vice-President of the Russian Geographical Society), and many others. The following summarizes a few highlights from the first day (19 January) of the policy section.
HSH Prince Albert II of Monaco emphasized that the Arctic is not only of regional concern but also a global issue of resource challenges, environmental degradation, and especially climate change. Also, the Arctic is a strong symbol of the threats humankind is facing, ranging from climate change, degradation of ecosystems, and risks of pollution of all kind from human activities. From this follows that Arctic states surely have special responsibilities and rights in the Arctic but this does not mean they can evade collective, global responsibility for the region. In short, local (protection of the Arctic) and global efforts (prevention of climate change) have to go together since they are two sides of the same coin. The protection of the Arctic has to become an issue of public attention and acceptance just as the opposition to and fight against climate change has made it unto people's radars. He closed on the words that while "today the Arctic may be a symbol for our illusions, tomorrow it might be a symbol of our ability to overcome the global challenges we are facing."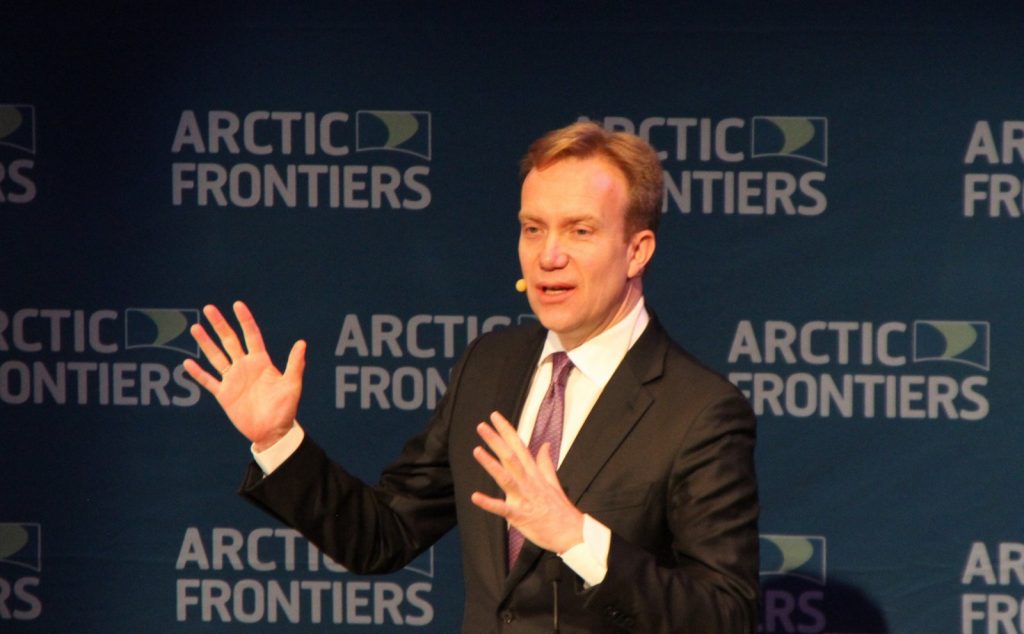 Frode Overland Andersen
The Minister of Foreign Affairs of Norway, Børge Brende, also referred to the global picture we have to keep in mind when thinking about the Arctic. The world is increasingly looking south and east, to Asia, especially China, and also Africa where many countries show high growth rates. But the world also looks to the North for its resources, for growth and ideas for the future, and not least for "our values of democracy, trade, and cooperation". Brende emphasized the importance of the increasing international attention to the Arctic and thus that the Arctic has turned into an area of cooperation between Europe, North America and Asia, illustrated by many representatives from Asian countries attending the Arctic Frontiers conference. On Arctic specific issues, the Norwegian government wants North Norway to become an innovative and knowledge-driven region, something like a "mini Silicon Valley". As one small piece of the puzzle, Norway offers to host a secretariat in Tromsø of the 2014 founded Arctic Economic Council.
In addition to outlining the US government's strategy for its upcoming Arctic Council chairmanship from 2015 to 2017, Admiral Robert Papp, US Special Representative for the Arctic suggested to use the Disney movie "Frozen" as an example and engage Walt Disney to rise the attention of the American population (and beyond the US) to the Arctic.
Ian Storey, Senior Fellow at the Institute of Southeast Asian Studies in Singapore in this talk on "Asia's interests in the Arctic" emphasized that the Asian countries that have been accepted as established observers to the Arctic Council in 2013 should not be seen as a coherent block. Rather, each applied on the basis of their national interest but they share some interests in the Arctic, too. These range from global governance, climate change, resources and Arctic shipping. In a response to a question from the audience if there might be a bigger role for Asian countries especially in Russian Arctic resource development because of the current western economic sanctions on Russia, Storey sees providing capital for Arctic resource projects as a contribution from Asian countries but not really for technology transfer. This is so since Asian countries themselves cooperate with western companies for resource development technology.
Zha Daojiong from the Beijing University School of International Studies said in his talk on "Arctic Geopolitics: a view from China" that domestically there is not a lot of debate in China about the Arctic. Some interest is discernible in form of perceptions of the Arctic as a possible "new Middle East" and its role and relevance for climate change. But Arctic oil and gas developments are inflicted with many uncertainties, and also Arctic shipping will only be sporadic. For the time being, rail links between China and Europe more important, and are also boosted by a new Silk Road project.
Tim Dodsen, Executive Vice President of Statoil, emphasized in his talk that exploration decisions are not made on the basis of short-term oil prices, i.e. the current low price is not a decisive decision-making criteria for the development in the Arctic, which is a long-term endeavor. He nevertheless conceded that $50 bbl is a substantial challenge for the oil industry. But he emphasized that Arctic development is a marathon, not a sprint. As an example, the offshore gas project Snøvit in northern Norway took 26 years from discovery to development. Oil prices might change significantly during such a time span.
Part II: Second day of policy section, 20 January 2015
On day 2 of the policy section at the 2015 Arctic Frontiers Conference, the Prime Minister of Norway Erna Solberg, the Prime Minister of Finland Alexander Stubb, and the Minister for Strategic Development and Nordic Cooperation in Sweden Kristina Persson discussed the new "Growth from the North – How can Norway, Sweden and Finland achieve sustainable growth in the Scandinavian Arctic?" The report suggest as priorities to increase liquefied natural gas (LNG) production and export, develop greener mining solutions, increase tourism to the region, and enhance technological cooperation on ice and cold climate solutions.
As instruments to achieve these goals, the independent expert group developing the report suggests:
One regulatory framework (removal of border obstacles, better coordination of construction regulations, and borderless public services)
One pool of talent and labour (harmonization of education and qualification standards, new solutions between labour service agencies, make better use of existing Nordic exchange networks, and creating joint education and research programs)
One long term transport and infrastructure plan (opportunities for creative funding, better coordination with European Union)
One voice in Arctic matters (raise awareness and lobby together in Brussels, develop two or three common Arctic policy objectives per year)
Prime Minister Stubb also brought up the idea of branding the Scandinavian North better to tourists and visitors, using a slogan like "The Arctic – Even cooler than you think!"
Artur Nikolaevich Chilingarov, the First Vice-president of the Russian Geographical Society and famous through the 2007 Russian flag-planting endeavor at the North Pole, referred to the current political challenges in the Arctic. While in absence of international cooperation the potential of the Arctic cannot be used, he sees no problems out there that cannot be resolved through constructive dialogue, including issues of the limits of the outer continental shelves using means of existing international law. He also does not think that Cold War thinking and behaviour will reoccur. Rather, Arctic people will continue their work and their cooperation.
Anders Oskal, the Executive Director of International Centre for Reindeer Husbandry in his talk on "Beyond Rapid Climate Change: Is there a Future for Arctic Indigenous Peoples in the World´s New Energy Region?" reminded us of the many challenges that Arctic inhabitants face in these times of tremendous change. He pointed to the very valid fact that what we do not recommend for the rest of the world to happen (warming of more than 2 degrees) is already well on the way to happen in the Arctic where warming is double as high as in mid-latitudes. He also issued great concerns about the fact that many discussion are not about the "if" but only about the "how" of Arctic economic development.
Salve Dahle, Chairman of Steering committee of Arctic Frontiers, closed the policy section of the Arctic Frontiers Conference with the announcement of the next Arctic Frontiers in 2016. Next year will mark the 10 year anniversary of the Arctic Frontiers Conference. The theme will be "Industry and Environment", which was the theme of the very first conference back in 2006. The event will thus also be an opportunity for a stocktaking of what has happened during the past decade since this topic was discussed.
Part III: Science section, 21 – 23 January 2015
After two days of policy talk, Arctic scientists from various disciplines filled the auditoriums of the Arctic University of Norway in Tromsø. The following gives some highlights of the key note speeches during the science section of the Arctic Frontiers Conference as well as from the session "The Arctic's role in the global energy supply and security".
Fridtjof Fossum Unander, Executive Director at the Research Council of Norway gave an introduction speech to the conference's overall theme (Climate & Energy). He presented on "Energy perspectives of the Arctic and Northern Areas: Outlook and research challenges", drawing upon the World Energy Outlook reports from 2011 and 2014. While the current oil price of below $50 bbl is shockingly low for an oil-producing country like Norway, it is historically nothing new because the oil price has always fluctuated and been very volatile. It is thus important to use different oil price scenarios for studies on energy perspectives.
The oil price influences energy developments not only in form of profitability of new fields. It affects changes in energy mixes and influences the demand for energy. The engine of energy demand growth will move to the non-OECD, mostly South Asia world within the next two decades. However, energy poverty remains in large areas of the globe with many people devoid of sufficient access to energy. Non-OECD countries will also account for the majority of rising emissions up to 2035. However, their per capita emissions will be only half of OECD countries.
As to the future of energy, Unander emphasized that end-use energy savings and efficiency are absolute key in any form of energy revolution. Gas plays an important role in all future energy mix scenarios, especially in its role for crowding out coal. Since the Arctic is predominantly gas-prone, this may point to Arctic gas resources being relevant in future energy production scenarios.
Turning to Norway, Unander differentiated between the country's different offshore areas. The North Sea contains the majority of Norwegian offshore oil and gas resources but half of these have already been developed. The Norwegian Barents Sea is expected to contain less than the North Sea but only around 1% of the area's expected resources have already been developed (with the Snøhvit gas field).
As key areas for Arctic energy investment opportunities, Unander outlined offshore energy production (including wind), hydropower, solar, bioresources, carbon capture and storage (CCS), better energy systems such as gird connections, and stand-alone energy systems for more independent energy production in the North. The challenges on the way are necessary cost reductions, long distances, extreme weather, ice-related problems, environmental impacts, and local acceptance.
In another key note speech David Molden from the International Centre for Integrated Mountain Development (ICIMOD) talked about connections and potential for research synergies between the Arctic and the Himalayan region. There is a lot to learn from comparing these two regions. Not least, the Hindu Kush-Himalayan region is often called the "Third Pole". Below a list of some similarities and differences between the Arctic and the Himalayas.
Similarities
Both regions experience extensive shrinking of glaciers.
Both are environmentally fragile and sensitive.
They are important resource regions, including for water, energy (e.g. hydropower potential), and biodiversity. At the same time, they need to improve on sustainable energy systems and production.
New opportunities for trade cooperation could arise in the Himalayan region with the New Silk Route Project and in the Arctic with new shipping routes and maritime-rail connections.In both regions there are increasing risks and dangers due to climatic changes (more floods, droughts, permafrost thawing), and according infrastructure challenges.
Black carbon emissions are a big challenge in both regions because of the tremendous effect on the ice regime.
Differences
The Arctic is mostly a marine region, while the Himalayan is a vast mountain area.
There is little population density in the Arctic, while in the Himalayas many people live in the mountains but even more (more than a billion) depend on the river basins whose waters come from the Himalayas.
There are quite some tensions and rather little cooperation between the countries bordering the Himalayas (India, China, Pakistan, Afghanistan, Nepal, Myanmar, Bhutan) while cooperation has been and is generally strong in the Arctic.
There is no equivalent of the Arctic Council in the Himalayan region. A lot of cross-border and regional cooperation exists in Arctic, e.g. in areas of science, transport, energy, while only little in the Himalayan region.
The Himalayas are an important area for agriculture.
Hanna Lempinen from the University of Lapland in her talk "Silenced, sidelined and simplified: The "social" in the Arctic energy sustainability debates" argued that the social aspect has been undermined in discussions about Arctic sustainability, and the focus has been on economic and environmental issues. Another focus in the Arctic sustainability debate has been on Arctic energy, mostly on conventional fossil fuels (oil and gas) to the detriment of renewable energy, and on the production of energy, while less so on consumption and transport within and beyond the region.
Attempts to conceptualize the "social" in sustainability include notions of equity, participation, awareness, cohesion as well as generally substantive (e.g. job creation, education support etc.) vs procedural (voice, participation, equity etc.) conceptualizations. The difficulties that arise in this endeavor relate to the necessarily context-dependency of social sustainability and that it includes (or should include) human and non-human entities. The current discourse (inasmuch it exists at all) operationalizes social sustainability along the lines of socio-economic indicators (income, jobs, education), corporate social responsibility (CSR), and rights and role of indigenous peoples and cultures.
While there is surely more to social sustainability, in my humble opinion we would get a lot further in the sustainability debate if at least those aspects mentioned above would be truly included in the debate and taken on equal footing with economic consideration.
Wilfried Greaves from the University of Toronto gave very interesting insights on the disparities between security interpretations of the Canadian government and Canadian indigenous people in this talk on "Energy, Inuit, and Security in the Canadian Arctic. For the Canadian government, energy security is surely not about security of supply (since Canada is a net exporter of energy) but rather about securing extraction and export of fossil fuels, particularly bitumen and mostly to the US. Energy security for Canada is thus about security of supply for the US and economic security for Canadians in the form of benefits from unconventional fossil fuels production and export as well as extension of existing and building of new pipelines. Importantly, all this is not related to the Arctic but is a Western Canadian, mostly Albertan unconventional oil issue.
Greaves differentiates between a short- and long term perspective when assessing inasmuch the government's energy security concept is useful for Canadian Inuit. In the short term, there is the potential for some relieve from Inuit dependence on imported dieses (which is ten times more expensive than in the rest of Canada), and there could be potential for the development of local and renewable energy. In the long-term, however, the government's focus on fossil fuel development in its energy security concept is little compatible with Inuit and other Arctic indigenous peoples' priorities and values. According to the 2011 Arctic Security Public Opinion Survey, environmental issues are much more important to indigenous people than economic issues, and environmental security is more important for indigenous peoples' definition of security generally.
Thomas Leschine from the University of Washington School of Marine and Environmental Affairs in his talk "From Deepwater Horizon to the Chukchi Sea: Evolving Approaches to Address Safety of Offshore Oil Exploration in the US Arctic" reminded the audience of the lessons from the Deepwater Horizon accident in 2010, and what they could mean for the Arctic. He started out with a list of reasons why not to explore and exploit the Arctic's outer continental shelves:
It is too expensive because the oil price is too unpredictable like the recent slump showed, and other supplies are more easily accessible.
Even if it is affordable, the risks of oil spills and environmental damage are too high.
Even if safety could be ensured, we should not do it because of the additional greenhouse gas emissions, which the utilization of these resources will produce.
The 2010 Macondo blowout is probably one of the best studied oil accidents ever and thus some valuable lessons can be drawn from it for future oil endeavours. Quoting from the NASA 2003 report on the space shuttle Columbia disaster (and which was picked up by the National Commission on the BP Deepwater Horizon Oil Spill): "Complex systems almost always fail in complex ways," i.e. we are faced with a high level of uncertainty and ambiguity in energy projects and their possible dangers. Organizationally, it was found that
the operational margins of safety did not match prevailing conditions;
the corporations involved did not provide safety commensurate with the risks;
the regulatory regime likewise was poorly attuned to the real risks of deep water drilling in complex geology;
personnel training in industry and government did not match to the actual risks.
In sum, the accident seems to be a case where everyone involved is to blame for the disaster.
For Leschine, the Deepwater Horizon accident is an exemplification of what he calls "risk creep": drilling in ever more and ever deeper areas, such as in Gulf of Mexico, changes the system of risks that need to be addressed. Leschine also reminded us that the Deepwater Horizon accident might have been the biggest but by far not the only accident in the Gulf of Mexico: between 1969 and 2009 there were 79 reported losses of well control accidents in the Gulf.
The following implications for US Arctic offshore exploration and development arise:
marine activities are increasing without a commensurate increase in logistics and infrastructure, which are needed to conduct these activities safely;
the ability to respond to spills in ice is yet to be demonstrated;
both baseline and real-time environmental information in US Arctic waters is thin;
only few response assets exist within a large and remote region;
there needs to be a change in the current "safety culture" for offshore drilling endeavours
On the other hand, there are strong forces driving major oil companies into extreme environments for oil and gas exploration. The easy oil is gone and state-owned oil companies now control 80% of proven reserves, which forces international oil majors into extreme environments of the deep sea and the Arctic. The sunk costs of $6 billion in Royal Dutch Shell's US Arctic projects force the company to prove that its Arctic endeavour will eventually work out.
Arild Moe from the Fridtjof Nansen Institute put "Arctic petroleum resources in a global and regional perspective", both with regard to existence of resources and energy activities. He reminded us that the energy resource picture is always very dynamic, including discoveries, profitability, and price changes. Since next to all studies on Arctic oil and gas quote the 2008 USGS study, which outlines the Arctic's share of the world's undiscovered resources, Moe rightly asks what "undiscovered" actually means in this context. In fact, the USGS refers to probabilities of future resource findings – and not actual findings – which do not take into account cost factors. Moe also reminded us that there are a lot of conventional oil and gas resources (discovered and undiscovered) outside the Arctic!
The fate of the Shtokman gas project in the Russian part of the Barents Sea (which was postponed indefinitely in 2012) shows that price expectations matter, and that they can change project prospects rapidly. This project is indeed indicative of the difficult and risky economic outlooks especially in the Russian Arctic. But at the same time, a major gas project is unfolding in the (onshore) Arctic – Novatek's Yamal LNG project – with significant infrastructure investments like the port of Sabetta. So is this a contradiction to the difficult economic situation, which brought Shtokman to a halt? According to Moe, the Yamal LNG project shows that Arctic project development is not only about economic factors but subject to national, strategic and political calculations.
Development of the Russian Arctic is an important strategic and political goal for Russia, especially also to develop the Northern Sea Route. Energy projects thus have to be seen in combination with political goals such as to develop transport projects in the North. In sum, the existence of sufficient resources and commercial interest are necessary factors for Arctic energy development to happen but national political dynamics also play a role. The predominance of commercial factors is, however, obvious since the overall level of activity in the Arctic is not very high, especially outside Russia and Norway.
Although Arctic energy is most important for Russia both for political and economic reasons, obstacles to their development remain. These range from strong dependence on foreign companies for capital and technology know-how, which is reflected in a number of cooperation agreements with foreign companies over the last years. This dependence was exposed recently with the imposition of economic sanctions on Russia in reaction to the Crimean and Ukraine crisis. It also remains questionable how much net income to the Russian state budget will actually materialize from Arctic projects because many concessions were granted such as tax breaks and large infrastructure investments. There is thus some reason for the Russian state to consider alternatives to Arctic oil and gas, such as unconventional (oil) shale and efforts to improve existing onshore production. Moe concluded with the following take home messages:
Major Arctic offshore petroleum production is not imminent.
The world needs energy but there are many ways to cover these needs, not just from the Arctic.
Prices and costs (co)determine any future Arctic energy development but also political drivers and conditions provide their share.
Petra Dolata from the University of Calgary gave interesting insights into Canada as an Arctic country and an energy power in her talk "Towards an Arctic energy superpower? Canada, Arctic, and international energy relations". Not only do we have to be aware of the many differences between Arctic countries and regions but also of the different circumstances within Arctic countries, especially such large ones like Canada. While no one doubts that Canada is an Arctic country, the Arctic part of the country is not relevant for the oil and gas. The focus of Canada's strong fossil fuel production is in Western Canada, especially in Alberta. So Canada might be an Arctic power (according to Prime Minister Stephen Harper) and an energy power (as a strong producer and exporter of oil and gas) but it is not an Arctic energy power.
Although Canada is – especially compared to Russia – a pretty easy and safe investment region for private companies, there have been cases when no major company bit for Arctic oil and gas field licenses. This shows the strong dependence on international energy market developments and prices. For this reason, we have also hardly seen any commercial energy production in the Canadian Arctic.