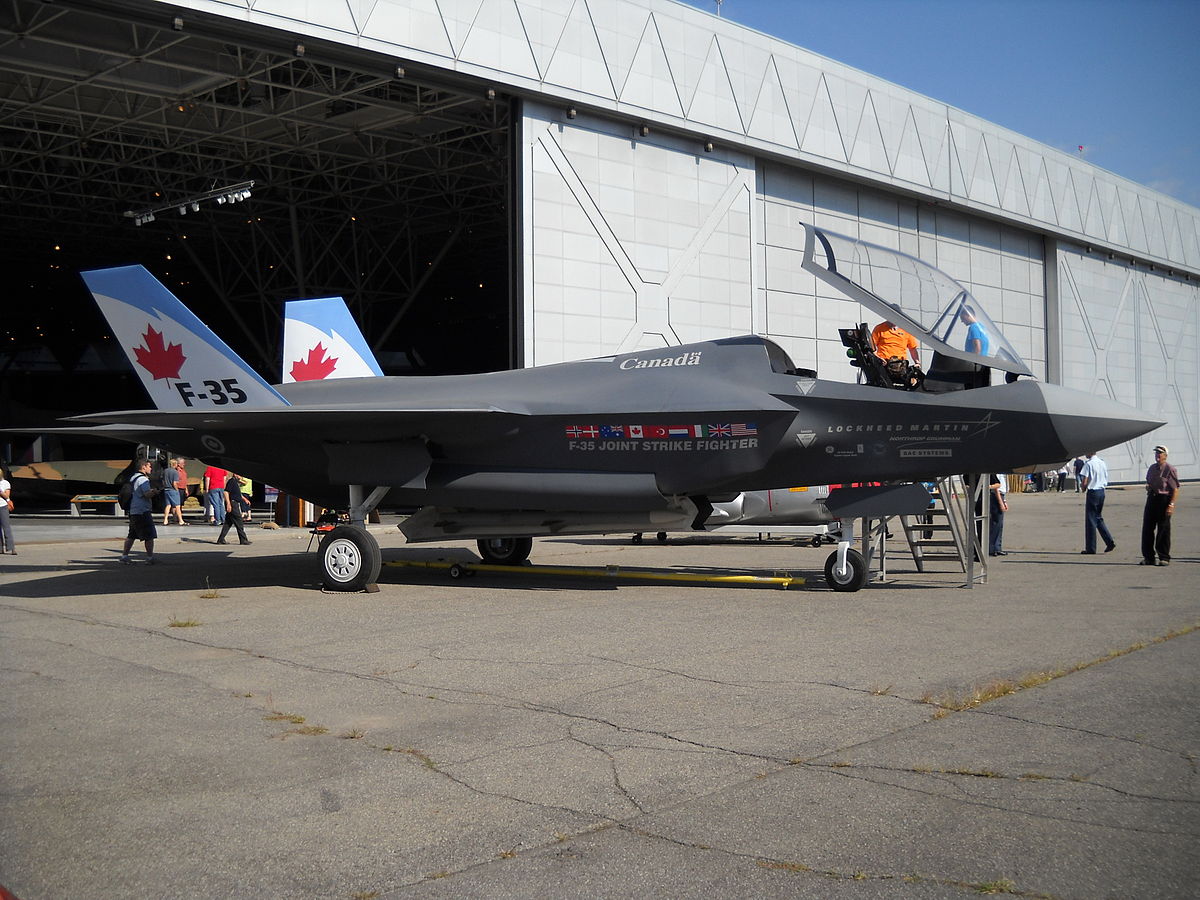 A wooden mock-up of the F-35 in Canadian Forces markings, 2010. Photo: Ahunt
Canada's future multibillion-dollar stealth fighter may be ill-equipped to communicate from the country's Arctic region. The F-35's radio and satellite equipment may not be suitable to provide reliable communication uplinks in the northern latitudes of the country. The lack of ground-based communications platforms in the region leaves satellite-based communication as the primary means to communicate with command centers and provide situational awareness.
In 2010 the Canadian government announced plans to purchase 65 F-35 jets at a cost of $9 billion. Total expenditure over the lifespan of the program could reach $18 billion once the government signs a maintenance contract. Delivery of the first Lockheed Martin F-35 Lightning II, a product of the Joint Strike Fighter program between the United States, NATO members, and other close allies, is expected in 2016.
According to The Globe and the Mail the F-35 currently lacks the ability to communicate with satellites and the required software may only be added during the fourth production phase in 2019. Such an upgrade, however, is not guaranteed as other countries, e.g. Norway, have also submitted requests to accommodate their software changes to the weapons array. Canada's armed forces are also looking at whether an external communications pod can be attached to the F-35. Canada's current fleet of CF-18 Hornets, which recently underwent a significant modernization, appears to be equipped with a more capable communications array.
The lack of satellite coverage in the Arctic represents a challenge not only to aircraft but also to ships. America's global navigation satellite system, GPS, does not provide reliable coverage in some areas above the Arctic Circle. Ships traveling along the Northern Sea Route, for example, are dependent on Russia's global positioning system, GLONASS, to safely navigate the route.
The Canadian Space Agency (CSA) determined in 2008 that a pair of communications satellites with a high inclination over the Arctic, could not only significantly improve aircraft communication but also provide broadband access to isolated communities. It would cost about $600 million to place the two satellites in orbit above the North Pole by 2017.
The F-35 stealth fighter is part of Canada's plan to expand its Arctic capabilities and ensure its sovereignty in a region highly affected by climate change and undergoing rapid political and economical change. Last week's announcement of the outcome of the National Shipbuilding Procurement Strategy promises to significantly increase Canada's sea-based capabilities in the Arctic.