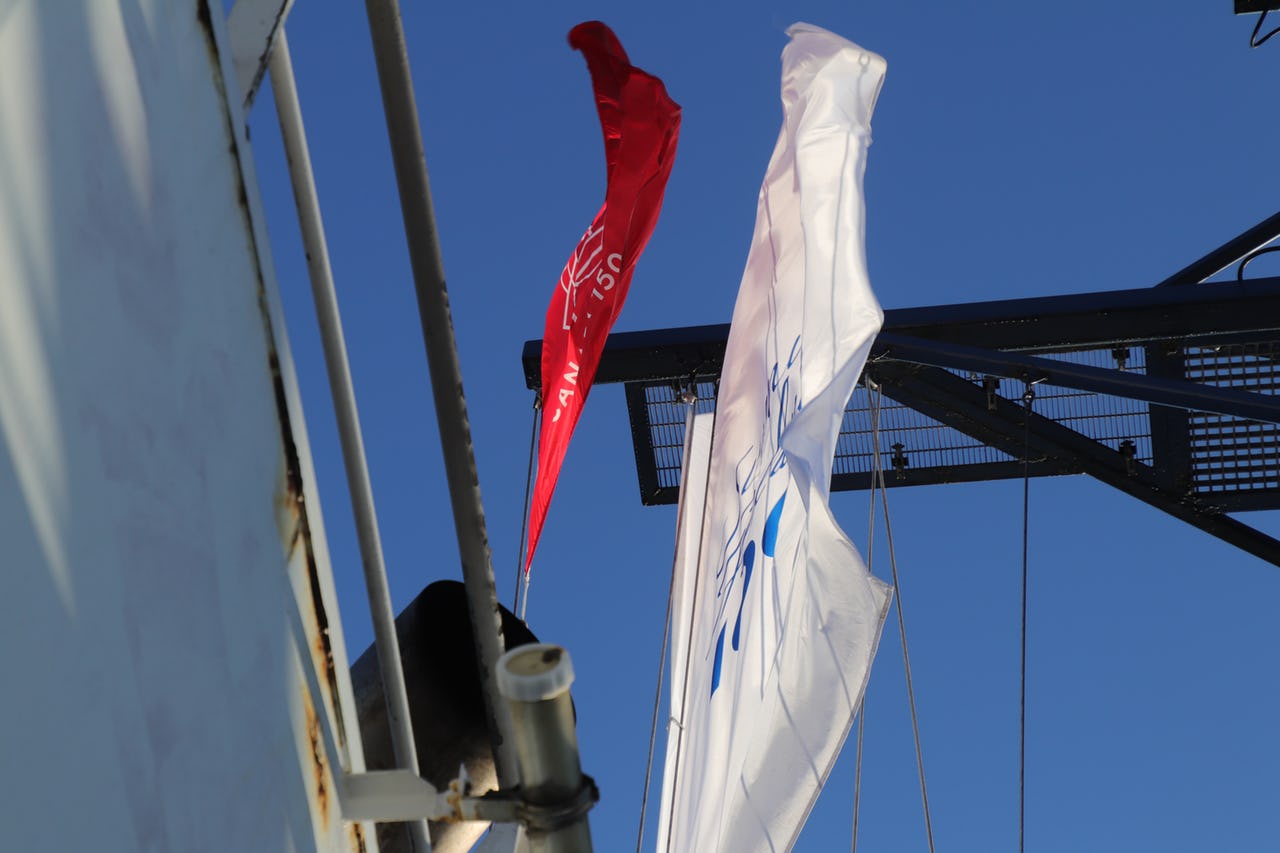 The official celebratory flags of Finland 100 and Canada 150 years flying high on top of MSV Nordica when the Arctic 100 Expedition left Vancouver on July 5th, 2017. Photo: Daria Gritsenko
---
On July 29th 2017, Finnish icebreaker MSV Nordica made 'history' by completing the earliest seasonal transit through the Northwest Passage in only 24 days. Newspapers around the world reported on the event by publishing stories on the melting ice and curiosities of life onboard. What these articles did not convey is how this transit was also an attempt to provide a different platform to talk about the future of the "New Arctic".
One of the aims of the Arctic 100 Expedition – as the Nordica's transit from Vancouver to Nuuk was officially called – was to develop international ties and facilitate knowledge exchange between industry and academia, with a special focus on social sciences and science journalism. In addition to its regular crew, part of the Arctic 100 Expedition on board Nordica were academics, maritime professionals, representatives of coast guards, business, and international media. Smart people, a common interest in the Arctic, three weeks, and a lot of time at sea – perfect preconditions for dialogue to thrive, right?
Not exactly.
After three and half weeks in the Canadian Arctic Archipelago, out of the vessel came: frustrated social scientists; journalists who were still hungry for something exceptional to report about; somewhat puzzled First Nations' maritime school trainees; and white middle-aged men in positions of power congratulating themselves on a job well done. The path that led to this situation is stereotypical of what often happens in stakeholder engagement fora on the "New Arctic" – a series of misinterpretations and a cold 'goodbye' with no follow-up plans. As participants of the Arctic 100 Expedition who actively take part in and empirically study cross-sectional, inter-disciplinary and trans-generational discussions, we believe we could have done a much better job in "breaking the ice" between the different social worlds on board. Because these prefixes – cross, inter, trans – are ones you will find in any policy, Arctic or non-Arctic, we wanted to share our interpretation of what went wrong, how this could be remedied in the future, and most of all, why this matters.
The social worlds of academics and maritime professionals collide
The expedition started with a wave of excitement. Everyone was eager to learn about each other and share experiences. After basic information had been exchanged and the time to engage further arrived, the difficulties in translation between the different social worlds and cultures on board began.
The academics on board highlighted how success stories in the governance of conflicting interests in fora where cooperation is necessary come from in-depth explicit treatment and disentanglement of established power relations. This includes the questioning of their own position in the overarching social structure. With this background condition in mind, the academics yearned for inquisitive and open conversation with others who were on board. They inquired how things came about and wanted to discuss how they might also be otherwise. They also highlighted how there are no clear, easy, 'right' answers to problems of governance, legitimacy and representation in the Arctic. This approach did not translate well with those who were used to be in charge within the established 'chains of command' in state governance and, thus, used to order and obey, rather than to ask and conduct thought experiments.
The maritime professionals who participated in the Arctic 100 Expedition were comfortable with concepts such as 'efficiency', 'risk assessment', and 'safety management'. Unlike the academics, they were less inclined to connect them with ideas of 'social justice', 'inclusiveness', or 'knowledge pluralism'. This disconnect left a narrow space for discussion on sources of authority, accountability and values in the context of the future governance of the "New Arctic". One example of problems resulting from this lack of engagement is how the traineeship for First Nations' maritime school students on board was organized.
Why 'gate-keepers' need to engage – not only open doors
"This is an opportunity of a lifetime – will you join?" Two young men from Nunavut in training to become seafarers on a fisheries vessel replied positively. An opportunity to join an expedition traversing the Northwest Passage sounds amazing indeed. However, would you join if asked only five days in advance, without a clear description of what your tasks on board were, or the ways in which this experience fitted your curriculum? You might think saying 'yes' under these kinds of conditions illustrates courage and a healthy sign of adventure. For these two young men, the 'yes' was, however, one out of necessity rather than sense of adventure.
The training program the two youngsters were enrolled in to become crew of fisheries vessels is one of the only opportunities for earning a living for them and their families back home. The open positions after completion of the program are few and they thought this opportunity would increase their possibilities in getting one. After the experience they were not sure if this was the case. Being unfamiliar with voicing their concerns outside their known social worlds, they did not know who to turn to for clarifications, and were hesitant to say 'no' when asked to do one thing or another.
The situation the two indigenous men that took part in the expedition found themselves in is similar to how organizations seeking to have more inclusive participation or staffing sometimes fail to see how they themselves might also need to change as a consequence – and how by embracing diversity rather than enforcing existing modes of operation onto these new participants might lead to positive changes in them. In other words, people in the position of power who are keen and willing to open doors for the 'others'  – those from less privileged backgrounds, those of different gender, culture or accent – often assume that for the 'others' to come and stay, the interior design of the establishment does not need to be changed. However, we should not blindly assume that providing opportunities is a sufficient end in itself. Creating capability to absorb, reflect, and filter information is the essential first step in enabling individuals to turn these experiences of once-in-a-lifetime opportunities into lucky strikes. Part of the work of explaining how we need this kind of "two-way-flexibility" to create sustainable social change has traditionally been done by journalists.
Old voices of authority in the "New Arctic"
Free media has held a key role in facilitating open discussion by promoting the diversity of opinions. In our age of snapchats, twitters, and youtubes, the bread and butter of journalists, however, centers more and more on coming up with snappy titles, sexy pictures, and reporting on emotions and discoveries. In this fierce new competition over readership, breaking the ice barely qualifies as breaking news. How do you then make your work as a journalist on an icebreaker transiting through the Canadian Arctic archipelago without any stops count? You turn to the on-board voices of authority on the "changing Arctic". The stories that followed on board of MSV Nordica illustrate how the voices that counted as such – and what they were reported to say – were largely predetermined before the three international journalists even set a foot on the vessel.
Polar bears, global warming, and white men in uniform in Arctic waters. These were the three main 'discoveries' the on-board journalists reported of the Arctic 100 Expedition to the outside world. For them, experiences from living, working, and traveling in communities in the northern periphery or how the decisions from and life of the world's capitals looks like when viewed from the top of the world were not worthy of their readers time or attention. Their modus operandi of – quickly in, quickly out, and onto the next one – repeats a larger trend in how the international press is enforcing – rather than contributing to solutions of – existing social, political and environmental problems when narrating their story of the "New Arctic".
In more specific terms, on topics ranging from climate change adaptation to polar shipping regulation, the media is quick to turn to the stereotype of expertise embodied by middle-aged white men, established in politics, state institutions, or natural sciences. At the same time, they tend to portray people who live, teach, work, and travel in the Arctic in passive roles of  witnesses, victims, or beneficiaries of global changes. This kind of reporting on the "New Arctic" through the "old voices of authority" fails to bring experts of different social worlds into dialogue. In the process, it reinforces the established, unequal, social power structures and all of their drawbacks. In short, rules of the 'fast food' media production are incompatible with the requirements of comprehensive and equal deliberation that needs 'slow food for thought'.
'Laboratory life' on an icebreaker
As we mentioned in the beginning, the Arctic 100 Expedition had all of the ingredients to succeed in serving as a new type of platform for connecting different social worlds in the Arctic: multitude of backgrounds present, a common interest in cooperation, excellent facilities, and many days at sea.  Yet, it can be seen as having turned into a 'failed experiment' in who gets to speak about the "New Arctic". In the process it ended up exhibiting – in miniature – the multiple, common flaws of larger stakeholder engagement platforms. By this we mean: industry professionals in a position of power insisting on having the final word; media gate-keepers perpetuating the narratives of established power structures by focusing on what sells rather than being open to what might be different; and academics being overly focused on scholarly debates, and becoming paralyzed in front of these establishments. By falling into their stereotypical roles, all of these social groups ended up doing a disservice to the common goal of attempting to build new bridges to solve the multitude of problems in Arctic governance. While part of our bread and butter comes from scholarly debates about 'inter- and transdisciplinarity', we recognize that this 'luxury good' will most likely soon cease to be available at universities. However, we believe that it is public debate that would benefit most from asking what we mean when we say the 'New Arctic' and discussing who said that the 'Old Arctic' is ultimately passé?
In terms of future planning in policy debate, our voyage has taught us that providing a platform for opinions and information is the easy part. Getting people from different social realities to engage and create new, shared knowledge spaces – instead of enforcing the old ones – is the challenge. From our experience, a platform for stakeholder engagement is only as good as the ability of all its participants to say – "I do not know. I never thought about it. Things could also be otherwise." – without feeling threatened or compromised. A vital step in creating better platforms of engagement for a truly "New Arctic" is the recognition that knowledge comes in many forms, shapes and sizes and its production is not separate from how societies function as a whole.  In other words, the acknowledgement of knowledge as dynamic, and its progress as a matter of trial, error, and the accumulation of – often initially uncomfortable and inconvenient to established power structures – empirical data. In short, access to the status of expertise is not neutral, but reflects conventional social hierarchies. As optimistic as we are about the potential of this kind of approach, our experience in the Northwest Passage has also led us to wonder: If we cannot make it in a group of twenty in a confined space of an icebreaker, can we make it at all?
---
Justiina Dahl is a Postdoctoral Research Fellow at the Division of History of Science, Technology and Environment at KTH Royal Technical Institute, Stockholm. Daria Gritsenko is an Academy of Finland Postdoctoral Researcher at the Aleksanteri Institute, University of Helsinki.