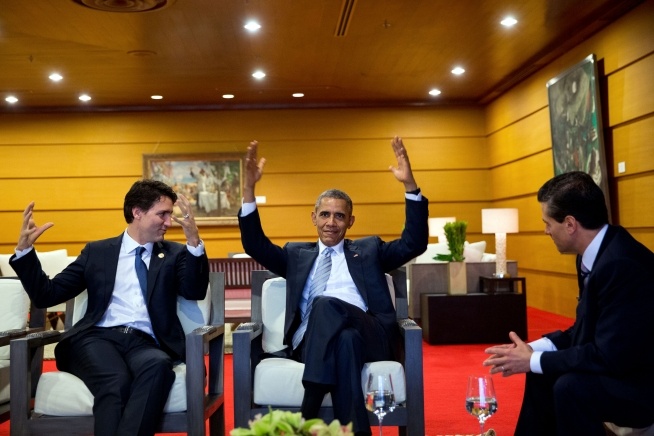 Photo: Pete Souza
PART I EXECUTIVE SUMMARY
Ahead of Prime Minister Justin Trudeau's first official visit to the United States on March 10, 2016, The Arctic Institute is publishing a two-part series on opportunities for collaboration between the Prime Minister and President Barack Obama on Arctic Climate Change. The first focuses on the cross-border exchange of renewable energy technology and expertise. Part two analyzes opportunities for a North American Arctic adaptation program to safeguard communities against the most immediate effects of a changing climate. Together, they offer a foundation to jumpstart US-Canadian cooperation in the age of the anthropocene. Part One, below, will argue for President Obama and Prime Minister Trudeau to:
Establish an Arctic cross-border program for renewable energy and microgrid technology and expertise exchange. Building off current, well-funded programs that promote renewable energy in Alaska, a cross-border energy program should simultaneously mitigate greenhouse gas emissions, promote public health through better local air quality, and ensure access to affordable, reliable energy for remote communities.
Foster expertise as an export from the Alaskan Arctic, not just energy. By supporting the growth of an economic cluster around microgrid expertise, a US-Canadian program on renewable energy should support the development of a knowledge-based economy in the North.
Augment local capacity to implement projects and affirm local ownership to ensure the program's success. At the state-to-state, a renewable energy program should be mandated to align with federal climate goals but affirm local ownership and implement practices to improve the knowledge and motivation of communities on the ground.
Create a shared, long-term vision for climate change action in the North American Arctic. Both the Canadian and American national governments should coordinate funding, organize management, and promote cooperation across the various tiers of each government to achieve this vision.
The Makings of a New North American Partnership
This week, for the first time in nearly 20 years, the United States will welcome a Canadian leader as the guest of honor at a state dinner. And, for the first time in nearly eight years, President Barack Obama will welcome a friend to the White House. In his first official visit southward, Prime Minister Justin Trudeau brings with him a new or, more aptly put, a revived Canada. Since his election last fall, Trudeau has shifted Canadian rhetoric on economic, social, and security issues towards a socially progressive agenda, garnering much media attention in the process. Where once America's northern neighbor was defined by petro-economic ambitions and hawkish foreign policies under the Harper administration, today the contours of Canada's national narrative have been redefined to better fit its historic character of internationalism, multiculturalism, and liberalism – an argument Mieke Coppes and I made last fall. As put by the Prime Minister himself at the 21st UN Summit on Climate Change in December, "Canada is back, my good friends."
Climate change in the Arctic is one of the most noticeable differences in diction between Harper and Trudeau. After a decade of climate science skepticism, Prime Minister Trudeau is "reversing course" on climate change. By merely attending international negotiations, Trudeau is already going a step further than his predecessor. In his first four months in office, he has effectively rewritten the tone of Canada's climate change conversation, given a voice back to the scientific community, engaged indigenous leaders on environmental issues, pledged to curb global warming to under 1.5 degrees Celsius along with 150 other countries at COP21, and just last week acknowledged that Canada's North is particularly vulnerable and disproportionately affected by the impacts of climate change.
Trudeau's actions are without doubt a marked improvement over the lack of any action taken under former Prime Minister Harper. However, the new Liberal government has yet to translate its impassioned rhetoric of combating climate change into concrete action on how to mitigate its sources and empower Arctic citizens to adapt.
During his visit to Washington, Prime Minister Trudeau is set to sign a continental climate strategy and discuss bilateral collaboration on cutting emissions through tighter fuel standards, green technology, and social innovations to spur climate-consciousness in daily decision making. These efforts are essential in targeting reductions in the major greenhouse gas emitting urban built environments of each country. The tentative strategy and bilateral conversation provide opportunities for the Trudeau administration to turn its climate rhetoric into reality, and for President Obama to solidify his climate legacy after the recent Supreme Court decision to stay any action on the Clean Power Plan.
But in order to truly address climate change in a meaningful way during his visit, Trudeau and Obama must use their meeting to not only discuss cooperation across their southern cities, but also how to safeguard their northern communities from the most immediate effects of climate change. The Arctic provides a shared geography at the front lines of climate change where Trudeau and Obama can work together towards mitigation, adaptation, and empowerment of indigenous peoples. By collaborating on renewable trans-border energy research, creating a jointly funded program for northern adaptation, and committing to projects that empower and engage North America's northernmost residents, the two leaders can launch a new era of US-Canadian cooperation on outcome-oriented, community-centered climate diplomacy.
The Other Arctic Energy Story
Greenhouse gas mitigation is poised to play a prominent role in the discussion on bilateral climate cooperation. In many ways, Trudeau's visit this week will continue a conversation that began last last week at the First Ministers Meeting in Vancouver. There the Prime Minister and his provincial and territorial counterparts kicked off a six month process of establishing a pan-Canadian framework for combatting climate change. Conversations in Vancouver focused heavily on the need for a national tax on carbon, something to which the Prime Minister is personally committed. However, on March 2, the premiers of the three northern territories issued a joint statement in opposition to the use of a carbon tax to fight climate change. Led by Yukon Premier Darrell Pasloski, Canada's Arctic leaders "believe a carbon tax would have a negative impact on the quality of life in the North" by placing a burden on economic development and increasing the costs of living. At the close of the meeting on March 4, the premiers agreed to consider regionally appropriate carbon pricing mechanisms.
In lieu of implementing a controversial carbon pricing mechanism in the North to reduce greenhouse gas emissions, US-Canada bilateral cooperation on Arctic renewable energy research provides a locally supported mitigation action that benefits both public health and regional economies. In both Alaska and Nunavut, rural communities rely heavily on expensive, carbon-intensive diesel generators for heating and electricity. Nunavut runs on 99.94 percent diesel, while Alaska ranks second in the United States in the share of its electricity that is generated from petroleum liquids. While burning diesel adds to global warming, it has even more devastating local effects. Black carbon— the soot produced from diesel generators — darkens on ice and snow which, in turn, quickens the melting process. It also creates substantial air pollution, which has been linked to health impacts including higher rates of asthma and respiratory issues. Importing diesel also comes with a high financial cost for northern economies and families. The Government of Nunavut estimates that it spends about one fifth of its annual budget on energy, putting further pressure on already limited resources available for underfunded schools, mental health programs, and overcrowded public housing. Electricity costs in some communities have reached peaks of over 10 times the average Canadian price on a per kilowatt-hour basis.
High fuel costs are a trans-border issue. Alaskans pay nearly double the national average for energy and, in extreme cases, the high costs of shipping or flying in diesel fuel have created energy migrants — American citizens who are forced to leave their ancestral homes because they can no longer afford electricity and heating expenses. But where Nunavut is a long way off from renewable energy generation beyond legacy pilot projects from the 1980s, Alaska has become a regional hub of expertise on renewable, smart microgrids.
Alaskan "islandized" microgrids are localized power grids that operate on their own, with no connection to a larger transmission system. Across the state, there are more than 200 microgrid projects, many of which are piloting renewable energy source inputs. The push for expertise in microgrid development, and the transition from a diesel base to renewables, have both enjoyed concerted support from the Obama administration in parallel with the US Arctic Council 2015-2017 Chairmanship. As part of President Obama's visit to Alaska last summer, he convened a meeting with Alaskan Governor Walker, the Denali Commission, the Alaska Energy Authority, and the Renewable Energy Alaska Project to launch the Clean Energy Solutions for Remote Communities (CESRC). The goal of CESRC is to expand investment in climate solutions by identifying technical, financial, and logistical challenges and opportunities in clean energy innovation.
President Obama's commitments to clean energy in the North last summer have been followed by a number of follow-up financial and technical assistance programs. The most recent of these came in February, when Secretary of Energy Ernest Moniz traveled to Alaska and announced another seven million dollars for the tribal energy program for technical assistance and training for Native Alaskan and American Indian communities. Recipients of funds will be chosen through a competitive process and receive five weeks of intensive training with the Department of Energy, giving villages the knowledge, skills, and resources needed to implement successful strategic energy solutions.
Collectively, these investments create a holistic approach to addressing energy issues in America's northernmost communities. Bringing renewables and smarter energy technology to Alaska is well funded, supported by technical assistance programs, provides for local ownership, and delivers a thoughtful project selection and development process. Using a scalable template, projects simultaneously address issues like public health, high energy costs, and water sanitation issues. The overarching vision is to create a national network of regional, tribal energy experts who can provide technical energy assistance and information resources on renewable energy production and smart grids.
But that network does not have to stop at the US-Canada border.
Affordable Energy, Cleaner Air, and a Knowledge-based Economy
President Obama and Prime Minister Trudeau can use their meeting this week as an opportunity to bolster the knowledge-based economy of the North American Arctic by setting up green technology transfer and technical assistance programs between the US and Canadian Arctic. Most Canadian communities in Nunavut are served by their own diesel-fired power plant, 13 out of 17 of which are at the end of their design lives. Wind and solar photovoltaic technology are technically viable and offer reliable, affordable, and resilient energy. The biggest barriers to bringing renewables to Nunavut are capacity gaps, awareness gaps regarding the potential environmental and economic benefits of renewables, and the lack of economies of scale remote nature and small populations in Northern communities.
Following in the footsteps of Yukon and the Northwest Territories, thus far most research on bringing renewables to Nunavut has been based on hydropower. While hydro offers a cheap source of power over the long term, it comes with expensive upfront capital costs. Last year at a territory hearing on hydro and tidal energy projects, Premier Peterson declared those projects to be on hold, "As a government, we simply cannot afford mega-projects here in Nunavut."
Supporting a bilateral program for regional energy collaboration in North America's Arctic can promote green energy technology without focusing on mega projects for large scale generation. There is already a precedent for transborder territorial cooperation programs in the European Arctic that support cross-border cooperation in wider use of renewable energy sources.
Creating such a program in the North American Arctic between Canada and the United States does more than bring affordable clean energy and better air quality to northern communities; it also buttresses localized expertise on microgrid technology and remote renewable generation that can be exported to developing country communities facing similar energy challenges. Despite the Arctic's unique climate and physical environment, it faces many of the same issues as other small, rural communities that are remote from energy markets and larger grids. Over the past decade, there has been increasing scientific, technical, and social evidence that microgrid innovation and implementation in remote communities in developing countries can promote economic growth and improve the quality of life. Case studies in the Americas, India, Africa, and Southeast Asia have improved energy costs, stability, load management, remote diagnostics, and local pollution. While successful on a small scale, these individual communities lack the microgrid expertise to scale projects to larger areas and integrate more renewable energy sources. Fostering an economic sector based on renewable microgrid technology and expertise in the North American Arctic could easily be exported to developing country communities, which is poised to consume 65 percent of the world's energy by 2040.
With the depression in global oil prices projected by economists to continue for many years, and increasing climate action against fossil fuel production, Alaska's petro-based economy must diversify itself or face a state financial crisis. Due to low oil prices, the 2015 fiscal year ended with a state budget deficit of $2.7 billion. The 2016 fiscal year budget deficit is estimated at $3.7 billion. By developing a competitiveness in microgrid expertise and exporting it first to Canada through a bilateral program and then to remote communities across the world in need of clean, affordable energy, Alaska can turn its economic crisis into an opportunity of economic growth. Alaska can already boast of a geographic concentration of related companies and associated institutions with expertise on microgrid technology. And with the aforementioned government investments throughout the past year, that expertise is poised to go green. Creating an exchange to export knowledge and technology to Canada's north through a bilateral program will foster the growth of a knowledge-based economy in Alaska's transitional period away from petroleum exports. It will augment the buildup of a specialized skill pool, suppliers, infrastructure, and institutions of the microgrid renewable sector that can first be exported to Canada and then abroad. It is particularly important to begin in Canada as the success of knowledge-based economic growth in one area is the "presence of a region's cluster in neighboring regions." Building an economic cluster is proven to drive regional job growth, wages, patenting, new business formation, and support successful startups.
Iceland's cluster of expertise in geothermal energy for space heating and electricity production serves as an example of energy expertise in a knowledge-based economy in the Arctic. Iceland has become a significant player in the global geothermal energy market, exporting know-how and capabilities in exploration of geothermal sites, drilling, constructing, operating, and maintenance of geothermal power plants. A bilateral formal platform established by Obama and Trudeau this week for collaboration and coordination to form an effective exporting cluster would support the capacity to engage in cross border investments in the Arctic and in emerging market economies in the decades to come. The North America renewable energy program could build on Alaska's unique assets and capabilities in microgrid technology with a clear focus on creating greater value for the Alaskan economy, moving beyond the current petroleum model of just selling power. Such a collaboration on energy innovation would simultaneously lead to the development of affordable, clean technology across Nunavut and Alaska.
Ensuring Local Ownership of Climate Projects
But in order for collaborative climate change initiatives between Canada and the United States to be both effective today and sustainable in the future, they must move past strengthening partnerships with tribal nations to affirming local ownership over projects.
Successful implementation and management of any renewable energy or climate adaptation project relies on the ownership local authorities assume. When confronted with limited proprietorship, local agencies hold themselves less accountable for the efficient and effective implementation of the project, leading to lackluster performance. This can have spillover impacts on other projects and lead to suboptimal local involvement in the future. As Obama and Trudeau embark on any partnership to make the Arctic more energy and climate resilient, both must be conscious of embedding local ownership within any bilateral program. In short, it must be mandated through state-to-state cooperation but locally implemented.
The first step of local ownership comes in part from increased consultation and public engagement with communities. Before the First Ministers Meeting in Vancouver last week, aboriginal leaders said they wanted to not only be asked about climate change policy, but have a role in shaping it. Building in an active role for indigenous and local communities in any bilateral mitigation or adaptation project must be a point of conversation between Obama and Trudeau in any climate strategy.
This may not be easy, but it is essential. While Prime Minister Trudeau has pledged to improve Canada's public trust through "robust environmental and scientific oversight and regulation," he generated some skepticism amongst First Nation communities when he dodged a question on increasing indigenous consultation on energy projects. In 2011, the White House published a report on Achieving a Brighter Future for Tribal Nations where Obama commits to regular and meaningful consultation with tribes. However, his administration has received some backlash on their lack of consultation with tribal nations on wind and solar energy development on public lands. One such case is the 2012 lawsuit the Quechan Tribe filed against the Department of Interior for the Ocotillo Wind Energy Project, what would become California's largest wind farm on public land. The tribe said the proposed wind project's turbines would cause "irreparable injury by destroying culturally and visually significant lands and resources." The suit was dismissed in 2013 by the US District Court. Regardless of its legal outcome, the suit highlights the importance of indigenous consultation in renewable projects – an issue that can be seen today in the European Arctic between government wind farm projects and Sami reindeer herders. Establishing stringent requirements for local consultation this week is the first step towards securing local buy-in of any renewable energy or adaptation bilateral program.
The inclusion of local communities and indigenous groups should not stop at the formation of policy. It should be woven into the fabric of any renewable energy project in the North through programs that support local capacity building. Highly dependent on the knowledge and motivation of communities on the ground, setting standards, exchanging experiences, and knowledge sharing are often overlooked means of building local capacity. These practices not only encourage cooperation regionally but also can deepen transnational relationships between Canada and the United States.
In addition to the US Department of Energy programs described above that aim to develop a network of local experts, the expansion of Resilience AmeriCorps into Alaska in September serves as a model that could be adopted for the region for building capacity. Resilience AmeriCorps recruits, trains, and embeds AmeriCorps VISTA volunteers in 10 communities for two years to assist vulnerable communities that lack the capacity to address climate-resilience planning and implementation. A similar program could be embedded in a US-Canada Arctic adaptation program to address loss and damage risk. Volunteers could be trained and embedded throughout the Arctic to perform risk assessments, cost-benefit analyses, and strategic management plans for damages that move beyond in-place adaptation efforts. AmeriCorps volunteers operating in the continental United States already perform this work for disaster preparedness and relief in partnership with the Federal Emergency Management Agency (FEMA). Their best practices and training could be shared and scaled across North America's Arctic to address climate loss and damage baseline data collection, assessment, and management through programs like Fulbright Canada.
A Vision for US-Canada Relations in the Anthropocene
Thursday's executive meeting between Canada and the United States comes at a pivotal moment in both countries political climates. Prime Minister Trudeau has a chance to capitalize on the political power the 2015 election has provided him with and instill a commitment to climate change action, northern responsibility, and strong bilateral relations with the United States. Though Trudeau should be applauded for moving the climate conversation in the Canadian government away from science skepticism towards meaningfully addressing the issue, he has been criticized for not matching rhetoric with action. In an article published in late December, a Canadian journalist lamented in The Guardian that "we can't live with lowered expectations, satisfied by rhetoric alone. Trudeau's government must start acting by their principles – or be forced to." Moving beyond his recent federal climate change action at last week's First Ministers Meeting, Trudeau's meeting with Obama presents the chance to turn national rhetoric into bilateral action on Arctic climate change.
On the other side of the border, in January 2017, President Obama will leave the White House after eight years of federal leadership. His robust inclusion of climate change funding for Alaskans in the 2017 Budget Proposal is the latest addition to a strong climate record he has built for the American Arctic since its Arctic Council Chairmanship began in 2015. Securing a continental climate change strategy with specific bilateral programs to bring renewable energy to Arctic communities, and bolster Alaska's energy security and knowledge-based economy, simultaneously combines his commitment to address climate change both at home and abroad.
Coming together to support a bilateral climate program for renewable energy across the North American Arctic in Washington this week is about more than taking any singular climate action. The conversation between President Obama and Prime Minister Trudeau is about their collective vision for US-Canadian relations in the age of the anthropocene. For the first time since climate change entered the public consciousness of both countries, the leaders of Canada and the United States are coming together to discuss its cross-border effects on and opportunities for their populations. The meeting on Thursday holds the promise to reset the agenda of US-Canadian collaboration for decades to come. A successful agreement would buttress President Obama's climate legacy and invigorate Prime Minister Trudeau's climate rhetoric with concrete action. But, perhaps most importantly, brokering a collaborative solution to one of the biggest challenges of the 21st Century will help those on the front lines of climate change most of all. It will bring affordable, clean energy to communities who have be burdened by high prices and volatile accessibility for too long. It will continue a rich tradition of state and Indigenous transborder cooperation in the continent's shared circumpolar region. And, ultimately, it will show American and Canadian Arctic communities that they are not alone in facing the most immediate and dangerous effects of melting ice and rising seas. That each of their leaders are, for the first time in over a decade, coming together to show compassion and tangible support for their northernmost citizens.