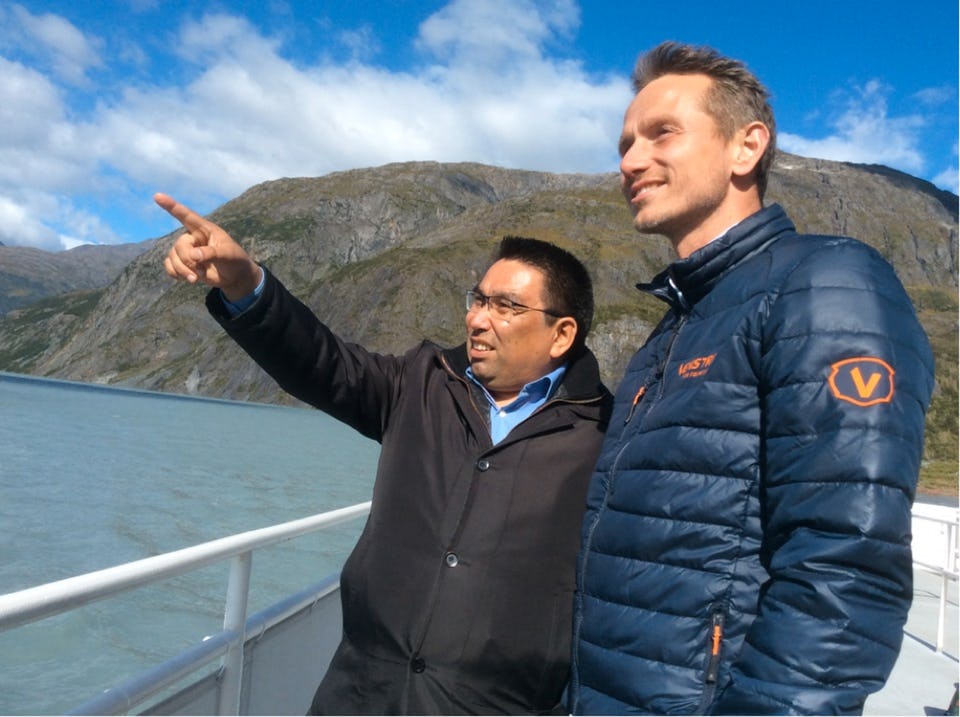 Photo: Martin Breum
The article is a translated and slightly modified version of an article that will be published in the next issue of 'Udenrigs' – a magazine by the Danish Foreign Policy Society.
Introduction
The only reason why Denmark is an Arctic state is because Greenland is part of the Danish Realm. Without Greenland, Denmark would lose the opportunity of sitting at the table with great powers such as Canada, Russia, and the United States; something which is quite unique for a small state like Denmark. It is of primary importance that Denmark take utmost care of the relationship with Greenland and treat any possible disagreements between Nuuk and Copenhagen with great mutual respect. Through this perspective, it was no surprise that one of Kristian Jensen's first travels as newly appointed foreign minister was to Greenland. During his visit in August 2015 Jensen said: "I am happy that I could come to Greenland this soon. Cooperation with Greenland, the Danish Realm and the whole question of the Arctic is strategically important for me and the government. I am therefore pleased to get well acquainted with the Government of Greenland and expand our close cooperation with Greenland. This cooperation makes us greater in the world".1)UM.dk 18. august, 2015. URL: um.dk/da/nyheder-fra-udenrigsministeriet/newsdisplaypage/?newsid=af98bbcb-1444-4b8e-b90a-774f9877a96f, Author's translation
Two weeks after the visit, Jensen travelled with his Greenlandic counterpart, Vittus Qujaukitsoq, to Anchorage, Alaska, where John Kerry hosted the GLACIER Conference. To the sound of flashing cameras and deafening applause Barack Obama also dropped by. Everyone wanted to exchange words and shake hands with Obama, who became the first sitting US president to visit the Arctic.2)Whitehouse.gov (2015), President Obama's trip to the Arctic. URL: www.whitehouse.gov/2015-alaska-trip, accessed 2 May 2016 Jensen's and Qujaukitsoq's speaking time was, thus, very limited. But, when the opportunity finally arose, Jensen seized the chance to invite Obama to Greenland to experience the visible consequences of climate change firsthand. As far as is known, Obama has not yet accepted the invitation, but if he does it would be a scoop for the Kingdom of Denmark. Previously, Hillary Clinton, Sergei Lavrov, and Ban Ki-Moon, among others, have accepted similar invitations to visit Greenland. Visits that not only have offered golden Kodak moments in front of icebergs in the Disko Bay and on top of the inland ice sheet, but also offered incomparable opportunities to strengthen bilateral relations with some of the world's most influential people. Relations, that are of utmost importance for Denmark's strategic interests in the Arctic and beyond.
Denmark's entrance to the Arctic stage
During the Cold War, the global Arctic interest was characterized by the bipolar world order where nuclear submarines and significant military installations dominated the Arctic political reality. In this reality, Greenland was located strategically between North America and the Soviet Union. With permission from Denmark, the United States established Thule Air Base and, not far from it, Camp Century, located inside the Greenland ice sheet.3)For more about Camp Century, watch 'The U.S. Army's Top Secret Arctic City Under the Ice! "Camp Century" Restored Classified Film': www.youtube.com/watch?v=1Ujx_pND9wg The plan was to develop a top-secret mobile missile defense system known as 'Project Ice Worm', but due to instability of the ice the project did not materialize. In return for this defense agreement, Denmark has for many years got a discount on its NATO membership, paying significantly less than two percent of GDP, which is the alliance's official defense spending goal.4)Nato.int (2016), 'Projecting Stability: Charting NATO's Future' – Speech by NATO Secretary General Jens Stoltenberg to the Atlantic Council, Washington, D.C. 6 April 2016. URL: www.nato.int/cps/en/natohq/opinions_129758.htm?selectedLocale=en, accessed 2 May 2016 This discount has become known as Denmark playing the 'Greenland Card'.5)DIIS (2007), Afvikling af Grønlands kolonistatus 1945-54 – En historisk udredning, Danish Institute for International Studies, DIIS After the end of the Cold War, the primary focus changed to protection of the Arctic environment where threats towards local species and Indigenous peoples' livelihoods were the primary concern. This was mirrored in the establishment of Arctic Environmental Protection Strategy in 1991 that changed name to the Arctic Council in 1996.
When the Russian tricolor was planted on the geographic North Pole on August 2, 2007, the old East-West rhetoric briefly surfaced. Denmark's Foreign Minister at that time, Per Stig Møller, took this event very seriously. In his own words, he woke up one morning "soaked in perspiration with the head full of Russian submarines" 6)Breum, Martin (2013), Når Isen Forsvinder – Danmark som stormagt i Arktis, Grønlands rigdomme og kampen om Nordpolen, Gyldendal, p. 28. Something had to be done and Møller, thus, took the initiative to bring together representatives from the five littoral states – Canada, USA, Norway, Russia and the Kingdom of Denmark – with the aim of finding a peaceful solution to territorial conflicts in the enormous area on the top of the world. On May 28, 2008, the representatives signed the Ilulissat Declaration which states that scientific, geological data, and international law shall form the basis for the future distribution of territory.7)Ilulissat Declaration (2008). URL: www.oceanlaw.org/downloads/arctic/Ilulissat_Declaration.pdf, accessed 22 April 2016 The declaration was also an important signal to foreign actors that this is an internal matter for the Arctic Five, and that a treaty such as the Antarctic Treaty (1959) is not a relevant solution. The declaration was a feather in Møller's cap and an important event marking Denmark's entrance onto the stage as a major player in the Arctic.
What is won externally has been lost internally
The renewed Arctic interest in the mid 00's was reflected in the Arctic states' mutual positioning and foreign policy prioritization. Strategies for the Arctic became the 'new black'. First came Norway (2006), followed by Russia (2008), Canada (2009), Finland (2010), Iceland8)It should be mentioned that Iceland has not released a real strategy, but a document entitled A Parliamentary Resolution on Iceland's Arctic Policy. (March 2011) and Sweden (May 2011) before the Kingdom of Denmark Strategy for the Arctic 2011-2020 saw the light in August 2011. Only the United States was slower with their strategy, which first appeared in 2013. The Danish strategy of 2011 was one of the first tangible signs of a broader Danish Arctic perspective. Until then, Denmark's views of the Arctic had been more narrowly focused on Greenland.9)This 'Arctic Turn' in Denmark's foreign policy is well analyzed by Jon Rahbek-Clemmensen in a coming anthology about Greenland's foreign affairs. During the period 1941-1992, the Danish Foreign Ministry's Arctic focus was limited to the relationship with the United States via Thule Air Base. The relationship with Greenland was taken care of by the Prime Minister's Office and the Greenland Ministry (1960-1987). As a prelude to the Ilulissat Meeting in May 2008, the document Arctic in a Time of Change: Proposed Strategy for Activities in the Arctic Area (Org: Arktis i en brydningstid: forslag til strategi for aktiviteter i det arktiske område) was published. Contrary to its successor, the document mainly dealt with Indigenous peoples rights, relations with the United States, Greenland's natural resources, and home rule. Denmark's role dimmed, and the Faroe Islands were largely omitted. This was probably due to the then ongoing process towards the establishment of Greenland Self Rule in June 2009, while Denmark's foreign policy was then more oriented towards fighting terrorism and so-called rogue states in concerted action with the US.
The widened perspective on a broader range of Arctic challenges and opportunities is reflected in the establishment of the Danish Foreign Ministry's 'Office for the Arctic and North America' and in the decision to give the Senior Arctic Official the title of 'Arctic Ambassador' in 2012. The current ambassador – and the second in the series – Erik Vilstrup Lorenzen, came from a position as ambassador to Canada. That is very consistent with the development of a more widened Danish Arctic perspective where good relations with the seven other Arctic states are extremely important in finding answers to significant questions such as delineation, sovereignty enforcement, climate change and maritime safety. In August, Lorenzen will hand over the reins to Hanne Fugl Eskjær who is currently Denmark's ambassador to Bangladesh.10)Søndergaard, Niels Krogh (2016), 'Arktisk ambassadør på vej ud: Jeg er stolt!', Sermitsiaq.AG, 2 February 2016. URL: sermitsiaq.ag/arktisk-ambassadoer-vej-stolt, accessed 2 May 2016 This move does, to the contrary, not seem to be very consistent with the development.
The greater prioritization of the High North is also reflected in the higher – though still small number – of employees in the Arctic office throughout the years. Unfortunately, the number of employees with in-depth knowledge of Greenland affairs has decreased simultaneously. What is won externally has, to some degree, been lost internally. That may prove to be a setback for the close relationship with Greenland, which is Denmark's only claim to the higher circles of Arctic decision making.
The court case regarding the contract to provide facilities-management services at Thule Air Base is an example of a conflict that possibly could have been avoided if Denmark's Ministry of Foreign Affairs had had more employees with a thorough knowledge of Greenland affairs. What happened, in short, was that the Danish-Greenlandic owned company Greenland Contractors in the autumn of 2014 lost the contract to Exelis Services, owned by the American Vectrus. This meant that Greenland's provincial treasury faced a loss of about ten percent of the total tax revenues11)Breum, Martin (2015), 'Grønland vil have kompensation fra USA', Dagbladet Information, 23 February 2015. URL: www.information.dk/udland/2015/02/groenland-kompensation-usa, accessed 2 May 2016 if Exelis Services were to employ cheaper, American labor that was not obliged to pay tax in Greenland cf. the defense agreement from 1951. The case therefore caused a stir in Greenland. However, in May 2015, the contract was overruled by the United States Court of Federal Claims (USCFC) because Exelis Services is a shell company.12)USCFC (2015), 'Nos. 15-215C, 15-272C, and 15-330C (consolidated)', United States Court of Federal Claims, (Filed Under Seal: May, 28.2015) (Reissued: June 5, 2015). URL: www.ft.dk/samling/20142/almdel/GRU/bilag/5/1537409/index.htm, accessed 2 May 2016 Instead, the agreement with Greenland Contractors has been extended until September 2016, providing more time to find a solution with less negative impact on the already beleaguered Greenland economy.
If good relations are to be maintained and possibly improved, it is essential to avoid similar cases. That said, a legal investigation ordered by the Government of Greenland has concluded that the main responsibility for the case lies with Greenland's then Deputy Minister of Foreign Affairs, Kai Holst Andersen.13)Bruun & Hjejle (2015), Redegørelse om Grønlands Selvstyres Deltagelse i Behandling af Sagen om Udbud af Basekontrakten vedrørende Pituffik. 7 July 2015. URL: knr.gl/files/article_attachments/knrs_aktindsigt_i_thuleredegoerelsen.pdf, accessed 28 April 2016 The case therefore also indicates that there is room for sharing knowledge about the triangular relationship between the US, Greenland and Denmark within Greenland's Ministry of Foreign Affairs. It would therefore be in everyone's interest if the knowledge sharing between Copenhagen and Nuuk were improved and possibly supplemented by an agreement on employee exchanges of perhaps half year periods. Such exchanges could enhance mutual trust, nuance employees' knowledge and help avoid misunderstandings that could jeopardize the Danish-Greenlandic relationship.
Greenland's sense of self-determination
Legally, the stage is set for Greenland to sever links with Denmark, whenever Greenland's population wish to do so. That is nailed down in the Act on Greenland Self-Government, §21. Economic realities do, however, make such a decision unlikely in the foreseeable future since the block grant of 3.64 billion Danish kroner account for more than 25 percent of Greenland's total public budget.14)Act on Greenland Self-Government (2009). URL: naalakkersuisut.gl/~/media/Nanoq/Files/Attached%20Files/Engelske-tekster/Act%20on%20Greenland.pdf, accessed 28 April 2016; Økonomisk Råd (2014), Grønlands Økonomi 2014. URL: naalakkersuisut.gl/~/media/Nanoq/Files/Attached%20Files/Finans/DK/Oekonomisk%20raad/Gr%C3%B8nlands%20%C3%98konomi%202014%20DK.pdf, accessed 2 May 2016, p.20 Full independence from Denmark at this stage would therefore result in indecent deteriorations of the general living standards in Greenland, unless significant mineral finds are made, simultaneously with substantial rises in global commodity prices. At this writing, Greenland's mineral activities are limited to a smaller ruby mine under construction in Aappaluttoq, near Qeqertarsuatsiaat. In the overall picture, that does not have a significant effect. According to the report To the Benefit of Greenland it would require 24 large-scale mines operating simultane in order to zero out the block grant.15)Rosing, Minik (2014), To the Benefit of Greenland. University of Copenhagen & Ilisimatusarfik (University of Greenland). URL: greenlandperspective.ku.dk/this_is_greenland_perspective/background/report-papers/To_the_benefit_of_Greenland.pdf, accessed 28 April 2016, p.19 If oil is found it is a completely different matter, but continuing explorations since the 1970s has not yet resulted in any kind of oil production whatsoever, so at present it does not seem to be the shortest path to increased economic independence.
When Aleqa Hammond was at the helm (April 5, 2013 – September 30, 2014) the independence rhetoric reached heights unprecedented since the introduction of Self Rule. It was particularly evident in the Arctic Council where representation is unequal as Denmark speaks on behalf of the Danish Realm's delegation. In May 2013, it became too much for Hammond who drew major media attention when she boycotted the Arctic Council meeting in Kiruna, Sweden. Hammond's conspicuous absence set the tone for her stormy reign. That specific episode was met with great criticism in Inatsisartut (the Parliament of Greenland) in which, nevertheless, the widespread dissatisfaction with Greenland's limited say in its own international relations is often articulated. Less ostentatious, yet equally strong views have been expressed by the whole palette of Greenlandic politicians on the issues of whaling quotas and the EU import ban on seal products; cases in which Greenland feels it has inadequate representation in the International Whaling Commission and the World Trade Organization respectively.16)Jacobsen, Marc (2015), 'The Power of Collective Identity Narration: Greenland's Way to a more Autonomous Foreign Policy (2009 – 2015)'. In: Heininen, Lassi; Exner-Pirot, Heather & Plouffe, Joël (eds.), Arctic Yearbook 2015: Arctic Governance and Governing. Akureyri, Iceland: Northern Research Forum, p.7-9 Together with the dispute about whether export of uranium is a Danish or Greenlandic area of responsibility, these two cases have caused widespread dissatisfaction with the unequal levels of representation within the Danish Realm. Recently, the uranium dispute has, for the time being, been solved17)Naalakkersuisut.gl (2016), Aftale med den danske regering om uran. 1 February, 2016. URL: naalakkersuisut.gl/da/Naalakkersuisut/Nyheder/2016/02/010216_samarbejde, accessed 29 April 2016 leaving a positive impression of improved relations between Nuuk and Copenhagen.
In an international relations perspective there is also another particularly good reason why Greenland should maintain good relations with Denmark; and not just the other way around: On 15 December, 2014, the Kingdom of Denmark submitted data to the UN Commission on the Limits of the Continental Shelf (CLCS) claiming a territory of 895,000 km2 seabed in the Arctic Ocean. This corresponds to approximately 19 times the present area of Denmark and nearly half of Greenland. The claim includes the North Pole and has significant overlaps with Russia's claim18)Staalesen, Atle (2015), 'Russia submits claim for North Pole', Barents Observer, August 4 2015. URL: barentsobserver.com/en/arctic/2015/08/russia-submits-claim-north-pole-04-08, accessed 2 May 2016 and probably also Canada's.19)Smith, Marie-Danielle (2016), 'Liberals continue Conservative quest for North Pole', Centre for International Governance Innovation, 16 February 2016. URL: www.cigionline.org/articles/liberals-continue-conservative-quest-north-pole, accessed 2 May 2016 In spite of that, and thanks to the Ilulissat Declaration, the process proceeds as agreed. So far. Ahead lie years of uncertainty for the Danish Realm before CLCS comes to a conclusion that may well prove several claims to the same area. If that happens, the Danish Realm will need all of its diplomatic and legal capacities in order not to be bullied by two major powers such as Russia and Canada. With this common interest in mind Greenland is heavily dependent on continued close cooperation with Denmark. This is particularly interesting because the area granted ultimately accrues to Greenland..
Denmark's way North?
Openness and honesty is the way forward if Denmark wants to improve relations with Greenland. And it must. To achieve this, clear agendas and unequivocal statements are the way forward to creating a more equal relationship. In December 2015, Prime Minister Lars Løkke Rasmussen made it clear that the existence of the Danish Realm is fully dependent on active participation from all parts: "It's like a marriage. You cannot hold on, if one part wants to be separated".20)Joensen, Kaj (2015), 'Løkke: Færøerne og Grønland må vælge mellem kongeriget og løsrivelse', Sermitsiaq.AG, 14 December 2015. URL: sermitsiaq.ag/loekke-faeroeerne-groenland-maa-vaelge-mellem-kongeriget-loesrivelse, accessed 29 April 2016, Author's translation It may seem like a daring announcement, but it does nevertheless signal a perception of a more equal relationship. Denmark should not hide the fact that the block grant is not only given for the sake of Greenlanders' brown eyes.
One thing is politics and official relations, another thing is feelings, family ties and shared traditions. Ultimately, it is the personal relationship and the common heritage that hold together the different parts of the Danish Realm. In strategic terms it is worth emphasizing the soft values and the more mundane relationships. In this context, the media could play a more active role by paying more attention to the Danish Realm, so Greenlanders, Faroese and Danes get a better understanding of the common history and current developments in the different parts of the kingdom. Primary schools could also spend more time focusing on the Danish Realm and, for instance, organize school camps in Greenland and the Faroe Islands. Such experiences help create curiosity, and nuanced understanding, break down prejudices and build personal relationships, which is the glue that binds the Danish Realm together.
Stories can have significant influence on people's behavior, and if it is effective and well-timed, it may even have political influence with far-reaching consequences. In Greenland, the royal family is immensely popular. Queen Margrethe and Prince Henrik reciprocate the affection and are diligent to visit even the smallest villages. Crown Prince Frederik has a past in the Sirius Patrol, and his and Crown Princess Mary's twins (born 2011) each have four names, one of which is Greenlandic: Minik and Ivalo. It is probably due to the couple's great care for Greenland, but the choice of names may also have a strategic significance with the purpose of tying the kingdom closer together. When Queen Margrethe was baptized in 1940 she also got the Icelandic name Þórhildur. Four years later, Iceland became an independent republic. The names may just be a well-meaning gesture to reciprocate the affection Greenlanders show the royal family. Either way, it has only increased the royal family's popularity in Greenland and it may, ceteris paribus, strengthen the cohesion of the Danish Realm.
Denmark's business establishment and pension funds should also enter the fray and invest in Greenlandic infrastructure and mining projects. For Greenland it would be a much needed boost towards a more positive direction, while the expansion of professional relationships in both quantity and quality will strengthen relations within the Danish Realm. This may happen on a large or in a smaller scale. Every little helps. What counts is that someone paves the way, thus creating optimism about the economic opportunities in Greenland. Academia also plays a central role in this development and it should be a top priority to create the best possible conditions for Danish and Greenlandic research in the Arctic. Research could lead to concrete projects, contribute to the general understanding of common heritage and provide useful knowledge about the political winds blowing in the High North to the benefit of the Danish Realm's collective strategic interests in the Arctic. Later this year, a new strategy for Danish polar research will be made public, but it has already been made clear that no new money will be allocated along with the strategy. If it should have an effect, new money is needed. If not, we are back to square one. The Danish government needs to put words into action and also give higher economic priority to interests in the Arctic.
Conclusion
The importance of having access to the exclusive company in the Arctic Council and the dynamic Arctic Five should not be underestimated by a small country like Denmark. This connection means Denmark punches above its weight in the Arctic to the benefit of Denmark's position in the international arena in general. The existence of the Danish Realm is what legitimizes Denmark's presence in the Arctic. Thus, it should be an essential part of Denmark's strategy to improve the current relationship with Greenland. This can be done through a more open, honest, and equal dialogue; more mutual knowledge exchange; emphasizing and encouraging common values and relationships; and by giving higher economic priority to the Arctic. A good place to start would be to expand the Foreign Ministry's Arctic office and to allocate more money to polar research in Denmark and Greenland, hence also improving the kingdom's research diplomacy in the Arctic. If confidence is improved and words backed up with action, the collective Danish Realm can accomplish great things in the Arctic.
| | | |
| --- | --- | --- |
| 1. | ↑ | UM.dk 18. august, 2015. URL: um.dk/da/nyheder-fra-udenrigsministeriet/newsdisplaypage/?newsid=af98bbcb-1444-4b8e-b90a-774f9877a96f, Author's translation |
| 2. | ↑ | Whitehouse.gov (2015), President Obama's trip to the Arctic. URL: www.whitehouse.gov/2015-alaska-trip, accessed 2 May 2016 |
| 3. | ↑ | For more about Camp Century, watch 'The U.S. Army's Top Secret Arctic City Under the Ice! "Camp Century" Restored Classified Film': www.youtube.com/watch?v=1Ujx_pND9wg |
| 4. | ↑ | Nato.int (2016), 'Projecting Stability: Charting NATO's Future' – Speech by NATO Secretary General Jens Stoltenberg to the Atlantic Council, Washington, D.C. 6 April 2016. URL: www.nato.int/cps/en/natohq/opinions_129758.htm?selectedLocale=en, accessed 2 May 2016 |
| 5. | ↑ | DIIS (2007), Afvikling af Grønlands kolonistatus 1945-54 – En historisk udredning, Danish Institute for International Studies, DIIS |
| 6. | ↑ | Breum, Martin (2013), Når Isen Forsvinder – Danmark som stormagt i Arktis, Grønlands rigdomme og kampen om Nordpolen, Gyldendal, p. 28 |
| 7. | ↑ | Ilulissat Declaration (2008). URL: www.oceanlaw.org/downloads/arctic/Ilulissat_Declaration.pdf, accessed 22 April 2016 |
| 8. | ↑ | It should be mentioned that Iceland has not released a real strategy, but a document entitled A Parliamentary Resolution on Iceland's Arctic Policy. |
| 9. | ↑ | This 'Arctic Turn' in Denmark's foreign policy is well analyzed by Jon Rahbek-Clemmensen in a coming anthology about Greenland's foreign affairs. |
| 10. | ↑ | Søndergaard, Niels Krogh (2016), 'Arktisk ambassadør på vej ud: Jeg er stolt!', Sermitsiaq.AG, 2 February 2016. URL: sermitsiaq.ag/arktisk-ambassadoer-vej-stolt, accessed 2 May 2016 |
| 11. | ↑ | Breum, Martin (2015), 'Grønland vil have kompensation fra USA', Dagbladet Information, 23 February 2015. URL: www.information.dk/udland/2015/02/groenland-kompensation-usa, accessed 2 May 2016 |
| 12. | ↑ | USCFC (2015), 'Nos. 15-215C, 15-272C, and 15-330C (consolidated)', United States Court of Federal Claims, (Filed Under Seal: May, 28.2015) (Reissued: June 5, 2015). URL: www.ft.dk/samling/20142/almdel/GRU/bilag/5/1537409/index.htm, accessed 2 May 2016 |
| 13. | ↑ | Bruun & Hjejle (2015), Redegørelse om Grønlands Selvstyres Deltagelse i Behandling af Sagen om Udbud af Basekontrakten vedrørende Pituffik. 7 July 2015. URL: knr.gl/files/article_attachments/knrs_aktindsigt_i_thuleredegoerelsen.pdf, accessed 28 April 2016 |
| 14. | ↑ | Act on Greenland Self-Government (2009). URL: naalakkersuisut.gl/~/media/Nanoq/Files/Attached%20Files/Engelske-tekster/Act%20on%20Greenland.pdf, accessed 28 April 2016; Økonomisk Råd (2014), Grønlands Økonomi 2014. URL: naalakkersuisut.gl/~/media/Nanoq/Files/Attached%20Files/Finans/DK/Oekonomisk%20raad/Gr%C3%B8nlands%20%C3%98konomi%202014%20DK.pdf, accessed 2 May 2016, p.20 |
| 15. | ↑ | Rosing, Minik (2014), To the Benefit of Greenland. University of Copenhagen & Ilisimatusarfik (University of Greenland). URL: greenlandperspective.ku.dk/this_is_greenland_perspective/background/report-papers/To_the_benefit_of_Greenland.pdf, accessed 28 April 2016, p.19 |
| 16. | ↑ | Jacobsen, Marc (2015), 'The Power of Collective Identity Narration: Greenland's Way to a more Autonomous Foreign Policy (2009 – 2015)'. In: Heininen, Lassi; Exner-Pirot, Heather & Plouffe, Joël (eds.), Arctic Yearbook 2015: Arctic Governance and Governing. Akureyri, Iceland: Northern Research Forum, p.7-9 |
| 17. | ↑ | Naalakkersuisut.gl (2016), Aftale med den danske regering om uran. 1 February, 2016. URL: naalakkersuisut.gl/da/Naalakkersuisut/Nyheder/2016/02/010216_samarbejde, accessed 29 April 2016 |
| 18. | ↑ | Staalesen, Atle (2015), 'Russia submits claim for North Pole', Barents Observer, August 4 2015. URL: barentsobserver.com/en/arctic/2015/08/russia-submits-claim-north-pole-04-08, accessed 2 May 2016 |
| 19. | ↑ | Smith, Marie-Danielle (2016), 'Liberals continue Conservative quest for North Pole', Centre for International Governance Innovation, 16 February 2016. URL: www.cigionline.org/articles/liberals-continue-conservative-quest-north-pole, accessed 2 May 2016 |
| 20. | ↑ | Joensen, Kaj (2015), 'Løkke: Færøerne og Grønland må vælge mellem kongeriget og løsrivelse', Sermitsiaq.AG, 14 December 2015. URL: sermitsiaq.ag/loekke-faeroeerne-groenland-maa-vaelge-mellem-kongeriget-loesrivelse, accessed 29 April 2016, Author's translation |