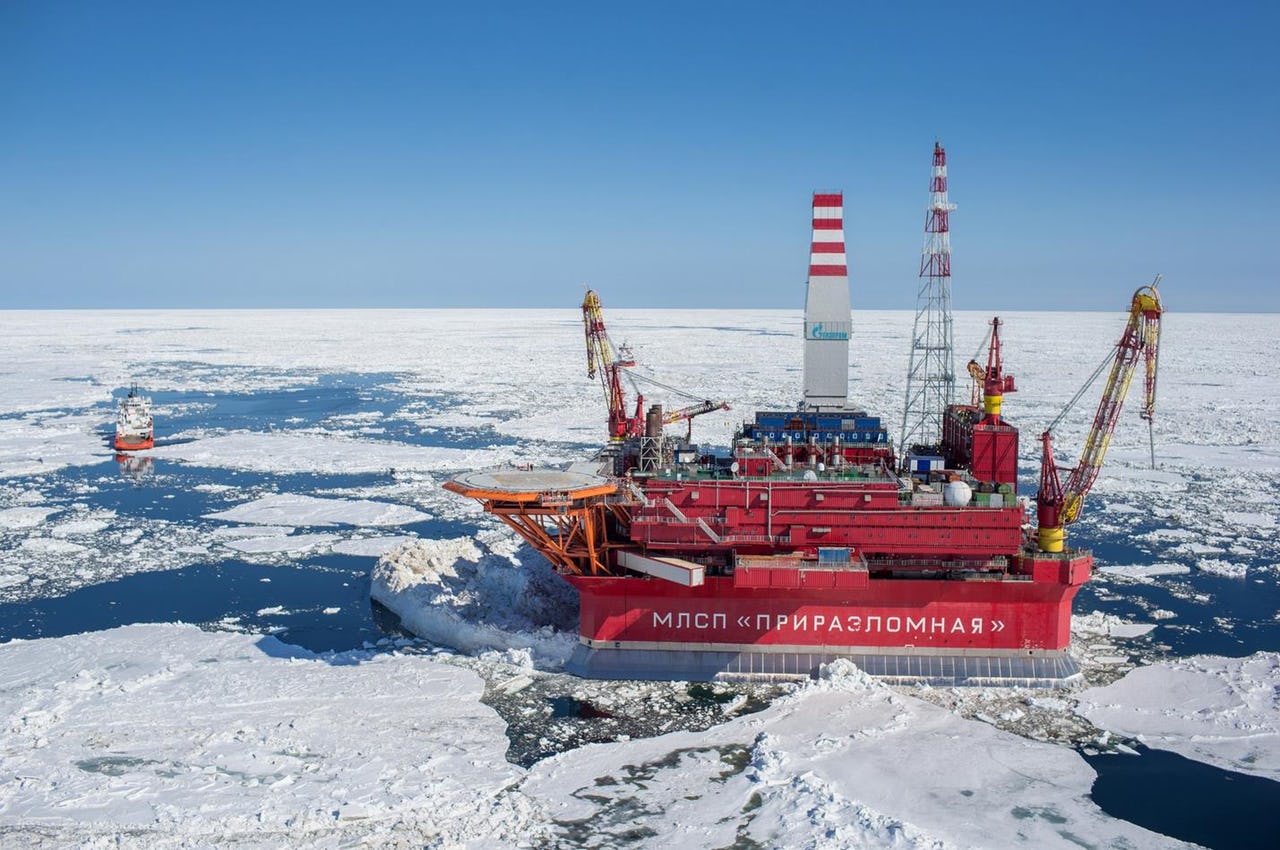 The Prirazlomnaya platform is the first Russian project for developing the Arctic shelf. Photo: Gazprom
Exxon Mobil, the world's largest company, and OAO Rosneft, Russia's largest oil producer, signed a deal to develop oil and natural gas reserves in the Russian Arctic. The two companies plan to invest an initial $3.2 billion developing East Prinovozemelsky Blocks 1, 2, and 3 in the Kara Sea.
The total investments envisioned under the agreement could reach $500 billion, of which $200-300 billion would be direct investments in the region. According to Prime Minister Putin "new horizons are opening up. One of the world's leading companies, ExxonMobil, is starting to work on Russia's strategic shelf and deepwater continental shelf." He ensured full support of the Russian government and welcomed the Texas-based company as a "reliable, strategic, and good partner."
The plan appears to supersede a now-defunct partnership between Rosneft and BP. The British oil company's attempt to gain access to the Arctic through its joint venture TNK-BP was blocked by stakeholders earlier this year.
As part of the deal Rosnet will be granted access to some of the Exxon's American assets and gain experience in deep-water exploration and the extraction of shale gas. Exxon's expertise in developing unconventional natural gas reserves may have played a crucial role in getting access to the Arctic. Exxon acquired XTO Energy, the largest producer of natural gas in the U.S., for $31 billion in 2009 and gained access to the company's formidable expertise and experience in hydraulic fracturing, a process used to extract shale gas out of tight rock formations.
A number of leading oil companies have been vying to gain access to yet untouched oil and gas reserves in the Arctic as access to reserves in the Middle East, e.g. in Saudi Arabia, has been getting harder for foreign oil companies and few easy to exploit hydrocarbon reserves remain.
The Kara Sea, where the two companies will begin exploration, may hold as much as 100 billion barrels of oil equivalent. This part of the Arctic Ocean has become the focus of attention as sea ice continues to recede earlier during the year allowing for less challenging drilling operations.
Despite the rapid melting of sea ice, however, conditions vary starkly from year to year and oil and gas platforms across the High North are built to withstand significant ice flows. Rosneft has been developing the Prirazlomnaya Offshore Ice-Resistant Fixed Platform (OIRFP) and expects to need at least a dozen such platforms by 2030