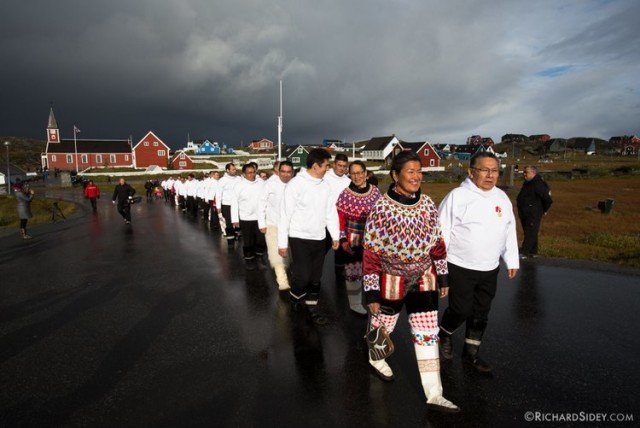 Photo: Richard Sidey
One of the first things the Greenlandic politicians will be confronted with when they return to Inatsisartut (Greenland's parliament) after their summer vacation, is a rather contentious legislative proposal by the current Naalakkersuisut (Greenland's government) that may limit the public's right to access documents concerning the development of Greenland's vast raw materials.
In short, the proposal reads: "For the sake of a smooth and faster processing of documents received, it is proposed that the timing of when to apply for access is postponed until a decision is made or the case is set. Thus, the time can be used for i.a. preparing documents for consultations, rather than having to take a position on requests about access to documents in cases in which the documents will be subsequently published anyway".1)Naalakkersuisut, 'Bemærkninger til forslaget' (Eng.: 'Comments to the proposal'), page 3-4. 12 June 2014. (Own translation from Danish): Link Accessed 7/22/2014. Link to the total legislative proposal: Link
Paradoxically, the proposal seems to be diametrically opposed to the coalition agreement from 2013, which states that the current government is based on openness and that "the people's democratic participation and responsibility should be guaranteed" by creating "a playing field based on the needs of the population".2)Naalakkersuisut, 'Et samlet land – et samlet folk' (Eng.: 'A united country – a united people), page 2. 26 March 2013. (Own translation from Danish) Link Accessed 7/22/2014. If the proposal is adopted, it may threaten the development of good governance in Greenland, as it would reduce the transparency of the decision-making process and limit the citizens' involvement in the development of the hydrocarbon and mineral sectors. These sectors are subject to persistent expectations of a prosperous future with looser ties to Denmark and, ultimately, the establishment of Greenland as an independent state. Importantly, changes in these sectors may influence the general development of the country.
Naalakkersuisut's justification
According to a press release by the Minister of Industry and Mineral Resources, Jens-Erik Kirkegaard, the main reason for the proposal is a planned reorganization of the ministry, including the elimination of currently responsible agencies, shifting decision-making power over Greenland's mineral resources to Inatsisartut, where Naalakkersuisut is the highest authority. Therefore, he argues, the current avenue for complaints cannot be retained, as "it would be in conflict with the tripartition of power, which would require a higher administrative power than Naalakkersuisut".3)Kierkegaard, Jens-Erik, 'Forslag til ændring af råstofloven' (Eng.: 'Proposal to amend the Mineral Resources Act'). Press release, 26 June 2014. (Own translation from Danish) Link Accessed 7/23/2014. It is rather unfortunate that a reorganization would impair the public's, including the media's, options for monitoring democratically elected rulers. The Greenlandic ombudsman, an independent authority who impartially examines the public authorities' doings, is now investigating whether this can be reasonably justified.4)Leth, Vera.'ombudsmanden iværksætter en undersøgelse af Departementet for Erhverv, Råstoffer og Arbejdsmarked i spørgsmålet om aktindsigt i råstofdokumenter' (Eng.: 'The ombudsman to begin an investigation of the Ministry of Industry, Resources and Labour on the question of access to raw material documents'). Press release, 15 July 2014 (Own translation from Danish) Link Accessed 7/24/2014.
While Kirkegaard further emphasises that Naalakkersuisut does not wish to limit public access to documents and information on mining projects, the justification continues: "It is most appropriate that the departments' resources are used in concrete cases, designed to create jobs and growth in Greenland, rather than to going through internal working documents in relation to access requests".5)Kierkegaard, Jens-Erik, 'Forslag til ændring af råstofloven' (Eng.: 'Proposal to amend the Mineral Resources Act'). Press release, 26 June 2014. (Own translation from Danish) Link Accessed 7/23/2014. This explanation implies that a significant amount of the budget is currently used to deal with requests for accessing documents, but according to the Greenlandic newspaper Sermitsiaq, the number of requests have been quite moderate. In 2014, the Mineral Resources Authority has not yet received a single request of access, while 12 requests, of which four were homonymous, were received in 2013. In 2012, six requests were made of which, curiously enough, Kirkegaard himself, who was not yet elected, sent two.6)Nyvold, Mads, 'Midlertidig mørklægning af mineprojekter' (Eng.: 'Temporary blackout of mining projects'). Sermitsiaq, week 26 2014, page 31.
The public interest
Despite the few requests for access, there is no doubt that the anticipated exploitation of Greenland's mineral and hydrocarbon resources attracts a great deal of interest from the public, which passionately keeps track of the development and the possible influence on the domestic economy and environment. This persistent interest sometimes leads to immense debates dividing the public opinion, most evidently expressed in October 2013 when extensive demonstrations sought to sway the politicians who were about to vote to either end or keep the 25-year-old ban on mining uranium.7)Gravgaard, Anna-Katarina, 'Greenland's Rare Earths Gold Rush – Letter from Nuuk'. Foreign Affairs, 28 October 2014. Link Accessed 7/23/2014. The vote resulted in a 15:14 decision to end the ban, which mirrored the polarized public opinion. The debate has continued, fueled by articles alleging that Greenland Minerals & Energy, which has the exploration license to the Kuannersuit mountain in South Greenland with large deposits of rare earth elements and uranium, has dubious ownership structures linked to shady ventures with Somali rebels and Australian-Italian Mafiosi.8)Loewenstein, Antony, 'Australian uranium mining in Greenland is tearing the country in half'. The Guardian, 15 May 2014. Link Accessed 7/23/2014; Olsen, Johan Lund; Sørensen, Finn; Myrup, Mikkel; Hooge, Niels Henrik; Bendsen, Palle; Pedersen, Hans, 'Ingen kontrol med grønlandsk uran' (Eng.: 'No control with Greenlandic uranium'). Information, 28 November 2013. Link Accessed 7/23/2014.
The proposed mine in Kuannersuit will, according to Premier Aleqa Hammond, turn Greenland into one of the top five to ten uranium exporters in the world;9)Hammond, Aleqa, 'The speech at the Arctic Circle Conference'. 12 October 2013. Link Accessed 7/23/2014. an assessment which is shared by the reputable scholar of global uranium management, Cindy Vestergaard.10)Vestergaard, Cindy, 'Should Greenland Mine its Uranium?'. DIIS Policy Brief, April 2012. Link Accessed 7/24/2014. Though Nuuk and Copenhagen have not yet reached an agreement on whether the possible future export of uranium and rare earth elements is also a matter of foreign and security politics, it is certainly in everyone's interest that the whole process is treated with the highest precautions in terms of who to negotiate with, how to mine and where to export it to. If not, hasty domestic decisions could lead to grave transnational consequences if radioactive contamination is spread, or if so-called rogue states get hold of some of the uranium.
Democratic challenges
According to Klaus Georg Hansen, Head of the Ilimmarfik Institute at Greenland's University, the current proposal undermines Naalakkersuisut's legitimacy, which, he claims, is already fairly limited in this policy area.11)Nyvold, Mads, 'Midlertidig mørklægning af mineprojekter' (Eng.: 'Temporary blackout of mining projects'). Sermitsiaq, week 26 2014, page 31. Two reports from 2012 by Transparency Greenland and the Employers' Association of Greenland reveal, however, that the problem of ensuring good governance is not new and not solely reserved for the current Naalakkersuisut. The former administration, headed by the current oppositional party 'Inuit Ataqatigiit', was subject to similar accusations. The reports criticize the public authorities' level of transparency vis-á-vis the citizens and private companies, the limited extent of public access to documents,12)Nordic Consulting Group Denmark, 'Integrity study of the public sector in Greenland'. On behalf of Transparency International, January 2012. Link Accessed 7/23/2014. and the time given to interested parties to go through the necessary information regarding big-scale mining projects.13)Aaen, Sara Bjørn, 'Demokratisk legitimitet i høringsprocesser i forbindelse med storskala-projekter i Grønland' (Eng.: 'Democratic legitimacy in consultation processes associated with large scale projects in Greenland'). Employers' Association of Greenland, February 2012. Link Accessed 7/23/2014. Thus, the lack of transparency is a problem that crosses political boundaries, and a united Inatsisartut should, therefore, work together to enhance good Greenlandic governance rather than worsen it.
Other countries that have experienced an economic boom due to sudden activity in oil and mineral sectors but lacked good governance, serve as a good example of why it is important to take proactive actions to improve the present situation instead of pursuing a quick profit at the expense of core democratic values.14)Shaffer, Brenda (edt.) & Ziyadov, Taleh (edt.) (2012), 'Beyond the Resource Curse'. Philadelphia, PA, USA: University of Pennsylvania Press, 1-58 If Greenland is exposed to weak governance simultaneously to the expected economic boom caused by mining and oil extraction, and if the dream of a Greenlandic state becomes true, the citizens in Greenland may experience a downward spiral of power centralisation, growing inequality and weakened general welfare, collectively known as the "resource curse".15)Shaffer, Brenda (2009), 'Energy and Regime Types'. Energy Politics. University of Pennsylvania Press, Philadelphia, 19-28 This would definitely not be in the majority's interest, so every politician in Inatsisartut should aim at enhancing good Greenlandic governance before the exploitation of Greenland's mineral and hydrocarbon resources gathers speed.
| | | |
| --- | --- | --- |
| 1. | ↑ | Naalakkersuisut, 'Bemærkninger til forslaget' (Eng.: 'Comments to the proposal'), page 3-4. 12 June 2014. (Own translation from Danish): Link Accessed 7/22/2014. Link to the total legislative proposal: Link |
| 2. | ↑ | Naalakkersuisut, 'Et samlet land – et samlet folk' (Eng.: 'A united country – a united people), page 2. 26 March 2013. (Own translation from Danish) Link Accessed 7/22/2014. |
| 3, 5. | ↑ | Kierkegaard, Jens-Erik, 'Forslag til ændring af råstofloven' (Eng.: 'Proposal to amend the Mineral Resources Act'). Press release, 26 June 2014. (Own translation from Danish) Link Accessed 7/23/2014. |
| 4. | ↑ | Leth, Vera.'ombudsmanden iværksætter en undersøgelse af Departementet for Erhverv, Råstoffer og Arbejdsmarked i spørgsmålet om aktindsigt i råstofdokumenter' (Eng.: 'The ombudsman to begin an investigation of the Ministry of Industry, Resources and Labour on the question of access to raw material documents'). Press release, 15 July 2014 (Own translation from Danish) Link Accessed 7/24/2014. |
| 6, 11. | ↑ | Nyvold, Mads, 'Midlertidig mørklægning af mineprojekter' (Eng.: 'Temporary blackout of mining projects'). Sermitsiaq, week 26 2014, page 31. |
| 7. | ↑ | Gravgaard, Anna-Katarina, 'Greenland's Rare Earths Gold Rush – Letter from Nuuk'. Foreign Affairs, 28 October 2014. Link Accessed 7/23/2014. |
| 8. | ↑ | Loewenstein, Antony, 'Australian uranium mining in Greenland is tearing the country in half'. The Guardian, 15 May 2014. Link Accessed 7/23/2014; Olsen, Johan Lund; Sørensen, Finn; Myrup, Mikkel; Hooge, Niels Henrik; Bendsen, Palle; Pedersen, Hans, 'Ingen kontrol med grønlandsk uran' (Eng.: 'No control with Greenlandic uranium'). Information, 28 November 2013. Link Accessed 7/23/2014. |
| 9. | ↑ | Hammond, Aleqa, 'The speech at the Arctic Circle Conference'. 12 October 2013. Link Accessed 7/23/2014. |
| 10. | ↑ | Vestergaard, Cindy, 'Should Greenland Mine its Uranium?'. DIIS Policy Brief, April 2012. Link Accessed 7/24/2014. |
| 12. | ↑ | Nordic Consulting Group Denmark, 'Integrity study of the public sector in Greenland'. On behalf of Transparency International, January 2012. Link Accessed 7/23/2014. |
| 13. | ↑ | Aaen, Sara Bjørn, 'Demokratisk legitimitet i høringsprocesser i forbindelse med storskala-projekter i Grønland' (Eng.: 'Democratic legitimacy in consultation processes associated with large scale projects in Greenland'). Employers' Association of Greenland, February 2012. Link Accessed 7/23/2014. |
| 14. | ↑ | Shaffer, Brenda (edt.) & Ziyadov, Taleh (edt.) (2012), 'Beyond the Resource Curse'. Philadelphia, PA, USA: University of Pennsylvania Press, 1-58 |
| 15. | ↑ | Shaffer, Brenda (2009), 'Energy and Regime Types'. Energy Politics. University of Pennsylvania Press, Philadelphia, 19-28 |