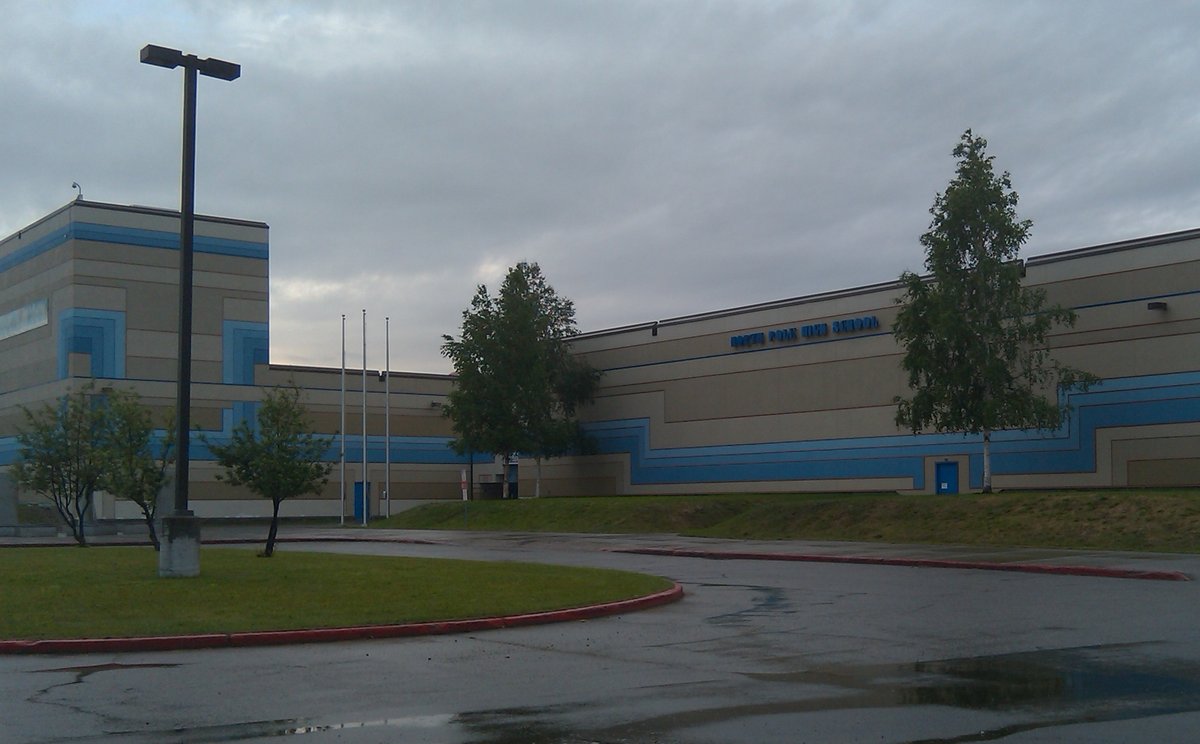 North Pole Alaska High School. Photo: RadioKAOS
The Arctic Melt is a three-part analysis of the Arctic Human Development Report II: Regional Processes and Global Linkages. Developed over a ten-year period, the study assesses the state of Arctic human development and highlights major regional changes. Its findings will be important in informing the decisions and policies of the upcoming US Arctic Council Chairmanship.
In the context of Alaska, this series will take an in-depth look at three of the key trends underscored by the Report: globalization, urbanization, and demographic shifts. On Monday, Part I: Investing in Place will explore how we create livable, localized places in a globalized north. On Wednesday, Part II: Investing in Innovation will consider the opportunities of urbanization for entrepreneurship and economic ingenuity. On Friday, Part III: Investing in Communities will conclude the discussion by looking at ways to sustainably connect the growing young and old sectors of Alaska's population.
Taken together, these three trends provide a chance to redefine how we conceptualize, and realize, Arctic investment – a chance to turn economic growth into human development.
---
Part III: Investing In Community
The population of Alaska is projected to increase by 28 percent to 915,211 by 2035, nearly double the national population growth rate for the United States in the same period.1)Timothy Heleniak. "Chapter 2 Arctic Populations and Migration," Arctic Human Development Report: Regional Processes and Global Linkages. Edited by Yoan Nymand Larsen and Gail Fondahl With lower infant mortality rates and better medical treatment for the elderly, the two biggest demographics poised to grow are the youngest and oldest sectors of Alaskan society.
And yet, through institutionalized social practices, young and old are isolated from one another now more than ever. By channeling youth into schools and expecting seniors to live a secluded home life or age-homogeneous retirement communities, these separate islands of activity have eroded the social support networks that once connected one generation to the next. This is exceptionally true for the Alaskan Native population, 39 percent of which are under the age of 20. The generational exchange of traditional knowledge in these communities is fundamental to culture and wellbeing.2)Timothy Heleniak. "Chapter 2 Arctic Populations and Migration," Arctic Human Development Report: Regional Processes and Global Linkages. Edited by Yoan Nymand Larsen and Gail Fondahl More generally, age-segregated strata create an environment that supports age discrimination, reinforces negative stereotypes, and eliminates opportunities for intergenerational understanding and dialogue.
The connections between one generation and the next are not only culturally important, but also economically. The intergenerational contract preserved in Alaska's economy today is one that favors the old at the expense of the young. As baby boomers live longer, there will be more older, non-working residents relying on the safety net, resulting in higher costs for social security, Medicare, and other programs. With current tax revenues insufficient to cover rising expenses, particularly in light of falling oil prices, the younger generation will be fraught with taking fiscal care of their elders.
Such budgetary deficiencies come at a time when crucial components of Alaska youth's development are under threat. The public education system is outdated, founded on inefficient funding models, and fail to take into account the varied factors that affect a student's ability to perform well. This results in some of the highest high school dropout rates in both the United States and across the Arctic region. Beyond education, childhood health is declining in the face of a rising obesity epidemic and increased mental health concerns. Free play, vital to the development of young minds, is stifled by limited public spaces. Without the support to develop active, educated, healthy children, Alaska will lack the human capital for the innovation-based economy advocated for in Part II of this series.
As Alaska's demographic shift deepens age segregation and accelerates the proliferation of interconnected, complex social issues, there is an immediate need to address the disengagement of generations in order to establish a foundation of trust and understanding upon which both the places in Part I and the economy in Part II are built.
A solution might come from the already successful school designs implemented across the country that have demonstrated an innovative way to connect the common needs of elderly and youth. Complete school buildings that reconceptualize the relationship between education infrastructure and age inclusivity can equip northern youth with the knowledge of their elders to make investments in human development long into Alaska's future.
Rethinking Investment for a Demographic Shift
The realities of the globalization, urbanization, and demographic shifts the Arctic currently faces require problems to be evaluated holistically, examining interrelated issues from varied sectors at different scales. Part I of this series, Investing in Place, argued for building physical infrastructure to create sustainable and enjoyable places to live in the north that capitalized on globalization while serving Alaskans and their local economy. Investing in Innovation, Part II, supported the transition of Alaska's economy from resource development to knowledge-based built upon the benefits of Arctic urbanization. But while complete streets, smart growth, and entrepreneurial institutions create the necessary physical infrastructure and innovative climate to foster sustainable business and livable spaces, there is still a need to invest in the communities that not only inhabit Alaska's economic and built environments, but also make them thrive.
Building a sense of community in cold places often happens indoors in shared, public spaces. Many architectural firms creating concept designs for relocated Arctic towns focus on building community through stylish public areas and green spaces, like the new town plan for the Swedish mining town Kiruna in Part I. While these inventive designs are important in their own right, many Arctic communities and cities cannot afford investing in entirely new community centers – especially in a time of uncertain natural resource production. Revamping already established public schools is one example of a more practical and economical, though still innovative, approach for Alaska to invest in communities.
Traditionally, schools are seen as a place for one section of the population – youth and those who formally teach them. But school buildings offer an opportunity to bring the sense of community built in the streets in Part I indoors during Alaska's long winter months while simultaneously nurturing the education and creativity needed for the economy in Part II. Complete schools promote social cohesion; create more opportunities for intergenerational interactions; foster healthier living environments with localized safety nets; and strengthen support system for the development of students. Investing in communities through these education designs can improve Alaska's wellbeing during a period of intense economic, social, and demographic change.
Education and Alaska's Build Environment
Since the last Development Report in 2004, secondary education attainment has increased in all Arctic regions except Alaska. Only 68 percent of student in Alaska graduate high school, compared to the American national average of 81 percent. For Native Alaskans, that rate drops to only 42.5 percent.3)Diane Hirshberg and Angrey N. Petrov. "Chapter 9 Education and Human Capital," Arctic Human Development Report: Regional Processes and Global Linkages. Edited by Yoan Nymand Larsen and Gail Fondahl
There are a number of causes associated with high dropout rates. These include but are not limited to the need to babysit/lack of daycare, help (including financially and taking care of the elderly) around the home, and substance abuse. Cultural discontinuity, school culture, and parental attitudes towards formal education are also important factors.4)Melanie O'Gorman and Manish Pandey, www.csls.ca/events/cea2014/cea-papers-2014-pandey.pdf
While there have been efforts to change education curriculum to better suit the needs of northern communities, particularly the inclusion of Northern culture and traditional knowledge, these changes fail to recognize the intergenerational challenges of the problem in meeting not just the needs of students, but of those younger and older family members for which they must care. Improvement programs have heavily focused on education policy and curriculum development, overlooking the connection to community needed to support students outside the classroom and the built environment in which children learn.
There is a growing body of research that supports the connection between high-performing education and designing schools as centers of complete communities. While community-based design principles for school buildings have been adopted in state education departments and city school boards in the lower 48, their application to Arctic communities has not yet been explored. Despite this dearth in research, connecting education policy to school design could not only reduce dropout rates, but also produce co-benefits for traditional knowledge transfer, social cohesion, unemployment, and climate resiliency.
Creating Schools as Inclusive Community Centers
At their most basic level, school designs should include universal access and promote a healthy indoor environment for elders and children, paying close attention to lighting and air quality. Community school buildings should consider traffic patterns and adopt wider hallways, doors, and lighting principles that can positively affect student behavior and attitudes towards learning while diminishing potential areas for bullying and violence.
All stakeholders, not just school board officials and contractors, should be included in the process of designing so that it fits the community's needs. By investing in an attractive, well-designed and well-maintained center for the whole community, schools can become a place to facilitate respect, communication, and knowledge transfer between different generations.
In Gaylord Michigan, seniors have access to school gyms, health facilities, and cultural and recreational activities held in classrooms and auditoriums. Gaylord High School in Gaylord, Michigan was built as a community center as well as a secondary education institution. It includes day care facilities, senior activities, and a community health care clinic to cater to young, old, and those in between. Classrooms were designed with the community in mind, creating multipurpose, flexible spaces with accessibility outside of regular school hours and the ability to adapt to new needs of future community members. 5)Kevin Sullivan, www.ncef.org/pubs/agewave.pdf
High dropout rates often act as a problem-multiplier to other socio-economic concerns in the North. High suicide rates, unemployment, substance abuse, and intergenerational estrangement are all augmented by low graduation rates. Stunted traditional and formal education also acts as a threat-multiplier for climate change. It erodes the social and economic sustainability and capabilities of a community needed to be resilient in the face of ecological and climatic shifts.
The ability to transfer knowledge from older to future generations, to belong to a social network, to engage in a mixed economy in order to earn more income, and to actively participate in a healthy, vibrant community to increase longevity are all seriously affected by children not attending school. Building schools like Gaylord's in Anchorage and Fairbanks that create schools as community centers can help Alaska's demographic transition while simultaneously creating a more educated, capable workforce.
But building complete schools do more than foster communities, promote intergenerational respect, and produce an educated workforce; they can also generate co-benefits for Alaskan's public health, culture, and language preservation.
Complete School's Co-benefits to Youth and Elderly Public Health
While the level of public health is immediately the result of access to quality medical facilities and personnel, human well-being is the result of a complex set of interactions among genetic, economic, social, cultural, political, and environmental actors. Consequently, climate change and the major human-centric trends discussed in this series – globalization, urbanization, and demographic shifts – generate the majority of emerging challenges and potential threats for the health of individuals and communities in the Arctic.
Alaska's youth and its seniors face a shared public health challenge in the changing diet of Arctic residents. Changes from more traditional foods, based on local hunting and fishing markets, to a western type of diet has steadily increased in both cities and remote rural areas, and have had a particular effect on the health of indigenous communities.6)Arja Rautio, Birger Poppel, and Kue Young. "Chapter 8 Human Health and Well-Being," Arctic Human Development Report: Regional Processes and Global Linkages. Edited by Yoan Nymand Larsen and Gail Fondahl Climate change impacts have had a negative effect on the health of animals harvested during fishing and hunting as well as the safety of storing community meat. Concurrently, transport costs for imported food from the lower 48 and Canada have remained high. This results in expensive grocery store produce and products, wherein healthy options from stores are out of reach of many family budgets. The Arctic Human Development Report notes that those Arctic residents who rely mainly on market foods are becoming increasingly dependent on cheaper, unhealthy choices-7)Arja Rautio, Birger Poppel, and Kue Young. "Chapter 8 Human Health and Well-Being," Arctic Human Development Report: Regional Processes and Global Linkages. Edited by Yoan Nymand Larsen and Gail Fondahl Less-nutritious diets lead to increasing rates of modern diseases like obesity, diabetes, and cardiovascular disease.
The smart growth principles advocated for in Part I of this series, Investing in Place, can help reduce some of Alaska's emerging public health threats connected to diet. The risk of cardiovascular diseases, for example, is 11 percent less for those who actively commute, and students who live in walkable neighborhoods have a 59 percent lower chance of being obese.8)American Public Health Association, bit.ly/2h7SF0X Neighborhood design can strengthen public health policy aimed at reducing obesity by creating safe active transport options. Complete streets, designed to support biking and walking for all ages, and the compact design of smart growth, which makes walking and biking to goods, services, and social opportunities not only viable but pleasant, can provide the daily exercise needed to fight obesity and associated illnesses. Several communities across the country have already adopted or plan to adopt the use of smart streets and smart growth principles to fight childhood obesity, and promote healthy living generally.
Baldwin Park, a majority Latino-city near Los Angeles, used funding from the California Endowment and the Kaiser Permanente Community Health Program to create a program that connected public health policies with transportation infrastructure to combat childhood obesity. 9)Institute for Local Government, www.ca-ilg.org/sustainability-case-story/baldwin-park-adopts-one-strongest-complete-street-policies-nation Adopted by its City Council in 2011, Baldwin Park is currently implementing one of America's most comprehensive Complete Street policies to transform five major corridors into safe walking and biking options. Such designs and supportive policies can help to encourage healthier Alaskan communities through its built infrastructure.
Walkable design can be augmented with nutritional programming at complete schools to holistically promote healthy living. Including community kitchens, freezers, and gardens in schools can bring communities together to learn how to make wholesome cooking choices. The Council of Yukon First Nations include a number of suggested dietary programs in their Health Promotion Spring School's report. 10)Council of Yukon First Nations, www.aicbr.ca/ Providing community workshops on diabetes and grocery store choices, organizing cooking classes where elders teach youth and parents how to prepare nutritious meals, and hosting events that offer healthy food choices or center around garden harvests all bring community members together to support a healthful kitchen at home.
Many public health reports and policies focus on the younger generation, as they are often perceived as particularly vulnerable and requiring special attending as the pace of Arctic development increases. However, the Human Development Report highlights the greying of the population, the health needs of elderly people, many of whom are retired, to be a major emerging public health challenge. 11)Arja Rautio, Birger Poppel, and Kue Young. "Chapter 8 Human Health and Well-Being," Arctic Human Development Report: Regional Processes and Global Linkages. Edited by Yoan Nymand Larsen and Gail Fondahl There is much concern associated with the growing strains an aging population will have on the pension and health care system of Alaska – and for good reason. Nationally, the Congressional Budget Office reported that spending for Medicare and Medicaid accounted for 3 percent of GDP in 2009. By 2035, Medicare alone will increase to 8 percent. By 2080, 15. This national trend is mirrored in Alaska.12)US Congressional Budget Office, bit.ly/2zCMJDF
Aging in place instead of cost-intensive designated elderly or medical homes is one way to alleviate the economic difficulties of a growing older demographic sector while simultaneously promoting a healthier lifestyle for Alaskan elders. The benefits of schools as community centers and smart growth design support aging in place. 78 percent of adults between the ages of 50 and 64 prefer to reside in their current residence as they age rather than move into a retirement community.13)AARP Public Policy Institute, assets.aarp.org/rgcenter/il/beyond_50_communities.pdf But aging in place requires built infrastructure, laws, policies, and programs to foster neighborhoods and community centers where residents can live safely, autonomously, and comfortably regardless of age or income. Many communities lack this necessary built and service substructure, forcing older adults to abandon their homes, friends, and communities in favor of assisted living complexes.
Smart growth design provides housing at ground level or with elevators, wide hallways, communal green spaces, shared facilities, and goods and services within short walking or transit distances. To buttress this infrastructure, local programming at complete schools aims to reduce service fragmentation and create greater comfort and security for seniors through voluntary social work, education, socialization, nutrition and fitness programs, and legal advice. The Queens Community House's Neighborhood Intergenerational Chore and Errand Program connects school youth to seniors through services and social activities, which include shopping, laundry, and cooking, but also more costly needs like transportation and health care management.14)Queens Library, qchnyc.wordpress.com Such programming helps multigenerational neighborhoods thrive not only as senior-friendly communities, but also as places for young families who provide the labor for neighborhood facilities.
Fostering Safe Spaces to Share, Learn, and Preserve Alaskan Culture
In an age of globalization and urbanization, now more than ever before Alaskans are exposed to and interact with different cultures and identities. Public places act as spaces where cultures are learned, negotiated, and transformed, which then creates the overall socio-economic environments and systems that dictate daily life and adaptation in the Arctic. Schools are perhaps the best example of such spaces of identity interaction. Classrooms have the ability to break barriers of ethnic, class, religious, and gender groups to promote an atmosphere of understanding and learning amongst an increasingly diverse Alaskan youth sector. The design of school buildings and community programs that are inclusive of all members of society provide the tools needed to translate that ability into an actuality.
Alaskan schools have a particular challenge of overcoming a colonial history of discrimination and racism against native peoples, the legacy of which can still be seen and felt today. Including native designs in school buildings that acknowledge the rich Native Alaskan past and aesthetics instead of relying on imported, pre-formulated school plans from the south is one way to be culturally inclusive. Another is through supporting and creating spaces for elders to speak to both native and non-native youth about cultural values and practices. Sharing traditional knowledge and practice is not just a means of communicating individual experience; it is vital in preserving history through memories from different viewpoints, in understanding the human security threats from and adaptations needed for climate change; and in safeguarding a culturally rich future. This also includes the sharing and teaching of native languages.15)Peter Schweitzer, Peter Sköld, and Olga Ulturgasheva . "Chapter 3 Cultures and Identities," Arctic Human Development Report: Regional Processes and Global Linkages. Edited by Yoan Nymand Larsen and Gail Fondahl The first Arctic Social Indicators report, a 2010 follow-up study to the original Arctic Human Development Report, identified "language retention" as the single best indicator of cultural vitality. Alaska ranks low in this indicator – all but one Native language had a lower portion of speakers in 2007 than in 1997.16)Peter Schweitzer, Peter Sköld, and Olga Ulturgasheva . "Chapter 3 Cultures and Identities," Arctic Human Development Report: Regional Processes and Global Linkages. Edited by Yoan Nymand Larsen and Gail Fondahl The Inuit in the Eastern Canadian Arctic continue to keep native language retention at relatively high levels through the promotion of its use in schools and public programming. Building schools as complete communities that bring multiple generations together provides an opportunity to do the same in Alaska and ensure the survival of native culture.
In order to generate such health, cultural, economic, and educational benefits simultaneously, designing schools as indoor spaces of complete communities necessitates a multidisciplinary team. Educators, students, elders, public health workers, urban planners, community members, and financiers must work together to make the necessary investments in capital and ingenuity required for the transformation of schools from places of youth education into spaces of holistic human development in the Arctic.
Multigenerational Design for Intergenerational Communities
Today's generational schism in Alaska requires an inventive solution that facilitates interpersonal trust, educational development, and societal accountability between young and old. The demographic shifts noted by the Development Report demand a new way of thinking that cultivates a lifestyle founded on intergenerational respect and reliability, one that defines and conditions decisions that are mutually beneficial to all generations. Investment in the Arctic for the 21st Century must answer not just the tangible issues at hand, but must also address the deterioration of the very fibers that bind young and old communities together.
Following the smart growth design principles outlined in Part I of this series, establishing schools as centers of complete communities enables safe, equitable, and high-performing education in the north. Richard Rothstein, a top educational researcher, argues that, "two-thirds [of the quality of schools] is attributable to non-school factors."17)Richard Rothstein, www.epi.org/publication/ib286/ Such out-of-classroom influences include neighborhood quality and safety, available and affordable transportation options, accessibility of after-school programs, open space, and community. Combining smart growth and complete schools creates the best environment for support youth development and education, which in turn fosters the creative, educated, and locally dedicated workforce necessary for the sustainable economy that was described on Wednesday in Part II: Investing in Innovation.
Solutions like those advocated in this series that ameliorate several problems concurrently will increasingly become the most efficient and cost-effective norm for fostering more livable communities in an increasingly interconnected Arctic. Multidisciplinary problem solving for how we create places in the North can help to provide the physical environment that would make Alaska's globalization, urbanization, generational transformations a triumph rather than a terror. By entwining complementary local policy and design that buttress adequate public health, decent public education, an innovative economy, and universal accessibility, Alaska will be better prepared to confront its most immediate challenges to human development.
The future of the north will be determined by the choices of the youth and their aspirations and priorities – where, and what they choose to study, live, and work. Those choices, however, will be shaped by the infrastructure, economy, and society Alaska creates today. Investing in place, in innovation, and in community can provide the opportunities for leaders of today and of tomorrow to make the ultimate investment – that of environmentally sustainable and human-centric development for the Arctic.
| | | |
| --- | --- | --- |
| 1, 2. | ↑ | Timothy Heleniak. "Chapter 2 Arctic Populations and Migration," Arctic Human Development Report: Regional Processes and Global Linkages. Edited by Yoan Nymand Larsen and Gail Fondahl |
| 3. | ↑ | Diane Hirshberg and Angrey N. Petrov. "Chapter 9 Education and Human Capital," Arctic Human Development Report: Regional Processes and Global Linkages. Edited by Yoan Nymand Larsen and Gail Fondahl |
| 4. | ↑ | Melanie O'Gorman and Manish Pandey, www.csls.ca/events/cea2014/cea-papers-2014-pandey.pdf |
| 5. | ↑ | Kevin Sullivan, www.ncef.org/pubs/agewave.pdf |
| 6, 7, 11. | ↑ | Arja Rautio, Birger Poppel, and Kue Young. "Chapter 8 Human Health and Well-Being," Arctic Human Development Report: Regional Processes and Global Linkages. Edited by Yoan Nymand Larsen and Gail Fondahl |
| 8. | ↑ | American Public Health Association, bit.ly/2h7SF0X |
| 9. | ↑ | Institute for Local Government, www.ca-ilg.org/sustainability-case-story/baldwin-park-adopts-one-strongest-complete-street-policies-nation |
| 10. | ↑ | Council of Yukon First Nations, www.aicbr.ca/ |
| 12. | ↑ | US Congressional Budget Office, bit.ly/2zCMJDF |
| 13. | ↑ | AARP Public Policy Institute, assets.aarp.org/rgcenter/il/beyond_50_communities.pdf |
| 14. | ↑ | Queens Library, qchnyc.wordpress.com |
| 15, 16. | ↑ | Peter Schweitzer, Peter Sköld, and Olga Ulturgasheva . "Chapter 3 Cultures and Identities," Arctic Human Development Report: Regional Processes and Global Linkages. Edited by Yoan Nymand Larsen and Gail Fondahl |
| 17. | ↑ | Richard Rothstein, www.epi.org/publication/ib286/ |