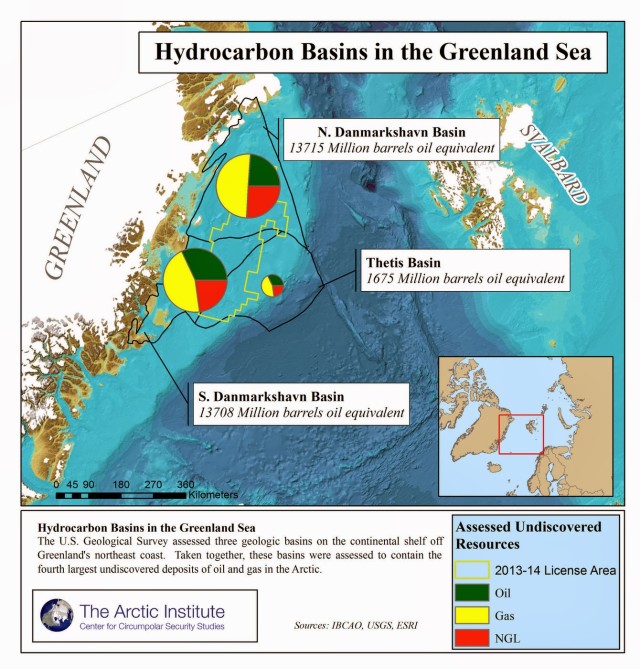 Hydrocarbon basins in the Greenland Sea. Map: The Arctic Institute
While development of oil and gas in Greenland has historically focused on offshore areas west of Greenland, the Bureau of Minerals and Petroleum of the Government of Greenland awarded the first oil and gas exploration and exploitation licenses for eastern Greenland on 20 December, 2013. The initial four licenses were awarded to three consortia of companies that have been involved in seismic exploration in the region since 1989. In addition, a further fifteen leases are under consideration for 2014.1)Government of Greenland, "Three consortiums are granted exploration and exploitation licenses in the Greenland Sea," Press Release, 20 December 2013. www.bmp.gl/index.php/petroleum/exploration-a-exploitation. While northeastern Greenland's continental shelf could potentially hold some of the largest undiscovered oil and gas resources in the Arctic, the region presents serious environmental, economic and political challenges to oil and gas exploration. These challenging conditions raise serious questions as to how economically, technically, and environmentally practical significant oil exploration and production can be in the Greenland Sea in the near future.
Greenland Sea oil and gas potential
In 2008, the U.S. Geological Survey ranked the East Greenland region 4th out of 25 oil and gas provinces in the Arctic in terms of hydrocarbon potential, estimating that the region contained up to 31,387 million barrels of oil equivalents in oil, gas and natural gas liquids.2)Circum-Arctic Resource Appraisal: Estimates of Undiscovered Oil and Gas North of the Arctic Circle, U.S. Geological Survey, 2008. pubs.usgs.gov/fs/2008/3049/. The region is separated into three distinct geological provinces: the North Danmarkshavn basin, the South Danmarkshavn basin, and the Thetis basin. The North and South Danmarkshavn basins are very similar to petroleum-bearing sequences in the Norwegian Sea with potential source rocks and petroleum traps. As such, these two basins were assessed to have a much higher potential for undiscovered hydrocarbons, though a significant portion of the reserves are projected to be gas and natural gas liquids (see map above).
Previous Oil and Gas Exploration: The Kanumas Project
Interest in Greenland's oil and gas potential has experienced many ups and downs over the past fifty years. Price spikes in the 1970s spurred exploration, though subsequent price declines and the lack of any significant finds caused international oil companies to lose interest.3)Andreas Østhagen, "Dimensions of Oil and Gas Development in Greenland," The Arctic Institute, 19 December 2012. www.thearcticinstitute.org/dimensions-oil-gas-development-greenland/. Accessed 1/2/2014. Additional licenses in western Greenland were offered in the early 2000s, but no major companies applied. In the face of tepid interest from the oil and gas industry, Denmark and Greenland sought to more actively promote the region's potential and encourage investment by directly funding extensive seismic exploration in promising areas. Rising oil prices in the middle 2000s helped to increase interest in Greenland's oil again, and in 2006 several major oil companies bid on licenses in Western Greenland, through exploration there to date has not revealed any promising prospects.
Interest and investment in northeastern Greenland has also proceeded through starts and stops over the past decades. Petroleum geologists suspected this region contained oil and gas long before the USGS's assessment in 2008. In 1989, Denmark granted a prospecting license to a consortium of companies to conduct initial petroleum exploration in areas offshore of western Greenland in the Greenland Sea. The consortium was known as the Kanumas project and consisted of ExxonMobil, Statoil, BP, Japan National Oil Compnay, Texaco, Shell and NUNAOIL.4)Government of Greenland, "Licensing rounds in the Greenland Sea Area," April, 2011. www.bmp.gl/images/stories/petroleum/exploration_exploitation/2012-13/BMP_Invitation_letter_North_East_Greenland.pdf, accessed 1/2/2014. Between 1990 and 1996, the project collected over 7000km of seismic data from extreme northern areas offshore of eastern and western Greenland. As part of the original prospecting licenses, consortium members were granted preferential bidding rights on any future exploration and exploitation licenses in these regions.5)Donald L. Gautier, "Oil and gas resources of northeast Greenland," GEO ExPro, October, 2011. The Kanumas Group did not exercise this right in western Greenland, but chose to exercise its preference right for leases in the Greenland Sea.
Oil and Gas Licensing in the Greenland Sea
In April, 2011, the Government of Greenland opened the current licensing round for exploration in the Greenland Sea. The process was divided into two rounds. In the first round, the Kanumas Group selected four license units, designated Avinngaq, Amaroq, Umimmak and Nerleq, located in the North and South Danmarkshavn basins (see map below). These leases were divided between three consortia:
Avinngaq was awarded to Statoil, ConocoPhilips and NUNAOIL
Amaroq was awarded to ENI, BP, DONG and NUNAOIL
Umimmak and Nerleq were awarded to Chevron, GreenPex, Shell and NUNAOIL.6)

Government of Greenland, "Three consortiums are granted exploration and exploitation licenses in the Greenland Sea," Press Release, 20 December 2013.
Challenging Ice Conditions
While these four licenses represent the greatest potential for oil and gas discoveries, the prevailing ice conditions in these areas will present extreme challenges to exploration activities. The entire region is ice covered for most of the year. Only in exceptional years has open water appeared throughout the license areas in August and September. Coincidentally, several exceptionally low ice years occurred in the early 1990s, facilitating the Kanumas seismic surveys that have been instrumental in describing the resource potential of the region and driving the push for more exploration.
The complex ice conditions in the license areas are due to their geographic location in the Fram Strait between Greenland and Svalbard. The Fram Strait is the deepest gateway between the Arctic and the rest of the world's oceans and is dominated by two alternating currents. The West Spitsbergen Current carries warm, salty water northward along the western Fram Strait toward the pole from the Norwegian Sea while the East Greenland Current brings cold, low salinity south from the Arctic Ocean along the east coast of Greenland. The East Greenland Current also transports significant amounts of multi-year ice from north of Greenland, where there is a ready supply of old ice, south along Greenland's coast. Around 10-15% of the Arctic's total ice mass is transported south through the Fram Strait each year.7)R. Kwok, G.F. Cunningham, and S.S. Pang, "Fram Strait sea ice outflow," Journal of Geophysical Research, 109(2004), 1.
Due to the cold East Greenland current and the import of multi-year ice, conditions vary dramatically between the eastern and western sections of the Fram Strait. Western sections of the Fram Strait nearest to Svalbard have witnessed a gradual retreat of ice extents over the preceding decades and see many more ice-free days than the eastern sections of the strait. While areas of the eastern Fram Strait on the margins of the license areas have seen an increase in the number of ice-free days in the summer since 2000, the northern sections have remained stubbornly ice-bound. An ice conditions report produced by the Danish Meteorological Institute for the Bureau of Minerals and Petroleum in 2011 concluded that the northern and western sections of the license area have averaged exactly zero ice free days per year between 2001 and 2010.8)KANUMAS MET/ICE/OCEAN Overview Report 2011, Danish Meteorological Institute, 2011. www.bmp.gl/images/stories/petroleum/exploration_exploitation/2012-13/EGRL_report_ver05.pdf. Accessed 1/2/2014. 'Ice free' is defined as ice concentrations of less than 30%. In 2013, several areas of open water formed in areas covered by the licenses in July and August, though these areas closed quickly in early September (see map above). Extensive ice coverage, the presence of multi-year ice and year-to-year variability in ice conditions will make it difficult and expensive to conduct exploration activities in the region under the current ice regime. Drilling operations will likely require extensive ice management by supporting icebreakers, significantly increasing logistical costs.
Political and Economic Considerations
The Bureau of Minerals and Petroleum initiated the current leasing round in April, 2011, and planned to awarded licenses in the first round by March, 2013. This schedule was complicated by Greenland's elections in March, 2013, during which the ruling party lost out to a new coalition headed by the Siumut party. The new government of Prime Minister Aleqa Hammond expressed disapproval for the rapid pace of oil and gas exploration in Greenland and hesitated to move forward on new oil and gas leases. Increased oversight of offshore operations was promised, and the Kanumas leases were put on hold.9)Terry Macalister, "Greenland halts new oil drilling licenses," The Guardian, March 27, 2013. In May, industry and minerals minster Jens-Erik Kirkegaard clarified his government's position, saying that new oil exploration licenses would be issued as old ones expired.10)Clemens Bomsdorf, "Greenland minister: Will issue new oil exploration licenses," Rigzone, 17 May, 2013. The current government's hesitancy on oil and gas exploration reflects the divided opinions of Greenlanders in general on the quickening pace of oil and gas development.11)Philip Reeves, "Greenlanders divided on Arctic oil, gas exploration," NPR, 17 August 2011. www.npr.org/2011/08/17/139696551/greenlanders-divided-on-arctic-oil-gas-exploration, Accessed 1/2/2014. The new government may also be seeking to prioritize mining development over oil and gas exploration, seeing more potential for revenue in minerals, and also more active interest from mining concerns.12)Peter Stanners, "Premier: Greenland's future lies underground," The Copenhagen Post, 18 April 2013. cphpost.dk/news/premier-greenlands-future-lies-underground.5002.html, accessed 1/3/2014. That said, the current government is interested in the potential revenues that oil and gas development can bring as a way to develop more financial independence from Denmark. After initial cautiousness, it is likely that the current government will continue to promote oil and gas development in Greenland while simultaneously looking to increase oversight and accountability.
Hammond's government has also suggested that changes to Greenland's oil and gas fiscal regime are currently being contemplated. Upon taking office, Hammond stated that she would push to incorporate royalty payments for mineral licenses going forward, a significant change from the previous fiscal regime that relied solely on corporate taxes.13)Clemens Bomsdorf, "Greenland to charge exploitation royalties," The Wall Street Journal, 27 March 2013. www.wsj.com/articles/SB10001424127887324685104578386631474672010, accessed 1/3/2014. Ernst and Young, "Greenland – The new frontier," Oil and Gas Alert. A government panel has been formed to reevaluate Greenland's resource tax structure, and it is possible that the government will decide to assess a royalty on oil and gas production, perhaps along with reductions in the marginal corporate tax rate.14)Ernst and Young, "Greenland announces Parliamentary election on 12 March 2013 and appointment of committee to address taxation of mineral resources," Global Tax Alert, 12 February 2013. www.ey.com/GL/en/Services/Tax/International-Tax/Alert–Greenland-announces-Parliamentary-election-on-12-March-2013-and-appointment-of-committee-to-address-taxation-of-mineral-resources, accessed 1/3/2014. It is likely that continued uncertainty will further delay investment in exploration and extraction until fiscal conditions are better defined.15)The Economic Council, "The Economy of Greenland 2013," September, 2013.
Finally, global petroleum markets may make exploitation of oil and gas deposits in the Greenland Sea unfeasible in the near and mid-term. Due to the remote location, lack of oil and gas support infrastructure and challenging operating conditions, exploration and development of any oil and gas fields in the Greenland Sea will require extensive investment. Statoil has had to delay production of the Johan Castberg field in the Norwegian Barents Sea due to high costs of development. The Castberg field is suspected to contain 600 million barrels of oil, is in an ice-free region of the Barents Sea and is relatively close to oil and gas infrastructure in Norway.16)"Statoil recommends Johan Castberg project delay," Oil and Gas Journal, 5 June, 2013. www.ogj.com/articles/2013/06/statoil-recommends-johan-castberg-project-delay.html, accessed 3 January 2014. The lesson here is that even large proven reserves of oil are not enough to make Arctic oil and gas developments economically feasible, even in less remote regions such as Norway's Barents Sea. In the near term, other investment opportunities may appear more attractive to international oil companies than pursuing Greenland Sea oil and gas. ExxonMobil withdrew its application for Greenland Sea licenses in early December, 2013, amid speculation that it was refocusing on more promising investments in North American unconventional oil and gas and a burgeoning partnership with Rosneft in Arctic Russia.17)Kevin McGwin, "If ExxonMobil speaks, will oil industry listen?" Arctic Journal, 12 December 2013. The Arctic Journal went offline in June 2017. Additionally, even a slight downward trend in oil prices could have a significant impact on the profitability of such marginal projects.
Conclusion
While this round of licensing has attracted major companies such as Statoil, Chevron, BP and Shell, it is unlikely that oil prospects in the Greenland Sea will allow Greenland to break free of the boom and bust cycle of exploration and investment and finally achieve sustainable oil and gas development anytime in the near future. Significant challenges stand in the way. First, while the USGS assessment is promising, exploratory drilling will need to identify oil in sufficient quantities to warrant the extraordinary investment that will be required to bring it to market. Second, while global warming continues to improve conditions for oil and gas exploration in the Arctic, the peculiar geography of northeast Greenland means that ice conditions will continue to be challenging for the foreseeable future. Operations in northeast Greenland will thus remain expensive, technically challenging and risky. Third, while the political will seems to exist in Greenland to support oil and gas development, significant fiscal and regulatory details remain vague. Until these are resolved, and resolved to the satisfaction of oil and gas companies, this uncertainty will continue to be a barrier to investment.
Finally, there is the issue of economic feasibility. The most recent flood of interest in Greenland's oil flowered before the unconventional oil and gas revolution began upending global supplies, prices and investment. Was ExxonMobil's departure from the stage an isolated case, or the canary in the coal mine? The remaining companies with licenses in the Greenland Sea, and those that have submitted applications for the upcoming round, likely see the region as a long term prospect. Licensed companies will devote the subsequent years to additional seismic surveys to better define the prospects, while also developing a better understanding of the region's ice dynamics that will dictate operations in future years. Eventual production of oil and gas in the Greenland Sea is far from certain at this point, and will depend on the development of these political and economic factors over the coming years.
| | | |
| --- | --- | --- |
| 1. | ↑ | Government of Greenland, "Three consortiums are granted exploration and exploitation licenses in the Greenland Sea," Press Release, 20 December 2013. www.bmp.gl/index.php/petroleum/exploration-a-exploitation. |
| 2. | ↑ | Circum-Arctic Resource Appraisal: Estimates of Undiscovered Oil and Gas North of the Arctic Circle, U.S. Geological Survey, 2008. pubs.usgs.gov/fs/2008/3049/. |
| 3. | ↑ | Andreas Østhagen, "Dimensions of Oil and Gas Development in Greenland," The Arctic Institute, 19 December 2012. www.thearcticinstitute.org/dimensions-oil-gas-development-greenland/. Accessed 1/2/2014. |
| 4. | ↑ | Government of Greenland, "Licensing rounds in the Greenland Sea Area," April, 2011. www.bmp.gl/images/stories/petroleum/exploration_exploitation/2012-13/BMP_Invitation_letter_North_East_Greenland.pdf, accessed 1/2/2014. |
| 5. | ↑ | Donald L. Gautier, "Oil and gas resources of northeast Greenland," GEO ExPro, October, 2011. |
| 6. | ↑ | Government of Greenland, "Three consortiums are granted exploration and exploitation licenses in the Greenland Sea," Press Release, 20 December 2013. |
| 7. | ↑ | R. Kwok, G.F. Cunningham, and S.S. Pang, "Fram Strait sea ice outflow," Journal of Geophysical Research, 109(2004), 1. |
| 8. | ↑ | KANUMAS MET/ICE/OCEAN Overview Report 2011, Danish Meteorological Institute, 2011. www.bmp.gl/images/stories/petroleum/exploration_exploitation/2012-13/EGRL_report_ver05.pdf. Accessed 1/2/2014. 'Ice free' is defined as ice concentrations of less than 30%. |
| 9. | ↑ | Terry Macalister, "Greenland halts new oil drilling licenses," The Guardian, March 27, 2013. |
| 10. | ↑ | Clemens Bomsdorf, "Greenland minister: Will issue new oil exploration licenses," Rigzone, 17 May, 2013. |
| 11. | ↑ | Philip Reeves, "Greenlanders divided on Arctic oil, gas exploration," NPR, 17 August 2011. www.npr.org/2011/08/17/139696551/greenlanders-divided-on-arctic-oil-gas-exploration, Accessed 1/2/2014. |
| 12. | ↑ | Peter Stanners, "Premier: Greenland's future lies underground," The Copenhagen Post, 18 April 2013. cphpost.dk/news/premier-greenlands-future-lies-underground.5002.html, accessed 1/3/2014. |
| 13. | ↑ | Clemens Bomsdorf, "Greenland to charge exploitation royalties," The Wall Street Journal, 27 March 2013. www.wsj.com/articles/SB10001424127887324685104578386631474672010, accessed 1/3/2014. Ernst and Young, "Greenland – The new frontier," Oil and Gas Alert. |
| 14. | ↑ | Ernst and Young, "Greenland announces Parliamentary election on 12 March 2013 and appointment of committee to address taxation of mineral resources," Global Tax Alert, 12 February 2013. www.ey.com/GL/en/Services/Tax/International-Tax/Alert–Greenland-announces-Parliamentary-election-on-12-March-2013-and-appointment-of-committee-to-address-taxation-of-mineral-resources, accessed 1/3/2014. |
| 15. | ↑ | The Economic Council, "The Economy of Greenland 2013," September, 2013. |
| 16. | ↑ | "Statoil recommends Johan Castberg project delay," Oil and Gas Journal, 5 June, 2013. www.ogj.com/articles/2013/06/statoil-recommends-johan-castberg-project-delay.html, accessed 3 January 2014. |
| 17. | ↑ | Kevin McGwin, "If ExxonMobil speaks, will oil industry listen?" Arctic Journal, 12 December 2013. The Arctic Journal went offline in June 2017. |