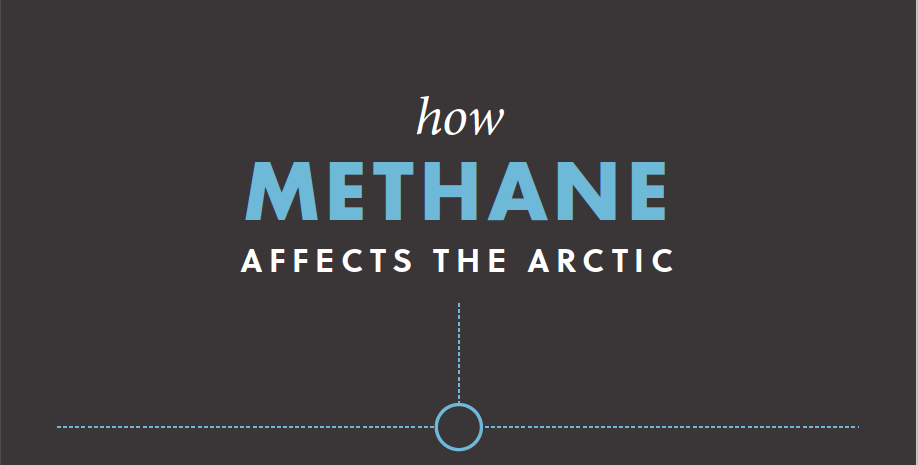 The Arctic is warming twice as fast as the global average, making climate change's polar effects more intense than anywhere else in the world. Some scientific projections show that the North Pole will have completely ice free summers by 2050. While a jarring image to imagine, climate change is transformative as its consequences reach much further than receding sea ice. The Arctic Institute's Beyond the Melt project explores the hidden side of Arctic climate change. Delving into issues as far ranging as persistent organic pollutants, methane energy sources, and warm-weather diseases, our research team uncovers, analyses, and shares the unexpected challenges and opportunities of a rapidly changing Arctic.
Climate change is about more than just carbon emissions. Globally, methane (CH4) is the second most emitted greenhouse gas. And though its lifespan in the atmosphere is much shorter than carbon dioxide, its impact on climate change is 25 times greater over a 100-year period.
While most greenhouse gases are emitted south of the Arctic Circle in major cities and centers of industry, methane is found naturally in large amounts in the circumpolar north. There are two types of methane in the Arctic. The first source, methyl clathrate, is found on the seabeds of the Arctic Ocean. Methyl clathrates are molecules of methane that are frozen into ice crystals through high pressure and low temperatures. Immense reserves of methane exist in clathrate formations on the continental seabeds. Up to 2008, it was widely believed that global warming would not significantly affect the intermediate water where most clathrate deposits exist. However, with emerging reports that water may be warming at depths not previously seen, there is a growing concern that clathrate deposits in the Arctic will destabilize and release massive amounts of both methane and carbon into the Earth's atmosphere. This is known as the clathrate gun hypothesis.
But underwater methane isn't the only concern in the Arctic. Methane is also found in the organic matter frozen in permafrost. Methane trapped in the Arctic tundra comes primarily from microbial decomposition of organic matter in soil that thaws and grows seasonally as the cold climate traps more plants and animals below the topsoil and prevents decomposition. Permafrost covers 24 percent of the surface of land masses in the northern hemisphere and accounts for nearly half of all organic carbon stored within the planet's soil. As long as this organic matter remains frozen, it will stay trapped in the permafrost. However, if it thaws, microbes will begin to eat the material, causing it to decay, and releasing carbon dioxide and methane into the atmosphere. Even if only a small fraction is released, it will have major consequences on not only the Arctic, but Earth's entire climate system.
As the climate warms, this thawing process has begun. Permafrost temperatures are rising at a much faster rate than the temperature of the air in the Arctic, and have risen between 1.5 to 2.5 degrees Celsius in the last 30 years. As a result, permafrost layers are melting. A 3 degree Celsius increase in global temperatures could melt 30 to 85 percent of the top permafrost layers. If these top layers continue to melt, the vast carbon reservoirs might release into the atmosphere either as carbon or methane, intensifying global climate change.
Such a release is dangerous not only because of its much larger potency, but because methane release is a positive feedback loop. More global warming will cause more thawing of Arctic permafrost, leading to more emissions of methane and carbon dioxide in the atmosphere, leading to more warming and more thawing of Arctic permafrost. Such releases could easily overwhelm critical vulnerabilities in vital systems, be they ecosystems, food production, transportation, infrastructure, or social systems.
There have been a number of recent studies on Arctic methane, including a 2015 research project by the Arctic University of Norway that shows that deep water Arctic gas hydrates can be a reservoir for abiotic methane. Another 2015 National Academy of Sciences study that found methane emissions in the Arctic's cold season were considerably higher than previously assumed. As more research is being done by teams like the Study for Environmental Arctic Change (SEARCH), the Arctic Institute has created an infographic as a go-to guide for understanding methane in the circumpolar north. Methane release, and its effects on vulnerable communities, regional stability, and energy markets in the Arctic is irreversible. As part of the Beyond the Melt project, Institute fellows and external experts will be applying these new scientific findings to what they mean for communities, economies, and circumpolar security.