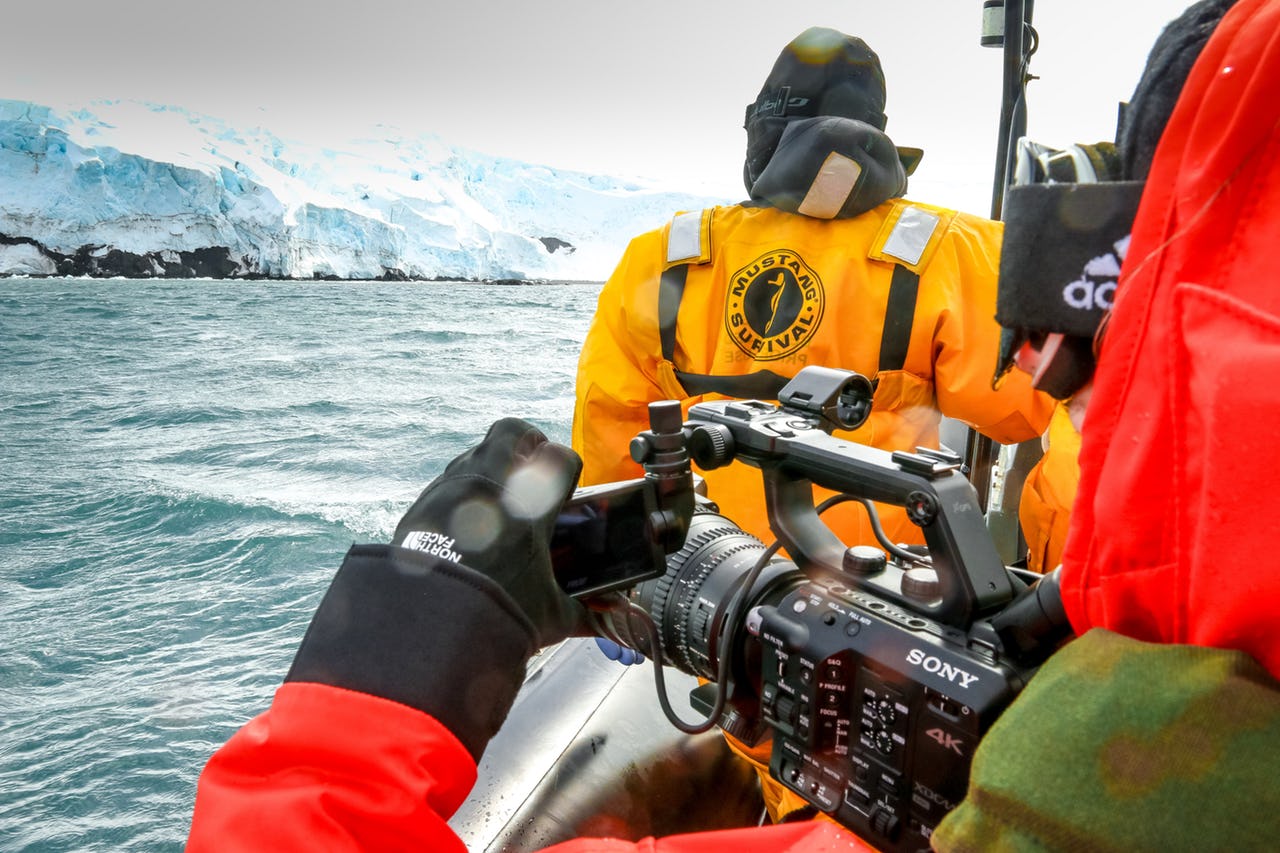 IMO filming in Antarctica on board a Chilean navy zodiac. Photo: IMO
A new film by the International Maritime Organization (IMO) has been launched, showing how the International Code for Ships Operating in Polar Waters (Polar Code) supports safe and environmentally-friendly shipping in the Arctic and Antarctic waters. With more and more ships navigating in polar waters, IMO has moved to address international concern about the protection of the polar environment and the safety of seafarers and passengers with the introduction of new regulations that all ships operating in these harsh and challenging waters must comply with.
The mandatory Polar Code, for ships operating in Arctic and Antarctic waters, entered into force on 1 January 2017, marking a historic milestone in the work of the IMO to address this key issue. Its requirements, which were specifically tailored for the polar environments, go above and beyond those of existing IMO conventions such as MARPOL and SOLAS, which are applicable globally and will still apply to shipping in polar waters.
To make the new film, an IMO team visited the Ocean Diamond cruise-ship en voyage in the Antarctic, to find out at first-hand what the Code means for ships like this. As Ocean Diamond's captain Oleg Klaptenko confirmed, operating in Polar waters is the ultimate test of his ship, and his skills as a professional seafarer.
The film like the Code, is seen as a major achievement in IMO's work to promote safe and sustainable shipping in all regions of the world, including the most challenging and difficult.
---
Karine Langlois has been working for the United Nations for over ten years, including the International Atomic Energy Agency, and the United Nations Office on Drugs and Crime. She is now holding the role of IMO's Social Media and Communications Officer where she manages social media channels, runs global campaigns and produces audio-visual material. You can reach Karine here.