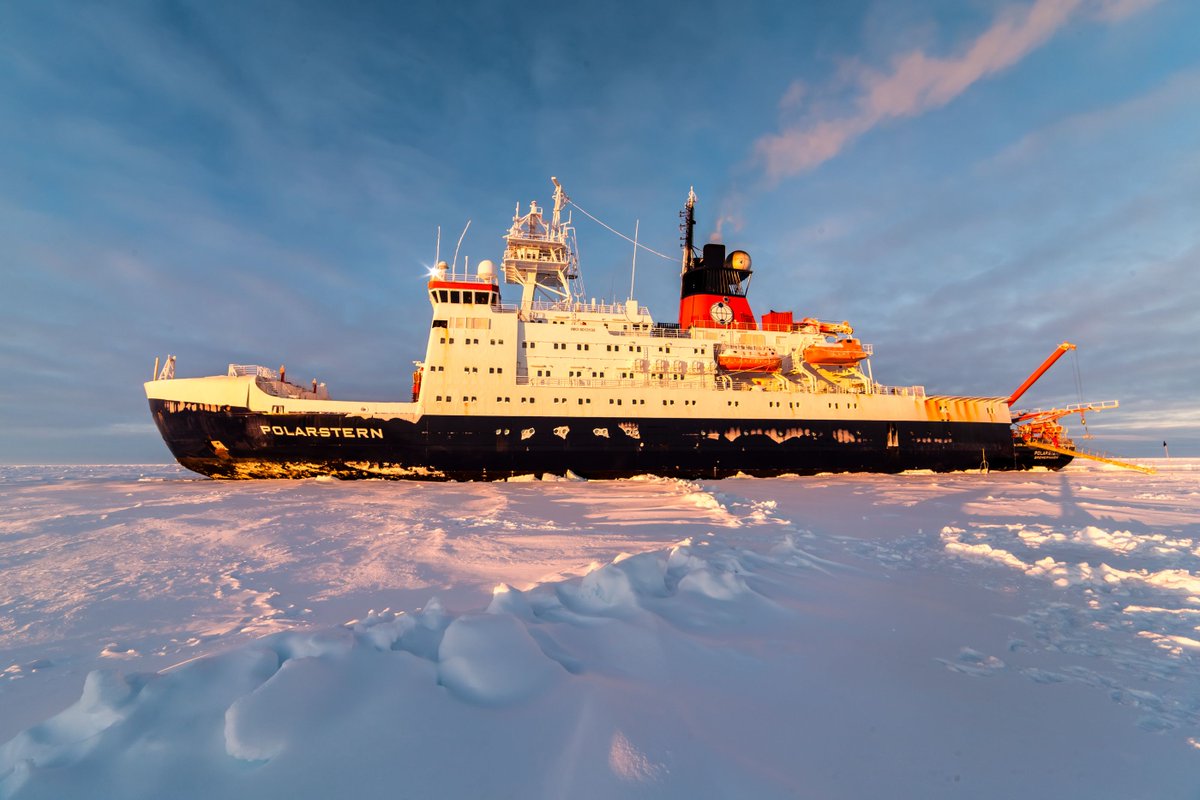 The German research icebreaker Polarstern. Photo: Alfred Wegener Institute, Twitter
The research icebreaker Polarstern of the German Alfred-Wegener-Institut for Polar and Marine Research (AWI) reached the North Pole early on August 22nd. The ship's journey into the Canadian Arctic began in Norway a few weeks ago and the ship did not encounter thick pack ice until August 9th. In contrast to previous voyages in 1991 and 2001 the Polarstern is able to operate without additional icebreaker support. The absence of the ice sheet in many areas of the Arctic and the decline of the overall thickness of the ice also allows for a direct passage across the pole into the Canadian Arctic archipelago.
The Polarstern carries 55 scientists from six different countries conducting a "Study on the Changing Nature of the Arctic Ocean." Besides ice observations the study examines water samples and sediment cores. The goal of the study is to gain a better understanding how increasing amounts of fresh water, differing ocean currents, and changing ice conditions have affected the Arctic food chain.
On its voyage the ship measured an average ice thickness of 0.9 meters. This rivals figures from 2007 when the Arctic witnessed a record low ice extent. In contrast the Polarstern observed an average thickness of more than 2 meters back in 2001 during its second voyage to the North Pole.
The continued thinning of the ice renders it more vulnerable to solar radiation, ocean currents, and wind patterns. Ice above 1 meter in thickness usually survives the Arctic summer unless it is pushed into the North Atlantic by unfavorable wind conditions.
According to the AWI the ice encountered by the Polarstern is comparably thin, young, and unstable. In contrast to previous years, when thicker multi-year ice predominated the area around the pole, older ice currently only constitutes 10-20 % of the ice. Hence, the Polarstern has been able to break through the pack ice faster than expected. It has also come across several large areas of open water allowing it to travel at the relatively high speed of 3-6 knots.
The Polarstern first reached the North Pole on September 7, 1991 together with the Swedish research icebreaker Oden: the first conventionally powered vessels to reach the northernmost point on the planet. Almost 10 years later, on September 6, 2001, the Polarstern, conducting a joint expedition with the American icebreaker Healy, reached the North Pole for the second time.
After conducting research along the Canadian Basin the ship will travel through the Siberian Sea and is expected to return to Bremerhaven, Germany on October 7.