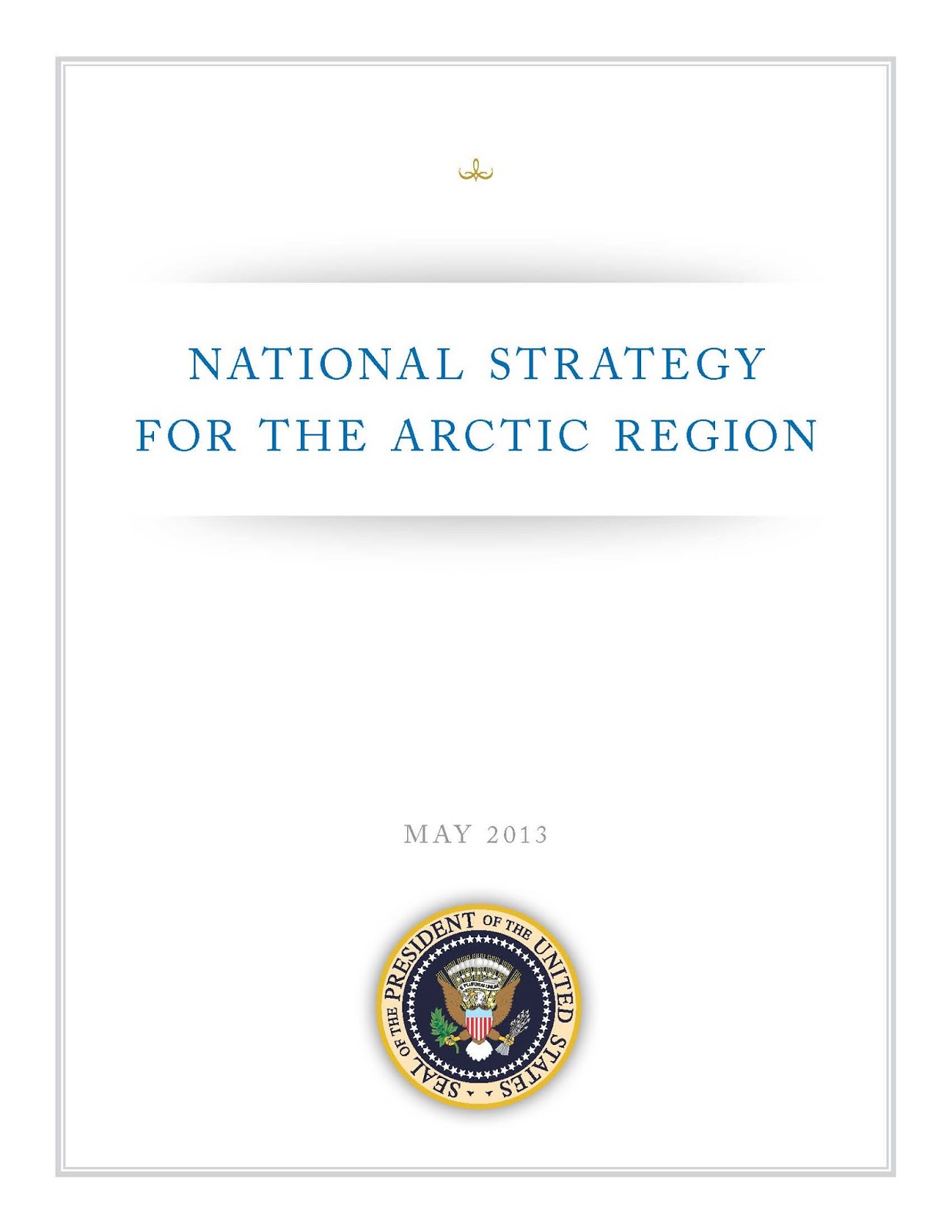 Photo: The White House
The White House revealed the much anticipated national strategy for the Arctic region less than a week before Secretary of State John Kerry heads to the Arctic Council ministerial meeting in Kiruna. The document lays out the administration's strategic priorities for the region with the stated goal of positioning the U.S. "to respond effectively to emerging opportunities – while simultaneously pursuing efforts to protect and conserve this unique environment."1)Cogswell, Patricia, "National Strategy for the Arctic Region Announced," White House, May 10, 2013, www.whitehouse.gov/blog/2013/05/10/national-strategy-arctic-region-announced.
Why is the strategy important?
Until this document was released, U.S. policy-making in the Arctic was guided by a rather brief and vague presidential directive (NSPD-66) adopted in 2009 in the waning days of the Bush Administration. Arctic policy observers and stakeholders have long called on the U.S. to start thinking strategically about this rapidly changing and increasingly important region. In a July 2012 letter to President Obama, Alaska senators Begich and Murkowski pressed the administration to deliver a formal strategy document that guides future Arctic development and "ties together all the individual agency policies and visions."2)Begich, Mark and Lisa Murkowski, "Letter to the President," July 11, 2012 Articulating such a strategy is also a necessary first step in a much needed process to coordinate and streamline the activities of the more than twenty federal departments and agencies involved in Arctic policy-making.3)Conley, Heather, Terry Toland, Mihaela David, and Natalja Jegorova, "The New American Foreign Policy Frontier: U.S. Interests and Actors in the Arctic," Center for Strategic and Internation Studies, March 2013, 14, csis.org/files/publication/130307_Conley_NewForeignPolFrontier_Web_0.pdf. Lastly, the risk of inaction looms large. In the strategy document, the administration acknowledges that an "undisciplined approach to exploring new opportunities in this frontier could result in significant harm to the region, to our national security interests, and to the global good."4)White House, "National Strategy for the Arctic Region," May 10, 2013, 4, obamawhitehouse.archives.gov/sites/default/files/docs/nat_arctic_strategy.pdf. In other words, this strategy is long overdue.
What are the key priorities and objectives?
In laying out its strategy, the Obama administration has identified and prioritized three lines of effort: "to protect U.S. national and homeland security interests, promote responsible stewardship, and foster international cooperation."5)White House, "National Strategy for the Arctic Region," May 10, 2013, 5. The strategy document also details a series of supporting objectives for each of these priorities.
The U.S. aims to protect and advance national security interests in the Arctic region by:
enhancing regional infrastructure and strategic capabilities;
improving "Arctic domain awareness," including sharing maritime information;
"preserving freedom of the sea" and navigational safety;
"responsibly developing" Arctic oil and gas resources to ensure energy security.6)

White House, "National Strategy for the Arctic Region," May 10, 2013, 6-7.
To pursue responsible stewardship of the Arctic region and protects the fragile environment, the U.S. will prioritize:
assessing and monitoring ecosystems and environmental challenges;
adopting an Integrated Arctic Management approach to natural resource management;
increasing national and international scientific research efforts and use of traditional knowledge; and
charting and mapping the Arctic ocean, waterways, and coastal areas."7)

White House, "National Strategy for the Arctic Region," May 10, 2013, 7-8.
Finally, the administration will seek to strengthen international cooperation by:
cooperating with other Arctic states based on common interests and shared values;
utilizing the Arctic Council as a forum to "advance U.S. interests";
supporting the ratification of the Law of the Sea Convention; and
cooperating with other interested parties, such as non-Arctic states or the International Maritime Organization (IMO).8)

White House, "National Strategy for the Arctic Region," May 10, 2013, 9-10.
In addition to the aforementioned strategic priorities, the document also outlines the guiding principles that will inform Arctic policy-making in the next decade:
maintaining and sustaining peace and stability in the region;
basing decisions on the best available scientific information and traditional knowledge;
pursuing innovative arrangements, including public-private and multinational partnerships;
developing policies in close consultation and coordination with Alaska Natives.9)

White House, "National Strategy for the Arctic Region," May 10, 2013, 3.
What is missing?
A robust strategy should, at the very least, identify future capability needs and priority areas, and lay out specific implementation objectives. Ideally, the outlined objectives should be SMART: specific, measurable, attainable, relevant and time-bound.
Using these criteria, the U.S. strategy for the Arctic falls short in many regards. First and foremost, it lacks in specificity. While the 13-page document is a clear departure from the notably brief and vague NSPD-66 and other previous articulations of Arctic policy, it does not lay out specific initiatives or projects that might be pursued to achieve the various objectives identified within.
For example, the administration has acknowledged the need to develop regional infrastructure and strategic capabilities in order to adequately exercise sovereignty over this remote region and perform responsibilities such as search and rescue or oil spill response.10)White House, "National Strategy for the Arctic Region," May 10, 2013, 6. However, there is no mention of specific plans to upgrade the inadequate and outdated icebreaker fleet, to build physical infrastructure such as deep-water ports, or to invest in facilities and equipment for the Coast Guard's operations in Alaska's northern region. No budget information is included, nor a timeline for implementation. Similarly, no implementation details are offered for the rather vague objective of improving Arctic domain awareness by "[enhancing] sea, air, and space capabilities."11)White House, "National Strategy for the Arctic Region," May 10, 2013, 6.
Furthermore, the majority of objectives set out cannot be considered attainable until adequate funding is allocated to meet the various infrastructure, capabilities, and research needs. Without a clear budgetary plan, this strategy becomes nothing more than a lengthy wish list. In fact, investment decisions and budgetary allocations will be the best indicator of actual policy priorities. One potential pitfall is that long-term budget planning is more appropriate for large investments, but budgetary allocations will most likely be the subject of heated debate each fiscal year as federal agencies and departments scramble to devote their limited resources to a growing number of pressing nation-wide challenges.
Whether specific objectives are attainable also depends on how mutually reinforcing the goals are. One area in which competing objectives might pose a problem is natural resource management. Beyond expressing a commitment to environmentally responsible development of Arctic oil and gas resources, there is no clear indication of the U.S. government's desired pace or extent of natural resource exploration in the Arctic. Instead, the administration committed itself to establish and institutionalize an "Integrated Arctic Management approach" to manage natural resources, following the recommendations provided by the Interagency Working Group on Coordination of Domestic Energy Development and Permitting in Alaska in its April 2013 report to the President.12)Hayes, David. "New National Arctic Strategy Adopts Integrated Arctic Management," Department of the Interior, May 10, 2013, edit.doi.gov/blog/new-national-arctic-strategy-adopts-integrated-arctic-management. This mechanism seeks to integrate and reconcile key stakeholders' competing interests — regarding economic development, environmental protection, and cultural values — and tends to emphasize science-based decision making. However, the inherent uncertainty in using this mechanism makes it difficult to predict the future level of economic development and impedes the government and the private sector from planning and investing resources accordingly.
Another gap in this strategy is the failure to assign tasks and responsibilities to specific federal departments and agencies. For example, the scientific and exploratory research agenda laid out in this strategy could fall under the remit of several federal agencies, including the National Oceanic and Atmospheric Administration (NOAA), the National Science Foundation (NSF) and the U.S. Geological Survey (USGS), as well as a number of research institutions such as the National Snow and Ice Data Center (NSIDC). Furthermore, the document acknowledges that international scientific collaboration could potentially reduce duplication of efforts and better leverage resources.13)White House, "National Strategy for the Arctic Region," May 10, 2013, 8. However, there is no mention of specific international partners or collaboration projects in this respect.
It is clear that what is necessary as a companion to this strategy is a comprehensive implementation plan with specific investment projects, responsible agencies, allocated budgets, detailed timelines, and evaluation criteria. According to White House officials, the administration does have plans to develop such documents in the coming months, after consultation with key stakeholders in Alaska.14)Cogswell, Patricia, "National Strategy for the Arctic Region Announced," White House, May 10, 2013, www.whitehouse.gov/blog/2013/05/10/national-strategy-arctic-region-announced. It remains to be seen if these addendums to the strategy document will provide the specificity and organizational structure required to coordinate and streamline Arctic policy-making. Most importantly, time will also reveal whether the administration is willing to back up its strategy with adequate fiscal resources.
What specific measures and mechanisms were mentioned?
In certain areas, the administration did lay out specific goals or measures that it would pursue to accomplish some of its objectives. For instance, to ensure navigational safety, the government commits itself to developing management regimes for Arctic waterways, including "traffic separation schemes, vessel tracking, and ship routing."15)White House, "National Strategy for the Arctic Region," May 10, 2013, 7. Such initiatives would be achieved in partnership with other Arctic states and stakeholders, and this cooperation would presumably result in "innovative, low-cost solutions," though no further specifics are offered.16)White House, "National Strategy for the Arctic Region," May 10, 2013, 7.
The administration also plans to advance understanding of environmental changes in the region through scientific exploration and research and use of traditional knowledge. The document specifically identifies several research priorities:
the role of land ice in changing sea level;
the role of sea-ice in global climate;
biodiversity and Arctic peoples; and
the effects of thawing permafrost on infrastructure and climate.17)

White House, "National Strategy for the Arctic Region," May 10, 2013, 8.
While specifics are scarce regarding implementation mechanisms, the strategy document emphasizes "collaborative international efforts, coordinated investments, and public-private partnerships" as the means to achieve the objectives set out.18)White House, "National Strategy for the Arctic Region," May 10, 2013, 4. It also mentions the federal government's intention to "[leverage] expertise, resources, and cooperation from the State of Alaska, Alaska Natives, and stakeholders across the entire nation and throughout the international community" to achieve successful implementation.19)White House, "National Strategy for the Arctic Region," May 10, 2013, 4. The upcoming roundtable discussions in Alaska are an example of high-level Administration officials seeking input for the implementation plan from interested stakeholders such as indigenous groups and industry representatives.
What are the takeaways?
Despite a good faith effort at articulating policy priorities and formulating mutually-reinforcing objectives, the U.S. Arctic strategy remains as elusive as a mirage on the Arctic ice-sheet. The strategy is toothless in the absence of a comprehensive implementation strategy and long-term budgetary plan.
What the strategy does succeed in doing is signaling to U.S. citizens, other Arctic states, and the international community that the U.S. acknowledges its roles and responsibilities in the Arctic, that it thinks strategically about the future of the region, and that the administration intends to make Arctic policymaking more of a priority than it has in the past.
If the administration follows through with necessary future steps — a more streamlined interagency process, better leadership, adequate funding, evaluation of the policy implementation — then this strategy document could form the basis for a responsible, principled, and collaborative U.S. engagement in the Arctic that meets both national interests and shared regional goals. The alternative scenario is a fragmented, unfocused, and inadequate policy through which the U.S. cedes leadership in the region and foregoes many of the opportunities that other Arctic states will be prepared to seize.
| | | |
| --- | --- | --- |
| 1, 14. | ↑ | Cogswell, Patricia, "National Strategy for the Arctic Region Announced," White House, May 10, 2013, www.whitehouse.gov/blog/2013/05/10/national-strategy-arctic-region-announced. |
| 2. | ↑ | Begich, Mark and Lisa Murkowski, "Letter to the President," July 11, 2012 |
| 3. | ↑ | Conley, Heather, Terry Toland, Mihaela David, and Natalja Jegorova, "The New American Foreign Policy Frontier: U.S. Interests and Actors in the Arctic," Center for Strategic and Internation Studies, March 2013, 14, csis.org/files/publication/130307_Conley_NewForeignPolFrontier_Web_0.pdf. |
| 4. | ↑ | White House, "National Strategy for the Arctic Region," May 10, 2013, 4, obamawhitehouse.archives.gov/sites/default/files/docs/nat_arctic_strategy.pdf. |
| 5. | ↑ | White House, "National Strategy for the Arctic Region," May 10, 2013, 5. |
| 6. | ↑ | White House, "National Strategy for the Arctic Region," May 10, 2013, 6-7. |
| 7. | ↑ | White House, "National Strategy for the Arctic Region," May 10, 2013, 7-8. |
| 8. | ↑ | White House, "National Strategy for the Arctic Region," May 10, 2013, 9-10. |
| 9. | ↑ | White House, "National Strategy for the Arctic Region," May 10, 2013, 3. |
| 10, 11. | ↑ | White House, "National Strategy for the Arctic Region," May 10, 2013, 6. |
| 12. | ↑ | Hayes, David. "New National Arctic Strategy Adopts Integrated Arctic Management," Department of the Interior, May 10, 2013, edit.doi.gov/blog/new-national-arctic-strategy-adopts-integrated-arctic-management. |
| 13, 17. | ↑ | White House, "National Strategy for the Arctic Region," May 10, 2013, 8. |
| 15, 16. | ↑ | White House, "National Strategy for the Arctic Region," May 10, 2013, 7. |
| 18, 19. | ↑ | White House, "National Strategy for the Arctic Region," May 10, 2013, 4. |