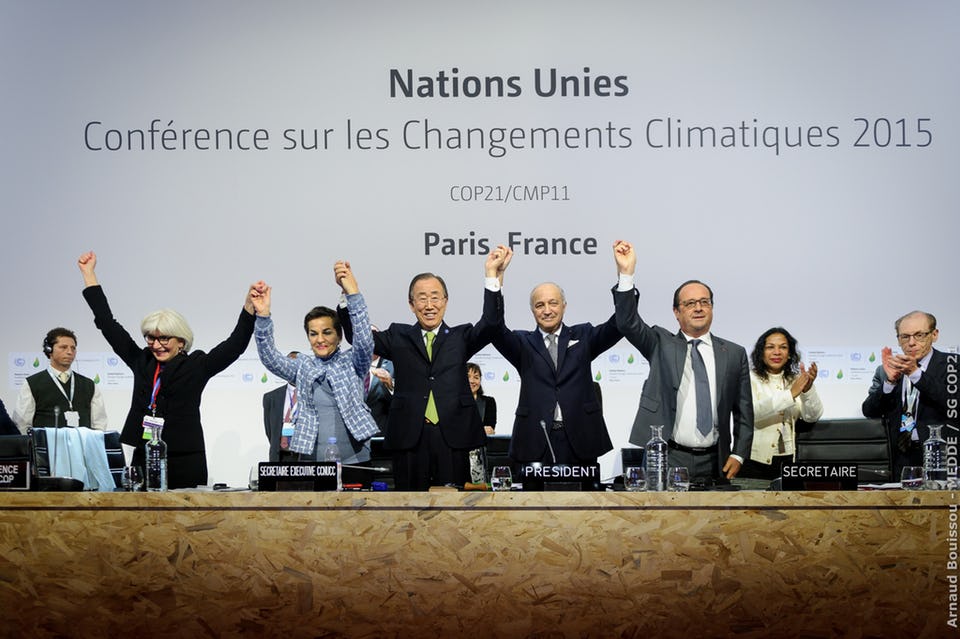 Happy faces from the COP21 leadership as the text of the Paris Agreement is adopted. Photo: COP Paris
In a rapidly changing Arctic, there is a need to engage in a comprehensive investigation into what Arctic security means in the 21st century. Together with the Danish journal POLITIK, The Arctic Institute has, thus, published a Special Issue, which aims to widen the debate on Arctic security relations through a more comprehensive dialogue inclusive of the many different types of security, their interactions, and their challenges. Each chapter provides one layer of a multi-modal lens of Arctic security that, together, weave a complex web of change.
---
Arctic Indigenous Societal Security at COP21: The Divergence of Security Discourse and Instruments in Climate Negotiations
On December 8th, 2015 seven women from Alaska and Greenland mounted a stage in the Indigenous Pavilion of the 21st UN Climate Change Summit (COP21) to share songs, dances, and culture of their homeland (Kaljur 2015). They were in Paris, amongst a crowd of 40,000 people, to advocate for strong global action on climate change to save the Arctic from some of its most dramatic impacts (O'Rouke 2015). December 8th had been named Arctic Day at the Conference – a day where space and time were dedicated to Saami and Inuit leaders to celebrate the cultures of the Arctic and caution delegates about the needs for preserving it in a rapidly warming world. Throughout the day, representatives from across the region shared the cultural heritage at risk from climate change. Sami singer Sofia Jannok performed and spoke of climate change against a backdrop that read "WE ARE STILL HERE," followed by a traditional dance performance by the Uummannaq Children. Later that evening, Elle Márjá Eira, an artist, filmmaker, singer, and reindeer herder from Finnmark, sung We Speak Earth. Altogether, the aim of Arctic Day at COP21 was clear: to show the world the rich heritage of the circumpolar north that stands to be lost if nothing is done to reduce global warming. "This is not a textbook for us," Cathy Towtongie, President of Nunavut Tunngavik warns the crowd. "This is our way of life" (Kaljur 2015).
---
Continue reading…