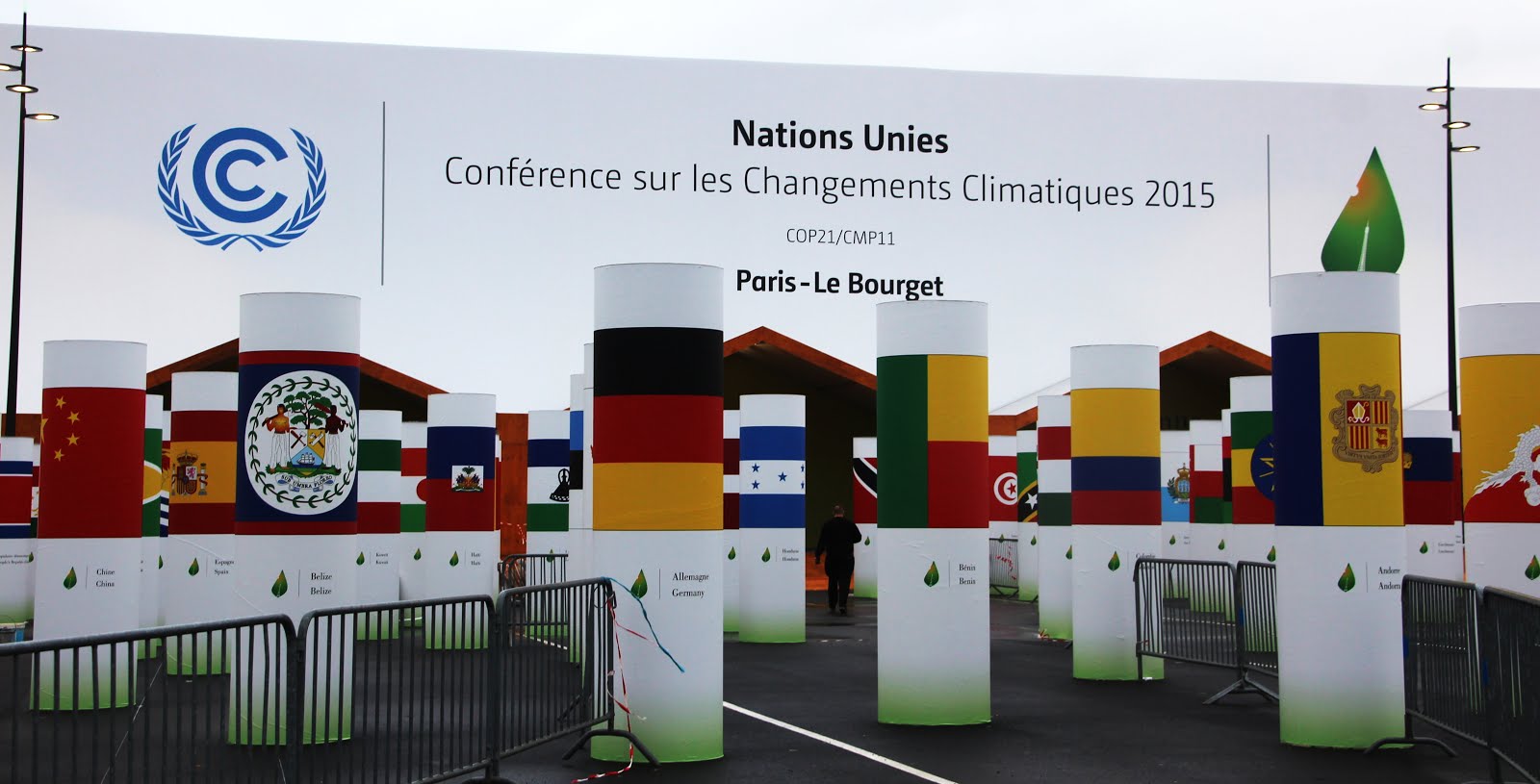 Entrance to Le Bourget UN climate Conference COP21. Photo: Takver
As leaders and the publics they represent negotiate the future of climate change mitigation and adaptation in Paris at the United Nation's COP21, The Arctic Institute is publishing articles, infographics, and event videos to provide an Arctic perspective on COP21. Through seven installments, Institute experts and affiliates will explore the negotiation's impacts on the Arctic's peoples, communities, ecosystems, political relations, and energy systems. This is the sixth installment. You can find other publications in the series below:
---
As week one of the 21st UN Climate Summit, India has emerged as a key player in reaching a binding universal agreement on greenhouse gas emissions. While India has an important role to play in the global negotiations, it also has a growing importance in the circumpolar region as an observer state of the Arctic Council. The Arctic Institute asked Kabir Taneja, a journalist and researcher specializing in South Asian foreign affairs in the Arctic, his take on COP21, the Arctic, and India's considerations in the region.
Does the Arctic play an important role in India's COP21 considerations?
For India the Arctic (and Antarctica, both being equally important) are laboratories. While Delhi has been active in the Antarctic for a while, the Arctic is a new venture but one that is, scientifically, proving to be a success. The data that Indian scientists obtain from their studies in Svalbard is indeed going to be critical in certain sectors of Indian stance on climate change at the Paris conference. But in what capacities the studies will be critical to India's larger arguments at the conference is debatable. On a micro-diplomacy level, India in the past has been a reluctance to conform to European and American pressures on sectorial climate issues. For example, India only signed the Minamata Convention, which is a global mercury abatement agreement after months and months of negotiation and initial refusals to abet to the convention's demands despite knowing that India's regulations on chemical waste discharges are known to be lax.
In other ways, the Arctic is important to India as the studies done there are critical to for the country on two fronts. First, studies of glaciers in the Arctic have correlated impact on understanding glaciers in the Indian Himalayas. Second, Arctic studies also provide India with critical data relating to monsoon patterns. Considering India employees more than 50% of its population in the agrarian sector directly and indirectly, predicting monsoon rains is crucial for the country's economy.
What will be the most prominent issue(s) brought in by Arctic countries or representatives at COP21?
I believe the concerns to be addressed at COP21 are quite broad, clear and do not conform themselves to regional forums so much. Arctic countries have the advantage (or disadvantage) of being geographical part of what we now call the 'Ground Zero' of the climate change debate. We have to remember in public discourse, pictures of polar bears on melting ice from Arctic Circle have a much bigger impact on people than any conference, be it of whatever magnitude and political importance.
However, Arctic states that are very animated in promoting climate change debates, for the right reasons, also need to look a little inward. Russia, Norway, Canada, US all of whom are members of the Arctic Council are also active producers of crude oil. While it is highly admirable the way in which say Norway promotes clean technologies and power, it is critical to remember that Norwegian economy is still largely based on hydrocarbon exploration and production. So in practice Norway sells hydrocarbon fuels to fund clean technologies. While a sound economic model, it gives certain states less room for critical take on the developing world over carbon emissions than they currently preach. It is imminent to remember here that on per capita basis (which in my opinion is the correct way to look at the emissions debate), for example, India only emits 1.75 per tonne of CO compared to 4 (world average) or 10+ (developed country average).
The Arctic countries that represent some of the most developed societies on the planet, along with also being home to two prominent military blocks (US and Russia), must factor in the issues of energy poverty in developing economies such as India and China. Both Delhi and Beijing are well aware of the dangers of climate change, and perhaps have much more to lose in the immediate future than the developed world.  Developing economies need more room to pull millions of people out of poverty, hunger and unemployment in order to raise their status in society.
What effects could the results of COP21 have on the Arctic region for climate mitigation, adaptation, and development?
The Arctic region is on the cusp of an identity crisis. Currently home to a barren, largely inhospitable climate home to only a few thousand people and industries, an ice free Arctic would spring up an animated debate between industrialization and environmental conservation. It is no secret that an ice-free Arctic Ocean is already being seen as a probable sea-route to connect Europe to the fast industrializing Far East economies. If this sea routes does become navigable, the time a ship takes to reach say Rotterdam port from Shanghai could be cut by more than half, a significant saving for all commerce involved.
So, the debate that will need to be addressed by Arctic economies will be on two fronts. First, an agreement between states on defining what the definition of sustainable development will be in the region. Second, how will the region be managed between the Arctic states? Who will control the sea routes? Will it be relatively open to all international traffic or countries such as Russia, which shares the largest coastal areas in the region by far, will assert more influence than others?
The science of the climate change debate has clear-cut lines. The Paris conference, a political event more than scientific, will be test of political will and art of old-school negotiations between the developed and developing world. It is also possible that countries such as India, that for example US Secretary of State John Kerry recently called a "challenge" to address on the topic, are looking to press on their agenda being backed by the call of "climate justice". In the meantime, India has also launched some of the most ambitious solar energy and green energy targets and is asking for technological and financial help from the world to help them harness clean energy. For a country with nearly 300 million people without regular electricity access, failure to provide so is not an option its domestic economy can look to entertain. Hence, it is also wise to understand that hydrocarbons (coal, oil etc.) will be an integral part of its energy consumption for at least another two to three decades.
The Arctic states need to adapt to climate change in a broader, pan-global term and not just localized debates. While Norway or Denmark can proudly claim (as they should) their development of clean energy, comparing these achievements to say an India or China is bad optics. Combined population of Norway and Denmark is still less by 8 million inhabitants than the population of the city of New Delhi alone.
The impasse between the developed and the developing world over emission targets is naïve at best. Considering the challenges of poverty and hunger in the developing world overtake any other issues, the 'Western' take on the emissions debate needs to offer more maneuverable room for others Unlike many European nations, countries like India are not coming from a background of more than a century of successful industrialization.
At the same time, developing economies like India and China also need to come up with foolproof policies on the micro level in their countries to combat global warming. The cost of failure is a global repercussion, and the consequence of failure will not distinguish itself between 'developing' and 'developed' once it hits.
---
Kabir Taneja is a journalist and researcher specializing in South Asian foreign affairs, energy security and defence. He is a former guest scholar at the Fridtjof Nansen Institute, Oslo, Norway and former scholar at Takshashila Institution, India.