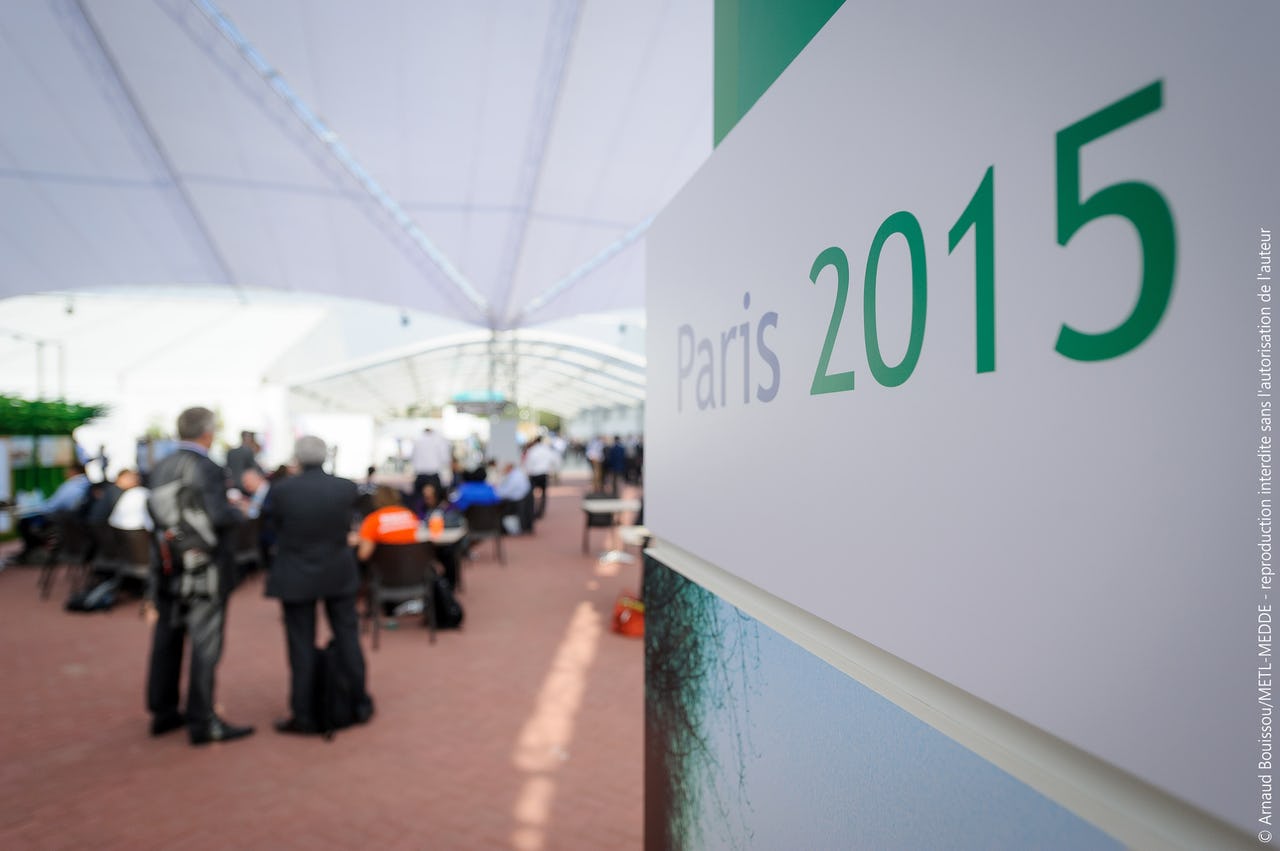 Photo: Le Centre d'Information sur l'Eau
As leaders and the publics they represent negotiate the future of climate change mitigation and adaptation in Paris at the United Nation's COP21, The Arctic Institute is publishing articles, infographics, and event videos to provide an Arctic perspective on COP21. Through seven installments, Institute experts and affiliates will explore the negotiation's impacts on the Arctic's peoples, communities, ecosystems, political relations, and energy systems. This is the fifth installment. You can find other publications in the series below:
---
Yesterday, Okalik Eegeesiak, Chair of the Inuit Circumpolar Council and representative of the Arctic indigenous delegation at COP21, addressed world leaders, civil society, and global Indigenous peoples at the opening of the International Indigenous Peoples Pavilion. In her opening remarks, she spoke of the shared Indigenous experience of living in a rapidly changing North. "The health and well-being of Inuit and Saami are inextricably tied to the Arctic environment and in particular the tundra, the marine environment and the snow and ice. Inuit and Saami are deeply concerned about the actual and potential impacts of climate change on their cultural, social and economic health and corresponding human rights." In Part I of this three-part series on the Arctic in COP21, the corresponding human rights were detailed as an effort to highlight the impacts of climate change being felt today and what is at stake in the ongoing negotiations. The rapid and dangerous effects of climate change for Arctic peoples not only serve as an impetus for action, but also as an important foundation upon which any action must be built. Parts II and III of this series address what's needed to alleviate suffering today and stop future damage in the Arctic through adaptation and mitigation, respectively. Part II, below, will analyze the needs for addressing both adaptation and damage and loss in any agreed upon universal climate accord, and offer regionally specific policy solutions to Arctic support resiliency. Part III, to be published on Friday, will address the need for innovative mitigation, climate finance, and Arctic resources' role in meeting a less than two degree Celsius target.
The Need for Adaptation
Even with strong mitigation commitments from state leaders in Paris, the effects of climate change will inevitably be felt, and many around the world are already feeling them. In order to alleviate the most extreme consequences of a changing climate, commitments to adaptation must be given equal consideration in any agreement  coming out of COP21. Since the 2009 UN Climate Summit in Copenhagen, adaptation ­— actions and policies that help communities prepare for and respond to climate impacts that can no longer be avoided — has steadily gained acceptance and support. In 2010, parties at COP16 adopted the Cancun Adaptation Framework, an affirmation that adaptation must be addressed with the same level of priority as mitigation in UNFCCC discussions, agreements, and actions. The need to include adaptation in any universal agreement was endorsed in Lima last December, in many countries' Intended Nationally Determined Contributions, and over the past three days in Paris.
In President Obama's remarks at the first session of COP21, he spoke of the need for adaptation through his firsthand experience with climate impacts in Alaska, "where the sea is already swallowing villages and eroding shorelines; where permafrost thaws and the tundra burns; where glaciers are melting at a pace unprecedented in modern times." Since August, Obama has used his northward journey to America's 49th state as motivation for climate action to world leaders, politicians, and the public. Through rhetoric and visuals, he has — like many before him — constructed the Arctic as the world's canary in the coalmine of global warming. From images of melting ice to impassioned speeches by indigenous activists, the top of the world has been profoundly inscribed into the symbolic story of climate change. And for sound scientific reasoning. From its inception, the IPCC has continuously noted in its reports and meetings that climate changes occurs faster and with more severity in the Arctic regions, resulting in some of the most extreme impacts on the planet.
And yet, despite the continued acknowledgement of the Arctic as the frontline of climate change, there is a disconnect between political narrative and financial commitment to Arctic adaptation efforts.
In the same opening remarks, President Obama recognized, "We know the truth that many nations have contributed little to climate change but will be the first to feel its most destructive effects. For some, particularly island nations … climate change is a threat to their very existence." In turn, he pledged America's strong and ongoing commitment to the Least Developed Countries Fund to ensure that "resources flow to the countries that need help preparing for the impacts of climate change that we can no longer avoid." Yesterday, he announced that the United States will contribute $51.2 million to that Fund, bringing total contributions from 11 donors to $248 million. The Least Developed Countries Fund, along with The Adaptation Fund established under the Kyoto Protocol, use government funds pledged by developed government and private donations to finance the preparation and implementation of climate adaptation in developing countries. They, and other funds like them, are vital mechanisms to both respond to urgent and immediate adaptation needs and to recognize the shared responsibility of climate change among developed states.
However, the Lead Developed Countries Fund, the Adaptation Fund, and others like it all by and large fail to help Arctic communities in need of financial resources and capacity building for adaptation today.
President Obama's comments highlight the blunt and difficult reality of Arctic climate victims – they all live in developed nations. The Inupiaq of Shishmaref, Alaska, the Saami of Keväjärvi, Finland, and the Inuit of Clyde River, Canada are all citizens of some of the wealthiest countries in the world. Due to polar amplification, resource development practices that fail to bring wealth back to local communities, and political policy that consistently marginalizes the region and its inhabitants, Arctic settlements have many similarities to some of the Least Developed Country communities in both their ecological risk and socio-economic vulnerability. Because these nations are encompassed within larger, developed countries, and are eligible to receive funds from their own governments if funded-adaptation frameworks have already been established. However, they do not receive funding to reduce vulnerabilities that seriously affect their health, livelihoods, and cultures.
Indigenous peoples of the Arctic are vulnerable, but not helpless. They are innovative, resourceful, and adaptive. Communities in the high north have a long record of not only adapting to environmental changes, but thriving in shifting ecological conditions from generation to generation through transfer of traditional knowledge. Traditional knowledge is important in constructing historical environmental baselines, identifying impacts that need to be mitigated, providing observational evidence for modeling, offering technologies, and identifying culturally appropriate values to be protected from direct impacts or from the impacts of adaptation measures themselves. In the Arctic, communities use traditional knowledge to adapt to changing conditions with flexibility. They utilize their intimate understanding of the surrounding environment and ecosystem to avoid emerging hazards.
Despite this rich ecological understanding and adaptive history, traditional knowledge will not be sufficient to overcome today's rapid environmental changes. There is a very real and immediate need for financial and capacity-based assistance to help communities adapt, become more resilient to rapid change, and, in extreme cases, relocate. At present, this need cannot be met by the billions of dollars pledged to international adaptation funds because of their location within the developed countries of United States, Canada, Denmark, Norway, Sweden, Finland, and Russia. Many of these countries have national adaptation plans, or have pledged funding to Arctic communities. President Obama announced the United States' own pledge of support this past September. But these measures are not enough to realistically meet the costs of climate change in the Arctic. As an example of these shortcomings, the Denali Commission, an independent US federal agency designed to provide utility, infrastructure, and economic support throughout Alaska, committed $2 million to support voluntary relocation efforts and other resilience strategies for vulnerable rural Alaska communities. But relocating a single community can cost $100 to $200 million, and out of 213 Alaska Native villages, 186 are affected by flooding and shoreline erosion.
While a revision to the current structure of international adaptation funds to allow for the application of donations to circumpolar communities would most immediately help those at risk, it is improbable. Such funds have been established through intense negotiation between developed and developing countries in previous summits, and come with deep underpinnings of responsibility. A call for the inclusion of the Arctic in this established adaptation-financing framework would be a call to rethink the notion North-South relations in the global political system and conceptions of vulnerability in developed states — a difficult task for a summit of world leaders already facing the challenging goal of negotiating a universal, binding mitigation agreement.
Rather than seeking a change to the existing international financing mechanisms for developing countries, Arctic states should use COP21 to make a statement affirming the need for adaptation assistance in the Arctic. The acknowledgement of this need could then be translated into action through meetings of Senior Arctic Officials and observer delegates at the Arctic Council later this year. A regional adaptation fund, facilitated by the Arctic Council, would provide much-needed adaptation financing for circumpolar communities that are at present barred from global funds. The fund could combine financial resources with capacity building and best-practice sharing platforms for communities to learn, help, and empower each other to be more resilient against ecological challenges shared across country borders.
The next two years, under the purview of the US Council Chairmanship, offer the perfect time to develop and eventually implement such an adaptation fund. The efforts would speak to both the United States' stated goals of addressing Arctic climate change and strengthening multilateral cooperation on issues important to the region. For President Obama the fund would build off his commitments made to Alaskans earlier this year, and advance his legacy of climate action as he nears the end of his executive tenure. While the impetus should come from sovereign Arctic states, Arctic Council observer countries, organizations, and business interested in pursuing economic activities in the North should also be encouraged to donate. Observer country inclusion in an Arctic Adaptation Fund would provide a meaningful route for countries like China, Singapore, and Korea to help at-risk communities in the region in which they hope to one day regularly operate shipping routes or economic ventures.
COP21's Sticking Point: Loss and Damage
Arctic communities have and will continue to suffer permanent loss or irreparable damage caused by severe weather events and slow-onset processes exacerbated by climate change. These ecological shifts, like extreme shoreline erosion and sea level rise, are capable of overwhelming even serious attempts to adapt. Such "beyond adaptation" damages do not suggest that adaptation is futile. Adaptation remains an essential and necessary part of any climate change agreement. But there exist severe cases of destruction, like the complete community relocation of Newtok, that go beyond the coping capabilities of adaptation frameworks.
While there is no agreed-upon definition of loss and damage for COP21, the UNFCCC states that "Loss and Damage refers to negative effects of climate variability and climate change that people have not been able to cope with or adapt to." Damage impacts operate on a continuum, ranging from 'events' associated with variability around current climate norms to 'processes' associated with future anticipated changes in climatic norms around the world. They exist when coping or adaptation measures are not effective enough, when measures have costs attached that are not regained; when measures are helpful in the short-term but have adverse long-term consequences; or when no measures were at all possible. Loss and damage may refer not only to economic harm, but also to noneconomic loss such as loss of life, livelihoods, ecosystems, or cultural heritage.
Adopting a strategy for loss and damage in Paris, either in the core legal agreement or in a separate accompanying decision document, is perhaps the most contentious piece of the negotiations. This is in large part because of its perceived relationship to compensation by developed countries for climate change impacts in developing states. Many industrialized countries, including the United States, fear that a loss and damage stipulation would make them legally responsible and financially liable for storm damage and rising seas across the globe.
But a multilateral climate loss and damage plan is not about liability or direct compensation; it is about international support for the impacts of climate change to which communities cannot adapt, and a recognition that there are limits and constraints to adaptation just as there are limits and constraints to mitigation. In 2013, the COP accepted the need to address loss and damage when it established the Warsaw International Mechanism for Loss and Damage associated with Climate Change Impacts. The Mechanism promotes the implementation of approaches to address loss and damage through: (1) enhancing knowledge and understanding of comprehensive risk management approaches; (2) strengthening dialogue, coordination, coherence, and synergies among relevant stakeholders; and (3) enhancing action and supporting, including finance, technology, and capacity-building. Despite this effort, the working text of the COP21 agreement only gives loss and damage a short article (Article 5) of token recognition on the importance of addressing damages through international cooperation and solidarity.
But losses and damages from climate change are already being felt in the Arctic. And as permafrost continues to thaw and shorelines continue to erode, loss of life, livelihood, and culture will only increase. In order to truly address climate change in the circumpolar north, Arctic states must acknowledge and act on the need for a strategy to combat the effects of climate change wherein adaptation is almost impossible. Just as with a climate adaptation fund, this strategy could be implemented through the Arctic Council under the US Chairmanship. However, an international declaration at Paris on loss and damage for communities across the globe is essential to ensuring any further work in the Arctic. Any loss and damage charter for action should reflect successful approaches in disaster response frameworks and address two key issues: risk management and insurance.
Risk management is needed to support and promote updated risk assessment, management, and mitigation tools and facilitate quality, data transfer to any insurance component and relocation planning. At present, there is a lack of up-to-date information for rural Arctic communities on hazard evaluation, cost-benefit analyses, and socio-economic risk. In Alaska, cost-benefit analyses that quote relocation costs between $100 and $200 million for a single village are seven years old, and do not take into consideration emerging environmental hazards or advances in research and technology. Despite flooding being one of the major hazards throughout Alaska, only a handful of Alaska Native villages have accurate floodplain information. This lack of reliable data affects capabilities for accurate relocation planning and projected damage pricing.
The expansion of Resilience AmeriCorps into Alaska in September serves as a model to be adopted for the region. Resilience AmeriCorps recruits, trains, and embeds AmeriCorps VISTA volunteers in 10 communities for two years to assist vulnerable communities that lack the capacity to address climate-resilience planning and implementation. Regionally, a similar program could be implemented for loss and damage risk. Volunteers could be trained and embedded throughout the Arctic to perform risk assessments, cost-benefit analyses, and strategic management plans for damages that move beyond in-place adaptation efforts. AmeriCorps volunteers operating in the continental United States already perform this work for disaster preparedness and relief in partnership with the Federal Emergency Management Agency (FEMA). Their best practices and training could be shared and scaled to the region to address climate loss and damage baseline data collection, assessment, and management.
Once baseline data is collected and assessments are performed, it can then inform sound insurance financing to help communities manage risks from increasingly frequent and severe extreme weather events and slow onset trends. Many indigenous and small rural communities find it difficult to afford commercial insurance to address impacts on their communities, and are often ineligible for national assistance for slow onset disasters like shoreline erosion or thawing permafrost. On Tuesday, President Obama announced that the United States will contribute $30 million to climate risk insurance schemes in the Pacific, Central America, and Africa as part of a broader set of actions to help vulnerable people increase insurance coverage for severe climate change. The new pledge will support the Pacific Catastrophic Risk Assessment and Financing Initiative and the African Risk Capacity Programme, as well as expand the Caribbean Catastrophic Risk Insurance Facility to cover Central American countries. While no such initiative exists for the Arctic at present, the Arctic Council could use these established schemes as models for a regionally modified climate insurance initiative.
Even with insurance assistance, risk management mechanisms, and adaptation efforts to reduce physical risks and exposure, the potential and eventual realization of at-risk community relocation will be unavoidable and must be addressed. While it falls out of the scope of this analysis, climate migration will be nominally discussed at COP21. After the dusts settles in Paris, the International Organization for Migration and the UNFCCC must work together on further dialogue and action towards creating an international framework for human mobility in climate change. Climate-induced migration and relocation is a reality faced not only in the Arctic, but in vulnerable geographies across the globe from the Pacific Islands to Louisiana.
Working Together Today
The accord to be adopted in Paris in the week to follow will form the basis of all global climate action for the coming decades. Strong mitigation commitments are imperative for its success, and for the health of our shared planet for generations to come. And while the focus of collaboration and negotiation should be a legally binding, universal emission reduction target – to be discussed in Part III of this series – leaving out adaptation and loss and damage is not an option. Mitigation will alleviate future impacts of climate change, but for vulnerable communities in the Arctic, a threatened homeland and more volatile climate is already a dangerous reality. While countries work to lower their national greenhouse gas emissions in the decades to come through renewable energy, sustainable transportation, and carbon neutral industrial processes, state leaders must show solidarity, compassion, and commitment to those most at risk today.
But they cannot do it alone. As President Obama said in Alaska, "We've got work to do, and we've got to do it together." 40,000 people are attending the 21st UN Climate Summit in Paris. They are leaders, diplomats, activists, journalists, industry, nonprofits, and concerned citizens — and they all have a role to play in building and implementing a scheme to safeguard the most vulnerable members of vulnerable communities. Aptly put yesterday by Arctic Indigenous representative Okalik Eegeesiak in her address at the opening of the International Indigenous Peoples Pavilion, "Government leaders, indigenous peoples, industry and NGOs must work together from the community level to the heads of state. Climate change does not divide us — it unites us — with a common goal to make certain all peoples can live in their homelands, support their children and leave the world a better place." Making the world a better place cannot wait for the world of our children through mitigation and long-term climate action. We must together make it a better place through adaptation support for communities currently threatened. And that support must start in Paris, today.