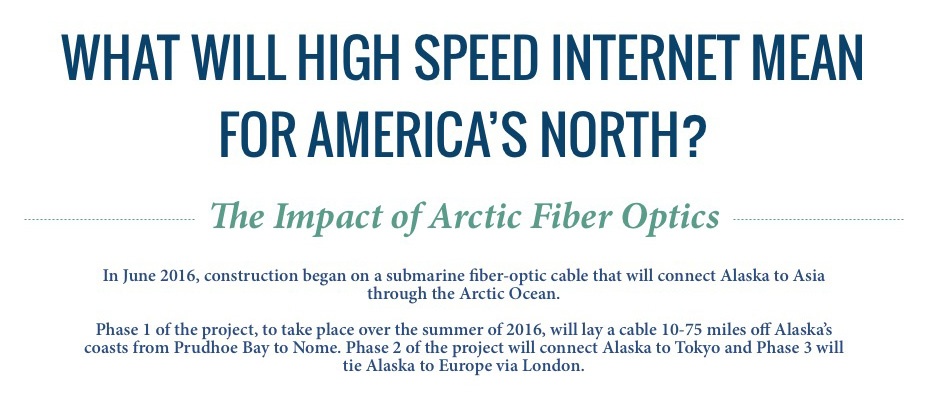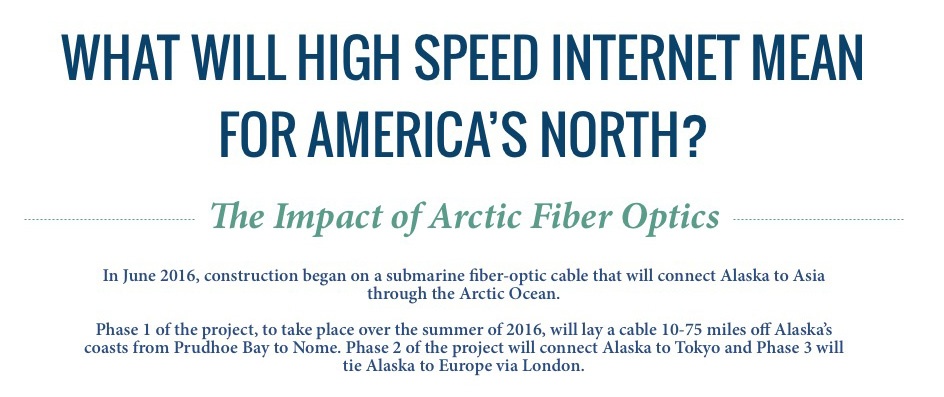 Infographic: Andrea Angquist
As the sea ice melts, circumpolar shipping routes are not the only infrastructure poised to connect East and West through the Arctic. In June 2016, the first phase of construction began on a submarine fiber-optic cable to connect Alaska to Asia through the Arctic Ocean. Work this summer, which will take about three and a half months, will lay a cable 10 to 75 miles off Alaska's coasts from Prudhoe Bay to Nome.
Phase two of the project will connect Alaska to Tokyo, and phase three will tie Alaska to Europe through London. While phase two and three still need to be financed and finalized, the main aim of phase one this summer is to deliver high-speed internet to Northern and Western Alaska. Construction will put conduits in place for connection between the main submarine fiber optic cable offshore to the communities of Barrow, Point Hope, and Oliktok Point. Conduits have already been installed in Nome, Kotzebue, and Wainwright.
Once completed, the fiber-optic cable is expected to provide much faster Internet service for communities around these areas. The fiber-optic Internet connection from the deep-sea cable will be available early next year to American Arctic communities, replacing the currently available, outdated satellite and microwave connections.
In addition to the deep-sea cable, the project will also include a terrestrial fiber-optic cable between Fairbanks and Prudhoe Bay, which will provide a fiber link between the Lower 48. This link, which will run under and over ground along the Dalton Highway, will be operational in early 2017.
Having access to affordable, reliable, and high speed Internet connection in Alaska means more than the ability to stream Netflix films and TV shows. Fiber-optic broadband will address critical needs for Arctic communities to support education, public safety, and healthcare services.
Nine out of 10 schools in Alaska do not have Internet speed of 1,000 kilobytes per second per student – a benchmark recently set by the Federal Communications Commission for in-school WIFI. In reality, 42 percent of public schools in Alaska cannot over their students even a tenth of that speed. When schools are able to purchase Internet connections, it is prohibitively expensive. Internet costs rural districts in Alaska an average of $163 per student, compared to just $6 per student in affluent urban schools. This lack of reliable and affordable is putting 21st Century education technology beyond the reach of America's Arctic youth. Online curriculum, mobile technologies, open online courses, video conferencing, and distance education, all readily available in the Lower 48, is just an aspiration for rural, often Native, Alaskan communities.
Robust, high-speed broadband Internet connection also creates the foundational infrastructure that enables healthcare providers to improve the health of Alaskans regardless of where they live. A stronger Internet connection can help medical professional keep electronic medical or health records, perform digital x-rays, remote diagnosis, telemedicine, consult remotely, and exchange electronic health information security. Large areas of Alaska still do not have even rudimentary 911 (emergency) call-talking and dispatch services. Better broadband services will assist emergency management and 911 dispatch centers to better exchange information between those in need and those able to provide help.
Ultimately connecting Asia to North America through the Arctic will profit investors of the project, but it will also help Alaska's local economy transform from a resource to knowledge based economy. According to Information and Communication Technologies, for each direct job created because of greater broadband technology, between 1.4 and 1.6 indirect and induced jobs are created. The drop in global oil prices, decline in Alaskan petroleum production, and net costs of climate change provides the chance to sustainably reinvent Alaska's economy. Alaska must begin to invest in the commercialization of ideas in preparation for the not so distant future when resources can no longer support the wellbeing of its residents.
Taking advantage of the benefits of fiber-optic broadband Internet access in the year to come could spur more local economic innovation and augment the non-resource sectors of Alaska's economy for a stronger, sustainable future.