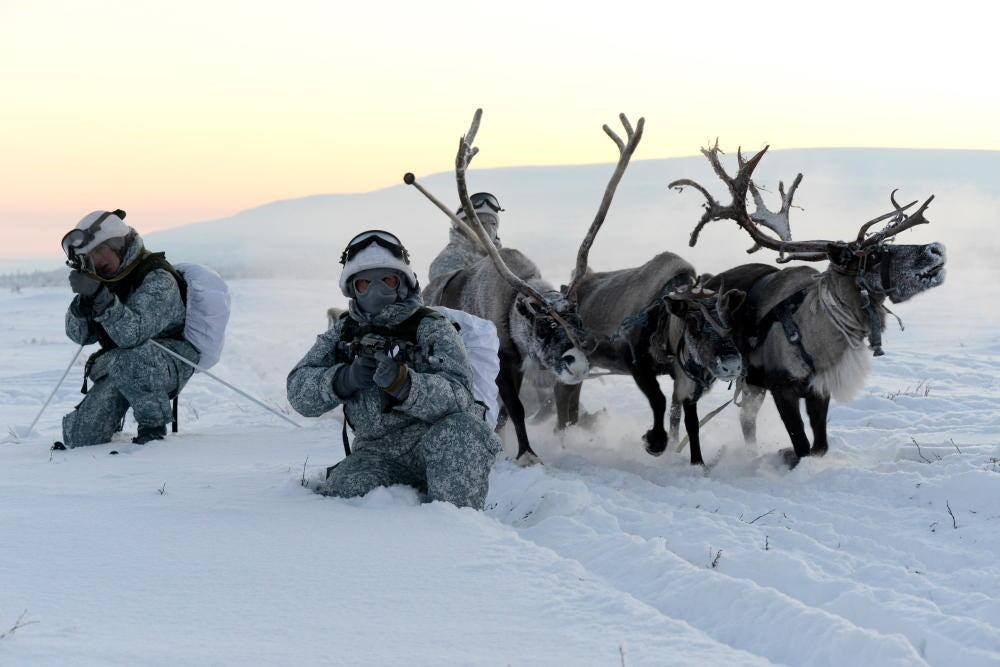 Russian Special Forces in the 200th Independent Motor Rifle Brigade of the Northern Fleet training with reindeer sleds. Photo: Ministry of Defense of the Russian Federation
This four article series critically examines Russia's military, energy, and shipping interests in the Arctic and how Russian policies and actions compare to the existing academic and journalistic rhetoric about the Arctic region.
---
Part I: The Debate so far
"Standing like a black monument in a vast landscape of blinding white," a nuclear submarine breaks through the ice of the Arctic.1)Mizokami K (2016) How Russia is Fortifying the Arctic. The Week, March 29, theweek.com/articles/614075/how-russia-fortifying-arctic. Accessed on 9 November 2017 The USS Hartford, an American nuclear submarine, is not the first, and most likely not the last, military unit above the Arctic Circle. Why is the Arctic experiencing such military activity? Why is  the Arctic described as the setting for a New Cold War? Is Russia's Arctic Strategy more focused on the potential for conflict or cooperation in the region?
Until the twentieth century, the Arctic was widely dismissed as a freezing and faraway wasteland. Nowadays the region has the world's attention and is often framed as the setting for an intensifying struggle between "Western" Arctic states and Russia. This series of articles critically examines Russia's policies and actions in the Arctic and how they compare to the existing academic and journalistic rhetoric about the region. These articles focus on three issue areas within the Russian Arctic policy: military and security, energy extraction, and maritime shipping. There are other parts to Russia's Arctic policy, such as the rights of Indigenous peoples, territorial claims, and climate change, but this study will focus on military, energy, and shipping since these issue areas are most likely to be sources of  competition between the circumpolar states. The first part of this series provides an overview of the existing academic debate regarding Russia's Arctic ambitions.
To understand Russia's Arctic strategy, we need to analyze its Arctic policy aims and their implementation, guided by a set of research questions. Is Russia's Arctic policy more focused on conflict or cooperation? How do different international relations (IR) schools of thought understand Russia's actions in the Arctic? What is Moscow's official strategic approach to Arctic issues? What has Russia actually done in the Arctic, as opposed to the rhetoric about its intentions in the region?
The majority of the existing literature on Russia's Arctic ambitions characterizes the state as either assertively preparing for conflict or pragmatically working towards international cooperation, without an in-between. However, Russia's actual strategy is far more nuanced than these narratives suggest. Consequently, analysts and policymakers tend to adopt dogmatic approaches without considering the possibility of a multidimensional Russian Arctic strategy.
Background
The Arctic is an area of increasing interest among policymakers, journalists, and scholars because of its political, economic, and strategic importance for the entire globe. There is no universally agreed upon geographic definition for the Arctic, but for this study the Arctic is defined as the polar region in the northernmost part of Earth above the 66°33′N latitude line,  i.e. the Arctic Circle. Academics and journalists alike predict that there will be "severe clashes over the extraction of natural resources and the emergence of a new "great game" among the global powers."2)Berkman PA and O Young (2009) Governance and Environmental Change in the Arctic Ocean, Science Magazine, 324 (5925). Perhaps the most noteworthy event that sparked international interest in Arctic affairs was the 2007 Russian polar expedition. In July 2007, a team of Russian scientists led by Artur Chilingarov descended to the ocean bottom of the North Pole and planted a Russian flag on the seabed. This symbolic claim of the North Pole as Russian territory was widely criticized in North America and Western Europe as an example of Russia's forceful expansionism. In the event's aftermath, Western states enhanced military patrols in the Arctic in response to a perceived threat from Russia.3)Trenin D and PK Baev (2010) The Arctic: A View from Russia, Washington, DC: Carnegie Endowment for International Peace. The 2007 North Pole expedition was not the sole catalyst for the contemporary  military build-up in the Arctic, but it can be considered a turning point in Arctic affairs because of the ensuing outcry that renewed the Arctic security debate. All of the Arctic littoral states have formulated Arctic strategies that prioritize sovereignty and national security in their respective territories. Russian, Canadian, American, and Norwegian armed forces, naval vessels, and military aircraft have all made appearances in the Arctic in recent years.
Russia's role in the Arctic particularly stands out. Geographically speaking, Russia's northern shores encompass half of the Arctic coastline. Russia is arguably the region's leader in terms of economic investment since as much as 20% of Russia's gross domestic product (GDP) is generated within Russian territories in the Arctic.4)Laruelle M (2014) Russia's Arctic Strategies and the Future of the Far North, Armonk, NY: M.E. Sharpe: xxi. The Russian Arctic is also home to approximately two million people and a diverse economy consisting of sectors such as energy extraction and maritime shipping.5)Bentzen N and M Hall (2017) Arctic continental shelf claims: Mapping interests in the circumpolar North, European Parliamentary Research Service, bit.ly/2AHUVCU, Accessed on 9 November 2017. However, the extensive build-up of military units and infrastructure is the most controversial aspect of Russia's Arctic policy. In accordance with the region's economic and geographical importance, Russia has recently renewed its security activism in the Arctic. Russia's military activities and economic ventures have intensified the debate on the nature of Russia's Arctic policy.
The Debate about Russia in the Arctic
Within the debates on Arctic affairs there are two prevailing discourses or narratives that conflictingly assess Russia's strategy in the Far North. By some, Russia's actions in the region are characterized as driven by nationalism, expansionism, and aggression. This narrative proclaims that Russia's approach to the Arctic is jingoistic because the nation is dissatisfied with its position in the international system. According to this realism-informed discourse, Russia acts unilaterally and militarily aggressive to achieve its national interests in the Arctic.6)Borgerson S (2008) Arctic Meltdown: The Economic and Security Implications of Global Warming, Foreign Affairs, 87 (2): 63-77. Cohen A (2010) From Russian Competition to Natural Resources Access: Recasting U.S. Arctic Policy, The Heritage Foundation Backgrounder, (2421).
A second discourse, which one could describe as informed by neoliberal institutionalism, characterizes Russia's Arctic policy as driven by pragmatic economic incentives and as an inclination to internationally cooperate on Arctic issues within regional and international institutions.7)Alexandrov O (2009) Labyrinths of Arctic Policy, Russia in Global Affairs, 7 (3): 110-118. Lasserre F, J Le Roy & R Garon (2012) Is There an Arms Race in the Arctic?, Journal of Military and Strategic Studies, 14 (3&4). There are surely other narratives based on IR schools of thought that have contributed to writing on the Arctic, but these two are the most dominant. Although Russia's Arctic ambitions and activities are complex, many authors fall into the trap of exclusively classifying Russia's Arctic strategy according to one of these narratives. It is important to assess both discourses to understand the range of different concepts in the Arctic debates.
Realism, Russia and the Arctic
A common characteristic of the first narrative is to sweepingly describe Russia as a revisionist state, "desperately seeking great power and claiming nearly half the Arctic in a ploy for energy, power, and ultimately prestige."8)Tayloe SC (2015) Projecting Power in the Arctic: the Russian Scramble for Energy, Power, and Prestige in the High North, Pepperdine Policy Review, 8, (4). Keir Giles and Mark A. Smith9)Giles K and MA Smith (2007) Russia and the Arctic: the Last Dash North, Shrivenham: Defence Academy of the United Kingdom. argue that the desire to consolidate its great power status (derzhavnost') is the primary factor driving Russia's military build-up in the Arctic. One possible definition of great power status concerns a state's ability to exert influence through military, economic, and diplomatic strength on a global level.10)Baldwin D (2012) Power and International Relations in Handbook of International Relations, second edition, London: SAGE Publications According to this narrative, Russia considers the Arctic as compensation for its loss of historical hegemony in Europe following the collapse of the Soviet Union. During the Cold War, the Arctic was a high priority zone for militarization. After the 1970s, the Soviet Union ramped up its nuclear submarine patrols in the Arctic because the ice sheet provided cover and prevented their detection. After the Soviet Union and the United States developed capabilities to launch intercontinental ballistic missiles across the Arctic Ocean, the Far North became a new front of the Cold War as it became dotted with early warning radars.11)Bowermaster J (1993) The Last Front of the Cold War, The Atlantic, November, www.theatlantic.com/past/docs/politics/foreign/front.htm, Accessed on 9 November 2017  Some, such as Shane C. Tayloe,12)Tayloe SC (2015) Projecting Power in the Arctic: the Russian Scramble for Energy, Power, and Prestige in the High North, Pepperdine Policy Review, 8, (4). argue that contemporary Russian foreign policy is still belligerent and exceedingly patriotic in nature because it is intended to convince the Russian populace that Russia is still a great power despite its economic decline.
The contextual importance of Russia's historical great power status is a common theme among critics of Russian actions in the Arctic. Writers such as Ekaterina Piskunova13)Piskunova E (2010) Russia in the Arctic: What's lurking behind the flag?, International Journal, 65, (4): 851-864. argue that Russia's Arctic strategy is a coherent part of Russia's foreign policy, which is primarily concerned with regaining Russia's great power status. According to such scholars, restoring Russia's great power status is the principal objective of Russian foreign policy and the Arctic, as a region for Russian dominance, is no exception. Another point is that Russia perceives the Arctic as a zone of vulnerability and insecurity in the sense that Russia's vast geography influences policymakers to be concerned about invasions from other circumpolar nations. Although scholars primarily allude to Russia's military activities in the Arctic, the characterization of Russia as assertive and unilaterally-minded also finds its way into analyses of Russia's economic interests in the Arctic. Paul R. Josephson14)Josephson P (2014) Conquest of the Russian Arctic, Boston: Harvard University Press: 346. argues that the Russian state's investment into the Northern Sea Route (NSR), resource extraction technology, and other heavy industries have been driven by "selective nostalgia for Soviet achievements." In this sense, Russia's economic ambitions in the Arctic are justified by the state's desire to evoke the times of Soviet greatness. Josephson argues that the Arctic is a symbol of Russia's military and economic prowess and recovery from "the embarrassment of the Yeltsin years."
There is also a smaller yet greatly vocal group of Russian academics, such as Alexander Dugin, who openly advocate for an imperialist policy in the Arctic. According to Dugin15)Dugin A (1991) Misterii Evrazii, [the Mysteries of Eurasia], Moscow: Arctogaia: chapters 1 and 2, the purpose of Russia's being is the expansion of space and the Arctic is rightful Russian territory. The Arctic is therefore perceived to be Russia's manifest destiny. This argument corresponds with Tayloe's16)Tayloe SC (2015) Projecting Power in the Arctic: the Russian Scramble for Energy, Power, and Prestige in the High North, Pepperdine Policy Review, 8, (4). characterization of a Russian Arctic strategy rooted in vulnerability and a desire to project its great power status. This rhetoric is echoed by Artur Chilingarov, the Russian polar researcher who led the 2007 Arctic expedition. Chilingarov emphasized: "The Arctic is Russian. We must prove the North Pole is an extension of the Russian coastal shelf" and, "Russia does not need to negotiate further but should simply continue working towards proving its claims."17)Kommersant (2008) V uzkom poliarnom krugu, [In a narrow Arctic circle], May 30, kommersant.ru/doc/897645, Accessed on 9 November 2017.
Pavel Baev and Sergei Medvedev also see Moscow's mission in the Arctic as inherently nationalistic rather than motivated by economic benefit. Baev18)Trenin D and PK Baev (2010) The Arctic: A View from Russia, Washington, DC: Carnegie Endowment for International Peace. criticizes Russia's conquest of the Arctic as "realpolitik with a Stalinist flavor." Medvedev19)Medvedev S (2016) The Kremlin's Arctic Plans: More Gutted Than Grand, PONARS Eurasia Policy Memo, 430. argues that Russia's actions in the Arctic are solely based on "boosting patriotism at home while keeping up great power appearances abroad." Rather than seeking collaboration with Arctic states, Russia's actions are based on hard security and the growing prospect for military engagement. Although they may sometimes disagree on the primary catalyst of this assertiveness, realist-informed writers argue that Russia uses the Arctic to demonstrate its military capabilities and restore its economic might. In sum, the view is that Russia is accentuating competitiveness and conflict in the Arctic.
Russia and Neoliberal Institutionalism
The other dominant narrative proclaims that Russia's intentions in the Arctic are legitimately oriented towards developing the Russian Arctic and working within the framework of international law and organizations. This point of view has developed more recently and is generally presented in response to those who argue Russia's Arctic ambitions are aggressive. Writers of this opinion do not consider Russia to be a revisionist power, but rather a status-quo state that hopes to cooperate with other nations in the Arctic. Many Russian academics as well as some Western writers emphasize Russia's pragmatic economic incentives alongside Russia's concerns for security. Valery Konyshev and Alexander Sergunin20)Konyshev V and A Sergunin (2014) Is Russia a revisionist military power in the Arctic?, Defense & Security Analysis, 30 (4): 323-335. argue that although Russia's Arctic strategy is complex and ambitious, it is not oriented towards military confrontation. According to them, Moscow's Arctic strategy is primarily concerned with developing the Russian exclusive economic zone (EEZ) and is therefore mostly focused on the economic benefits of Arctic development. Regarding Russia's military build-up, Konyshev and Sergunin acknowledge Russia's military modernization programs, but believe they are modest because of financial and logistical constraints. Instead of providing additional offensive capability or reviving the Soviet era military might, contemporary Russian military policy in the Arctic is focused on upgrading old units, securing the wide-reaching border, and improving search and rescue (SAR) services.
Lassi Heininen and Alyson J.K. Bailes21)Bailes AJK and L Heininen (2012) Strategy Papers on the Arctic Or High North, Centre for Small State Studies and Institute of International Affairs at the University of Iceland: 42-49 do not consider Russia to be an aggressive exception among the Arctic states. They see the Russian Arctic strategy as comparable to Norway's strategy of economic development. They argue that Russia and Norway, two neighboring states, have many overlapping interests and goals in the region, but that there are no warnings of a belligerent Norway in the mass media. Academics such as Alexander Khramchikhin22)Khramchikhin A (2013) Stanet li Arktika teatrom voennykh deistviy po poslednemu peredelu mira?" [Will the Arctic Become a Military Theater for the Final Re-division of the World?] Arktika i Sever [The Arctic and the North], 10: 52–60. believe that the Arctic is stable and peaceful and that military confrontation in the region is impossible. Kathrin Keil23)Keil K (2013) The Arctic: A new region of conflict? The case of oil and gas, Cooperation and Conflict, 49 (2). argues that conflict is unlikely because of the vast resource bases in the Arctic countries' undisputed territories and water areas. Such views also consider the mutual interests of large hydrocarbon and maritime shipping companies. They argue that these entities will encourage economic collaboration to meet common challenges and achieve shared benefits. Overall, this school of thought stresses the non-aggressive and pragmatic nature of Russia's Arctic strategy.
Analysts of Arctic affairs and the ensuing debates seem to stress the existence of two well-defined and opposing discourses in respect of Russia's Arctic ambitions. Regarding academic literature, Heininen, Sergunin and Yarovoy24)Heininen L, Sergunin A & G Yarovoy (2014) Russian Strategies in the Arctic: Avoiding a New Cold War, Moscow: Valdai Discussion Club. contrast the major schools of thought as those highlighting the opportunities for peace and stability versus those emphasizing the emerging conflict and threats to circumpolar security. Nonetheless, it must be noted that the cooperation-oriented approach takes Russia's military build-up into account. Still, most writers on Arctic affairs adhere to one of these extreme discourses. The narratives can be considered extreme since they are either too anti-Russian or pro-Russian in their study of Moscow's Arctic strategy.25)Konyshev V and A Sergunin (2014) Voyennaya Strategiya Ssha v Arktike i Natsional'naya Bezopasnost' Rossii, [US Military Strategy in the Arctic and National Security of Russia], Ugrozy I Bezopasnost' [Threats and Security], 20 (257).
In between Narratives
The split in approaches to understand Russian Arctic policy complicates our understanding of Moscow's strategy in the region. This leads some analysts and policymakers to adopt dogmatic approaches without considering the possibility of a multidimensional Russian Arctic strategy. Jørgen Staun26)Staun J (2015) Russia's Strategy in the Arctic, Copenhagen: Institute for Strategy at the Royal Danish Defence College. categorizes the two discourses as IR realism and IR liberalism. Realism is the view that international politics is characterized by competitiveness and confrontation whereas liberalism stresses cooperation and diplomacy. Staun argues that the difference in these narratives can even be found in Russian policymaking. For example, Russia's Ministries of Foreign Affairs, Transport and Energy are inclined towards cooperation in Arctic affairs. Conversely, the Russian Security Council and Ministry of Defense are concerned with national security and therefore lean towards the discourse of control through military means. One would think that this observation would encourage more studies to characterize Russian ambitions in the Arctic as not purely aimed towards conflict or cooperation. However, there are few balanced studies. Even Artur Chilingarov, whose abrasive statements and North Pole expedition have stunned the world, has said: "In the Arctic there are no problems that cannot be solved on the basis of mutual understanding and constructive dialogue."27)Pettersen T (2015) Russia still open for cooperation in the Arctic, Barents Observer, January 21, barentsobserver.com/en/2015/01/russia-still-open-cooperation-arctic-21-01, Accessed on 9 November 2017. In their report on Russia in the Arctic, Trenin and Baev28)Trenin D and PK Baev (2010) The Arctic: A View from Russia, Washington, DC: Carnegie Endowment for International Peace. present their analyses as opposing views. Baev even calls his section "a reality check" to counter Trenin's assertion that "the Arctic is a front for cooperation and not conflict." Writers such as Konyshev and Sergunin29)Konyshev V and A Sergunin (2014) Is Russia a revisionist military power in the Arctic?, Defense & Security Analysis, 30 (4): 323-335. characterize Moscow's strategy as predictable, pragmatic, and predominantly positive and critique the analysts who focus on the ideological catalysts for Russia's military build-up in the Arctic. The current debate in academia and journalism makes it seem as if the Russian Arctic strategy is either unwaveringly cooperative and pragmatic or assertive and politically realist.
Nonetheless, some academics realize that a dogmatic approach to Russia's Arctic activities prevents a more nuanced understanding of Moscow's strategy. Lincoln E. Flake30)Flake LE (2014) Russia's Security Intentions in a Melting Arctic, Military and Strategic Affairs, 6 (1): 99-116. confronts the opposing narratives and argues that Russia's Arctic strategy is neither benevolent nor belligerent. Flake recognizes that Russia's Arctic strategy has a military component that aims to gain control in the region, but he does not consider Russia's ambitions as thoroughly hostile. Heininen31)Heininen L (2012) The End of the post-Cold War in the Arctic, NGP Yearbook: Sustainable Development in the Arctic region though peace and stability, Tornio: Nordia Geographical Publications: 31–42 argues that the increasingly globalized nature of world politics and the growing significance of the Arctic make it redundant to view the Arctic through the traditional metrics of power, conflict or cooperation. Heather A. Conley and Caroline Rohloff32)Conley HA and C Rohloff (2015) The New Ice Curtain: Russia's Strategic Reach to the Arctic, Center for Strategic and International Studies, Lanham, MD: Rowman & Littlefield. also notice the multifaceted nature of the Russian Arctic strategy. They characterize Russia as simultaneously practicing belligerence and practical cooperation in the Arctic. These views are open-minded and allow for the realization that Russia's Arctic strategy is not one-sided. This allows us to gain a broader understanding of the trajectory of the Russian Arctic strategy without limiting ourselves to one rigid narrative. Nonetheless, such balanced views are in the minority among analyses of Arctic affairs. The split in discourses is a possibly a legacy of the Cold War, where analysts were either too distrustful or sympathetic towards the Soviet Union. Coupled with the current tensions between Russia and the West, Russia's Arctic policy is nowadays interpreted as either too aggressive or peaceful, with rarely an in-between. It is the aim of this series of articles to assess Russia's Arctic strategy in the issue areas military, energy, and shipping with reference to these competing discourses and to call for a recasting of the debate through a more balanced approach.
---
I would like to thank my colleagues from The Arctic Institute Ryan Uljua, Dr Kathrin Stephen, Greg Sharp, as well as Dr Felix Ciută, and my family for their support and guidance throughout this project.
| | | |
| --- | --- | --- |
| 1. | ↑ | Mizokami K (2016) How Russia is Fortifying the Arctic. The Week, March 29, theweek.com/articles/614075/how-russia-fortifying-arctic. Accessed on 9 November 2017 |
| 2. | ↑ | Berkman PA and O Young (2009) Governance and Environmental Change in the Arctic Ocean, Science Magazine, 324 (5925). |
| 3, 18, 28. | ↑ | Trenin D and PK Baev (2010) The Arctic: A View from Russia, Washington, DC: Carnegie Endowment for International Peace. |
| 4. | ↑ | Laruelle M (2014) Russia's Arctic Strategies and the Future of the Far North, Armonk, NY: M.E. Sharpe: xxi. |
| 5. | ↑ | Bentzen N and M Hall (2017) Arctic continental shelf claims: Mapping interests in the circumpolar North, European Parliamentary Research Service, bit.ly/2AHUVCU, Accessed on 9 November 2017. |
| 6. | ↑ | Borgerson S (2008) Arctic Meltdown: The Economic and Security Implications of Global Warming, Foreign Affairs, 87 (2): 63-77. Cohen A (2010) From Russian Competition to Natural Resources Access: Recasting U.S. Arctic Policy, The Heritage Foundation Backgrounder, (2421). |
| 7. | ↑ | Alexandrov O (2009) Labyrinths of Arctic Policy, Russia in Global Affairs, 7 (3): 110-118. Lasserre F, J Le Roy & R Garon (2012) Is There an Arms Race in the Arctic?, Journal of Military and Strategic Studies, 14 (3&4). |
| 8, 12, 16. | ↑ | Tayloe SC (2015) Projecting Power in the Arctic: the Russian Scramble for Energy, Power, and Prestige in the High North, Pepperdine Policy Review, 8, (4). |
| 9. | ↑ | Giles K and MA Smith (2007) Russia and the Arctic: the Last Dash North, Shrivenham: Defence Academy of the United Kingdom. |
| 10. | ↑ | Baldwin D (2012) Power and International Relations in Handbook of International Relations, second edition, London: SAGE Publications |
| 11. | ↑ | Bowermaster J (1993) The Last Front of the Cold War, The Atlantic, November, www.theatlantic.com/past/docs/politics/foreign/front.htm, Accessed on 9 November 2017 |
| 13. | ↑ | Piskunova E (2010) Russia in the Arctic: What's lurking behind the flag?, International Journal, 65, (4): 851-864. |
| 14. | ↑ | Josephson P (2014) Conquest of the Russian Arctic, Boston: Harvard University Press: 346. |
| 15. | ↑ | Dugin A (1991) Misterii Evrazii, [the Mysteries of Eurasia], Moscow: Arctogaia: chapters 1 and 2 |
| 17. | ↑ | Kommersant (2008) V uzkom poliarnom krugu, [In a narrow Arctic circle], May 30, kommersant.ru/doc/897645, Accessed on 9 November 2017. |
| 19. | ↑ | Medvedev S (2016) The Kremlin's Arctic Plans: More Gutted Than Grand, PONARS Eurasia Policy Memo, 430. |
| 20, 29. | ↑ | Konyshev V and A Sergunin (2014) Is Russia a revisionist military power in the Arctic?, Defense & Security Analysis, 30 (4): 323-335. |
| 21. | ↑ | Bailes AJK and L Heininen (2012) Strategy Papers on the Arctic Or High North, Centre for Small State Studies and Institute of International Affairs at the University of Iceland: 42-49 |
| 22. | ↑ | Khramchikhin A (2013) Stanet li Arktika teatrom voennykh deistviy po poslednemu peredelu mira?" [Will the Arctic Become a Military Theater for the Final Re-division of the World?] Arktika i Sever [The Arctic and the North], 10: 52–60. |
| 23. | ↑ | Keil K (2013) The Arctic: A new region of conflict? The case of oil and gas, Cooperation and Conflict, 49 (2). |
| 24. | ↑ | Heininen L, Sergunin A & G Yarovoy (2014) Russian Strategies in the Arctic: Avoiding a New Cold War, Moscow: Valdai Discussion Club. |
| 25. | ↑ | Konyshev V and A Sergunin (2014) Voyennaya Strategiya Ssha v Arktike i Natsional'naya Bezopasnost' Rossii, [US Military Strategy in the Arctic and National Security of Russia], Ugrozy I Bezopasnost' [Threats and Security], 20 (257). |
| 26. | ↑ | Staun J (2015) Russia's Strategy in the Arctic, Copenhagen: Institute for Strategy at the Royal Danish Defence College. |
| 27. | ↑ | Pettersen T (2015) Russia still open for cooperation in the Arctic, Barents Observer, January 21, barentsobserver.com/en/2015/01/russia-still-open-cooperation-arctic-21-01, Accessed on 9 November 2017. |
| 30. | ↑ | Flake LE (2014) Russia's Security Intentions in a Melting Arctic, Military and Strategic Affairs, 6 (1): 99-116. |
| 31. | ↑ | Heininen L (2012) The End of the post-Cold War in the Arctic, NGP Yearbook: Sustainable Development in the Arctic region though peace and stability, Tornio: Nordia Geographical Publications: 31–42 |
| 32. | ↑ | Conley HA and C Rohloff (2015) The New Ice Curtain: Russia's Strategic Reach to the Arctic, Center for Strategic and International Studies, Lanham, MD: Rowman & Littlefield. |