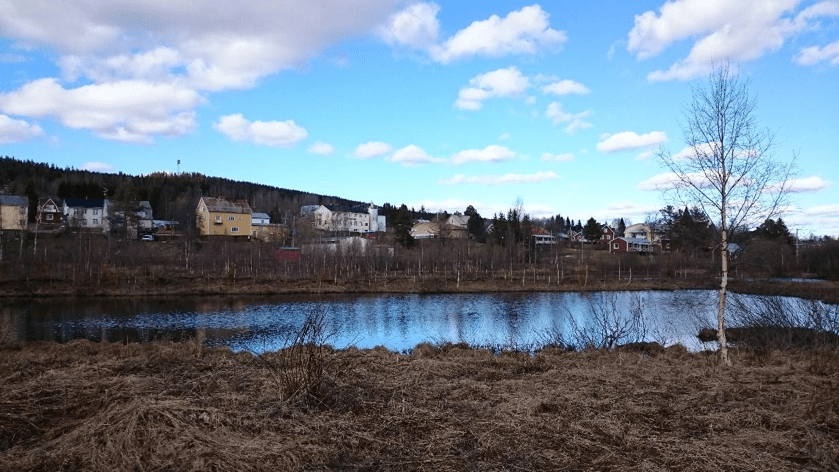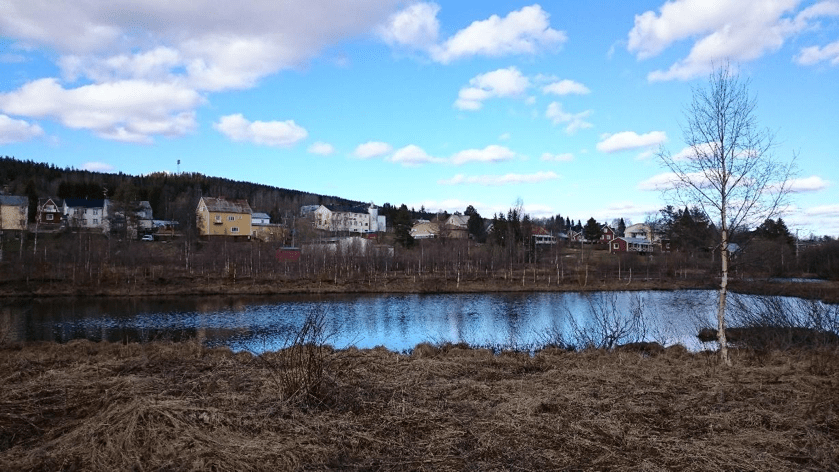 View of Norrbotten, one of the villages in Northern Sweden used a case study. Photo: Magdalena Pfaffl
Last month, SpaceX CEO Elon Musk unveiled plans for a manned fly-by of the moon as early as late-2018.1)SpaceX (2017) SpaceX to send privately crewed dragon spacecraft beyond the moon next year. SpaceX News, 27 February, www.spacex.com/news/2017/02/27/spacex-send-privately-crewed-dragon-spacecraft-beyond-moon-next-year. Accessed: 6th March 2017. While the billionaire that has repeatedly been dubbed a "real living Tony Stark" may be well known for his overly-ambitious projections, he also has a record of accomplishments. Through Musk's ambitions, space seems to be within humankind's reach for the first time since the end of the Apollo program in 1972, and with it, the possibility of humanity becoming a multi-planetary species.
When humans do settle down beyond Earth they will, much like the colonization of the Arctic, experience a major push into new territory creating new settlements in the process. To prepare for this wave of new settlement, we must turn to the frontiers of habitability on Earth to learn all that we can about how to create the most livable and sustainable settlements. It is in the most remote villages of the industrialized world—such as in the Arctic—hat case studies for remote settlements' challenges and potential can be found. These villages can teach us about making do with limited resources, harsh environments, and about how small, innovative communities work. As with earlier research geared towards space, it is not primarily future extra-planetary settlers who will profit from a better understanding of remote areas, but today's settlements and their people. Thus, our reaching for space is an opportunity for enhancing our understanding of current human settlement in the Arctic just as remote villages are an opportunity for our preparation for a multi-planetary future.
While many villages across the Arctic might be in decline, my research shows that remote villages have the potential to revitalize and tackle the problems they face through the engagement of their communities. They can become benefactors to our society: Arctic villages—like their remote counterparts in other parts of the world—have the potential of becoming living laboratories for both social and technological change. However, as long as their potential is not recognized they will continue to be starved of the resources they need in order to live up to their potential. Urban mainstream society meanwhile continues wasting vast and direly needed innovative potential in a time of environmental and social challenges.
Remote settlement in scholarly discourse
In scholarly and policy discourse, the perception of remote settlement as inherently unsustainable is a  deeply ingrained notion, so much so that markers of decline—for instance unemployment numbers—have even been used to calculate remoteness indices.2)Cloke, P. J. (1977) An index of rurality in England and Wales. Regional Studies 11: 31-46 Some have gone as far as to suggest leaving whole regions to a palliative care regimen. Palliative care means that the demise of villages is accepted as a fact, but a level of service is provided for as long as possible as the village's population continues to decline.3)White, K., Wall, D. & Kristjanson, L (2004) Out of sight out of mind: reframing remoteness in providing palliative care in remote Australia. Collegian 11: 29–33. However, in order to look towards creating new remote settlements we must work on the assumption that it is possible to create livable and self-sustaining remote settlements. Thus, research geared towards new settlements off-Earth poses an opportunity to challenge prejudice against remote settlement here on our home planet.
For decades, studies of human geography have been shaped by John Friedmann's theories of a largely exploitative dependency between urban centers and their surrounding rural periphery.4)Friedmann, J. (1966) Regional Development Policy: A Case Study for Venezuela. Massachusetts Institute of Technology: Regional Policy. Readings in Theory and Applications; Friedmann, J. (1973) The spatial organization of power in the development of urban systems. Development and change 4(3): 12-50. What we now understand as remote settlement would then be understood as a kind of under-privileged "super-rurality". According to Friedmann, the rural periphery provides labor and unprocessed goods, such as mineral resources or agricultural products, to the urban centers. These centers then process goods with the help of the migrant laborers, and in turn provide high-level goods and services to its surrounding rural area.5)Friedmann, J. (1966) Regional Development Policy: A Case Study for Venezuela. Massachusetts Institute of Technology: Regional Policy. Readings in Theory and Applications; Friedmann, J. (1973) The spatial organization of power in the development of urban systems. Development and change 4(3): 12-50.
In this way, city and village are seen as utterly dependent on each other while providing distinct types of goods and services. Power, in this classic periphery-center relationship expectedly resides in the center. So popular was this model of thought for geographic interactions, that by the second half of the twentieth century it was being employed to understand relationships between countries in the global system.
While cities and their surrounding land may indeed display relationship patterns similar to those observed by Friedman, remote settlements—that is, settlements further away from urban centers and only sparsely populated—are in actuality often much more opportunistic in their relationships.6)Gibson, C., Luckman, S., & Willoughby-Smith, J. (2010). Creativity without borders? Rethinking remoteness and proximity. Australian Geographer 41(1): 25-38. Rather than being in a pronounced relationship of dependency with any one urban center, remote residents often choose to access high-level goods and services in several different towns and cities according to specializations or individual preferences. For example, residents may choose to access medical services in one town but shop and engage in cultural activities in another. Or, different families may access services in multiple areas according to their historical ties with specific places. What is more, remote residents often forego the closest small towns in order to access higher quality and a larger selection of services in larger cities even when these are considerably further away.7)Gibson, C., Luckman, S., & Willoughby-Smith, J. (2010) Creativity without borders? Rethinking remoteness and proximity. Australian Geographer 41(1): 25-38.
It was this observation of remote settlements' unexpectedly opportunistic behavior, contrary to Friedmann's predictions, which acted as the canary in the coal mine. It soon became obvious to human geographers that remote settlements do not conform to the behaviors expected of rural settlements. 8)Carson, D. B., & Carson, D. A. (2014) Local economies of mobility in sparsely populated areas: Cases from Australia's spine. Journal of Rural Studies 36: 340-349; Figueiredo, E. (2009) One rural, two visions—Environmental issues and images on rural areas in Portugal. European Countryside 1(1): 9-21. So, if remote settlements did not behave the same as rural settlements, could it then be possible to plan for and govern them in the same way? Research into remote settlements does point towards distinctive features common to remote villages that are atypical for rural villages and point towards a need for a different planning paradigm. Unlike rural villages, remote villages have a discontinuous settlement history that causes villages within the same area to be very diverse in character. They are more susceptible to change even through seemingly small variations, making them more dynamic in character. But at the same time, the small populations of remote villages and great internal variety make it almost impossible to gauge, lest statistically evaluate, many of the factors that govern their development.9)Carson, D. B., & Carson, D. A. (2014) Local economies of mobility in sparsely populated areas: Cases from Australia's spine. Journal of Rural Studies 36: 340-349.
Remoteness, while seemingly simply definable as being "far away from somewhere or something",10)Oxford Dictionary (2014) Remote: Definition of remote. Oxford dictionary, www.oxforddictionaries.com/definition/english/term?q=term. Accessed on 7 February 2014 is actually a multi-faceted phenomenon in practice. This becomes apparent if, for example, one looks at the impact of choices between modes of transport on the perception of remoteness: for a hiker in the Alps, even a couple of square kilometers may be all it takes to  turn the landscape from village to a vast remote wilderness. Conversely, swift travel by airplane brings cities hundreds of kilometers away within a comfortable distance.11)Boller, F., Hunziker, M., Conedera, M., Elsasser, H., & Krebs, P. (2010) Fascinating remoteness: The dilemma of hiking tourism development in peripheral mountain areas: Results of a case study in southern Switzerland. Mountain Research and Development 30(4): 320-331. Relative remoteness is just as important for judging a places' remoteness as is any physical distance.
What is more, remoteness also includes a cultural and political component, which may greatly increase an individual's' feeling of being remote.12)McShane, C., Quirk, F., & Swinbourne, A. (2013) The role of farming families in future economic and community sustainability. International Journal of Environmental, Cultural, Economic and Social Sustainability 8: 111-133; Huskey, L. (2005) Challenges to economic development: Dimensions of "remoteness" in the North. Polar Geography 29(2): 119-125. Often it is populations outside of the urban mainstream, such as Indigenous peoples, who historically settled in remote areas. But even those remote settlers seemingly part of the mainstream culture often quote their deviance from urban culture and lifestyle as a main reason for choosing to live in a remote village. The result is a remote culture that is different from urban culture, increasing the perception of remoteness or "removedness from".
Small population numbers and the limited exposure of political decision makers to remote living realities through physical and cultural distance adds a dimension element of remoteness, namely that of political remoteness. In causing a political disincentive for the allocation of resources to remote areas political remoteness directly translates to the marginalization of remote areas. It is thus easy to see why in order to improve governance and planning for remote villages is important to understand their challenges—and opportunities—on a holistic level.
Taking charge against decline
In 2015, I visited five remote villages, three in the southern Israeli desert and two close to the polar circle in northern Sweden. Though very different in a number of aspects, all five of these villages were remote in a cultural as well as a spatial sense. What they had in common, besides their remoteness, was that they had developed unique adaption strategies to not merely cope with, but employ their remoteness. These villages, while likely not representative of a majority of remote villages, provided examples of successful (or at least stable) communities with a high level of innovation. Residents in the villages studied have utilized their own ability to contribute—their agency—to counter the effect of the lack of government and big business interest in remote areas. It soon became apparent that the cohort interviewed in this study has actively chosen life in a remote village and that it is through understanding why individuals would choose a remote village over a well-serviced city, that we can further our understanding of the opportunities associated with remote locations.
While it is true that almost all young people leave their villages of birth at some point, migration needs to be understood as a life-cycle event rather than a one way flow.13)Geist, C., & McManus, P. A. (2008) Geographical mobility over the life course: Motivations and implications. Population, Space and Place 14(4): 283-303; Johansson, M. (2016) Young women and rural exodus–Swedish experiences. Journal of Rural Studies 43: 291-300. With only one single exception, all participants of this study reported on having left their villages for a period of city-living, usually to access higher education. However, a part of young adults chose to come back after a few years, typically bringing with them a partner or even young children, in order to settle down in a remote village. Having themselves grown up in a remote village, members of this cohort frequently cited a desire to provide their own children with the same safe, free, and close-to-nature childhood they had experienced. This group of returning adults was complemented by a segment of city-born families who chose to forego city life for a village lifestyle for similar reasons. It is interesting to note that the villages in this study largely succeeded in integrating new families into the community through actively inviting them into the decision making process of the village.
Regardless of their origin, residents reported experiencing their harsh and seemingly inhospitable environment as a place of beauty that gives them an intense perception of belonging. Those that thrive in remote villages do not merely accept climate and landscape as a price to be paid in order to live a village lifestyle; they see it as desirable. What is more, the harsh environment and their ability to feel connected to it provides residents a sense of identity and community cohesion through their pride in these shared origins and distinction from an urban mainstream.14)Avriel-Avni, N., Zion, M., & Spektor-Levy, O. (2010) Developing a perception of a place as home among children in an isolated desert town. Children Youth and Environments 20(2): 116-149.
Perhaps even more important than an affinity for the unusual landscapes of the desert and the sub-arctic, decisions to (re-)migrate to remote villages are based on the opportunity to have an impact in a small community. In small villages, individuals can have a large influence, in contrast to  larger communities which can be almost impossible to change on a meta-level.15)Carson, D. B., & Carson, D. A. (2014) Local economies of mobility in sparsely populated areas: Cases from Australia's spine. Journal of Rural Studies 36: 340-349. A majority of residents of the case study villages appreciates this unique opportunity to have a real influence, and often had chosen to move to a remote village for precisely this reason. In a small community spatially removed from outside influences residents get to create a community in accordance with their individual preferences and their specific cultural, philosophical or even religious perceptions allowing for a large heterogeneity among remote villages.
Even beyond this possibility for forming alternative societies, the residents of the successful remote villages in my study were fundamentally optimistic innovators. They perceived their unique environments and circumstances as opportunities, rather than challenges. The dynamism of population, with new populations coming in, and old ones coming back, assists in supplying remote villages with a constant influx of new ideas—for instance from places of education or other villages.
In the case study, a village's unique environment was seen as a source of innovative thinking, rather than an impediment to innovation: for example, fruit and vegetables grown in greenhouses can be exported off-season. Actually, far from seeing the greenhouse environment as a burden farmers praised the large level of control over their plants' environment in a high-tech near-artificial environment. In another example a sub-arctic remote forest location lacking the presence of large corporations as providers of employment triggered an entrepreneurial hub centered around forestry, wood processing, and berry harvesting, and even gras farming through leveraging its proximity to and expertise with the local resources. In short, innovative remote villages are dynamic environments where a highly-educated cohort that has actively chosen this lifestyle for its potential to try new things is very open to change, to trying novel techniques and technologies, and to seeing opportunities in challenges.
Remote settlements as heterotopias
Michel Foucault described the dichotomy of innovative remote villages and the urban mainstream with his concept of heterotopia.16)Foucault, M., & Miskowiec, J. (1986) Of other spaces. diacritics 16(1): 22-27. Heterotopias are places of otherness, places where the social norms are different to those that can be lived in the mainstream society. Most importantly though, heterotopias can become living laboratories.17)Raven, P. G. (2015) Imagining the Impossible: The Shifting Role of Utopian Thought in Civic Planning, Science Fiction, and Futures Studies. Journal of Futures Studies 20(2): 113-122. As living laboratories heterotopias are places where new ideas, for instance new ways of social ordering or technologies can be tried out in a closed, lab-like environment. It has even been argued that it was the very existence of heterotopic space that enabled the thinkers of modernity to create the ideas that have transformed our society in the last two centuries.18)Hetherington, K. (1997) The badlands of modernity: Heterotopia and social ordering. London and New York: Routledge.
In the villages I visited for my study the distance to towns and cities provided the physical separation necessary for heterotopias to develop. Their residents actively decided to move to a place where they could "have an impact" and create their own micro-society with rules different to those they perceived to be defective in larger towns. Just how these alternative societies look is different for every village, just as remote villages are so distinct from each other due to their individual historical backgrounds, environments, and available resources.19)Carson, D. B., & Carson, D. A. (2014) Local economies of mobility in sparsely populated areas: Cases from Australia's spine. Journal of Rural Studies 36: 340-349. As a result, remote communities' approaches to adapting to the challenges of their remoteness also vary. It is this heterogeneity that allows for the testing of of different solutions to similar problems in which heterotopias' potential for innovation can be found. These innovations may benefit only their own village to begin with, but they have the potential to spread to other villages, and even beyond the remote areas into central towns and cities.
Today we are confronted with a wide array of challenges ranging from an increasingly fractious societal fabric to the effects of global warming. In this age of ever-increasing trials, we need all the innovative potential we can get. Remote villages, with their capability of being living laboratories, can help. Not only do they provide opportunities and models for developing alternative approaches of living together compared with the city norm, investigate circular economies, multi-functional farms and businesses, or micro-entrepreneurship, but they also have the potential for incubating technological innovations. In their striving to be less reliant on centralized functions remote villages develop green techniques and technologies which are transferrable outside the village.
However, remote villages will only fulfill this innovative function if they receive a minimum of support, and they will only receive this support if their important function is recognized and deemed worth the pay-off by decision makers. Remote villages are highly dependent on political decisions they continue to have no meaningful means of influence20)Carson, D. B., & Carson, D. A. (2014) Local economies of mobility in sparsely populated areas: Cases from Australia's spine. Journal of Rural Studies 36: 340-349. as long the urban mainstream population remains remote and indifferent to their needs.
My research has shown that remote villages have the potential of being not the beneficiaries they might be perceived to be today, but active benefactors to mainstream society. Their strength lies in their heterogeneity and in their opportunity to fill social and economic niches with their high level of innovative potential. But in order to access this vast potential remote villages need support not only in accessing political capital and infrastructure, but in understanding their uniqueness as providing quality of life and opportunity. Life in remote villages might not be for everyone but decision makers need to understand that for a cohort of creative innovators it can be an ideal home.
Onwards towards space!
The villages selected for this study were obviously chosen on a bias—hat is, on the assumption that there are villages that have found ways to adapt to their remoteness and that there is a possibility for highly desirable, self-sustainable remote villages to develop and exist. Many remote villages in the Arctic might be indeed struggling with marginalization and  decline, however this study has shown that remote villages have the potential to become more than places of decline through the agency of community members. We tend to forget that for a certain group of innovative, highly educated young families, life in a remote village where they can have a large impact is a desirable option.
Innovative villagers are characterized by a can-do and do-it-yourself attitude. Their villages are places where young people actively choose to live not regardless of but because of the remoteness and the harshness of climate and terrain. This pioneering spirit will also characterize any cohort leaving behind Earth for new frontiers in the future. Like the communities of this study they will find new ways—both in terms of the makeup of their society and in technologies and techniques—of making home of and leveraging the opportunities of a seemingly hostile environment. Some of these innovations will in turn spread back to Earth to benefit not just remote villages on the fringes of habitability, but also our cities and our society.
In many ways, these future pioneers will have more than we may think in common with today's innovators of the Arctic.
The effect of becoming a multi-planetary species will, of course, go beyond technological and even societal spin-offs. It will even go beyond providing the often quoted safety net for our species in case something goes catastrophically wrong on Earth.21)Musk, E. (2016 September). Making humans a multiplanetary species. In 47th International Astronautical Congress. Settling beyond Earth will inspire humans to be better than they are, and open—quite literally—new worlds of opportunities for the next generation. It will give our youth new goals to aspire towards and a feeling of a new world that is all theirs to create. The innovators of the Arctic can and should be at the forefront of providing the know-how and tools this new generation of pioneers will need.
---
Magdalena Pfaffl is a PhD Student at James Cook University. This study received funding from the Australian Postgraduate Award and James Cook University's Centre of Tropical, Urban and Regional Planning.
| | | |
| --- | --- | --- |
| 1. | ↑ | SpaceX (2017) SpaceX to send privately crewed dragon spacecraft beyond the moon next year. SpaceX News, 27 February, www.spacex.com/news/2017/02/27/spacex-send-privately-crewed-dragon-spacecraft-beyond-moon-next-year. Accessed: 6th March 2017. |
| 2. | ↑ | Cloke, P. J. (1977) An index of rurality in England and Wales. Regional Studies 11: 31-46 |
| 3. | ↑ | White, K., Wall, D. & Kristjanson, L (2004) Out of sight out of mind: reframing remoteness in providing palliative care in remote Australia. Collegian 11: 29–33. |
| 4, 5. | ↑ | Friedmann, J. (1966) Regional Development Policy: A Case Study for Venezuela. Massachusetts Institute of Technology: Regional Policy. Readings in Theory and Applications; Friedmann, J. (1973) The spatial organization of power in the development of urban systems. Development and change 4(3): 12-50. |
| 6. | ↑ | Gibson, C., Luckman, S., & Willoughby-Smith, J. (2010). Creativity without borders? Rethinking remoteness and proximity. Australian Geographer 41(1): 25-38. |
| 7. | ↑ | Gibson, C., Luckman, S., & Willoughby-Smith, J. (2010) Creativity without borders? Rethinking remoteness and proximity. Australian Geographer 41(1): 25-38. |
| 8. | ↑ | Carson, D. B., & Carson, D. A. (2014) Local economies of mobility in sparsely populated areas: Cases from Australia's spine. Journal of Rural Studies 36: 340-349; Figueiredo, E. (2009) One rural, two visions—Environmental issues and images on rural areas in Portugal. European Countryside 1(1): 9-21. |
| 9, 15, 19, 20. | ↑ | Carson, D. B., & Carson, D. A. (2014) Local economies of mobility in sparsely populated areas: Cases from Australia's spine. Journal of Rural Studies 36: 340-349. |
| 10. | ↑ | Oxford Dictionary (2014) Remote: Definition of remote. Oxford dictionary, www.oxforddictionaries.com/definition/english/term?q=term. Accessed on 7 February 2014 |
| 11. | ↑ | Boller, F., Hunziker, M., Conedera, M., Elsasser, H., & Krebs, P. (2010) Fascinating remoteness: The dilemma of hiking tourism development in peripheral mountain areas: Results of a case study in southern Switzerland. Mountain Research and Development 30(4): 320-331. |
| 12. | ↑ | McShane, C., Quirk, F., & Swinbourne, A. (2013) The role of farming families in future economic and community sustainability. International Journal of Environmental, Cultural, Economic and Social Sustainability 8: 111-133; Huskey, L. (2005) Challenges to economic development: Dimensions of "remoteness" in the North. Polar Geography 29(2): 119-125. |
| 13. | ↑ | Geist, C., & McManus, P. A. (2008) Geographical mobility over the life course: Motivations and implications. Population, Space and Place 14(4): 283-303; Johansson, M. (2016) Young women and rural exodus–Swedish experiences. Journal of Rural Studies 43: 291-300. |
| 14. | ↑ | Avriel-Avni, N., Zion, M., & Spektor-Levy, O. (2010) Developing a perception of a place as home among children in an isolated desert town. Children Youth and Environments 20(2): 116-149. |
| 16. | ↑ | Foucault, M., & Miskowiec, J. (1986) Of other spaces. diacritics 16(1): 22-27. |
| 17. | ↑ | Raven, P. G. (2015) Imagining the Impossible: The Shifting Role of Utopian Thought in Civic Planning, Science Fiction, and Futures Studies. Journal of Futures Studies 20(2): 113-122. |
| 18. | ↑ | Hetherington, K. (1997) The badlands of modernity: Heterotopia and social ordering. London and New York: Routledge. |
| 21. | ↑ | Musk, E. (2016 September). Making humans a multiplanetary species. In 47th International Astronautical Congress. |