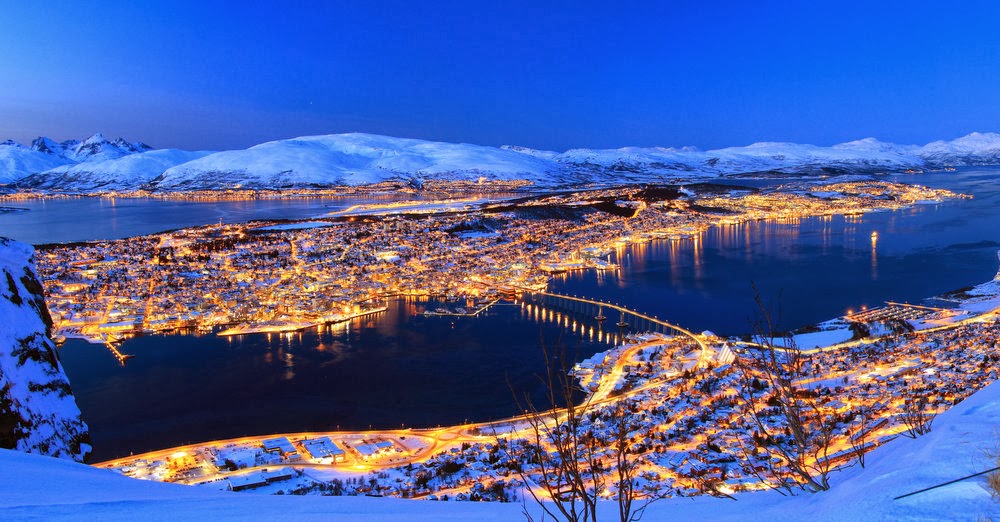 Happy New Year! From all of us here at The Arctic This Week and the entire staff of The Arctic Institute (TAI), we would like to wish you a Happy New Year and thank each of you for your support and interest throughout 2014. It's been an exciting year for us. The TATW subscriber list has grown to over 1900 subscribers in 69 countries spanning all continents, including Antarctica. The TAI website received over 400,000 unique visits, and TATW received nearly 87,000 hits in 2014! The Arctic Institute's research and analysis has continued to reach a broader audience and garner increased recognition from the media, think tanks and government. Thanks for helping us along the way!
To express our gratitude, we'd like to provide you with not one, but THREE different top-ten lists that sum up what has been a great year for The Arctic Institute. The first is the top ten most popular links from this year's editions of TATW, measured by the number of times a link was opened from our newsletter. The list provides an interesting snapshot of the top stories from the Arctic this year, and the writing and analysis that we all found the most interesting and compelling.
Our second top ten list is the most popular research and analysis reports published by TAI staff this year, ranging from TAI Executive Director Malte Humpert's assessment of the Northern Sea Route, to Norway Director Andreas Østhagen's analysis of the implications of the Ukraine crisis on Arctic cooperation.
Finally, our third top ten list contains the most retweeted tweets from our Twitter account, @ArcticInstitute, highlighting what has been popular on social media. If you don't follow us yet on Twitter, this is a great introduction to TAI's social media presence!
Thank you for all of your support through 2014 and we sincerely hope that you continue to follow us throughout the coming year. We always love to hear from our readers, so please feel free to contact us at any time. We'll resume with full publication of TATW beginning January 14th, 2015.
If you haven't yet donated to TATW please consider supporting us this year so our authors can keep working on the newsletter throughout 2015 and put out another 40 stellar issues this year!
TOP 10 STORIES FROM THE ARCTIC THIS WEEK IN 2014
Asia in the Arctic, WWF Global Arctic Programme – Our most-clicked link was the October issue of the WWF "The Circle" Magazine, which featured the role of Asia in the Arctic, focusing on rising interest and polar activity in China, Singapore, Korea and India.
Demystifying the Arctic, World Economic Forum – This report seeking to debunk myths surrounding the Arctic and its needs argues that the critical areas to focus on in the Arctic are sustainability, science, investment, and both human and environmental safety.
Arctic Summer: Who Should Benefit From Global Warming?, Joseph Chinyong Liow (Foreign Affairs) – In this popular article, the author reminds his readers that although the Arctic opening poses new opportunities that Asian countries in particular are understandably eager to exploit, Arctic Council dynamics and competing interests are among many challenges to unlocking this potential.
Russia ships nuclear subs across Arctic for repair, Thomas Nilsen (Barents Observer) – Short and concise, this piece reporting on the transfer of Russian nuclear submarines for the first time in the Post-Soviet era, proved popular among our readers.
The Emerging Arctic, Council on Foreign Relations – CFR's beautiful Infoguide Presentation made our Top 10 list, likely due to its outstanding images, charts, interactive infographics and, of course, quality information on a diverse range of Arctic issues from governance to economic prospects.
Blog: USA steps up Arctic game with appointment of Papp as special representative, Heather Exner-Pirot (Eye on the Arctic) – This year's decision to create a U.S. Special Representative to the Arctic and the subsequent appointment of Admiral Robert Papp to the position drew a lot of attention, interest and speculation as to the growing importance of the Arctic among U.S. policymakers, and Exner-Pirot's blog was one such excellent assessment of this development.
Donlin gold mine brings hope of jobs — and fear of destruction, Lisa Demer (Alaska Dispatch) – The inclusion of a mining-centered article in our Top 10 is indicative of the growing mining developments and controversies in the Arctic. Demer's piece nicely captures the conflicting concerns surrounding large mining projects, such as the Donlin gold mine near Anchorage, juxtaposing the economic and human impacts of these endeavors.
Congenial Arctic Council Displeased By Russia's Move Into Crimea, Sidsel Overgaard (NPR) – We can't recap 2014 without mentioning Russia and Ukraine. This NPR discussion about the impact of Russia's actions in Crimea and Ukraine is one of many pieces centered on this critical development in global politics and its potential impact on Arctic cooperation.
A Russian Perspective on China's Arctic Role, Nadezhda Filimonova and Svetlana Krivokhizh (The Diplomat) – The Diplomat's staff has outlined a convincing and thorough argument as to the strategic calculations behind Russia's newfound openness to China's expanded role in the Arctic, as well as the continued tensions between the two countries, nicely demonstrating the complexities and nuances of the relationship.
Advice for the Ice King: 5 recommendations for America's new Arctic ambassador, James Stavridis (Foreign Policy) – Our final Top 10 most popular piece is an argument for increased U.S. presence and assertiveness in the Arctic, with the author calling for more icebreakers, increased U.S. leadership in both the Arctic Council and NATO Arctic issues, enhanced dialogue with Russia, and a dedication to the interagency approach.
TOP 10 THE ARCTIC INSTITUTE ARTICLES IN 2014
A response to Admiral Robert J Papp, Jr.: America is Not (Yet) an Arctic Nation, Victoria Herrmann – Choosing to focus on the oft-overlooked human element of the Arctic region, Herrmann argues that the U.S. should use its Arctic Council chairmanship as an opportunity to educate people about the Arctic and encourage cultural exchange between northern and southern citizens to overcome the common perception that the Arctic is a remote, uninhabited wilderness.
Arctic Security: Global Dynamics Upset Stable Regional Order, Mikkel Runge Olesen and Jon Rahbek-Clemmensen – Arctic aficionados will be well aware of the frequency with which the deterioration of Arctic cooperation is predicted. Olesen and Rahbek-Clemmensen take a welcome departure from this way of thinking as they outline the varied reasons why the Arctic is unlikely to become a new conflict zone, though they do argue that any devolution into conflict will likely be due to larger geopolitical shifts than from any one specific regional disagreement.
Arctic Shipping: An Analysis of the 2013 Northern Sea Route Season, Malte Humpert – In his detailed annual report on Arctic shipping, which was published as part of this year's Arctic Yearbook, Humpert's research points to the Northern Sea Route remaining a limited, niche shipping route primarily for one-way traffic to Asia.
Greenland's New Frontier: Oil and Gas Licenses Issued, Though Development Likely Years Off, Kevin Casey – Despite a number of licenses being awarded to major oil and gas companies in Greenland early in 2014, Casey argues that there are too many complicating factors and challenges that will prevent Greenland from achieving sustainable oil and gas production in the near future.
From Seal Ban to Svalbard – The European Parliament Engages in Arctic Matters, Andreas Raspotnik and Andreas Østhagen – Delving into the complex politics of the EU, Raspotnik and Østhagen chronicle the various policy actions the EU has taken in regards to the Arctic, focusing on the interaction of Member State priorities, such as fisheries, with wider EU goals.
Ukraine Crisis and the Arctic: Penalties or Reconciliation?, Andreas Østhagen – In response to the crisis in Ukraine and dwindling relations between Western countries and Russia, this piece assesses the varying responses of the Arctic states, arguing that the extent to which this conflict will impact the thus-far positive Arctic cooperation is far from clear.
Proposed Law Amendment May Threaten Good Greenlandic Governance, Marc Jacobsen – A controversial proposal in Greenlandic parliament that would block public access to documents related to the development of Greenlandic natural resources would harm good governance and is reminiscent of other countries that have made the same sacrifice with negative results.
How We Learned to Stop Worrying About China's Arctic Ambitions: Understanding China's Admission to the Arctic Council, 2004-2013, Matthew Willis and Duncan Depledge – This investigation into China's journey to Arctic Council observer status presents a story that differs from the commonly espoused theories of Chinese ambition, positing that China's admission was long-awaited and delayed by Arctic Council institutional barriers, not member state fear of Chinese motive.
Coast Guards in the Arctic – Troubles Ahead?, Andreas Østhagen – In analyzing the role of coast guards in light of changing realities and needs in the Arctic, Østhagen makes a convincing argument for the benefits of cross-border collaboration through an Arctic Coast Guard Forum.
Evaluation of the Arctic Shipping Season 2013, Kathrin Keil – Keil's assessment of the 2013 Arctic shipping season is sobering for those convinced of surging usage of Arctic shipping lanes. She argues that, although there is a higher number of ships overall, when examined, this increase is due primarily to Russia's internal use of the Northern Sea Route, and the number of foreign vessels using these waterways has actually decreased from 2012.
TOP 9 MOST RETWEETED TWEETS FROM 2014
#Russia circumventing #EU #sanctions to get deep-sea #oil and #gas technologies for #Arctic production thearctic.in/1oDzQAa
Inuk teenager living in Nunavut is doing an "Ask me anything" on Reddit right now. Follow along + ask questions here thearctic.in/1oYn8Ip
New report on #Arctic Shipping analyzes the 2013 NSR shipping season. Concludes limited opportunities exist. thearctic.in/1wl1wxw
New analysis: How We Learned to Stop Worrying About China's Arctic Ambitions: China's Admission to #Arctic Council thearctic.in/1x0vPL6
Soon, you'll be able to take a virtual trip to #Nunavut national parks on #GoogleStreetView thearctic.in/VCRSXS #Arctic
#Greenpeace launches new campaign against #LEGO over partnership with #Arctic driller #Shell thearctic.in/1xdm89V
New analysis by @AndreasOsthagen : Coast Guards in the #Arctic – Troubles Ahead? thearctic.in/1vTHQjF #coastguard
International #Inuit conference hopes to address consequences of changing #Arctic thearctic.in/1rvxQcv
Thumbnail Photo Credit: The Arctic Institute and Malte Humpert