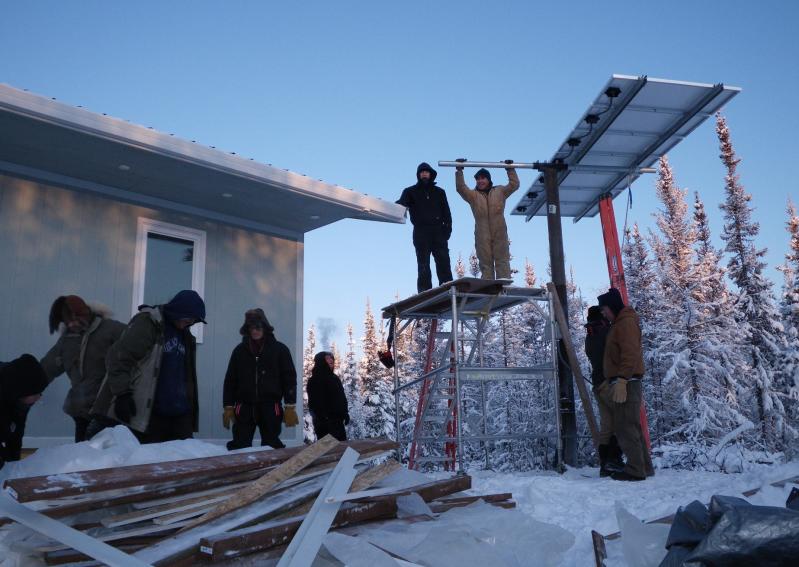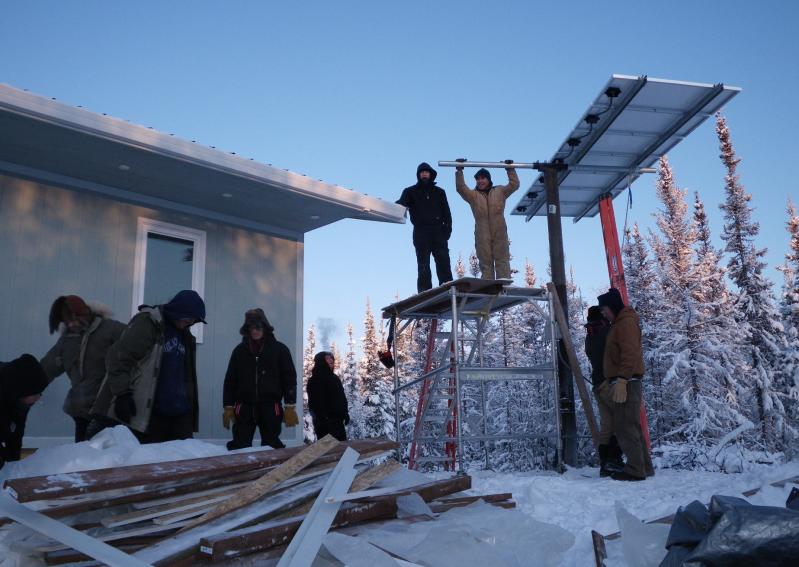 Photo: Qayaq
The 22nd Conference of the Parties of the United Nations Framework Convention on Climate Change, commonly known as COP22, took place 100 days ago in Marrakesh, Morocco from November 7th to November 18th, 2016. Among many side events and collaborative presentations, the meeting moved the Paris Agreement forward on limiting global warming to less than 2 degrees Celsius below pre-industrial levels. As humanity moves from promise to action to secure the future of an equitable, resilient, and sustainable world for generations to come in Marrakesh, the consequences for and role of the Arctic in the negotiations is easy to overlook. The second in the two-part series, below, provides an analysis of current mitigation work in the Arctic and how the Arctic Council can support parallel initiatives to the Green Climate Fund for the North. The first installment focused on the contours of understanding where COP21 left off in Paris, what the key takeaways were in Marrakesh this year, and where the Arctic fits into international climate change negotiations.
---
COP22 100 Days In: Making the Invisible Visible: Arctic Poverty, Vulnerability, and Climate Change (Part II)
While global investors keep a keen eye on the future of Arctic oil and gas production for southern markets in an era of uncertain petroleum prices, Northern citizens across the region worry about keeping the lights on.
Roughly half of the global Arctic's population live in rural remote communities, requiring off-grid electricity systems.1) Hoag, H. (2016). Expanding Renewable Energy into Remote Communities is a Team Effort, opencanada.org. 26 April. www.opencanada.org/features/expanding-renewable-energy-remote-communities-team-effort/, February 25, 2017. In a region where households see 24-hour darkness and below freezing temperatures for several months, diesel fuel offers a reliable means to achieving self-generated electricity with low up-front costs. In spite of its reliability, diesel fuel comes with high logistical and financial costs. In most communities, fuel can only be moved into a community once or twice a year during the summer when shipping routes are clear of ice. With climate change, those routes are becoming more and more unpredictable. Once it reaches communities, careful handling and storage of the fuel is essential to avoid local spills. In August of 2015, 14,000 liters of diesel spilled in Ivujivik, northern Quebec due to human error.2)CBC News. (2015). Hydro-Quebec to Clean Up 13,500-Litre Diesel Spill in Unukjuak. CBC.ca, 18 September. www.cbc.ca/news/canada/north/hydro-quebec-to-clean-up-13-500-litre-diesel-spill-in-inukjuak-1.3234189, February 21, 2017. It took over a year to clean the surrounding area and ship all contaminated soil and rock further south via tanker.
Further north, Nunavut runs on 99.94 percent diesel.3)Windeyer, C. (2014). Yukon, N.W.T. and Nunavut Differ in Outlooks for Renewable Energy. CBC.ca. www.cbc.ca/news/canada/north/hydro-quebec-to-clean-up-13-500-litre-diesel-spill-in-inukjuak-1.3234189, February 21, 2017. With no grid connecting the Canadian north, most Canadian communities in Nunavut are served by their own diesel-fired power plant. 13 out of 17 of these plants are over three decades old at the end of their design lives. Aptly put by a 2015 Senate report, they are "aging, underperforming and at capacity," held together with "duct tape and twine."4)Standing Senate Committee on Energy, the Environment and Natural Resources. (2015). Powering Canada's Territories,41st Parliament – 2nd Session of the Senate of Canada. sencanada.ca/content/sen/committee/412/enev/rep/rep14jun15-e.pdf, February 20, 2017. Canada is not alone in its dependence on diesel.  In the American Arctic, because of scarce transportation infrastructure and immense distances between communities, Alaskans pay nearly double the national average for energy. In extreme cases, the high costs of shipping or flying in diesel fuel have created energy migrants – American citizens who are forced to leave their ancestral homes because they can no longer afford electricity and heating expenses. And in the Russian Arctic, households rely on large shipments of highly subsidized coal to power microgrids and liquefied natural gas to heat homes
Burning diesel not only adds to global warming; it has even more devastating local effects on Canada's Arctic communities. Black carbon5)See The Arctic Institute's Infographic on black carbon www.thearcticinstitute.org/how-black-carbon-affects-the-arctic/ – the soot produced from diesel generators – darkens on ice and snow which, in turn, quickens the melting process. It also creates substantial air pollution, which has been linked to health impacts including higher rates of asthma and respiratory issues. Importing diesel also comes with a high financial cost for northern economies and families. The Government of Nunavut estimates that it spends about one fifth of its annual budget on energy, putting further pressure on already limited resources available for underfunded schools, mental health programs, and overcrowded public housing.6)WWF Arctic. (2015). Overcoming Diesel Dependence in Nunavut, arctic.blogs.panda.org. 17 August. arctic.blogs.panda.org/default/diesel-nunavut/, February 20, 2017 Electricity costs in some communities have reached peaks of over 10 times the average Canadian price on a per kilowatt-hour basis.
The impetus for such a reliance on fossil fuels to electrify communities today is in part the result of the significant amount of capital and technology that were originally invested in Arctic diesel generation – in other words, there exists a path dependence for rural remote communities to continue to use fossil fuel for electricity. Path dependence theory dictates that previous processes alter the costs/benefits of particular choices, and consequently narrow current decisions. Applied to Arctic community energy technologies and investments, path dependence theory contends that all actions are governed by history, in that previous choices create self-reinforcement and lock-in regardless of their efficiency.
The Arctic is not alone in its reliance and path dependence on fossil fuels for household heat and electricity. Developing and Least Developed Countries across the globe heavily rely on fossil fuels to sustain and grow their economies. In the face of under-development and widespread poverty, country leaders at the macro level and communities at the micro level trust fossil fuels as the most reliable and cheapest resource available from Africa to Asia. Developing countries account for just under half of all global greenhouse gas emissions. It is expected that they will surpass contributions from developed countries around the year 2030, led by the economic development of India and China.7)Ward, D. S., & Mahowald, N. M. (2014). Contributions of developed and developing countries to global climate forcing and surface temperature change. Environmental Research Letters, 9(7). The Paris Agreement's target of limiting global warming to 2 degrees Celsius requires a paradigm shift for developing countries to transition from fossil fuel to renewable energy use.
The Beginnings of a Paradigm Shift for Arctic Energy Development
Like developing and least developed countries, Arctic communities are in need of a path creation towards clean energy development to break through diesel lock-in. There is already significant momentum in community-level renewable energy projects. Today, there are more than 200 microgrid projects across the state of Alaska – a number that is not only growing, but also becoming greener thanks to the catalyst of the US Arctic Council Chairmanship. The Obama Administration made the development of smart, renewable micro-grid technology and implementation a priority. As part of President Obama's journey to Alaska in 2015, he visited the Arctic town of Kotzebue to talk about the promise of renewables in Alaska. "We are the number-one producer of oil and gas. But we're transitioning away from energy that creates the carbon that's warming the planet and threatening our health and our environment, and we're going all in on clean, renewable energy sources like wind and solar. And Alaska has the natural resources to be a global leader in this effort," the president said.8)MAHB Admin. (2015). Transcript: President Obama's Speech at Kotzebue Middle/High School. Millennium Alliance for Humanity and Biosphere, Stanford University. 3 September. mahb.stanford.edu/library-item/transcript-president-obamas-speech-at-kotzebue-middlehigh-school/, February 20, 2017. While there, President Obama convened a meeting with Alaskan Governor Walker, the Denali Commission, the Alaska Energy Authority, and the Renewable Energy Alaska Project to launch the Clean Energy Solutions for Remote Communities (CESRC). The goal of CESRC is to expand investment in climate solutions by identifying technical, financial, and logistical challenges and opportunities in clean energy innovation.9)White House. (2015) Fact Sheet: President Obama Announces New Investments to Combat Climate Change and Assist Remote Alaskan Communities. The White House President Barack Obama Archive. September 2. obamawhitehouse.archives.gov/the-press-office/2015/09/02/fact-sheet-president-obama-announces-new-investments-combat-climate, February 20, 2017.
President Obama's 2015 commitments to clean energy in the North were followed by a number of financial and technical assistance programs.10)U.S. Department of Energy. (2016). Remote Alaskan Communities Energy Efficiency Competition. Office of Energy Efficiency and Renewable Energy. October 21. energy.gov/eere/remote-alaskan-communities-energy-efficiency-competition, February 21, 2017. The most recent of these came in February 2016, when Secretary of Energy Ernest Moniz traveled to Alaskan remote village of Oscarville and announced another seven million dollars for the tribal energy program for technical assistance and training for Native Alaskan and American Indian communities.11)U.S. Department of Energy. (2016). REnergy Department Makes up to $7 Million Available for Assistance to Indian Tribes; Releases Alaska Solar Prospecting Report. Office of Energy Efficiency and Renewable Energy. Department of Energy. February 12. energy.gov/articles/energy-department-makes-7-million-available-assistance-indian-tribes-releases-alaska-solar, February 21, 2017. Recipients of funds will be chosen through a competitive process and receive five weeks of intensive training with the Department of Energy, giving villages the knowledge, skills, and resources needed to implement successful strategic energy solutions. The end goal of this program is to create a national network of regional, tribal energy experts who are able to provide technical energy assistance and information resources when an issue with the micro-grid technology arises.
Following in the footsteps of Yukon and the Northwest Territories, thus far most research on bringing renewables to Nunavut has been based on hydropower. While hydro offers a cheap source of power over the long term, it comes with expensive upfront capital costs. Last year at a territory hearing on hydro and tidal energy projects, Premier Peterson declared those projects to be on hold, "As a government, we simply cannot afford mega-projects here in Nunavut."12)Rohner, T. (2015). Peterson Pulls Plug on Nunavut MLA's Green Energy Dreams. Nunatsiaq Online. May 28. bit.ly/2lUcObL. February 20, 2017. Wind and solar photovoltaic technology are technically viable and offer reliable, affordable, and resilient energy – but more baseline data needs to be collected on these renewable sources. The first task of the newly formed Arctic Renewable Energy Expert Committee of non-governmental groups is to better understand wind and solar potential in 17 pilot communities in Nunavut and the Northwest Territories. The study, currently being conducted by the University of Waterloo in Ontario, will measure the potential for renewable energy and present their findings at a meeting this fall in Iqaluit, where locals will be invited to provide project input.13)Newswire. (2016). New Alliance to Bring Renewable Energy to Remote Communities in Canada's Arctic, WWF-Canada Announces. CNW. March 31. www.newswire.ca/news-releases/new-alliance-to-bring-renewable-energy-to-remote-communities-in-canadas-arctic-wwf-canada-announces-574138501.html, February 20, 2017. And at the regional level, the Arctic Remote Energy Networks Academy (ARENA) program seeks to establish professional, knowledge-sharing networks related to microgrids and integration of renewable energy resources for remote Arctic communities. It has been endorsed by the Arctic Council's Sustainable Development Working Group, with a 2016 pilot program being led by the United States, Canada, Finland, Iceland, and Gwich'in Council International that includes a webinar school, an on-site nine-month program in Alaska that combines classroom and laboratory demonstrations with visits to communities and site operations, and three on-site week long workshops to learn from current technology, community, and project development leaders.14)University of Alaska. (2017). Arctic REmote Energy Networks Academy. Arctic Council Sustainable Development Working Group. arena.alaska.edu, February 20, 2017. By integrating web-based seminars, classroom learning, field experience, and best practice sharing, participants will bring back to their home countries knowledge, skills, tools, and a network of collaborators that will facilitate integrating clean energy technologies into their communities.
ARENA is important in building capacity and promoting community-based Arctic leadership on off-grid renewable energy projects. But, Arctic communities are missing one key ingredient to moving beyond ad hoc projects towards a paradigm shift in the region: climate mitigation financing.
A Circumpolar Climate Fund
Path dependence on already established energy and economic systems and a lack of domestic financial and technical capabilities are strong barriers to Arctic communities and developing countries meeting adequate mitigation targets through renewable energy deployment. Recognizing these barriers and the need to foster path creation for the diffusion of renewable energy finance and technology to the developing world specifically, the Green Climate Fund was proposed in 2009 and established in 2010 by the United Nations at COP16 in Cancun, Mexico. The Fund aims "to expand collective human action to respond to climate change" by mobilizing "funding at scale to invest in low-emission and climate-resilient development on our home planet."15)Green Climate Fund. (2017). About GCF. www.greenclimate.fund/home, February 20, 2017.
The Green Climate Fund acts as the financial mechanism of the Convention and in turn the Paris Agreement, focusing on the needs of societies that are highly vulnerable to the effects of climate change in developing countries, least developed countries, small island developing states, and African states. Advanced economies have formally pledged to mobilize USD 100 billion per year by 2020 from a variety of sources, much of which will be channeled through the Fund, to support mitigation and adaptation projects. The Fund uses a variety of financial instruments, including grants, concessional loans, subordinate debt, equity, and guarantees, to ensure flexibility to match project needs. At present, GCF supports 35 projects in Eastern Europe, the Asia Pacific, Africa, and the Caribbean and Latin America, reaching an anticipated 103 million people and avoiding 183 million tonnes of CO2.
The Green Climate Fund is not without its criticisms. Even so, it is a critical instrument in meeting the goals set forth in the Paris Agreement and in supporting sustainable, clean, and equitable development in the process. And, though it fosters renewable development in other socio-economic and ecologically vulnerable geographies, Arctic communities are not eligible for financing consideration. Given the Arctic's similar challenges in energy security and carbon emissions, there is a need for a parallel mechanism to help stimulate a paradigm shift in the North.
A Circumpolar Climate Fund could provide the same operational mechanism for financing small-scale renewable energy projects to shift the Arctic from diesel to renewable. Modeled off of the Green Climate Fund, a regional funding entity could support innovative and flexible ways to finance projects across the Arctic through similar financial instruments. It could utilize important bank expertise across Arctic countries and build links with the private sector, creating dynamic partnerships at scale to leverage investment opportunities with the biggest economic players in the North.
The idea for a financing mechanism for Arctic development is not new. In 2015, Alan Gill and David Sevigny published a paper with the Center for International Governance Innovation proposing an Arctic Development Bank. Their proposition calls for the establishment of a multilateral development bank to raise significant new funding and advance environmentally sustainable development in the Arctic region.16)Gill, A. and Sevigny, D. (2015). Sustainable Northern Development: The Case for an Arctic Development Bank. Center for International Governance Innovation. CIGI Paper No. 54. www.cigionline.org/publications/sustainable-northern-development-case-arctic-development-bank, February 20, 2017. Gill and Sevigny's vision called for the bank's financiers to be opened to Arctic Council members and observer states who had demonstrated commitment to promoting sustainable Northern development, with Permanent Participants part of all decision-making process.
The framework of an Arctic Development Bank is a suitable foundation upon which to build the structure of a Circumpolar Climate Fund. In many ways, the proposed Fund would mirror a development bank's ability to work in both the public and private sectors, allowing it to leverage risk and consolidate expertise. Similar to other funding mechanisms, its charter may require a fixed percentage of its lending to be directed to specific types of projects to best serve the needs of the Arctic region and the Arctic Council. For example, projects could provide for a certain amount to directly benefit Indigenous communities or, akin to the Green Climate Fund, it could permit half of its funding opportunities to support mitigation efforts and half adaptation. A Circumpolar Climate Fund can use the work done by the World Economic Forum's Arctic Investment Protocol to generate interest and investment from both country governments and companies. All in all, the Fund would need to reduce the reliance of small scale renewable energy projects on subsidies through revolving loans, public-private financing, and other innovative financing that provides rural communities access to low-cost capital.
Establishing a Circumpolar Climate Fund or a similar financing initiative fits well within the purview of Finland's stated goals of its 2017 – 2019 Chairmanship of the Arctic Council, which will begin in May 2017. The Foreign Ministry of Finland's focus for its tenure will continue the climate work of the Obama Administration, concentrating on the implementation of the Paris Agreement and the UN Sustainable Development Goals through Arctic cooperation.17)Ministry of Foreign Affairs of Finland. (2016). Finland's Chairmanship of the Arctic Council in 2017 – 2019. formin.finland.fi/public/default.aspx?contentid=356546, February 20, 2017.
To initiate discussions of a Fund, a sensible first step for Finland as Chair should be a review of and update to the Arctic Council Project Support Instrument, a voluntary, non-exclusive mechanism that makes use of a broad range of funding arrangements, including grants and revolving instruments, administered by the Nordic Environment Finance Corporation (NEFC).18)For more information on the Arctic Council Project Support Instrument, please see www.nefco.org/work-us/our-services/grants/arctic-council-project-support-instrument. The Support Instrument provides financing for priority pollution mitigation projects approved by the Arctic Council, focusing on pollution prevention, hazardous waste management, climate change mitigation, cleaner production, energy efficiency as well as decreasing and eliminating the release of hazardous substances, such as mercury, into the environment. All projects supported are action-oriented. Current contributions to the Support Instrument amount to EUR 15.9 million and include contribution from Finland, Iceland, Norway, Russia, Sweden, the US, the Sami parliament, and NEFC, which is headquartered in Helsinki, Finland. As it stands currently, the Instrument has received some criticism. In Nord Douglas' book, The Arctic Council: Governance within the Far North, he notes, "This funding arrangement took a substantial amount of time and effort to negation and operationalize, and unfortunately has not provided the type of model of successful joint funding of important program initiatives that some of its proponents had hoped for at the time of its creation."19)Nord, D. C. (2015). The Arctic Council: Governance within the far North. Routledge.
The Instrument is important in creating a more reliant and stable funding mechanism for projects, but it is not permanent, well-funded, or inclusive of all Arctic Council member and observer countries. Transforming the current iteration of the Support Instrument into a more formal and robust Circumpolar Climate Fund could help Finland to meet its state goals of  the implementation of the Paris Agreement and support of sustainable development goals in the Arctic by adequately supporting renewable energy and other mitigation projects through innovative financing opportunities.
Mitigating the Local Causes of a Very, Very Wrong Arctic Winter
During his last two years in office, President Obama took the Arctic Council Chairmanship as an opportunity to refocus America Administration's leadership of the Arctic Council set circumpolar climate change mitigation and adaptation at center stage. The GLACIER Conference, held on August 30-31, 2015 in Anchorage, Alaska provided President Obama with first hand experience of what it meant to watch your homeland be eroded by rising tides – an experience he took with him from Alaska to Paris in his advocacy efforts for a binding global agreement to limit global warming to 2 degrees Celsius. In his address state leaders from across the globe at the 21st UN Climate Summit, he highlighted his trip, where he "saw the effects of climate change firsthand in our northernmost state, Alaska, where the sea is already swallowing villages and eroding shorelines; where permafrost thaws and the tundra burns; where glaciers are melting at a pace unprecedented in modern times." For President Obama, Alaska "was a preview of one possible future — a glimpse of our children's fate if the climate keeps changing faster than our efforts to address it.  Submerged countries. Abandoned cities.  Fields that no longer grow.  Political disruptions that trigger new conflict, and even more floods of desperate peoples seeking the sanctuary of nations not their own."20)White House. (2015). Remarks by President Obama at the First Session of COP21. Office of the Press Secretary. The White House President Barack Obama Archive. November 30. obamawhitehouse.archives.gov/the-press-office/2015/11/30/remarks-president-obama-first-session-cop21, February 20, 2017.
Since GLACIER and the subsequent successful negotiation of the Paris Agreement, those dramatic effects of climate change have only gotten worse.
In the four months since the UN Climate Summit in Marrakesh, the circumpolar north has been making headlines. From the front page of newspapers to in-depth coverage in science magazines, journalists across the globe are proclaiming that "something is very, very wrong." 21)Freedman, Andrew. (2017). Something is Very, Very Wrong with the Arctic Climate. Mashable. February 8. mashable.com/2017/02/08/sea-ice-record-low-january/#4M1ycknqC5qD
They're right.
In the Arctic, where climate change induced warming is happening twice as fast as anywhere else on the planet, soaring temperatures have stunned journalists, scientists, and residents alike. An early winter heat wave in mid-November pushed the thermometer 27 degrees F (15 degrees C) above normal for that time of year — the monthly average for November was 23 degrees F (13 degrees C) above normal at the Pole. Those warmer air and water temperatures at a time where the region should be a cold, dark Polar night have dire consequences. As it stands today, the Arctic's sea ice extent is 100,000 square miles below the previous lowest extent in January 2016 – a low-point that was 487,000 square miles below the 1981 to 2010 long-term average.22)Freedman, Andrew. (2017). Something is Very, Very Wrong with the Arctic Climate. Mashable. February 8. mashable.com/2017/02/08/sea-ice-record-low-january/#4M1ycknqC5qD
Such extreme sea ice and temperature dynamics at play in the Arctic do more than make for enticing headlines. They intimately disrupt the biological and social systems of the far North.
In December 2015, The Arctic Institute published a series of articles and Infographics detailing what was at stake during the COP21 negotiations.23)See www.thearcticinstitute.org/cop21-and-the-arctic-whats-at-stake/ The series highlighted the human side climate change, including the grave implications for Arctic communities' right to the benefit of culture, to means of their own subsistence, to reside and inviolability of the home, and to health. Over the past year, research publications have filled in the broad brushstrokes painted in those articles. In just one example, studies published in 2016 from both the Western and Eastern Arctic connected the receding sea ice extent to growing difficulties for communities' means to their own subsistence and continuance of cultural practices. An August publication found that extensive changes in sea ice and weather have affected the timing of marine mammal migrations, their distribution and behavior, and the efficacy of certain hunting methods.24)Huntington, H. P., Quakenbush, L. T., & Nelson, M. (2016). Effects of changing sea ice on marine mammals and subsistence hunters in northern Alaska from traditional knowledge interviews. Biology Letters, 12(8). Using interview data on changing hunting conditions from 11 coastal villages in the northern Bering Sea to the Beaufort Sea, participants noted the difficulty to find ice on which to haul Bowhead whales out for butchering in the spring. And overall, with less multiyear ice and thinner shore-fast ice, traveling for hunting is more dangerous and limited. On land, sea ice loss in the Barents and Kara seas is increasing the probability of rain-on-snow events in the Yamal Peninsula in north-Western Siberia.25)Forbes, B. C., Kumpula, T., Meschtyb, N., Laptander, R., Macias-Fauria, M., Zetterberg, P., … & Stroeve, J. C. (2016). Sea ice, rain-on-snow and tundra reindeer nomadism in Arctic Russia. Biology Letters, 12(11). Rain-on-snow events in the autumn and winter cause an ice crust several centimeters thick to form on the tundra. This crust prevents reindeer from feeding on fodder beneath the snow in the winter months. With these events becoming more frequent and intense, reindeer herds in the European Arctic have witnessed mass starvation events, particularly in 2013 when 22 percent of the reindeer herd on Yamal Peninsula died. Reduced reliance on whales and reindeer have serious implications for the future of Alaskan Inuit community whaling culture and tundra Nenets nomadism, respectively.
These effects will only get worse. And though Arctic communities only account for a small fraction of the greenhouse gas emissions that cause this melting, the diesel generators they rely on act as a threat multiplier in an age of rapid change, burdening communities with significant financial and environmental risks. At a time of uncertain futures for cooperation and environmental action in the United States, the upcoming transition to the Finnish Chairmanship holds the opportunity to make renewable energy a widespread reality, creating cleaner, more resilient Arctic communities. By established a green financing mechanism, Finland as an Arctic leader can make use of the capacity and prototype building already done by the Arctic Council, creating a much-needed paradigm shift towards a renewable region.
| | | |
| --- | --- | --- |
| 1. | ↑ | Hoag, H. (2016). Expanding Renewable Energy into Remote Communities is a Team Effort, opencanada.org. 26 April. www.opencanada.org/features/expanding-renewable-energy-remote-communities-team-effort/, February 25, 2017. |
| 2. | ↑ | CBC News. (2015). Hydro-Quebec to Clean Up 13,500-Litre Diesel Spill in Unukjuak. CBC.ca, 18 September. www.cbc.ca/news/canada/north/hydro-quebec-to-clean-up-13-500-litre-diesel-spill-in-inukjuak-1.3234189, February 21, 2017. |
| 3. | ↑ | Windeyer, C. (2014). Yukon, N.W.T. and Nunavut Differ in Outlooks for Renewable Energy. CBC.ca. www.cbc.ca/news/canada/north/hydro-quebec-to-clean-up-13-500-litre-diesel-spill-in-inukjuak-1.3234189, February 21, 2017. |
| 4. | ↑ | Standing Senate Committee on Energy, the Environment and Natural Resources. (2015). Powering Canada's Territories,41st Parliament – 2nd Session of the Senate of Canada. sencanada.ca/content/sen/committee/412/enev/rep/rep14jun15-e.pdf, February 20, 2017. |
| 5. | ↑ | See The Arctic Institute's Infographic on black carbon www.thearcticinstitute.org/how-black-carbon-affects-the-arctic/ |
| 6. | ↑ | WWF Arctic. (2015). Overcoming Diesel Dependence in Nunavut, arctic.blogs.panda.org. 17 August. arctic.blogs.panda.org/default/diesel-nunavut/, February 20, 2017 |
| 7. | ↑ | Ward, D. S., & Mahowald, N. M. (2014). Contributions of developed and developing countries to global climate forcing and surface temperature change. Environmental Research Letters, 9(7). |
| 8. | ↑ | MAHB Admin. (2015). Transcript: President Obama's Speech at Kotzebue Middle/High School. Millennium Alliance for Humanity and Biosphere, Stanford University. 3 September. mahb.stanford.edu/library-item/transcript-president-obamas-speech-at-kotzebue-middlehigh-school/, February 20, 2017. |
| 9. | ↑ | White House. (2015) Fact Sheet: President Obama Announces New Investments to Combat Climate Change and Assist Remote Alaskan Communities. The White House President Barack Obama Archive. September 2. obamawhitehouse.archives.gov/the-press-office/2015/09/02/fact-sheet-president-obama-announces-new-investments-combat-climate, February 20, 2017. |
| 10. | ↑ | U.S. Department of Energy. (2016). Remote Alaskan Communities Energy Efficiency Competition. Office of Energy Efficiency and Renewable Energy. October 21. energy.gov/eere/remote-alaskan-communities-energy-efficiency-competition, February 21, 2017. |
| 11. | ↑ | U.S. Department of Energy. (2016). REnergy Department Makes up to $7 Million Available for Assistance to Indian Tribes; Releases Alaska Solar Prospecting Report. Office of Energy Efficiency and Renewable Energy. Department of Energy. February 12. energy.gov/articles/energy-department-makes-7-million-available-assistance-indian-tribes-releases-alaska-solar, February 21, 2017. |
| 12. | ↑ | Rohner, T. (2015). Peterson Pulls Plug on Nunavut MLA's Green Energy Dreams. Nunatsiaq Online. May 28. bit.ly/2lUcObL. February 20, 2017. |
| 13. | ↑ | Newswire. (2016). New Alliance to Bring Renewable Energy to Remote Communities in Canada's Arctic, WWF-Canada Announces. CNW. March 31. www.newswire.ca/news-releases/new-alliance-to-bring-renewable-energy-to-remote-communities-in-canadas-arctic-wwf-canada-announces-574138501.html, February 20, 2017. |
| 14. | ↑ | University of Alaska. (2017). Arctic REmote Energy Networks Academy. Arctic Council Sustainable Development Working Group. arena.alaska.edu, February 20, 2017. |
| 15. | ↑ | Green Climate Fund. (2017). About GCF. www.greenclimate.fund/home, February 20, 2017. |
| 16. | ↑ | Gill, A. and Sevigny, D. (2015). Sustainable Northern Development: The Case for an Arctic Development Bank. Center for International Governance Innovation. CIGI Paper No. 54. www.cigionline.org/publications/sustainable-northern-development-case-arctic-development-bank, February 20, 2017. |
| 17. | ↑ | Ministry of Foreign Affairs of Finland. (2016). Finland's Chairmanship of the Arctic Council in 2017 – 2019. formin.finland.fi/public/default.aspx?contentid=356546, February 20, 2017. |
| 18. | ↑ | For more information on the Arctic Council Project Support Instrument, please see www.nefco.org/work-us/our-services/grants/arctic-council-project-support-instrument. |
| 19. | ↑ | Nord, D. C. (2015). The Arctic Council: Governance within the far North. Routledge. |
| 20. | ↑ | White House. (2015). Remarks by President Obama at the First Session of COP21. Office of the Press Secretary. The White House President Barack Obama Archive. November 30. obamawhitehouse.archives.gov/the-press-office/2015/11/30/remarks-president-obama-first-session-cop21, February 20, 2017. |
| 21, 22. | ↑ | Freedman, Andrew. (2017). Something is Very, Very Wrong with the Arctic Climate. Mashable. February 8. mashable.com/2017/02/08/sea-ice-record-low-january/#4M1ycknqC5qD |
| 23. | ↑ | See www.thearcticinstitute.org/cop21-and-the-arctic-whats-at-stake/ |
| 24. | ↑ | Huntington, H. P., Quakenbush, L. T., & Nelson, M. (2016). Effects of changing sea ice on marine mammals and subsistence hunters in northern Alaska from traditional knowledge interviews. Biology Letters, 12(8). |
| 25. | ↑ | Forbes, B. C., Kumpula, T., Meschtyb, N., Laptander, R., Macias-Fauria, M., Zetterberg, P., … & Stroeve, J. C. (2016). Sea ice, rain-on-snow and tundra reindeer nomadism in Arctic Russia. Biology Letters, 12(11). |