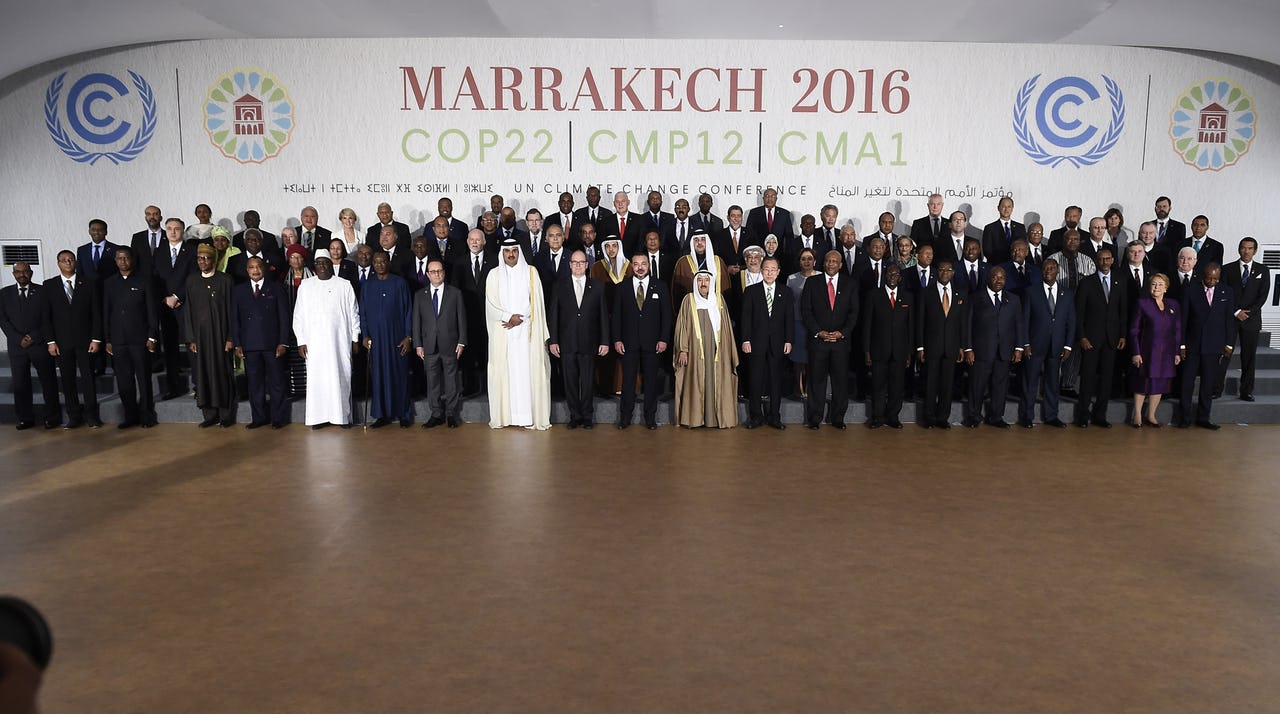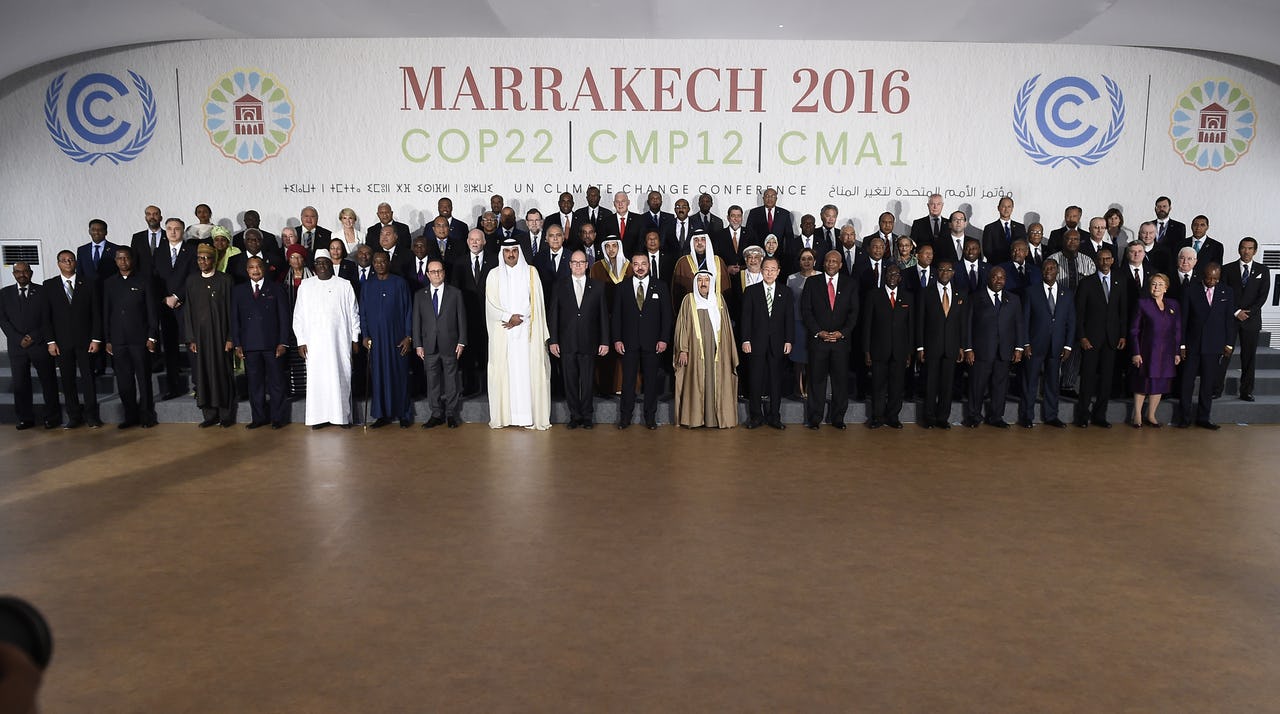 The 22nd UN Climate Summit, COP22, took place in Marrakesh, Morocco in November 2016. Photo: Gobierno de Chile
The 22nd Conference of the Parties of the United Nations Framework Convention on Climate Change, commonly known as COP22, took place 100 days ago in Marrakesh, Morocco from November 7th to November 18th, 2016. Among many side events and collaborative presentations, the meeting moved the Paris Agreement forward on limiting global warming to less than 2 degrees Celsius below pre-industrial levels. As humanity moves from promise to action to secure the future of an equitable, resilient, and sustainable world for generations to come in Marrakesh, the consequences for and role of the Arctic in the negotiations is easy to overlook. The first in the two-part series, below, provides the contours of understanding where COP21 left off in Paris, what the key takeaways were in Marrakesh this year, and where the Arctic fits into international climate change negotiations. The second installment focuses on COP22's outcomes for climate change finance, adaptation, and loss and damage, and how countries can support parallel initiatives for the North.
---
COP22 100 Days In: The Invisible Inequalities in Climate Change Negotiation Geographies (Part I)
In the shadow of the US Presidential Election, the 22nd Conference of the Parties to the United Nations Framework Convention on Climate Change (UNFCCC) began 100 days ago this week. More commonly known as COP22, the conference brought country delegations from around the world to Marrakesh, Morocco, in an effort to move humanity forward in curbing global warming.1)COP22 (2017) Marrakesh COP22, cop22.ma, February 1, 2017
COP22 had big shoes to fill. Last year's iteration of the Conference was historic. With much fanfare and a high production value, over 40,000 people converged on Paris to advocate, to negotiate, and to ultimately adopt an ambitious agreement to combat climate change.2)O'rourke, H. (2015) COP21 By The Numbers. Politico.edu, 11 November, www.politico.eu/article/cop21-by-numbers/, February 1, 2017
The resulting document, the Paris Agreement, is the product of two decades of work by members of the UN Framework for Climate Change.3)United Nations Framework Convention on Climate Change (2015) Adoption of the Paris Agreement, 21st Conference of the Parties, Paris: United Nations, unfccc.int/files/meetings/paris_nov_2015/application/pdf/paris_agreement_english_.pdf, January 15, 2017 It set countries on a path to hold the increase in global average temperature to well below 2 degrees Celsius, and to pursue efforts to limit the temperature increase to 1.5 degrees, recognizing that this would significantly reduce the risks and impacts of climate change. To accomplish to, Paris created the foundations for a consistent flow of finances to help developing and least developed countries lower greenhouse gas emissions while simultaneously growing their economies. Beyond mitigation, the Agreement also envisioned a world where ample financial and technical resources would be made available to increase resiliency and augment adaptation efforts on the front lines of climate change.
Though Paris was monumental, the work done at COP22 may prove to be even more important. On November 4, 2016, 30 days after the 100th signatory ratified the text, the threshold for entry into force of the Paris Agreement was achieved when 55 percent of global emitters authorized the document. By the end of the meeting in Marrakesh, 11 more countries signed onto the agreement, bringing the total number of ratifying parties to 111. Today, that number stands at 129 out of the 197 parties to the Convention, the latest of which was Cambodia on February 6, 2017.4)Paris Agreement – Status of Ratification. United Nations Framework Convention on Climate Change, unfccc.int/paris_agreement/items/9444.php, January 10, 2017
The passage of the 55 percent of global emitters mark in early November meant that the Conference in Morocco was the first meeting of the Parties since the Paris Agreement came into force and effect. And with the passage into force, the work done at COP22, and next year at COP23 in Germany, hold the immense opportunity to turn the promise of Paris into action.
A Recap of the COP of Action
Last year's meeting was a high-level negotiation that established broad strategies for mitigating greenhouse gas emissions and adapting to the consequences historic emissions have generated. This year's focus in Morocco was on establishing a practical plan for climate action by answering how to actually limit temperatures to "well below" two degrees; how governments of developed countries will concretely help those on the front lines of a rapidly changing environment; and what breakthrough innovations are needed to transform the global economy to be resilient, equitable, and carbon neutral?
The result of the 2016 round of negotiations was a decision to finalize the rules for the implementation of the Paris Agreement by 2018, with the next big climate policy milestone in 2020 when each country will put forward an enhanced national climate plan.5)Darby, M., Mathiesen, K.,King, E., and Del Bello, L. (2016) COP22 Headlines: What Did Marrakesh Climate Summit Deliver? Climatechangenews.com, 18 November, www.climatechangenews.com/2016/11/18/cop22-headlines-what-did-marrakech-climate-summit-deliver/, January 10, 2017 The meeting in November created a clear roadmap – what kinds of documents, workshops, and issue-oriented meetings must take place – to meet the 2018 deadline of a final rulebook. Beyond the overarching roadmap for the next two years, there were three specific points identified in need of further in-depth discussion by the Parties: climate finance; the Adaptation Fund; and loss and damage.
As defined by the UN Framework Convention on Climate Change, "Climate finance refers to local, national or transnational financing, which may be drawn from public, private and alternative sources of financing."6)United Nations (2014) United Nations Framework Convention on Climate Change, unfccc.int/focus/climate_finance/items/7001.php, January 10, 2017 Climate finance is critical to addressing climate change because large-scale investments are required to significantly reduce emissions, notably in sectors that emit large quantities of greenhouse gases. Climate finance is equally important for adaptation, for which significant financial resources will be similarly required to allow countries to adapt to the adverse effects and reduce the impacts of climate change." Climate finance, in essence, are the financial investments with which states, mostly developing and least developed countries, can build low-carbon and resilient economies. It can help pay for renewable energy infrastructure like solar farms, energy efficiency like building retrofits, and adaptation projects like seawalls in countries that don't have the available funds to invest in such programs. Climate finance is both an imperative part of limiting greenhouse gas emissions in industrializing nations and in building political will and trust between the different development blocs of the world. At Copenhagen in 2009, developed countries agreed to contribute $100 billion a year by 2020 to global climate finance. But countries are a long way off from this goal. According to an OECD analysis, public climate finance worldwide in 2013-2014 only amounted to $41 billion.7)OECD (2016), 2020 projections of Climate Finance towards the USD 100 billion goal: Technical Note, OECD Publishing, www.oecd.org/environment/cc/Projecting%20Climate%20Change%202020%20WEB.pdf, January 10, 2017 Parties at Marrakesh decided to continue discussing what should be done within the COP structure for climate financing, deciding to hold in-session workshops on long-term climate finance in 2017 and 2018, with a view to scaling up climate finance for mitigation and adaptation by focusing on lessons and experiences learned from already existing climate finance flows.8)Darby, M., Mathiesen, K.,King, E., and Del Bello, L. (2016) COP22 Headlines: What Did Marrakesh Climate Summit Deliver? Climatechangenews.com, 18 November, www.climatechangenews.com/2016/11/18/cop22-headlines-what-did-marrakech-climate-summit-deliver/, January 10, 2017
The Adaptation Fund was created in 2001 (the last time the Conference of the Parties was in Marrakesh) to support adaptation projects in developing countries. It was originally tied to the soon-to-expire Kyoto Protocol, the last big international agreement linked to the UNFCCC that committed parties to binding emission reduction targets. Since its establishment, the Fund has financed $358 million of mostly small-scale projects to help communities' adaptation to the effects of climate change we can no longer avoid.9)World Bank Group (2016). Countries Affirm in Closing Hours of COP22: The Adaptation Fund Should Serve the Paris Agreement, Adaptation Fund, www.adaptation-fund.org/wp-content/uploads/2016/11/Press-release-11222016_Countries-Affirm-in-Closing-Hours-of-COP22-The-Adaptation-Fund-Should-Serve-the-Paris-Agreement.pdf, January 10, 2017 Developing countries have largely applauded the Fund as a success, with a direct access structure that allows accredited countries to manage their own projects and having a sense of ownership as the majority share of the Fund's governing board seats. The Adaptation Fund sought $80 million to finance projects already in place ahead of the meeting in Marrakesh, which was fulfilled by European commitments. The Kyoto Protocol is set to expire in 2020. If the Adaptation Fund is to exist under Kyoto's successor – the Paris Agreement – it must be formally transferred from one framework to another. But one big issue in transferring it is that the US had no role in designing the Fund, and has never donated to it, as it is not a party to Kyoto. All parties of the Paris Agreement, including the US, need to assess how the Fund can fit into the new framework, which features will be kept and which will be foregone. At COP22, the Parties ultimately agreed to delay a decision on the Adaptation Fund and put in their reviews by March 31, 2017.10)World Bank Group (2016). Countries Affirm in Closing Hours of COP22: The Adaptation Fund Should Serve the Paris Agreement, Adaptation Fund, www.adaptation-fund.org/wp-content/uploads/2016/11/Press-release-11222016_Countries-Affirm-in-Closing-Hours-of-COP22-The-Adaptation-Fund-Should-Serve-the-Paris-Agreement.pdf, January 10, 2017
The final point of discussion over the next two years will be Loss and Damage, guided by the Warsaw International Mechanism on Loss and Damage associated with Climate Change Impacts. In 2013, Parties of the Conference established the Warsaw Mechanism to promote the implementation of approaches to address loss and damage, including the non-economic losses like historic sites, cultural heritage, tradition, and identity.11)United Nations (2017), Warsaw International Mechanism for Loss and Damage Associated with Climate Change Impacts, United Nations Framework Convention on Climate Change, unfccc.int/adaptation/workstreams/loss_and_damage/items/8134.php, January 10, 2017 In its first two years, the Warsaw Mechanism established a number of expert groups, like that on non-economic losses, that are working to enhance data on and knowledge of losses associated with the adverse effects of climate change, and identify ways forward for reducing the risk of addressing losses with specific focus on potential impacts within regions. One of the most concrete actions to come out of COP22 in Marrakesh was the approval of a five-year work plan on loss and damage, to begin in 2017 under the Executive Committee of the Warsaw International Mechanism. Moving forward, this work plan will guide countries in formally addressing topics like slow-onset impacts of climate change, climate-induced migration, and non-economic losses and damage – including culture, historic sites, traditions, and identity.12)United Nations (2016), Chronology – Loss and Damage, United Nations Framework Convention on Climate Change, unfccc.int/adaptation/workstreams/loss_and_damage/items/7545.php, January 10, 2017
Climate Finance, the Adaptation Fund, and Loss and Damage are all crucial to advancing the Paris Agreement and creating a viable future planet earth to support the diverse set of ecosystems that thrive today, including those built environment ecosystems that involve our own species. There is one salient commonality in all three climate action areas: they divide the world into developed and developing countries, wherein developed countries provide financial, technical, and political assistance in mitigation, adaptation, and damage efforts in developing states.
There is a disadvantage to understanding climate change policy in this way. It makes invisible the developing communities within developed states, those who are both on the front lines of rapid climate change and are at the periphery of both the political and financial geographies of their countries—geographies like the Arctic.
The Geopolitics of UN Climate Change Negotiations
To understand how the Arctic fits into — or more accurately falls into the cracks of — international climate change policy, there is first a need to understand the politicized geography of the negotiation process. Although the effects of climate change know no borders, international climate negotiations have long held an established, inelastic geopolitical map.
Since the founding days of the Conference of the Parties, the world cartography of climate policy has been drawn into three blocs: the developed, the developing, and the least developed worlds. Developed or industrialized countries, like the US, Canada, and Norway, are those states that have a high GDP, high per capita income, and widespread physical and technical infrastructure. Their economies are post-industrial, insofar as they have moved past generating the majority of their national revenue from manufacturing and now rely on the service sector.
On the opposite end of the spectrum are least developed countries, those with the lowest indicators of socio-economic development and human development, with a GNI per capita income of less than $1,035.00 USD. Least Developed Countries (LDCs) include those like Angola, Mali, Laos, Kiribati, and Haiti.13)United Nations (2017) Criteria for Identification and Graduation of LDCs, UN Office of the High Representative for the Least Developed Countries, Landlocked Developing Countries and Small Island Developing States, unohrlls.org/about-ldcs/criteria-for-ldcs/, January 10, 2017
And somewhere in the middle exist developing countries. These countries are more developed than LDCs but are low on the Human Development Index relative to other countries.14)O'Sullivan, Arthur; Sheffrin, Steven M. (2003). Economics: Principles in Action. Upper Saddle River, New Jersey 07458: Pearson Prentice Hall. p. 471. While the term Developing Country has never been clearly defined and has recently been recanted by the World Bank, developing countries usually have lower life expectancy, lower literacy rates, and lower incomes than Developed countries.15)Fantom, N, Khokhar, T., and Purdie, E. (2016) The 2016 Edition of World Development Indicators is Out: Three Features You Won't Want to Miss, The World Bank, blogs.worldbank.org/opendata/2016-edition-world-development-indicators-out-three-features-you-won-t-want-miss, January 10, 2017 These include countries like India, South Africa, China, and Iran.
This development status matters a lot in climate change negotiations.
The industrialization of developed countries over the past two centuries is by and large the cause of anthropogenic climate change. While developing their economies in the 18th and 19th Centuries, countries in North America and Europe destroyed important ecosystems that acted as carbon sinks, produced massive amounts of greenhouse gas emissions, and built permanent transportation, energy, and sprawl planning infrastructure that enabled unsustainable lifestyle choices.
History hangs heavy at climate negotiations when Developed Countries demand that Developing Countries limit their carbon emissions as they themselves industrialize. Countries like India and China correctly point to the hypocrisy of the US and European Union states asking developing countries to sign binding agreements on limiting their emissions, disregarding their own histories of chopping down their forests and burning enormous amounts of fossil fuels during the Industrial Revolution.
In no small manner, these perceptions of righting historic wrongs informing who bears the responsibility for climate action has defined negotiations for the last two decades. The founding document of the COPs, the UNFCCC proposed at the 1992 Rio Earth Summit and ratified by 194 parties in 1994, called for "common but differentiated responsibilities and respective capabilities" to reduce country emissions."16)United Nations (1992) United Nations framework convention on climate change. In United Nations Framework Convention on Climate Change. unfccc.int/resource/docs/convkp/conveng.pdf, January 10, 2017 Until COP21 in 2015, developing countries led by China argued that they should not be held to the same limits on emissions as developed countries because of historical emissions by developed countries and their own development needs. Because of historic inequalities and the persistence of extreme poverty in many developing countries, climate justice became tied to allowing developing economies to make a slower transition away from carbon-intensive, cheaper fuels while requiring developed countries to make deeper emission cuts first.
COP21 broke down many of the barriers between developed and developing states. The final agreement, signed by 197 countries, bridged the two worlds to address climate change together while not ignoring historical responsibility. Developed countries are expected to lead in greenhouse gas reductions and mobilize the $100 billion committed climate finances, with developing countries contributing where they can. Differences still exist between the positions of developed and developing blocs today, but COP21 created a strong foundation upon which to work. And with the election of climate change denier Donald Trump in the US, China, a forerunner in the developing bloc, has filled the vacuum left by climate advocate President Barack Obama by taking on a more visible leadership role in the international effort to combat climate change.
But while developed and developing nations break down the barriers that have divided them for two decades in the UNFCCC, the Arctic as a developing geography within developed countries has gone largely unnoticed beyond its use as a visual reminder of a changing climate.
The Least Developed of the Most Developed
The Arctic is warming twice as fast as the rest of the globe from a process known as polar or Arctic amplification.17)ACIA Secretariat and Cooperative Institute for Arctic Research (2005), Arctic Climate Impact Assessment. Cambridge: Cambridge University Press. www.acia.uaf.edu/pages/scientific.html, January 10, 2017 Arctic amplification is caused in part by energy transport in large weather systems and the melting of sea ice, lowering surface albedo, or the amount of sun's energy that is reflected off the Earth's surface and back into space rather than absorbed. Instead of reflecting 50 percent of incoming radiation when it is ice covered, open water only reflects six percent. That heat is then absorbed and spread across the Arctic Ocean, eventually warming its surface waters and creating a feedback loop to melt more ice. Between October 2014 and September 2015, the average surface air temperature above the Arctic Circle was 1.3 degrees Celsius warmer than the average between 1981 and 2010, representing a 3-degree increase from the average temperature in 1900.18)NOAA (2016), Warmer Air and Sea, Declining Ice Continues to Trigger Arctic Change, National Oceanic and Atmospheric Administration, www.noaanews.noaa.gov/stories2015/121515-arctic-report-card-warmer-air-and-sea-declining-ice-continue-to-trigger-arctic-change.html, January 2, 2017 In late November of 2016, temperatures at the North Pole reached 20 degrees C (36 degrees F) higher than normal for the time of year, with sea temperatures averaging 4 degrees C higher than usual. This amplified warming at the pole means that limiting global warming to 2 degrees Celsius will result in a 4 degree increase in the circumpolar north.19)Mooney, C and Samenow, J (2016), The North Pole Is an Insane 36 Degrees Warmer than Normal as Winter Descends, The Washington Post. www.washingtonpost.com/news/energy-environment/wp/2016/11/17/the-north-pole-is-an-insane-36-degrees-warmer-than-normal-as-winter-descends/?utm_term=.f509bf50bb88, January 2, 2017
That much heat will have catastrophic consequences, as highlighted by the COP21 series published last year by the Arctic Institute. It highlighted the human side climate change in the Arctic, including the grave implications for communities' guarantee rights to culture, subsistence, shelter, and health.20)For more, please see www.thearcticinstitute.org/a-quick-start-guide-to-the-arctic-and-cop21/
The Arctic not only shares its ecological exposure to climate change with developing and least developed countries. It also shares its socio-economic vulnerability and a history of political imperialism.
Despite the Arctic region being situated entirely within some of the most developed countries in the world, it does not benefit from the same financial, safety, and food security as more southern communities within those nations. In the Canadian Arctic, for example, the infant mortality rate is 3.5 times higher than the national rate,21)Statistics Canada (2015) Infant Mortality Rates, by province and territory (Both sexes). Statistics Canada, www.statcan.gc.ca/tables-tableaux/sum-som/l01/cst01/health21a-eng.htm, January 2, 2017 life expectancy is 12 years lower,22)Wilkins, R., Uppal, S., Finès, P., Senécal, S., Guimond, É., and Dion, R. (2003) Life Expectancy in the Inuit-Inhabited Areas of Canada, 1989 to 2003, Statistics Canada, www.statcan.gc.ca/pub/82-003-x/2008001/article/10463-eng.htm, January 2, 2017 and unemployment in one northern territory, Nunavut, is 15.4 percent for the total province and 20.1 for Inuit.23)Nunatsiaq News (2016) Nunavut Unemployment Jumped to 15.4 percent in April, Nunatsiaq Online. 10, May. bit.ly/2lI6weG, January 2, 2017 Such high infant mortality and low life expectancy is in part due to food insecurity in the Canadian North. A 2015 report by Statistics Canada found that one in three households in Nunavut lack access to safe and healthy foods, a level four times the national average.24)Roshanafshar, S. and Hawkins, E. (2015) Food Insecurity In Canada, Statistics Canada, Ministry of Industry. 25 March, www.statcan.gc.ca/pub/82-624-x/2015001/article/14138-eng.pdf, January 2, 2017  In the state of Alaska, more than twice as many Native Americans live below the poverty line (24.2 percent) as the overall percentage (10.3 percent), all while paying twice as much as their southern counterparts for heating, electricity, and transport fuel.25)Center for American Progress (2017) Talk Poverty: Alaska, talkpoverty.org, talkpoverty.org/state-year-report/alaska-2016-report/, January 2, 2017 This means that Arctic communities like the Northwest Arctic Borough, where President Obama became the first sitting US president to visit the American Arctic last year, has 22.8 percent of its residents living in poverty. In Greenland, the suicide rate is 82.8 per 100,000 people—the highest in the world. In some villages like Kangeq, the rate is 400 per 100,000.26)Hersher, R. (2016) The Arctic Suicides: It's Not the Dark that Kills Yo, NPR. 21 April, www.npr.org/sections/goatsandsoda/2016/04/21/474847921/the-arctic-suicides-its-not-the-dark-that-kills-you, January 2, 2017 The suicide rate,  levels of poverty, and corresponding social issues seen in the North American Arctic can be seen in varying levels across the Arctic region, perhaps most notably in the Russian Arctic.
These statistics are more than just numbers—they are each part of a larger calculation in determining the degree to which communities can cope with the consequences of climate change. Socio-economic vulnerabilities impinge both individuals household's ability to adapt to a warmer climate and to quick onset disasters like more extreme storms. Issues like food and fuel insecurity mean that less resources, like people's finances and time, can be allocated to proactive adaptations for future environmental changes – they are already stretched to handle the everyday stresses of living below the poverty line. The UN, among many other organizations, research institutions, and scholars, have noted that climate change will affect the world's poor disproportionately, and it is expected to increase the disparity in wealth between rich and poor populations.27)Hallengatte, S. et al. (2016) Shock Waves: Managing the Impacts of Climate Change on Poverty. World Bank. openknowledge.worldbank.org/bitstream/handle/10986/22787/9781464806735.pdf, January 2, 2017 However, the vast majority of research and policy work done on poverty and climate change focuses on the developing world—Latin America, Africa, Southeast Asia, and the Pacific Islands—without any mention of the poverty and socio-economic vulnerability of the Arctic. In fact, a 2016 study published in Nature finds that while wealthy countries have contributed the most to climate change, they are the most immune to its effects with more than half of the highest-emitting countries ranking among the least vulnerable to climate change. It notes that all Arctic countries have "low" climate change vulnerability in 2010 and 2030, with the exception of Iceland which is found to have "moderate" vulnerability. But such research obscures Arctic poverty and climate vulnerability within the macro-analysis of the developed countries within which northern communities are located.28)Althor, G., Watson, J.E. and Fuller, R.A., 2016. Global mismatch between greenhouse gas emissions and the burden of climate change. Nature: Scientific Reports, 6. www.nature.com/articles/srep20281 The research that is conducted on socio-economic vulnerabilities in the North focuses on assessing risks and local management methods that inevitably fail to engage the robust landscape of organizations, nonprofits, and development banks at the international level that have been set up to provide support for impoverished communities in developing countries to mitigate those vulnerabilities.
Last year during COP21, the Arctic Institute published a series of articles and Infographics detailing what was at stake during the negotiations. It highlighted the human side of the deadly duo of environmental and socio-economic vulnerabilities, including the grave implications for Arctic communities' right to the benefit of culture, to means of their own subsistence, to reside and inviolability of the home, and to health. Part II of this article, Poverty, Vulnerability, and Climate Change in the North: Making the Invisible Visible will connect these socio-economic vulnerabilities with an update to those climate hazards Arctic communities are facing today, what regional support has been established and implemented since 2015, and how the Arctic can engage in the Rulebook's creation at COP23 this year in Germany and beyond. It will then move beyond the global-level of climate negotiations and action to propose how the Arctic states can support communities in climate finance, adaptation, and loss and damage, with a particular focus on climate change action in Alaska as President Donald Trump contends to withdraw from the Paris Agreement and roll back advancements in mitigation and adaptation domestically.
As the Paris Agreement Rulebook and tangential meetings and negotiations focus on global transformations and vulnerabilities and finances support needs of developing countries this year and next, ecologically, socio-economically, and politically vulnerable communities in developed countries like the Arctic become obscured. There is a need to push beyond the set geographic divide of developed and developing nations in international climate change negotiations to make the Arctic's vulnerabilities and needs in adaptation more visible. That visibility must be coupled with an enabling of partnerships between a global community of experts with Northern experts, leaders, and traditional knowledge holders working at the nexus of poverty and climate change to address those vulnerabilities. As the world warms, the Arctic's deadly duo of pre-existing socio-economic vulnerabilities and environmental hazards will only get worse.
| | | |
| --- | --- | --- |
| 1. | ↑ | COP22 (2017) Marrakesh COP22, cop22.ma, February 1, 2017 |
| 2. | ↑ | O'rourke, H. (2015) COP21 By The Numbers. Politico.edu, 11 November, www.politico.eu/article/cop21-by-numbers/, February 1, 2017 |
| 3. | ↑ | United Nations Framework Convention on Climate Change (2015) Adoption of the Paris Agreement, 21st Conference of the Parties, Paris: United Nations, unfccc.int/files/meetings/paris_nov_2015/application/pdf/paris_agreement_english_.pdf, January 15, 2017 |
| 4. | ↑ | Paris Agreement – Status of Ratification. United Nations Framework Convention on Climate Change, unfccc.int/paris_agreement/items/9444.php, January 10, 2017 |
| 5. | ↑ | Darby, M., Mathiesen, K.,King, E., and Del Bello, L. (2016) COP22 Headlines: What Did Marrakesh Climate Summit Deliver? Climatechangenews.com, 18 November, www.climatechangenews.com/2016/11/18/cop22-headlines-what-did-marrakech-climate-summit-deliver/, January 10, 2017 |
| 6. | ↑ | United Nations (2014) United Nations Framework Convention on Climate Change, unfccc.int/focus/climate_finance/items/7001.php, January 10, 2017 |
| 7. | ↑ | OECD (2016), 2020 projections of Climate Finance towards the USD 100 billion goal: Technical Note, OECD Publishing, www.oecd.org/environment/cc/Projecting%20Climate%20Change%202020%20WEB.pdf, January 10, 2017 |
| 8. | ↑ | Darby, M., Mathiesen, K.,King, E., and Del Bello, L. (2016) COP22 Headlines: What Did Marrakesh Climate Summit Deliver? Climatechangenews.com, 18 November, www.climatechangenews.com/2016/11/18/cop22-headlines-what-did-marrakech-climate-summit-deliver/, January 10, 2017 |
| 9, 10. | ↑ | World Bank Group (2016). Countries Affirm in Closing Hours of COP22: The Adaptation Fund Should Serve the Paris Agreement, Adaptation Fund, www.adaptation-fund.org/wp-content/uploads/2016/11/Press-release-11222016_Countries-Affirm-in-Closing-Hours-of-COP22-The-Adaptation-Fund-Should-Serve-the-Paris-Agreement.pdf, January 10, 2017 |
| 11. | ↑ | United Nations (2017), Warsaw International Mechanism for Loss and Damage Associated with Climate Change Impacts, United Nations Framework Convention on Climate Change, unfccc.int/adaptation/workstreams/loss_and_damage/items/8134.php, January 10, 2017 |
| 12. | ↑ | United Nations (2016), Chronology – Loss and Damage, United Nations Framework Convention on Climate Change, unfccc.int/adaptation/workstreams/loss_and_damage/items/7545.php, January 10, 2017 |
| 13. | ↑ | United Nations (2017) Criteria for Identification and Graduation of LDCs, UN Office of the High Representative for the Least Developed Countries, Landlocked Developing Countries and Small Island Developing States, unohrlls.org/about-ldcs/criteria-for-ldcs/, January 10, 2017 |
| 14. | ↑ | O'Sullivan, Arthur; Sheffrin, Steven M. (2003). Economics: Principles in Action. Upper Saddle River, New Jersey 07458: Pearson Prentice Hall. p. 471. |
| 15. | ↑ | Fantom, N, Khokhar, T., and Purdie, E. (2016) The 2016 Edition of World Development Indicators is Out: Three Features You Won't Want to Miss, The World Bank, blogs.worldbank.org/opendata/2016-edition-world-development-indicators-out-three-features-you-won-t-want-miss, January 10, 2017 |
| 16. | ↑ | United Nations (1992) United Nations framework convention on climate change. In United Nations Framework Convention on Climate Change. unfccc.int/resource/docs/convkp/conveng.pdf, January 10, 2017 |
| 17. | ↑ | ACIA Secretariat and Cooperative Institute for Arctic Research (2005), Arctic Climate Impact Assessment. Cambridge: Cambridge University Press. www.acia.uaf.edu/pages/scientific.html, January 10, 2017 |
| 18. | ↑ | NOAA (2016), Warmer Air and Sea, Declining Ice Continues to Trigger Arctic Change, National Oceanic and Atmospheric Administration, www.noaanews.noaa.gov/stories2015/121515-arctic-report-card-warmer-air-and-sea-declining-ice-continue-to-trigger-arctic-change.html, January 2, 2017 |
| 19. | ↑ | Mooney, C and Samenow, J (2016), The North Pole Is an Insane 36 Degrees Warmer than Normal as Winter Descends, The Washington Post. www.washingtonpost.com/news/energy-environment/wp/2016/11/17/the-north-pole-is-an-insane-36-degrees-warmer-than-normal-as-winter-descends/?utm_term=.f509bf50bb88, January 2, 2017 |
| 20. | ↑ | For more, please see www.thearcticinstitute.org/a-quick-start-guide-to-the-arctic-and-cop21/ |
| 21. | ↑ | Statistics Canada (2015) Infant Mortality Rates, by province and territory (Both sexes). Statistics Canada, www.statcan.gc.ca/tables-tableaux/sum-som/l01/cst01/health21a-eng.htm, January 2, 2017 |
| 22. | ↑ | Wilkins, R., Uppal, S., Finès, P., Senécal, S., Guimond, É., and Dion, R. (2003) Life Expectancy in the Inuit-Inhabited Areas of Canada, 1989 to 2003, Statistics Canada, www.statcan.gc.ca/pub/82-003-x/2008001/article/10463-eng.htm, January 2, 2017 |
| 23. | ↑ | Nunatsiaq News (2016) Nunavut Unemployment Jumped to 15.4 percent in April, Nunatsiaq Online. 10, May. bit.ly/2lI6weG, January 2, 2017 |
| 24. | ↑ | Roshanafshar, S. and Hawkins, E. (2015) Food Insecurity In Canada, Statistics Canada, Ministry of Industry. 25 March, www.statcan.gc.ca/pub/82-624-x/2015001/article/14138-eng.pdf, January 2, 2017 |
| 25. | ↑ | Center for American Progress (2017) Talk Poverty: Alaska, talkpoverty.org, talkpoverty.org/state-year-report/alaska-2016-report/, January 2, 2017 |
| 26. | ↑ | Hersher, R. (2016) The Arctic Suicides: It's Not the Dark that Kills Yo, NPR. 21 April, www.npr.org/sections/goatsandsoda/2016/04/21/474847921/the-arctic-suicides-its-not-the-dark-that-kills-you, January 2, 2017 |
| 27. | ↑ | Hallengatte, S. et al. (2016) Shock Waves: Managing the Impacts of Climate Change on Poverty. World Bank. openknowledge.worldbank.org/bitstream/handle/10986/22787/9781464806735.pdf, January 2, 2017 |
| 28. | ↑ | Althor, G., Watson, J.E. and Fuller, R.A., 2016. Global mismatch between greenhouse gas emissions and the burden of climate change. Nature: Scientific Reports, 6. www.nature.com/articles/srep20281 |