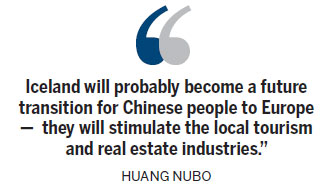 Statement: China Daily
Huang Nubo, a real estate investor and among China's 200 richest people, put forth his plan to buy 300 square kilometers of Icelandic land to construct an eco-tourism resort and golf course. While the deal has already received preliminary approval from private landowners, it has yet to be approved by the Icelandic government. Mr. Nubo is seeking an exemption to an Icelandic law banning the sale of land to citizens from outside the European Economic Area.
The area in question in the Grímsstadir á Fjöllum region does not have any coastal access. It is however located near potential deepwater ports which raised concerns about geopolitical motives of the land purchase. Opponents also questioned why a tourist resort requires such a large piece of land, roughly 0.3 percent of Iceland's total area.
The Icelandic interior minister, Ögmundur Jónasson, stated that "China has been very active in buying up land around the world so we need to be aware of the international ramifications." The country's president, Ólafur Ragnar Grímsson, in contrast, hailed the Chinese investment as a sign of "the country's blossoming ties with the rising Asian power. China and India lent Iceland a helping hand in many constructive ways whereas Europe was hostile and the US was absent." China also recently opened the largest embassy in the Icelandic capital Reykjavík.
According to the Financial Times, Mr. Grímsson, who has been in office for more than 15 years, has developed close ties to China and India promoting Iceland as a future Arctic shipping hub. He visited China on numerous occasions and received more Chinese delegations to Iceland than "the US, UK, Germany, France, Italy and Spain combined."
Iceland occupies a strategic location at the intersection of a number of future Arctic shipping routes and could develop into a hub for shipping between Europe and Asia. Iceland sits near the western terminus of the Northern Sea Route. In addition the Arctic Bridge route from Canada's Hudson Bay as well as a direct Transpolar route would pass near the country's shores.
Iceland has also struck a deal with China Petroleum Chemical Corp, the country's second biggest oil and gas company, to jointly develop the island nation's geothermal resources and further geothermal technology.