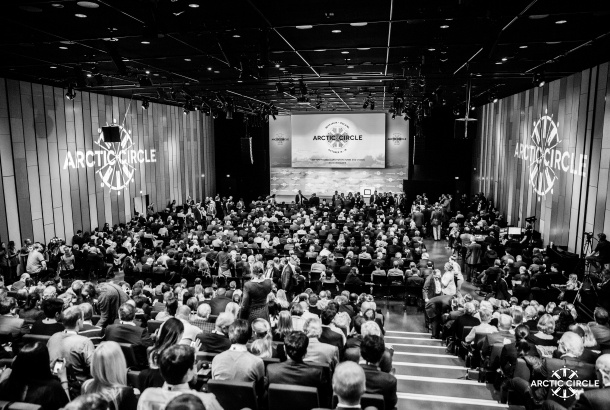 Photo: Arctic Circle
Last week, the 3rd Arctic Circle conference took place in Reykjavik, and for the first time the European Union (EU) officials decided to take part in the event. The EU's presence came out as fairly low-key, considering the rising profile of the Arctic Circle, highlights of which this year included a passionate climate speech by the French president Francois Hollande and an encouraging letter from the Pope Francis's Secretary of State, as it seems that even the Vatican is now interested in the Arctic. Nevertheless, it is of certain significance that the EU services were willing to scramble resources to send their representative to what has emerged as one of the main Arctic networking events. Dearbhla Doyle, an official from the European External Action Service (EEAS), clearly stated that the upcoming communication from the European Commission and the High Representative (for the EU's foreign policy) would constitute an evolution of previous policy statements rather than a new opening. EU services also want to improve the way in which the EU communicates on its Arctic engagement, although revamping the (EEAS') website was the only concrete idea mentioned in that context. Moreover, a representative from the European Commission's Joint Research Centre shared insights on the EU's work in the Arctic Council's working groups and task forces, in particular as regards short-lived climate pollutants. Additionally, a separate session was organized by the EU-PolarNet project – an initiative funded by the Commission's DG Research dedicated to drafting the European Polar Research Programme and, among others, to coordinating research infrastructures. Considering that research institutes throughout Europe are now sharpening their pencils to answer funding calls included in the 2016/2017 fairly generous Arctic research package, the choice of focus in EU funding has major implications for Arctic research in general. The emphasis is currently on a problematic quest to facilitate more open access to scientific data, but also on sustained observation, permafrost, supporting sustainable exploitation and the promotion of transnational research actions. An "EU Arctic Science Policy" would likely find much more appreciation among Arctic actors than the EU's still rather ambiguous overarching "EU Arctic Policy".
---
Some critical thoughts as regards the upcoming new Arctic communication can be found in the Briefing Note "Exploring Reasons & Remedies for the EU's Incapability to Devise an "Arctic Policy": The Quest for Coherence", which was published in the Arctic Yearbook 2015. The Briefing Note can be downloaded here.